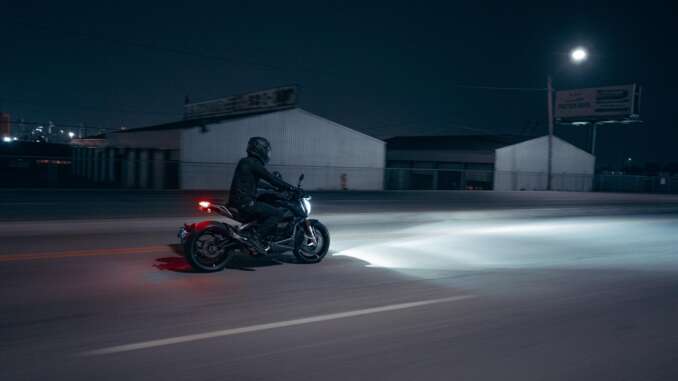 2022 Zero SR: WORLD'S MOST ADAPTABLE MOTORCYCLE.
Introducing the 2022 Zero SR…
EFFORTLESS POWER
The all-new Zero SR is the world's most adaptable motorcycle. Built on the award-winning steel trellis frame and coaxial power pivot chassis that made the SR/F and SR/S the pinnacle of electric motorcycling performance, the SR is powered by the ZF 75-10 motor and is the first model equipped with a ZFORCE 14.4+ kWh power pack. The Cypher III+ Operating System enables the SR to add upgrades that improve torque, speed, Bosch Advanced Motorcycle Stability Control, add turn-by-turn on-dash navigation, and so much more.
EFFORTLESS CONTROL
The SR offers an arsenal of ride modes which allows riders to customize the bike's performance through the intuitive next-generation app and dash interface. The SR navigates the road no matter the conditions with Rain, Eco, Standard, Sport, and Canyon modes pre-loaded and a virtually infinite number of custom tuned ride mode adjustments available. Further customizations ranging from accelerated charge speed, higher performance and Bosch Advanced Motorcycle Stability Control, turn-by-turn GPS navigation and so much more, all come in the form of on-demand performance and feature upgrades available through the Zero App with the tap of a finger in the Cypher Store.
EFFORTLESS CONNECTION
The Cypher III+ Operating System is Zero's latest proprietary OS. It delivers precise performance seamlessly for a consistently superior riding experience. Cypher III+ unlocks performance customization through the Cypher Store on the Zero App where critical performance upgrades that include performance (speed and torque), charging speed and capacity, turn-by-turn navigation and others are all available on-demand.
Bringing these groundbreaking technologies together into a completely new model is the 2022 SR, the world's most adaptable motorcycle. Customize everything from battery capacity, charge time, features, on-screen turn-by-turn navigation, and so much more all at your fingertips.
The new ZF 14.4+ kWh batteries come stock on all Standard trim SR/F and SR/S whereas the Premium trims receive more base range thanks to the 15.6+ kWh Power Pack. Plus, maxing out the Cypher Store upgrades on these bikes and pairing them with the option Power Tank accessory (available Spring 2022) gets the highest on-board battery capacity Zero's ever had with nearly 21 kWh of energy!
RAPID CHARGING
Full charge in as fast as 1hr.
LOW-TO-NO MAINTENANCE
Fluidity without the fluids.
223MI PEAK RANGE
SFO to Sacramento, roundtrip.
124MPH TOP SPEED
No clutch. No gears. Just go.
CYPHER III+
Advanced motorcycle performance customization
INSTANT TORQUE
Up to 140ft/lbs of Torque.
STANDARD
OPTIMAL CHARGE TIME 78 MINUTES
TOP SPEED (MAX) 104
MPH PEAK TORQUE 122 FT-LB
227 MILE RANGE With Power Tank + ERC
100% ELECTRIC POWERTRAIN
Low maintenance CYPHER III+ Operating system
CLUTCHLESS DIRECT DRIVE Transmission
489 LB Curb weight
BOSCH Generation 9 ABS
31.0 IN Seat height
5 YEARS/UNLIMITED MILES
ZF14.4+ BATTERY PACK
The all new ZFORCE 14.4+ lithium-ion battery makes the SR capable of a 227-mile maximum range when combined with available Cypher Store upgrades and the available Power Tank accessory (dealer installed availlable in spring of 2022). The battery's industry-leading power and energy density combined with an aluminum heat-sink housing and thermal transfer interface ensure consistent cell cooling and maximum long-term powertrain performance. Key software upgrades available in the Cypher Store will unlock up to 17.3 kWh of battery capacity and the additional 3.6 kWh Power Tank* brings the total available battery capacity to nearly 21 kWh.
* Note: Power Tank for Model Year 2022 SR will be available in Spring of 2022.
ZF75-10 MOTOR
The ZF75-10 motor is tuned for the SR to deliver 122 ft-lbs of torque, 73 hp, and 104mph, but when paired with available on-demand upgrades through the Cypher Store, those numbers soar to 140 ft-lbs of torque and 110 hp, effortlessly propelling the SR to a top speed of 124 mph. Pairing Zero's renowned internal permanent magnet brushless architecture and a passively air-cooled compact design creates class-leading performance and efficiency.
EFFORTLESS POWER
THE UNPRECEDENTED COMBINATION OF INDUSTRY-LEADING POWER, CONTROL, AND CONNECTION.
RAPID CHARGE SYSTEM
Our scalable Rapid Charge System allows the SR to be configured for different charging levels. The all-new SR comes with 3 kW of charging but that can be increased by 10% with the tap of a finger through purchasing on-demand upgrade in the Cypher Store. The SR also comes with the option to add a Rapid Charge Module as a dealer installed accessory that, when combined with the Cypher Store upgrade, brings total available charging capacity to 9.3 kW and will charge the SR's 14.4+ kWh battery in just over an hour.
* Note: SR requires use of included EVSE cord in order to charge on a standard 110 V wall outlet.
POWER PIVOT
A proprietary concentric motor and swingarm pivot design provide the optimal architecture to ensure constant drive-belt tension and maximum torque delivery to the rear wheel. A custom-designed, large-bearing swingarm pivot allows ample space for the high-performance motor while allowing a slim chassis waist to enhance rider ergonomics and bike maneuverability.
CYPHER III+
With the latest version of the Cypher operating system, Cypher III+, we introduce the ability to access a series of software upgrades that allow each rider to customize his or her riding experience through the all-new Cypher Store. Improve your charge speed, get turn-by-turn navigation on your dash, or activate Parking Mode that lets you reverse slowly into the perfect spot. Cypher III+ is the only system that allows on-demand performance upgrades, and it's only available from Zero Motorcycles.
ARSENAL OF RIDE MODES
THE SR PROVIDES AN ARSENAL OF RIDE MODES THAT ALLOWS THE RIDER TO CUSTOMIZE THE BIKE'S PERFORMANCE THROUGH THE INTUITIVE NEXT-GENERATION APP AND DASH INTERFACE. THE SR NAVIGATES THE ROAD NO MATTER THE CONDITIONS WITH RAIN, ECO, STANDARD, SPORT, AND CANYON MODES PRE-LOADED AND A VIRTUALLY INFINITE NUMBER OF CUSTOM TUNED RIDE MODE ADJUSTMENTS AVAILABLE.
BOSCH ABS
The SR is equipted with Bosch ABS with the option to upgrade to Advance Motorcycle Stability Control in the Cypher Store with the Performance Boost upgrade. The Bosch MSC System, renowned for dynamic acceleration and improved stability regardless of road surface or conditions. With MSC the full performance capabilities are unleashed, resulting in best-in-class straight-line ABS and cornering brake control, traction control and drag torque control.
CHASSIS
Incredibly light. Unbelievably strong. The steel-trellis frame, custom swingarm and advanced Showa suspension deliver an athletic and intuitive riding experience. The powertrain is perfectly distributed, resulting in a weight-optimized/mass-centralized design, while a dual radial front brake system makes shedding speed as exhilarating as building it.
THE CONNECTED BIKE
The SR is connected through cellular networks, transmitting info to the app at all times. Ride information, current bike status and location are always available. This connectivity gives the rider the ability to monitor the bike in four (4) main areas: Bike Status & Alerts, Charging, Ride Data Sharing, System Upgrades and Updates. Cellular connectivity is free for 2 years from the original purchase date. SR comes with unlimited customization performance options in the Cypher Store.
SR DASH
Customize your dash. Choose the bike info you want and see it clearly on the full-color 5" TFT display. Multi-mode navigation enables on-the-fly ride mode switching, cruise-control, heated-grip* control and much more.
* Heated hand grips available as a dealer install accessory
THE CONNECTED BIKE
THE SR IS CONNECTED THROUGH CELLULAR NETWORKS, TRANSMITTING INFO TO THE APP AT ALL TIMES. RIDE INFORMATION, CURRENT BIKE STATUS AND LOCATION ARE ALWAYS AVAILABLE. THIS CONNECTIVITY GIVES THE RIDER THE ABILITY TO MONITOR THE BIKE IN FOUR (4) MAIN AREAS: BIKE STATUS & ALERTS, CHARGING, RIDE DATA SHARING, SYSTEM UPGRADES AND UPDATES. CELLULAR CONNECTIVITY IS FREE FOR 2 YEARS FROM THE ORIGINAL PURCHASE DATE. SR COMES WITH UNLIMITED CUSTOMIZATION PERFORMANCE OPTIONS IN THE CYPHER STORE.
ADVANCED APP
Zero's next-generation app works with the dash and Cypher III+ to create a feature-rich ecosystem:
Access to the Cypher Store where features and upgrades can be bought with the tap of a finger.
Faster charging, On-Dash Navigation and Parking Mode are just a few of the new features available.
Standard free features in the app include: Ride mode selection and creation, personalized dash options, scheduled and target-based charging, charge-station location assistance, and so much more.
ADVANCED APP
Extensive notifications, including bike state of charge (SoC), time to charge and last-ride statistics, remote query and notification, ride data available for review and sharing: location, speed, lean angle, power, torque, SoC, energy used or regenerated, remote diagnostics, and all available Cypher III+ updates including on-demand features and performance upgrades available for purchase in the Cypher Store.
2022 Zero SR – Totalmotorcycle.com USA Specifications/Technical Details
US MSRP Price: $17995 USD
Canada MSRP Price: $23995 CAD
Europe/UK MSRP Price: £17290 GBP (On The Road inc 20% Vat)
Range
ZF14.4+
City
156 miles (251 km)
Highway, 55 mph (89 km/h)
95 miles (153 km)
Combined
118 miles (190 km)
Highway, 70 mph (113 km/h)
77 miles (124 km)
Combined
103 miles (166 km)
Range with Extended Range Cypher Upgrade (17.3kWh)
ZF14.4+
City
187 miles (301 km)
Highway, 55 mph (89 km/h)
114 miles (183 km)
Combined
141 miles (227 km)
Highway, 70 mph (113 km/h)
93 miles (150 km)
Combined
124 miles (200 km)
Range with Extended Range Cypher Upgrade + Power Tank (20.9kWh)
ZF14.4+
City
227 miles (365 km)
Highway, 55 mph (89 km/h)
139 miles (224 km)
Combined
172 miles (277 km)
Highway, 70 mph (113 km/h)
113 miles (182 km)
Combined
151 miles (243 km)
Motor
ZF14.4+
Peak torque
122 ft-lb (166 Nm)
Peak power
74 hp (52 kW) @ 6,255 rpm
Top speed (max)
104 mph (167 km/h)
Top speed (sustained)
104 mph (167 km/h)
Type
Z-Force 75-10 enhanced thermal efficiency, passively air-cooled, interior permanent magnet AC motor
Controller
High efficiency and power dense, 750 Amp, 3-phase AC controller with regenerative deceleration
Power system
ZF14.4+
Power pack
Z-Force® Li-Ion intelligent integrated
Max capacity
14.4 kWh
Nominal capacity
12.6 kWh
Charger type
3kW integrated, Cypher upgradeable up to 3.3kW
Charge time (standard)
4.5 hours (100% charged) / 4.0 hours (95% charged)
With 3kW Cypher Upgrade
4.1 hours (100% charged) / 3.6 hours (95% charged)
With 6kW Rapid Charger + 3kW Cypher Upgrade
1.8 hours (100% charged) / 1.3 hours (95% charged)
Input
Standard 110 V or 220 V
Drivetrain
ZF14.4+
Transmission
Clutchless direct drive
Final drive
90T / 20T, Poly Chain® HTD® Carbon™ belt
Chassis / Suspension / Brakes
ZF14.4+
Front suspension
Showa 43mm Big Piston Separate Function forks, with adjustable spring preload, compression & rebound damping
Rear suspension
Showa 40mm piston, piggy-back reservoir shock with adjustable spring preload, compression & rebound damping
Front suspension travel
4.72 in (120 mm)
Rear suspension travel
5.51 in (140 mm)
Front brakes
Bosch Base MSC, dual J-Juan radial 4-piston calipers with radial master cylinder, 320x5mm discs
Rear brakes
Bosch Base MSC, J-Juan single piston floating caliper, 240×4.5mm disc
Front tire
Pirelli Diablo Rosso III 120/70-17
Rear tire
Pirelli Diablo Rosso III 180/55-17
Front wheel
3.50 x 17
Rear wheel
5.50 x 17
Dimensions
ZF14.4+
Wheelbase
57/1 in (1,450 mm)
Seat height
31.0 in (787 mm)
Accessory, low
30.3 in (770 mm)
Accessory, tall
31.9 in (810 mm)
Rake
24.0°
Trail
3.7 in (94 mm)
Weight
ZF14.4+
Curb weight
489 lb (222 kg)
Carrying capacity
511 lb (232 kg)
Economy
ZF14.4+
Equivalent fuel economy (city)
416 MPGe (0.57 l/100 km)
Equivalent fuel economy (highway)
206 MPGe (1.14 l/100 km)
Typical cost to recharge
$1.61
Pricing
ZF14.4+
MSRP
$17,995
Warranty
ZF14.4+
Standard motorcycle warranty*
2 years
Power pack warranty*
5 years/unlimited miles
Manufacturer Specifications and appearance are subject to change without prior notice on Total Motorcycle (TMW).