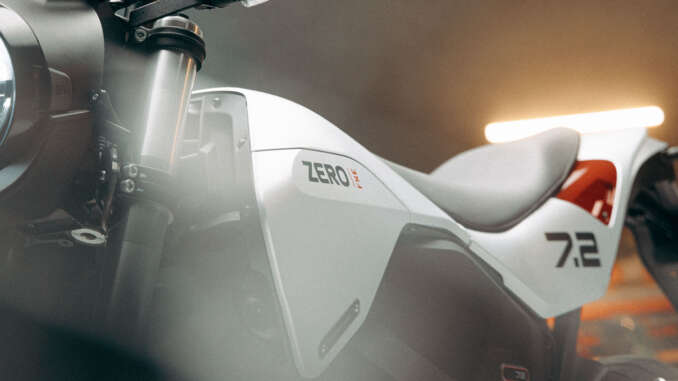 Introducing the new 2022 Zero Motorcycle Guide.
New Bike Reviews, Huge Photos, Full Specifications. Get it all at Total Motorcycle with the 2022 Zero Motorcycle Guide.
Electric Street Bikes
– 2022 Zero FXE – New model
Electric Dual Sport Bikes
From the Manufacturer: 2022 Zero Motorcycle Guide
A LEAP FORWARD
We're the company that defined the electric motorcycle category, and we're pushing the bar higher than we ever have before with three massive new stories beginning with a pair of all-new Z-Force batteries.
ZF14.4+ kWh & ZF15.6+ kWh
Packing more energy into the same footprint wasn't enough for us, so we decided to go even bigger than that. The all-new 14.4+ kWh and 15.6+ kWh batteries not only pack more energy than before, they also have the ability to grow their capacity as your needs as a rider change, as well.
CYPHER STORE UPGRADES
Zero Motorcycles' proprietary operating system gets an update to the all-new Cypher III+ which enables owners to customize their rides at the touch of a button. Performance and feature upgrades are all available on-demand through the Cypher Store.
THE ALL NEW SR
Bringing these groundbreaking technologies together into a completely new model is the 2022 SR, the world's most adaptable motorcycle. Customize everything from battery capacity, charge time, features, on-screen turn-by-turn navigation, and so much more all at your fingertips.
The new ZF 14.4+ kWh batteries come stock on all Standard trim SR/F and SR/S whereas the Premium trims receive more base range thanks to the 15.6+ kWh Power Pack. Plus, maxing out the Cypher Store upgrades on these bikes and pairing them with the option Power Tank accessory (available Spring 2022) gets the highest on-board battery capacity Zero's ever had with nearly 21 kWh of energy!
OWNERSHIP ADVANTAGE EXHILARATING PERFORMANCE. CAREFREE OWNERSHIP.
There are some clear advantages to going electric: no need to visit the gas station, no oil, no exhaust, etc. In addition, there are a host of benefits experienced by Zero owners on a regular basis that are not as obvious. Behind the design of each cutting edge model is a philosophy of elegant simplicity that keeps the weight of the motorcycle low, virtually eliminates all routine powertrain maintenance and yields stealthy acceleration. The result is an incredibly exhilarating ride and an ownership experience that appreciates mile after mile.
A LONG TERM PERSPECTIVE
As a premium brand, Zero designs each motorcycle with the sort of quality and integrity that inspires an exceptional riding experience. Beyond that, the upfront cost of a Zero is not what it appears to be when compared against its traditional internal combustion counterparts. Each mile ridden on a Zero is considerably less expensive, making it considerably more enjoyable, due to the elimination of routine powertrain maintenance and no gas expenses. As it turns out, when compared to other premium brands, a Zero starts saving the owner money on gas and maintenance from day one. In fact, over the life of their motorcycle many Zero owners actually save more than they would have if they had purchased a comparable internal combustion model.
ZERO ROUTINE POWERTRAIN MAINTENANCE
All Zero motorcycles feature a direct drive, maintenance-free powertrain. As an incredibly efficient system, direct drive channels power directly from the motor to the rear wheel via a strong and silent, constant tension belt. Not only does direct drive minimize friction loss by eliminating clutches and gears, but it also helps eliminate the need for routine powertrain maintenance and reduces the weight of the motorcycle.
TOP 15 THINGS YOU'LL NEVER DO AGAIN
BUY GAS
REPLACE CLUTCH
SYNC THROTTLE AND IDLE SPEED
CHANGE ENGINE OIL FILTER
LUBRICATE CHOKE CABLES
CHANGE ENGINE OIL
CHECK ENGINE OIL
ADJUST VALVE CLEARANCE
CHANGE AIR FILTER
REPLACE TIMING BELT
CHECK EXTERNAL FUEL HOSES
REPLACE SPARK PLUGS
CHANGE FUEL FILTER
ADJUST CLUTCH CABLES
CHECK CLUTCH FLUID LEVEL
Manufacturer Websites – 2022 Zero Motorcycle Guide