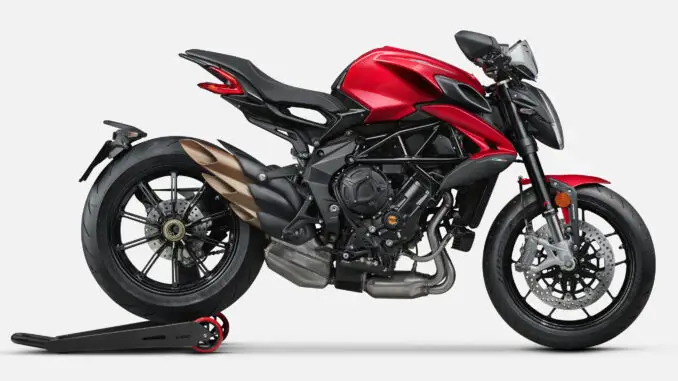 2023 MV Agusta Dragster R: UPGRADE YOUR RIDE.
Introducing the 2023 MV Agusta Dragster R…
All the power, aggression, and character of a true Dragster. The pleasure of riding, available to everyone
The Brutale R makes its début packed with plenty of refinements: fork and mono shock with new adjustment, Continental MK100 ABS with optimised calibration, a new rider saddle, 5.5" TFT instrumentation with updated software, new electronic Ride-By-Wire throttle control featuring negative rotation, and valve tappets with DLC coating that reduces friction and improves efficiency.
2023 MV Agusta Dragster R Totalmotorcycle.com Key Features
3 Cylinders
110HP Engine max Power @ 11.500 R.P.M
237KM/H Max speed
798CC Engine displacement
168KG Dry weight
12.3:1 Compression ratio
PIRELLI DIABLO ROSSO IV TYRES
OPTIMISED REAR BRAKING SYSTEM
REAR SHOCK ABSORBER WITH OPTIMISED SETTINGS
CONTINENTAL MK100 ABS MODULE WITH OPTIMIZED CALIBRATION
NEW SEAT
5.5" COLOUR TFT INSTRUMENTATION WITH UPDATED SOFTWARE
NEW ELECTRONIC RIDE-BY-WIRE THROTTLE ASSEMBLY WITH THE INTEGRATION OF CONTROLLED NEGATIVE ROTATION
FRONT SUSPENSION WITH OPTIMISED SETTINGS
CAM FOLLOWERS WITH DLC COATING
For MV Agusta, 2023 marks a true turning point in the name of evolution and technology. The R package makes its début on all the three-cylinder bikes: Brutale, Dragster, F3, and Turismo Veloce flaunt new colours and lots of new features. The new range of three and four cylinder bikes, even more complete and exclusive, finalizes an exceptional development path which has produced astonishing results, particularly in terms of riding thrills.
Ride by Wire
The electronic throttle control has been entirely redesigned to make using it even more intuitive and gradual, without sacrificing the responsive action that is an absolute must for a sport bike throttle control. The new double return spring and especially the 6° negative rotation simplify throttle management and allow the cruise control to be deactivated without braking: simply close the throttle. The negative rotation also reduces the risk of involuntary engagement when the road surface is particularly bumpy, all to the advantage of comfort. At the same time, the operating algorithms have been upgraded for a superior riding feeling.
Improved ergonomics and interface
A new rider's seat has been introduced on the Brutale R and Brutale RR, whereas the saddle on the Dragster R and Dragster RR has been changed entirely. Thanks to new development and design tools, as well as the use of 3D Mesh materials, comfort has increased drastically. To make any trip, from a city commute to a long trip on the weekend, a pleasant and comfortable adventure.
The instrumentation focused on the 5.5" TFT panel is one of the main interface points between rider and bike. For 2023, the software is updated and evolved to provide greater ease of use, in addition to the advanced connectivity, with navigation Turn-by-Turn, platform that has been further improved. The equipment includes the Mobisat geolocalised anti-theft system (with the exception of Dragster R and Turismo Veloce R).
New braking system
The constant development path – one of MV Agusta's fundamental values – also focused on the braking system. Brembo M4.32 monobloc front callipers come standard on the Brutale RR and the Dragster RR. The higher level of stiffness of the callipers improves both modular operation and power, also achieving a significant reduction in weight to the tune of 200 grams. On the F3 R, the F3 RR, the Superveloce, and the Superveloce S, the front callipers are Brembo Stylema M4.30 with Brembo PR 16/19 radial master cylinder. Overall, the new equipment increases braking power and reduces the weight by a full 300 grams.
Rear brake modular operation has been improved on the entire 3-cylinder range thanks to upgrades to the hydraulic circuit, increasing the hydrostatic pressure in the system. The result? Improved feeling during use.
 Tyres and ABS
Introducing new OEM tyres, respectively Pirelli Diablo Rosso IV and Diablo Rosso Corsa IV. The Continental MK100 ABS has also been upgraded, with refinements made to the cornering feature in order to provide an even more precise and safer response in all conditions.
THE R FAMILY, THE GATEWAY TO THE MV AGUSTA WORLD
The new R family, which replaces the Rosso, was conceived as an entry-level offer to the MV Agusta world. The greater availability of colour schemes, focused on red and black in various combination, is just one of the new features for the Brutale R, Dragster R, F3 R, and Turismo Veloce R model.
The Brutale R makes its début packed with plenty of refinements: fork and mono shock with new adjustment, Continental MK100 ABS with optimised calibration, a new rider saddle, 5.5" TFT instrumentation with updated software, new electronic Ride-By-Wire throttle control featuring negative rotation, and valve tappets with DLC coating that reduces friction and improves efficiency.
For 2023, the Dragster R has new Pirelli Diablo Rosso IV tyres, a more modular rear brake, fork and mono shock with new adjustment, Continental MK100 ABS with optimised calibration, a new saddle, 5.5" colour TFT instrumentation with updated software, new electronic Ride-By-Wire throttle control featuring negative rotation, and valve tappets with DLC coating.
The sporty F3 R joins the 2023 range with new graphics and the glossy Ago Red colour scheme. A new Full LED front light cluster makes its début, complete with DRL and a pair of futuristic headlamps for low and high beam. The LED turn indicators have been redesigned and inserted in rear view mirrors that are also brand new. The rear turn indicators are now LED. The fork has a TIN coating, whereas the OEM tyres are Pirelli Diablo Rosso Corsa IV. All the improvements already offered on the other models are confirmed here as well, specifically the redesigned Ride-By-Wire system featuring negative rotation to favour throttle modulation and deactivating cruise control without braking. The braking features new equipment in the form of Brembo M4.30 Stylema front callipers.
The Turismo Veloce R is available in matt black (Metallic Carbon Black) and in the classic red and black combination (Metallic Madness Red Gloss and Metallic Carbon Black Gloss). The rider saddle has been lowered to make it even easier to reach the ground and comfort has increased thanks in part to the wider windscreen and the longer gear ratios.
2023 MV Agusta Dragster R Totalmotorcycle.com Features and Benefits
ENGINE
• COUNTER-ROTATING CRANKSHAFT
• CAM FOLLOWERS WITH DLC COATING TO REDUCE INTERNAL FRICTION AND IMPROVE PERFORMANCE
• OPTIMISED CRANKSHAFT MAIN BEARINGS, CONNECTING ROD BEARINGS AND COUNTERSHAFT BEARINGS TO REDUCE FRICTION AND INCREASE RELIABILITY
• OPTIMISED CLUTCH BASKET FOR SMOOTHER ENGAGEMENT
DESIGN. EXCLUSIVE FROM EVERY ANGLE
The most distinctive hallmark of the Dragster Rosso is its exclusive colouring. The exuberance of red, alternating with the elegance of black, serves to highlight the design architecture.
FEEL THE POWER OF SOUND
The Rosso brings the style and aggression of the Dragster 800 to the most accessible level ever for riders of all abilities.The three-cylinder engine is a benchmark for performance, elasticity and usability in every situation. The 110 HP and 83 Nm torque guarantee an intense yet accessible riding pleasure.
CONTROL AND CUSTOMISATION
The MVICS with full Ride-By-Wire has been further improved. There are eight levels of traction control on offer, and four riding modes: Sport, Race, Rain, Custom. Changing the character of the engine has never been so quick and intuitive — it's just like having four bikes in one.
HI-TECH FOR EVERYBODY
For 2021, the Dragster Rosso has received all the technical and electronic updates of the Dragster range, incorporating them into a more urban configuration. The plates on the frame, the new linkage of the shock absorber, the suspension settings, the saddle with brand-new padding: all make the experience of riding the Dragster Rosso more rewarding, with less exertion.
QUALITY BRAKING SYSTEM
Performance and safety: mission accomplished thanks to the pair of four-piston Brembo radial callipers on the front end. More latest-generation features include the ABS (anti-lock braking system) developed by Continental, with cornering function and RLM (Rear wheel Lift-Up Mitigation).
2023 MV Agusta Dragster R – Totalmotorcycle.com Specifications/Technical Details
US MSRP Price: $ See Dealer for Pricing in USD
Canada MSRP Price: $ See Dealer for Pricing in CDN
Europe/UK MSRP Price: £13,600 Dealer GBP
ENGINE
Type Three cylinders, 4 stroke, 12 valves
Timing system "D.O.H.C" with mechanical chain tensioner
and DLC tappet
Total displacement 798 cm3 (48.7 cu. in.)
Compression ratio 12.3:1
Starting Electric
Bore x stroke 79 mm x 54.3 mm (3.1 in. x 2.1 in.)
Max. power – r.p.m. (at the crankshaft)** 82 kW (112 hp) at 11.000 r.p.m.
Max. torque – r.p.m. 85 Nm (8.67 kgm) at 8.500 r.p.m.
Cooling system Cooling with separated liquid and oil radiators
Engine management system Integrated ignition – injection system MVICS 2.1
(Motor & Vehicle Integrated Control System) with three injectors. Engine control unit Eldor
Nemo 2.1, throttle body bore 47 mm diameters full ride by wire Mikuni, pencil-coil. torque control with four maps.Traction Control with eight levels of intervention.
Electronic quick shift MV EAS 3.0 (Electronically Assisted Shift
Up & Down)
Clutch Multi-disk wet clutch with hydraulic actuation and back torque limiting device
Transmission Cassette style; six speed, constant mesh
Primary drive 22/41
Gear ratio
First gear 13/37
Second gear 16/35
Third gear 18/32
Fourth gear 20/30
Fifth gear 22/29
Sixth gear 21/25
Final drive ratio 16/41
ELECTRICAL EQUIPMENT
Voltage 12 V
Alternator 350 W at 5.000 r.p.m.
Battery 12 V – 8.5 Ah
DIMENSIONS AND WEIGHT
Wheelbase 1.400 mm (55.12 in.)
Overall length 2.035 mm (80.12 in.)
Overall width 935 mm (36.81 in.)
Saddle height 845 mm (33.27 in.)
Min. ground clearance 135 mm (5.31 in.)
Trail 103 mm (4.07 in.)
Dry weight 175 kg (385.8 lbs.)
Fuel tank capacity 16,5 l (4.36 U.S. gal.)
PERFORMANCE
Maximum speed* 237.0 km/h (147.2 mph)
Acceleration* 0-100 km/h in 3.75 s 0-200 km/h in 12.30 s
FRAME
Type ALS Steel tubular trellis
Rear swing arm pivot plates material Aluminium alloy
FRONT SUSPENSION
Type Marzocchi "UPSIDE DOWN" telescopic
hydraulic fork with rebound-compression
damping and spring preload external and
separate adjustment
Fork dia. 43 mm (1.69 in.)
Wheel travel 125 mm (4.92 in.)
REAR SUSPENSION
Type Progressive, Sachs single shock absorber with rebound and compression damping and spring preload adjustment
Single sided swing arm material Aluminium alloy
Wheel travel 130 mm (5.12 in.)
BRAKES
Front brake Double floating disc with Ø 320 mm (Ø 12.6 in.)
diameter, with steel braking disc and flange
Front brake caliper Brembo radial-type monobloc, with 4 pistons Ø 32 mm (Ø 1.26 in.)
Rear brake Single steel disc with Ø 220 mm (Ø 8.66 in.) dia. Rear brake caliper Brembo with 2 pistons – Ø 34 mm (Ø 1.34 in.)
ABS System Continental MK100 with RLM (Rear Wheel Lift-up Mitigation) and with cornering function
WHEELS
Front: Material/size Aluminium alloy 3.50" x 17"
Rear: Material/size Aluminium alloy 6.00" x 17"
TYRES
Front 120/70 – ZR 17 M/C (58 W)
Rear 200/55 – ZR 17 M/C (78 W)
FAIRING
Material Thermoplastic
CONTENTS
Exclusive content MV Ride App – GPS sensor – Bluetooth
Cruise control
OPTIONAL
The full Special Parts range is available on the MV Agusta website
EMISSIONS
Environmental Standard Euro 5
Combined fuel consumption 5.1 l/100 km
CO2 Emissions 117 g/km
* Top speed attained on closed course.
** Limited power version (35 kW) available on demand only for european market.
Manufacturer Specifications and appearance are subject to change without prior notice on Total Motorcycle (TMW).