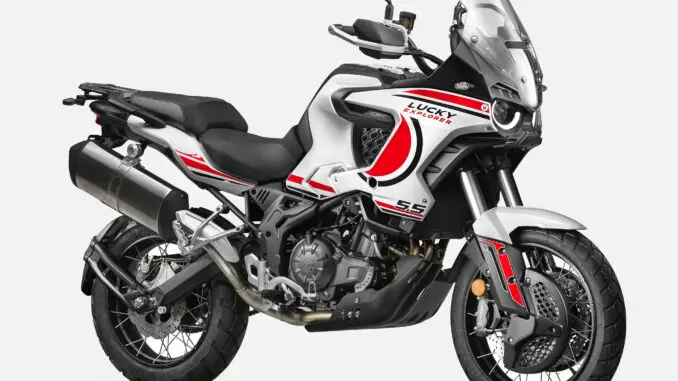 2023 MV Agusta Lucky Explorer 5.5: DESIGNED FOR THOSE WHO LOVE TO TRAVEL.
Introducing the 2023 MV Agusta Lucky Explorer 5.5…
The Lucky Explorer concept goes far beyond the proposal of new models. It is a symbolic container of emotions, memories and all that Schiranna production offered riders in the 80s and 90s, ready to guide enthusiasts into the future by combining the real world with the opportunities afforded by the virtual world of social media. The project envisages two brand-new bikes, the 9.5 and the 5.5, with the latter, a baby adventure inspired by the heritage of the Elefant, set to be launched in February 2023. Although a mid-sized bike, it looks bigger. Designed for those who love to travel, it is more than able to win over the European rider who seeks adventure.
CONCEPT OF LUCKY EXPLORER
Suddenly, they made our dreams come true. It was the 1980s and with Paris-Dakar, we realised that driving doesn't end when the asphalt does. Two wheels opened up the doors to infinity. We discovered that we can travel thousands of kilometres through nothing, push the limits of ourselves and our bike, find our way by looking at a road book held together with an elastic or repair an engine with our bare hands in the middle of the night.
All of this has become a part of us. And today we're bringing it back to life. Two models to revive the spirit of adventure that marked an age. And reclaim our freedom, on everyday roads.
LUCKY EXPLORER INSIGHTS
Today you can ride this promise. You can choose a bike that is made to go very far. Or a bike that is closer, friendly. Both have a past that has grown your wanderlust. And a present that screams at you to face the next horizon. In common, a logo, bringing back memories of great feats. From undisputed queens of Eicma 2021, capable of filling pages of newspapers around the world, the 5.5. and 9.5 models are now ready for an exciting new adventure to be told. Wear your helmet…. it's time to take back your freedom.
2023 MV Agusta Lucky Explorer 5.5 Totalmotorcycle.com Key Features
2 Cylinders
47HP Engine max power @ 7.500 R.P.M
160KM/H Max speed
554CC Engine displacement
220KG Dry weight
11.5:1 Compression ratio
ENGINE
554CC LIQUID-COOLED IN-LINE 2-CYLINDER, DOHC, 8 VALVE, ENGINE
270° CRANKSHAFT WITH BALANCE SHAFT.
6 SPEED TRANSMISSION
REFINED IN-LINE TWO-CYLINDER, 4-STROKE, 8-VALVE ENGINE WITH DOUBLE OVERHEAD CAMSHAFT TIMING AND LIQUID COOLING.
THE 554 CC DISPLACEMENT (BORE 70.5 MM AND STROKE 71 MM) WAS DESIGNED EXCLUSIVELY FOR THIS MODEL, INCREASING THE TORQUE CURVE EVEN FURTHER. 35 KW OF MAX POWER MAKES THE 5.5 IDEAL FOR A2 LICENSE RIDERS.
FRAME
TUBULAR HIGH TENSILE STEEL TRELLIS FRAME
REMOVABLE HIGH-STRENGTH STEEL TRELLIS REAR SUBFRAME DIE CAST ALLUMINIUM ALLOY HEAT TREATED REAR SWING ARM.
KYB SINGLE SHOCK ABSORBER WITH REBOUND/COMPRESSION DAMPING AND SPRING PRELOAD ADJUSTMENT.
FRAME COMPONENTS
19" SPOKE FRONT RIM AND WIDE-RANGE TUBELESS TIRES, ALSO SUITABLE FOR USE ON DIRT ROADS.
FRONT FENDER WITH INTEGRATED FORK GUARDS AND FRONT DISKS GUARDS.
43 MM DIAMETER KAYABA FORK WITH 135 MM OF TRAVEL THAT ARE ADJUSTABLE IN REBOUND AND SPRING PRELOAD.
BREMBO 4-PISTON RADIAL CALIPERS COUPLED TO DUAL FRONT FLOATING DISCS BOSCH ABS.
ERGONOMICS
SEATING POSITION IS DESIGNED TO MAXIMISE WIND PROTECTION
THE WIDE SEATS OFFER IDEAL COMFORT FOR LONG DISTANCE TRAVEL
THE 860 mm SEAT HEIGHT ENSURES MAXIMUM CONTROL IN ALL SITUATIONS.
ELECTRONICS
FULL LED LIGHTING
ICONIC HALF CIRCLE POSITION LIGHTS
USB SOCKET
NAVIGATION ELECTRONICS
5" TFT DASHBOARD
800 * 480 MINIMUM RESOLUTION, BRIGHTNESS: 800 CD/M2
MULTI MAP MENU
CONNECTIVITY WITH MV AGUSTA RIDE APP
DESIGN ELEMENTS
INTEGRATED ICONIC LOGO
DARK UPPER FAIRINGS
SIDE FAIRING
HAND GUARDS
DISC GUARDS
SKID PLATE
STYLE
BLACK FRONT COWLING, LOW TANK, SIDE FAIRING, PLAYING BETWEEN GRAPHICS AND SHAPES TO RE-CREATE THE LUCKY EXPLORER LOGO.THE SEMI CIRCULAR SHAPE ON THE SIDE WAS CREATED TO FEEL THE ELEFANT DNA EVEN WITHOUT THE GRAPHICS
LUGGAGE RACK
PASSENGER ERGONOMIC HANDLES
ACCESSORIES
FRONT CRASHBAR
SIDE CASES
TOP CASE
Lucky Explorer is synonymous with a world of emotions, memories and values. It is a way of being. A return that off-road fans have been eagerly awaiting, but also a new start and a leap into the future, as confirmed by the thousands of followers who have already shown their loyalty to the luckyexplorer.official Instagram profile. The first bike on the Lucky Explorer schedule to enter production is the 5.5, which offers the perfect interpretation of MV Agusta family heritage. The most advanced technologies are decanted into this model but without ever losing sight of the primary goal, or rather to create a mid-sized model that is potentially unbounded, able to take on any kind of terrain or route with ease.
Development of the smaller 5.5 is now complete and the model is ready to arrive in dealerships starting in  February 2023, positioning itself as the entry level in terms of its engine size and cost, but flaunting a particularly high level of quality for the segment in which it places. The 5.5 stands out for a design that is not just a symbolic reference to the Elefant, two-time winner of the original Dakar, which would begin in Paris on 1 January and conclude in Senegal after crossing scree, desert and savannah.
Various details of the 5.5 have been refined along the path to industrialisation. Designed in CRC and developed with partner QJ, it retains all the spirit of the Elefant family and serves as the gateway model to the new Lucky Explorer family, just as the 350 paved a way to the world of twin-cylinders in the 1980s. A mid-sized bike, it nevertheless looks bigger, with style details and graphics that directly recall the dakarian models of the past.
The base model has been significantly updated in its electronics, mechanics and chassis, with the Schiranna technicians striving for very particular specifications. The engine, a liquid-cooled in-line twin with double overhead camshaft, has been revised with the aim of further increasing an already impressive level of performance. Displacement reaches 554 cc (with 70.5 mm bore and 71 mm stroke) for a torque curve that is even more robust with respect to the point of departure, ensuring full, regular delivery at all speeds. The electronics have also been optimised to ensure the best compromise between performance and safety.
The graphics white colour scheme with stylised Lucky Explorer logo, has been customised with superstructures and other essential elements to underline the family's style stamp with specially designed light clusters. It shares its style influence with the 9.5 and is clearly inspired by the legendary desert races, but the 5.5 still has many exclusive characteristics of its own. With its distinct personality, this model proudly lays claim to a technical, conceptual and aesthetic identity that will allow it to stand out on an increasingly crowded landscape of mid-sized twins with an adventurous vocation.
2023 MV Agusta Lucky Explorer 5.5 Totalmotorcycle.com Features and Benefits
FEATURES. ALL NEW 5.5
Refined in-line 2-cylinder, 4-stroke, 8-valve engine with double overhead camshaft timing and liquid cooling.270° crankshaft with balance shaft. 6 speed transmission. The 554 cc displacement (bore 70.5 mm and stroke 71 mm) was designed exclusively for this model, increasing the torque curve even further. 35 kw of max power makes the 5.5 ideal for A2 license riders.
STYLE
Black front cowling, low tank, side fairing… Playing between graphics and shapes to re-create the Lucky Explorer logo. The semicircular shape on the side was created to feel the Elefant DNA even without the graphics.
5" TFT DASHBOARD
800 * 480 minimum resolution, brightness: 800 cd/m2, multi map menu, connectivity with MV Ride app for navigation and more.
FULL LED LIGHTING
Full led lighting, iconic half circle position lights, USB socket.
TECHNOLOGY
COMPONENTS
43 mm diameter Kayaba fork with 135 mm of travel that are adjustable in rebound and spring preload. Front fender with integrated fork guards and front disks guards. Brembo 4-piston radial calipers coupled to dual front floating discs, Bosch abs. 19" spoke front rim and wide-range tubeless tires, also suitable for use on dirt roads.
2023 MV Agusta Lucky Explorer 5.5 – Totalmotorcycle.com Specifications/Technical Details
US MSRP Price: $ See Dealer for Pricing in USD
Canada MSRP Price: $ See Dealer for Pricing in CDN
Europe/UK MSRP Price: £ See Dealer GBP
 ENGINE
Type
2 cylinder, 4 stroke, 8 valve
Timing system
"D.O.H.C" with mechanical chain tensioner
Total Displacement
554cm3 – 33,8 in3
Compreassion ratio
11,5:1
Starting
Electric
Bore per stroke
70.5×71 mm – 27.75×27,95 in.
Max. power – r.p.m.

(at the crankshaft)

35 kW (47.6 CV)

7.500 r.p.m

Max torque
51 Nm (5,19 kgm)

a 5.500 r.p.m

Cooling System
Liquid
Engine management system
Integrated ignition – injection system, 2 injectors
Clutch
Wet, multi-disc clutch.
Transmission
six speed, constant mesh
 BRAKES
Front brake
Double floating disc. Ø 320 mm (Ø 12.6 in.), with steel braking disc and flange

Front brake Brembo caliper, with 4 pistons Ø 32 mm (Ø 1.2 in.)

Rear brake
Single steel disc with Ø 260 mm (Ø 10.3 in.) dia Brembo caliper with 2 pistons – Ø 34 mm (Ø 1.3 in.)
ABS system
BOSCH
 DIMENSION AND WEIGHT
Wheelbase
1.505 mm – 59,2 in
Overall lenght
2.220 mm – 87,2 in
Overall width
915 mm – 36,0 in
Saddle height
860 mm – 33,8 in
Min. Ground clearance
210 mm – 8,3 in
Trail
114 mm – 4,5 in
Dry weight
220 kg – 484 lbs
Fuel tank capacity
20l – 5,3 Us Gallon
 FRONT SUSPENSION
Type
KYB "UPSIDE DOWN" telesco­pic hydraulic fork with rebound and spring preload adjustment.
fork ø
43 mm – 1,69 in
Wheel travel
135 mm – 5,31 in
REAR SUSPENSION
Type
Progressive, KYB single shock absorber with rebound and compression damping and spring preload adjustment.
Material
Aluminium alloy twin sided swing arm.
 PERFORMANCE
max speed 160 Km/h
FRAME
Tubular high-tensile steel trellis frame
WHEELS
Front
Alloy spoke wheel 3" x 19"
Rear
Alloy spoke wheel 4,25" x 17"
TYRES
Front
100/80 – ZR 19 tubeless
Rear
150/70 – ZR 17 tubeless
CONTENTS
E TFT 5" Full HD Dashboard – Bluetooth connectivity – GPS sensor – MV Ride app with turn by turn navigation system.

Front bumper inclused as standard, optional bags kit.

EMISSIONS
Environmental Standard
Euro 5
Fuel consumption

(Combined)

3.8 l/100 km
CO2 Emissions
87 g/km
Manufacturer Specifications and appearance are subject to change without prior notice on Total Motorcycle (TMW).