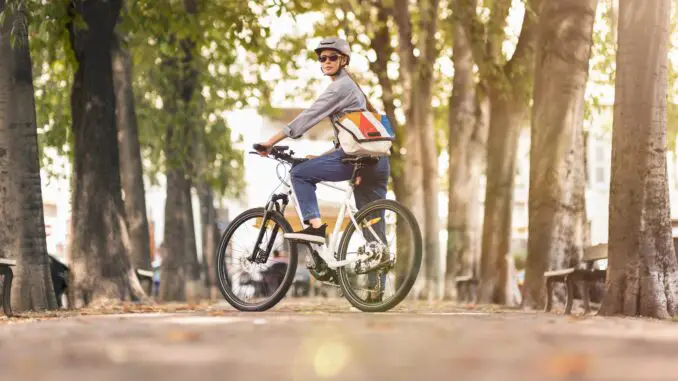 2023 Yamaha CrossCore RC: CARRY GROCERY BAGS OR A 75″ TV!
Introducing the new 2023 Yamaha CrossCore RC…
Made for roads and city. Point A to point B just got a whole lot sweeter. Experience the wind in your face, air in your lungs, and what life on two wheels has to offer. Enhance your everyday adventure with the new CrossCore RC. Charge. Pedal. GO!
CrossCore RC is a versatile, adaptable and accessible eBike that's ready for whatever the new day brings. It's been specifically designed to handle everything from urban commuting through to relaxed leisure riding and fitness training. And with zero emissions and low running costs, it's the right choice for so many reasons.
For every day, for everyone.
At the heart of this great-looking eBike is Yamaha's best-selling PW-ST drive unit that's one of the quietest and most responsive motors in its class. As well as providing smooth and quiet performance, this intelligent motor uses sensors that monitor the way you ride and adjust the power assistance to give you the most natural and enjoyable ride.
For a relaxed and upright riding position the durable and lightweight chassis is equipped with flat handlebars – and the front forks give 63 mm of suspension movement to soak up the bumps. The simple Display A interface makes it easy to change riding mode and check battery status – and if you want to personalise your CrossCore RC there's a wide range of trekking accessories.
Functional, stylish and offering excellent value and strong performance, the CrossCore is a versatile all-rounder designed as the ideal everyday bike for all riders, young and old.
A real alternative to the car
CrossCore is an accessible all-round bike that is designed for a wide spectrum of mainly urban dwelling customers who are looking to change their lifestyle and are considering commuting by bike rather than car or public transport. And with a range of easy to attach trekking accessories available, CrossCore RC is an ideal bike for days out in the countryside or even longer distance trips.
Yes, carrying a 75″ TV can be done!
Taking a new TV home on a unicycle … can he do it? pic.twitter.com/og2wlPJc30

— KrissPax (@krisspax) February 28, 2023
PWseries-ST drive unit
Natural ergonomics
Adaptable chassis
Optional trekking components
Display A interface
Automatic Support mode
Zero Cadence technology
Three sizes, two colours
You may be surprised to discover that Yamaha developed the world's first production eBike 30 years ago. In fact, Yamaha has been building eBikes for the Japanese market for the last three decades – as well as supplying the eBike system that drive many of the eBikes sold in Europe. And the new CrossCore RC urban bike is the start of an exciting new electric future for the company.
A new era in zero emission two-wheel personal mobility
As one of the leading brands in personal mobility on land, water and snow, Yamaha has forever changed the face of the motorcycle, scooter, marine and snowmobile worlds with some of the most revolutionary new designs and game-changing concepts.
Yamaha is committed to creating innovative new products that have the power to provide an exciting and inspirational 360-degree lifetime experience for thousands of customers all over the world. With an illustrious history going back almost 70 years, the brand has established a reputation for premium quality, remarkable performance and cutting edge design – and now Yamaha is fully prepared to move into an electric future with next generation designs that offer everyone a special new sense of freedom and joy.
Yamaha: eBike pioneer since 1993
It was nearly 30 years ago that Yamaha launched the world's first production eBike. Initially aimed at commuters and shoppers, the original Yamaha PAS was a revolutionary new concept that will go down in history as the spark that ignited the whole eBike movement. The PA26 experience set Yamaha on the path to becoming a major producer of eBikes for the Japanese market during the past three decades, as well as a key manufacturer of eBike System which are powering many of today's eBikes sold within the European market.
Embracing the age of the two-wheel Electric Vehicle
Announced in early 2022, Yamaha's Switch ON strategy confirmed the company's entry into the world of electric personal mobility and outlined its ambitions to become a leading brand in the two-wheel Electric Vehicle market. Designed to inspire a new generation of customers who are looking for zero emission personal transportation for sport, leisure and commuting, the forthcoming line up of Yamaha eBikes, scooters and pedelecs adds another dimension to personal mobility.
MORO 07, WABASH RT and CROSSCORE RC: Three new Yamaha eBikes for 2023
One of the most exciting new chapters in Yamaha's history is about to be written with the launch of three eagerly awaited new eBikes for 2022 covering the MTB, gravel and urban sectors.
The company's experience in the production of eBikes and compact drive units is second to none, and the new Yamaha line up has been holistically developed with the PW Series drive units and is imbued with the company's dynamic DNA.
Aimed at a wide variety of riders from existing Yamaha motorcycle and scooter owners who appreciate the strong brand values through to customers looking for a good price/performance ratio combined with trusted technology, the Moro 07, Wabash RT and CrossCore RC will be available exclusively through Yamaha's network of Powered Two Wheel dealers.
2023 Yamaha CrossCore RC Totalmotorcycle.com Features and Benefits
CROSSCORE RC FEATURES
When passion meets purpose, the possibilities are endless. Yamaha's CrossCore RC takes reliability, design, and functionality to new heights.
Creature comforts meets instinctive power.
ALL-NEW PWSeriesST
With pedal assist power up to 28mph, Yamaha's Quad Sensor System delivers assist in all conditions and offers a broad range of power assist modes that work great for many different styles of riding.
Hydraulic Disc Brakes
Hydraulic disc brakes and center lock rotors provide you with strong, dependable braking power in all conditions. Power when you want it, braking when you need it.
Large Volume Road and City Tires
Large volume 2" wide tires means smoother pedaling over rough surfaces for a more comfortable ride feel. Now you can comfortably stay out longer or go even further.
Easy Accessory Compatibility
Equipped with an integrated kickstand for easy stowage and tabs built into the frame for options like fenders and rear rack. Take your things with you and make it a fun trip.
Yamaha 500Wh Battery
Yamaha's proven 500 Watt-hour Lithium-ion battery encased inside the frame provides you with great function, reliability, and protection. When it's time to plug-in the high-speed charger, you can choose to recharge with the battery pack in the frame or take it out for convenient storage.
Integrated Speed Sensor
Engineered into the rear hub and an exclusive design to Yamaha bicycles, our speed sensor immediately recognizes the slightest change in rolling speed and adjusts motor input to deliver a smooth and natural power assist feel.
LED Headlight
Equipped with a powerful LED headlight to help guide the way and easy on/off button access using the ergonomic multifunction display switch.
Comfort Focused Suspension
Bring the smooth and easy-to-adjust comfort of the SR SuntourNEX fork. Take the thud out of small bumps and rough roads with 2.5" of cushion without losing the quick handling characteristics of the optimized frame geometry.
ALL-NEW Modes, Display, and Switch
Utilizing our Quad Sensor System, the NEW Automatic Mode brings an added peace of mind to our 4-mode system for smooth and powerful assist. Our new display is designed for a wide range of uses, from city to trail riding and features a simple and easy to operate LCD display with speed and battery capacity functions.
High end Yamaha technology
The Yamaha CrossCore RC benefits from much of the advanced technology found on some premium eMTBs, including Yamaha's Zero Cadence technology and Automatic Support Mode with Inclination Sensor make it easier and more enjoyable to ride – especially on gradients and into the wind.
Drive is supplied to the high quality Shimano SL-M2010-9R chain set by the best-selling low noise PW-ST drive unit that delivers 70Nm maximum torque powered by a 500Wh battery, giving strong performance on the street or dirt road.
Smart and simple
Its smart design gives it the simple looks appreciated by many commuter riders who prefer an understated style, and the functionality is complemented by Yamaha's Display A interface that provides essential information in a large format display.
Zero emission personal mobility
With its easy handling, wide range of optional trekking and commuting accessories and great price/performance ratio, the CrossCore RC is an extremely attractive option for everyone who is looking for every day, zero emission personal mobility.
Colours and sizes
CrossCore RC is offered in three sizes and is available in Shiver White and Urban Sage.
PWseries-ST drive unit
With its extremely quiet running, compact dimensions and responsive performance the Yamaha PWseries-ST drive unit is ideally suited to all kinds of riding in di erent situations. Producing 70Nm of torque and delivering a natural riding experience, this best-selling drive unit makes the CrossCore RC so adaptable and enjoyable on every journey.
Natural ergonomics
Whether you're commuting, exploring or riding for fun or tness, you'll appreciate the CrossCore RC's relaxed ergonomics. Conventional at handlebars feature comfortable grips and mini bar ends for a natural and controllable steering feel, and the upright riding position also gives excellent visibility in busy urban track.
Adaptable chassis
Equipped with 63mm travel front suspension and durable 27.5 x 2.0 tyres, the CrossCore RC's aluminium hardtail chassis is built to withstand everything that the city streets can throw at it. Its strong and lightweight construction delivers con dent handling on
a variety of surfaces, making this adaptable eBike the perfect choice for year-round riders who need versatile, dependable and
a ordable zero emission transport.
Optional trekking components
Yamaha has developed a range of Genuine Accessories for the CrossCore RC – including a range of easy to attach trekking components that make this accessible and versatile model the ideal choice for anyone looking for a bike that's ready to perform every day of the year.
Display A interface
The Display A interface provides easy to read information with a simple large format LCD display that includes a speedometer, battery capacity indicator, assist mode setting, trip meter, odometer and range – and for added convenience the support mode can be changed at the press of a button.
2023 Yamaha CrossCore RC – Totalmotorcycle.com USA Specifications/Technical Details
US MSRP Price: $3,099 USD
Canada MSRP Price: $ See Dealer CDN
Europe/UK MSRP Price: £2,599 GBP (On The Road inc 20% Vat)
Suggested Use Casual Pavement Adventure
Sizes Small, Medium, Large
Total Weight L: 52.6 M: 52.4, S: 52.2 (lbs.)
Frame Yamaha Hydroformed Aluminum. Integrated battery.
Water bottle boss. Tapered Headtube. Internal shift/brake
hose routing. Rack/Fender compatible
Fork SR Sun tour NEX E25. 63mm Travel. 12x100mm Thru-Axle
Battery Yamaha Lithium Ion 500Wh, 36V, 13.4Ah
Drive Unit Yamaha PW Series ST 3-bolt Mount, Display A
Crankarm Square Taper Spindle Length S-165mm, M and L – 170mm
Chainring SAMOX 44t
Shifter Shimano M2010 9-speed
Rear Derailleur Shimano M3100 SGS
Brakes Hydraulic front/rear
Rotors Center lock 180mm front, 160mm rear
Cassette SHIMANO HG400 9-speed 11-13-15-17-20-23-26-30-36T
Chain KMC e11 118 links
Hubs Front: 12x100mm Quick-Release Thru-Axle (QRTA)
Rear: 12x142mm QRTA with integrated speed sensor
Rims 275" 32-Hole Dual Channel Welded Pin w/ Eyeleted Spoke
Holes 24.5mm External Width, 19mm Internal Width
Spokes SUS304 14G w/ brass nipple
Tires/Tubes CST C1996 27.5×2.0"
Headset Integrated bearing with 30mm of spacers
Stem 31.8 clamp dia. 6 deg rise 80mm
Handlebar 31.8 dia. 640mm width
Grips/Tape Two-tone ergonomic locking
Seat post 30.9 diam. Length: 345mm (L, M), 295 (S)
Seat post Collar Alloy 2-bolt 35.0mm diameter 2-bolt
Saddle Yamaha Urban Comfort CroMo Rail
Fitness specific ergonomics and geometry Wheels and tires ready for durability and acceleration Ergonomic grips for comfort and functionality Fender and rear rack compatible Quad Sensor System with rear hub speed sensor Rated power: 250W (Nominal), 500W (Max.)Max. torque: 70NmMax. speed support: 28mph5 Assist modes: AUTO, ECO+, ECO, STANDARD, HIGH Walk Assist Feature
Accessories Included Kick stand Yamaha battery charger
LED Headlight
Warranty 3-Year on Frame, Drive Unit, Battery
2023 Yamaha CrossCore RC – Totalmotorcycle.com Canada Specifications/Technical Details
TBA
2023 Yamaha CrossCore RC – Totalmotorcycle.com European Specifications/Technical Details
Total Weight
23,9 kg
Wheel Size
700C
E-Bike Class
Pedal Assist
Drive Unit
Yamaha PWSeries ST 3-bolt Mount
Battery
Yamaha Lithium Ion 500Wh, 36V, 13.4Ah
Display/Remote
Display A
Max Speed with Assist
25km/h
Technology
Yamaha Hydroformed Aluminum. Integrated battery. Water bottle boss. Tapered Headtube. Internal shift/brake hose routing. Rack/Fender compatible
Fork
SR Suntour NEX E25. 63mm Travel. 12x100mm Thru-Axle
Rear Shock
N/A
Headset
Integrated bearing with 30mm of spacers
Handlebar
Alloy, 31.8mm clamp, width 640mm
Stem
31.8 clamp dia. 6 deg rise 80mm
Grips
Two-tone ergonomic locking
Saddle
Yamaha Urban Comfort Cro-Mo Rail
Seatpost
30.9 diam. Length: 345mm (L, M), 295 (S)
Brakes
Shimano BR-MT200
Shifters
Shimano M2010 9-speed
Rear Derailleur
Shimano M3100 SGS
Crankarm
Square Taper Spindle Length S-165mm, M and L – 170mm
Chainrings
Alloy 44t
Chain
KMC e11 118 links
Cassette
SHIMANO HG400 9-speed 11-13-15-17-20-23-26-30-36T
Wheels
Dual Channel Welded Pin w/ Eyeleted SpokeFront: 12x100mm Quick-Release Thru-Axle (QRTA) Rear: 12x142mm QRTA with integrated speed sensor
Tires
CST C-1996 27.5 x 2.00
Manufacturer Specifications and appearance are subject to change without prior notice on Total Motorcycle (TMW).