Total Motorcycle Timeline News Archives
2004 Total Motorcycle News Timeline
New Hyosung and Moto Guzzi Models



Better late than never… As the clock ticks down on the 2005 motorcycle model year both Hyosung and Moto Guzzi have introduced late 2005 models. Take a look at the new 2005's with full desktop sized photos and detailed information. See the 2005's
TMW Bikers Dictionary 2nd Edition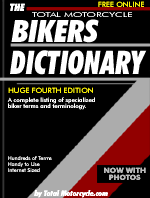 The Second Edition of The Total Motorcycle Bikers Dictionary has arrived for you to enjoy! Now with even more great biker words to use, understand and impress your riding buddies with. We are talking hundreds of unique bikers words like "Chicken strips", "Flogging It", "Thumper", "Ape Hangers", "Yard Shark" and so many more. The Total Motorcycle Bikers Dictionary; made by bikers for bikers… read it today.
Start Your Motorcycle Blog on TMW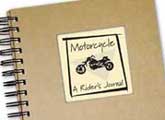 Why not start your very own Motorcycle Blog/Journal on Total Motorcycle today? TMW visitors will enjoy reading about your motorcycle rides, trips, daily travels, share stories, give tips, advice and so much more. Sounds like a lot fun so why not sign up today and get your Motorcycle Blog/Journal started today? It fast, easy and free to all our visitors… Click here to go to the Motorcycle Blog Section
2005 Motorcycle Models Sections


2005 Motorcycle Section & 2005 Motorcycle Photo Gallery
See the new 2005 Harley Davidson, Honda, Kawasaki, Suzuki, BMW, Victory and Yamaha Motorcycle models.
2006 Honda VFR1200?


Possible 2006 Honda VFR1200 Revealed
Honda is to launch a 1200cc V5-engined replacement for the Blackbird. It will be packed full of anti-crash electronics and be capable of cracking 200mph. More…
New 2005 Kawasaki ZX-6R Spotted!


2005 Kawasaki ZX-6R
Kawasaki will be launching its 2005 range at the end of August and the updated ZX-6R is expected to take canter stage.. More…
Motorcycle Prototype, Spy & Concept Gallery


Prototype, Concept & Spy Gallery
Check out the most complete collection of motorcycle Prototype, Concept and new model Spy shots on the net! More…
Indian Motorcycle Purchased

Indian Motorcycle to Live Again!
Extra, Extra! Read all about it! Indian Motorcycle has been purchased. More…
New 2005 BMW K1200R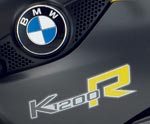 The world's most powerful naked bike, BMW's new 160bhp-plus K1200R, will go on sale in the middle of next year. New features include naked muscle styling, tuned performance, dual-headlamps, redesigned seat and gauges. Read all about it and see the photos here. More…
2005/2006 Honda 599/Hornet 600F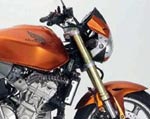 Honda's new-for-2005/2006 Hornet 600/Honda 599F. Featuring upside-down forks, a first for a 600cc naked bike. New front styling, new superbike gauges and more…. Will North America be getting the new CBR600F4i engine? Read all about it and see the photos here. More…
New 2006 Harley Davidson Street Rod!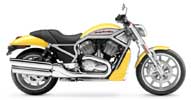 This just in. Be the first to see photos and read information on and about the new 2006 Harley Davidson VRSCR Street Rod. Upright riding position, inverted front forks, 40° lean angle, 1130cc Revolution V-Twin engine, 120hp and tuned suspension. More…
High on fun factor, low on price…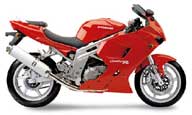 Hyosung, Korean motorcycle manufacturer has just released 3 new 2005 motorcycles that will be racing head on in to the 650cc market. Can good styling, innovative design and low low prices win YOU over? See the just released photos and information here at Total Motorcycle. More…
2005 Detroit Motorcycle Show Review


Check out Total Motorcycle's huge 10 page review with over 50 photos from the 2005 Detroit Motorcycle Show. Follow our TMW reviewer David Collins as he takes you on a journey from BMW to Yamaha and back again… More
Rare Prototype Motorcycles Photos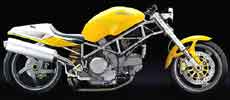 See the largest collection of prototype/concept motorcycles right here on Total Motorcycle. 23 pages of rare photos including the Ducati Cruiser, Indian Four, Honda CBR900 Cobra, Suzuki Bandit 1000, BMW K1200R Cupracer, Honda Hornet RR, W3 Feuling, Yamaha R1 Gold Edition, Yamaha Naked YZF and 300 more…
TMW presents the art of Glynn Kerr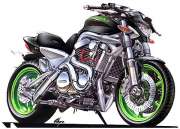 Total Motorcycle is proud to present the works of Glynn Kerr, motorcycle artist extraordinaire. Gylnn has been designing motorcycles since the early 1980's; now see his amazing artwork in our Total Motorcycle Artwork Gallery. More on Glynn….
TMW Forum grows past 3,000 members
Looking for a friendly, helpful and useful motorcycle forum? Join our Total Motorcycle Community Forum today. Now bigger and better with over 3,000 members and 33,000 messages. Join free.

Daily Motorcycle News
Start your day off right with a full helping of daily TMW Motorcycle News. Updated daily and chock full of motorcycle goodness.Your source for motorcycle news around the world as it happens. Read Today's News…
2005 Ducati 999R Exclusive – 7 Pages!


The new 2005 Ducati 999R
Exclusive to Total Motorcycle readers, our 7 Page report with photos and specifications on the Ducati 999R. A new front fairing, new rear swing arm and suspension, a major upgrade to 150 horsepower for the engine are all intended to reinforce the bike's placement as a Superbike. More…
Total Motorcycle Compendium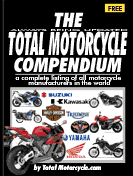 Total Motorcycle Compendium
A comprehensive list of all the world's motorcycle manufacturers. History and Photos from the very first steam motorcycle manufacturer of the late 1800's, to the 20th and 21st century new bike manufacturers of today. More…
Total Motorcycle Arcade Grows! Update 3


UPDATE #3: Winter is upon us and we at Total Motorcycle will help you fight those winter blues with our HUGE online arcade! Productively waste your day away playing our 260 online FREE games. Sports, Strategy, Classics, Action; Total Motorcycle has what YOU WANT to play. More…
2005 Motorcycle Models Sections


2005 Motorcycle Section
106 new 2005 Models added!
See the new 2005 Harley Davidson, Honda, Kawasaki, Suzuki, BMW, Ducati, Victory and Yamaha Motorcycle models.
2005 Suzuki GSX-R1000 Sneek Peek


First look at the 05 GSXR-1000
The Suzuki GSX line up has been a thorn in other manufactuers sport bike sides for years. Now just when it looks like they are finally catching up to Suzuki, Suzuki changes the formula again with their flagship crotch rocket, the 2005 GSX-R1000. Has Suzuki done it again or slipped up? More…

…and some really really old stuff from years ago:

– New 2005 Motorcycle Photos & Information now up!
See the new 2005 Harley Davidson, Honda, Kawasaki, Suzuki, BMW and Yamaha Motorcycle models.

Total Motorcycle Maintenance Guide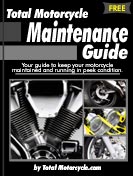 TMW Maintenance Guide
Your guide to keep your motorcycle maintained and running in peek condition. Winterize your motorcycle with our new Motorcycle Maintenance Guide! Tire, Battery, Tune ups, Brakes and general tips and more.
At TMW we are always on top with helping motorcyclists out.
More…
Only 4 Days Left to Enter!

Win a Motorcycle from TMW
Ends on October 31st. Time is running out to enter our Win a Motorcycle Contest! It is super easy to win, just come up with the best caption for our featured photo. What are you waiting for, enter now. More…
TMW Motorcycle Specs Handbook

Motorcycle Specs Handbook
Now over 1,000 Pages and 11 manufacturers added! 3,500 pages of motorcycles and motorcycle specifications from 1970 to today from the Major Manufacturers. Also compare any four motorcycles from any manufacturer, any year. Motorcycle Specs include Engine, chassis, transmission, wheels, dimensions, general specs. More…
Total Motorcycle Website Redesign – Our graphics department worked hard to bring you an update to our look. Hope you like it.

Your unbiased, helpful, personal, friendly and useful motorcycle resource on the Internet.
Our pages are updated often, please refresh (F5) to ensure you are viewing the latest new content.
Feel free to link any of our main sections to your site. But they must open up in a new unframed window.
---
Total Motorcycle – Unbiased, helpful, personal, friendly and useful motorcycle resource