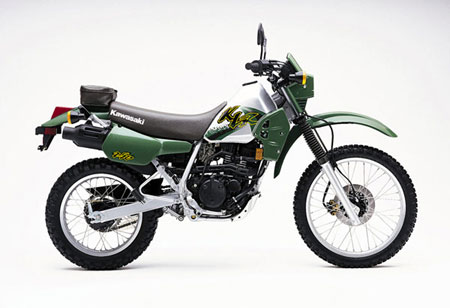 Back to 2001 Kawasaki Motorcycle Index Page
Click photo to enlarge.
It makes a great desktop image.

 
– 2001 Kawasaki KLR250
.
The Kawasaki KLR250 dual-purpose motorcycle goes just about anywhere. Its excellent comfort and performance make it an ideal mount for riding on city streets, while long travel suspension and high ground clearance allows it to continue when the pavement ends for exploring those paths less traveled.

The KLR250 has semi-double cradle frame, detachable aluminum rear sub-frame, Bottom-Link Uni-Trak rear suspension, adjustable preload and 4-way reboiund damping rear shock, automatic cam chain tensioner and silent cam chain. It also has double engine balancers, aluminum skid plate, universal tires and handlebar-mounted choke.
2001 KAWASAKI KLR250
Great on the Street or Dirt
The Kawasaki KLR250 dual-purpose motorcycle is designed to carry its passengers on any motorcycle excursion, on or off the highway. Its comfort and performance are excellent for riding on city streets, while long travel suspension and high ground clearance allow it to continue when the pavement ends for exploring paths less traveled.
Powering this do-it-all motorcycle is a four-stroke, single-cylinder engine with dual overhead cams operating four valves for optimum performance. Double engine counterbalancers keep the powerplant running smoothly from idle to redline and an automatic cam chain tensioner keeps engine cam timing spot-on without maintenance.
The engine is liquid cooled to maintain a consistent operating temperature for fade-free power and increased engine life. The cooling system also has an auxiliary fan that is automatically activated should coolant temperature rise in strenuous situations.
The KLR250's frame is made of high-tech, high-tensile steel, the same metal used in Kawasaki's world-class KX motocross machines. A detachable light-weight aluminum rear sub-frame simplifies maintenance by providing access to the airbox, carburetor and rear shock. A skid plate is mounted at the bottom of the frame to protect the engine.
To absorb the bumps for off-road riding, the KLR250 has more than nine inches of wheel travel at both ends. An air adjustable front fork and Kawasaki's exclusive UNI-TRAK® rear suspension system keep the ride smooth, and the single rear shock has preload and rebound damping adjustment.
Helping to maintain good traction on pavement or dirt roads, the KLR250 has universal tires, while a single front disc brake and rear drum brake help to ensure smooth, powerful stops.
With off-road prowess and a powerful engine, the Kawasaki KLR250 gives dual-purpose enthusiasts the freedom to choose where they want to ride.
2001 KLR250 FEATURES
249cc 4-Stroke Single Cylinder Engine
A smooth, reliable and proven design
Incorporates many state-of-the-art features
Silent cam chain runs quietly, reliably
Automatic cam chain tensioner keeps cam timing "spot on" without maintenance
Liquid Cooling
Even running temperatures mean no "power fade" on hot days and longer engine life
Allows tighter engine clearances for quieter running
Automatic fan keeps things cool even in traffic
Includes a temperature gauge
Four Valves per Cylinder
Boosts low end torque and provides better breathing for more power at high rpm
Compact combustion chamber for increased compression ratio without detonation on today's gasolines
Provides maximum valve area for optimum flow
Double Engine Balancers
Engine runs smoothly from idle to redline for rider comfort and less fatigue on long rides
KACR
Kawasaki Automatic Compression Release provides quick, easy starts
Capacitor Discharge Ignition with Electronic Advance
Delivers a hot spark at the right time no matter what the rpm
Fewer moving parts for long, trouble-free life
Requires no adjustment or maintenance
Semi-Flat Slide CVK Carburetor
Precisely meters fuel for good economy
Provides quick throttle response
Handlebar-mounted choke makes starting and warm-up easier
Long Travel Suspension
Designed to provide a smooth ride
Universal Tires
Provide good traction on and off the road
Semi-Double Cradle Frame
Made of hi-tech, round section high tensile steel, the same strong yet light-weight metal used in our world-class motocross bikes
Aluminum Skid Plate
So you don't have to worry about the engine when the going gets interesting
Detachable Aluminum Rear Sub-Frame
Helps keep weight to a minimum and simplifies maintenance by providing better access to the rear shock, air box and carb
Bottom-Link UNI-TRAK® Rear Suspension
Lowers the center of gravity for better handling
Progressive rate provides a smoother, more controlled ride
Features adjustable preload shock absorber with 4-way rebound damping
Ignition Switch Incorporates Steering Lock
Easier to secure when parking or storing
Rear Fender Tool Pouch
Extra space for riding accessories

The Best of Both Worlds
The best of both worlds: You want a bike that's good in the dirt, and you want it to be street legal for running into town or down the highway, too. Kawasaki has the answer with do-it-all dual-purpose bikes that come packed with exclusive features for you to explore new heights of on- and off-highway riding and exploration.

The KE100 is one of the most enduring and best selling models offered from Kawasaki. Its rugged two-stroke engine is perfect for simple around town transportation or doing a little off-highway adventuring.
The all-new Super Sherpa™ redefines the dual purpose motorcycle. Not only is it built to tackle a wide range of terrain, but it is engineered to appeal to a broad spectrum of riders.
If you are looking for a lightweight four-stroke 250, then you'll be delighted with the KLR250. It's got the goods for on and off highway excursions, like plush long travel suspension and high ground clearance.
Or the KLR650. It takes you wherever, whenever in smooth, torquey comfort. And with its huge 6.1 gallon fuel tank, the journey continues long after the others stop. So make your own world perfect. On one of Kawasaki's impressive dual-purpose machines.
Specifications:

Model
KL250-D18

Engine Type
4-stroke, liquid-cooled Single

Displacement
249 cc.

Bore x Stroke
74 x 58 mm.

Compression Ratio
11.0:1

Valve System
DOHC, 4 valves

Carburetion
Keihin CVK34

Ignition
Electronic CDI

Starting
Primary Kick

Transmission
6-speed with Positive Neutral Finder

Frame type
Semi-double cradle, high-tensile steel with aluminum rear sub-frame

Wheelbase
55.7″

Suspension, Front
36 mm. air-adjustable fork

Suspension, Rear
Bottom-Link Uni-Trak with adjustable preload and 4-way rebound damping

Tire Front
3.00-21

Tire Rear
4.60-17

Brakes, Front
Disc

Brakes, Rear
Drum

Seat Height
33.7″

Fuel Capacity
2.9 gallons

Dry Weight
259 pounds


Specifications are subject to change without notice, in accordance with national regulation and legislations.