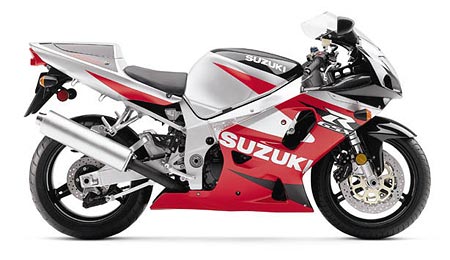 Back to 2001 Suzuki Motorcycle Index Page
Click photo to enlarge.
It makes a great desktop image.

 
– 2001 Suzuki GSX-R 750

If there was ever a family of motorcycles that "owned the racetrack" the GSX-R line is it. Not surprising considering the thousands of GSX-R motorcycles sold worldwide since the model's inception, and their popularity at all levels of roadracing. Now, the new generation of GSX-R motorcycles is complete with a new 600 supersport contender and an open-class machine with the best power-to-weight ratio in its class. Rounding out the supersport line is the TL1000R – a V-twin-powered machine with outstanding performance on the street or the track.
GSX-R750: THE BENCHMARK
It's hard to believe that a 750cc machine could perform as well or better than a 1000cc sportbike. But that's just what the 2000 GSX-R750 proved it could do; running with or outrunning the competition's best open-class models. The GSX-R750's impressive power-to-weight ratio and advancements in steering and straight-line tracking performance, have once again proven it to be the benchmark from which other sportbikes are judged. For 2001 the GSX-R750 carries on unchanged, but gives birth to two equally impressive GSX-R models.
The GSX-R750's 4-stroke, four-cylinder, 16-valve liquid-cooled engine is extremely light and compact. The engine size and weight are primarily the result of a small, lightweight cylinder head with a narrow 25¼ valve angle, hollow camshafts, light forged pistons and shot-peened connecting rods, narrow crankshaft journal diameter and a one-piece cylinder block and upper crankcase section. Combining the cylinders with the upper crankcase makes the assembly strong, light and allows internal routing of lubricating oil, eliminating external oil hoses. To gain more power and improve throttle response, a 16-bit electronic control module is used to operate the fuel injection system which consists of tapered throttle bodies that provide a steep fuel injector spray angle, plus a servo-controlled secondary throttle valve system, (SDTV), to maintain correct intake air velocity.
The chassis centers around a compact aluminum alloy frame with a long swingarm designed for more weight distribution on the front wheel. The frame's optimal torsional-rigidity-to-weight ratio and steering geometry provide excellent turn in ability, rear-wheel traction and straight-line tracking on the race track. The suspension consists of fully adjustable 43mm inverted forks with 125mm of wheel travel and a fully adjustable aluminum-bodied shock absorber. The front brake calipers are a four-piston design with lightweight aluminum pistons. Lightweight 17″ wheels and radial tires have also been developed for the GSX-R with a narrow 5.5 inch rear wheel and 180-size rear tire. Topping off the package is aerodynamic bodywork with large ram-air inlets, a narrow headlight assembly and a compact digital instrument cluster.
GSX-R750 AT A GLANCE
Suggested Retail: $9,449
Engine Type: 4-stroke, liquid-cooled
Bore and Stroke: 72.0mm x 46.0mm
Front Brake: Dual Hydraulic Disc
Rear Brake: Single Hydraulic Disc
Wheelbase: 1,410 mm (55.5 in.)
Dry Weight: 166 kg (365 lbs.)

*Suggested Retail Prices (MSRP) shown do not include freight/ destination or other dealer charges.
Specifications:
Overall Length: 2 040 mm (80.3 in)
Overall Width: 715 mm (28.1 in)
Overall Height: 1 135 mm (44.7 in)
Wheelbase: 1,410 mm (55.5 in.)
Dry Weight: 166 kg (365 lbs.)
Engine type: 749 cc, 4-stroke, four-cylinder, liquid-cooled, DOHC, 16-valve, TSCC. 141 hp (102.9 kW)/ 12,500 rpm, 83 Nm/ 10,500 rpm.


Specifications are subject to change without notice, in accordance with national regulation and legislations.