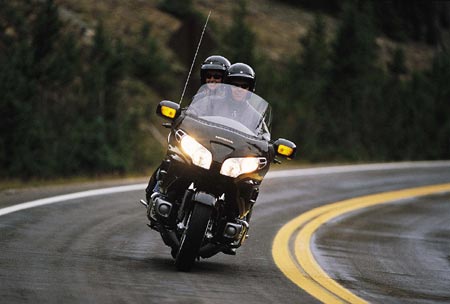 Back to 2002 Honda Motorcycle Index Page
Click photo to enlarge.
It makes a great desktop image.

 
– 2002 Honda GL1800A Gold Wing

The 21st century Gold Wing shatters all known standards for touring motorcycles with world-class performance, athletic handling and supreme comfort.
A powerful 1832cc liquid-cooled, horizontally-opposed six cylinder engine produces an arm-twisting 125 pounds-feet of torque, all while meeting the latest emissions regulations. The Gold Wing's PGM FI electronic fuel injection system features two large 40mm throttle bodies and six specially-designed Keihin high-pressure fuel injectors for ideal fuel mixture control, improved performance and superb driveability.
The Honda Gold Wing; the CEO of touring motorcycles.

Unique Gold Wing Features
· Powerful fuel-injected 1832cc six-cylinder engine produces smooth, effortless power–125 lb./ft. of torque–while exceeding the California Air Resources Board (CARB) 2008 emissions standards.
· Beautiful multi-box-section aluminum dual-spar frame and Pro Arm single-side cast aluminum swingarm set new class standards for handling.
· State-of-the-art audio system with optional CD player.

Engine
· The exhaustively tested 1832cc liquid-cooled horizontally opposed six-cylinder engine provides effortless power.
· Low, forward engine placement and solid engine mounting produce excellent road handling characteristics and impressive low-speed maneuverability.
· High-pressure-formed, sintered iron Nickalloy crankshaft bearing caps provide quiet engine operation throughout the engine's operating temperature range.
· Parallel two-valve cylinder head design utilizes direct shim-under-bucket valve actuation; the first valve clearance inspection is at 50,000 kilometres.
· Silent-type camshaft chains with automatic adjusters provide reliable, maintenance-free operation.
· 6.9-litre airbox supplies a large volume of cool, clean air to the engine.
· Two 40mm-diameter throttle bodies deliver air to six, specially designed Keihin 50-psi high-pressure, programmed fuel injectors (PGM-FI). Fuel is delivered through four nozzle tips in each injector, producing an atomized fuel mixture that is highly combustible, for optimum efficiency and power.
· Electronic control unit (ECU) provides two digital 3-D fuel injection maps for each cylinder and one digital 3-D ignition map for each cylinder, creating ideal fuel mixture and spark advance settings for superb rideability. Unique knock-control sensors monitor ignition advance to improve performance throughout the entire rpm range.
· ECU-controlled, closed-loop emission control system utilizes two oxygen sensors to constantly deliver a precise air/fuel mixture, while two exhaust catalyzers further reduce emissions of carbon monoxide, hydrocarbons and nitrogen oxides.
· Rotary Air Control Valve (RACV) provides auto-choke function and maintains precise idle control under widely varying engine loads and operating temperatures.
· Compact water pump is mounted behind the engine and is driven directly by the crankshaft, contributing to quicker engine warm-up.
· Engine cooling system features a series-flow coolant flow pattern that offers cold-start rideability and provides rapid engine warm-up.
· Two side-mounted radiators enhance cooling efficiency and use low-air-pressure areas created by side cowls to draw cooling air through the radiators and around the rider at highway speeds. Below 24 kilometres per hour, thermostat-controlled fans pull cooling air across the radiators into the fairing, keeping hot air away from the rider.
· Sturdy eight-plate clutch with maintenance-free hydraulic-assist.
· Efficient, stainless steel six-into-two exhaust system produces a pleasing, powerful sound.
· Powerful, 1100-watt alternator uses a dual-damper system to minimize alternator noise.
· Precise-shifting five-speed transmission includes overdrive fifth gear.

Chassis/Suspension
· The innovative aluminum frame is specifically engineered for optimum rigidity with tuned flex. This combination of rigidity and flexibility produces excellent handling, superb riding comfort and wonderful road feel.
· Inherently smooth flat-six-cylinder Gold Wing engine also serves as a tuned stressed frame member. The solid engine mounting system utilizes specially designed hangers and carefully matched mounting bolts to provide both excellent road feel and minimal engine vibration.
· The Gold Wing's rigid Pro Arm single-side cast aluminum swingarm provides simplified servicing of the rear wheel and tire while assuring optimum handling.
· Dual full-floating 296mm front discs with Linked Braking System (LBS) three-piston calipers and a single ventilated 316mm rear disc with one LBS three-piston caliper provide excellent braking power.
· Honda's LBS features a second master cylinder and a three-stage proportional control valve (PCV) to couple the three-piston calipers of the dual-front and single-rear brake discs. Using the front brake lever activates the outer two pistons of the front right-side caliper and the center piston of the front left-side caliper and, acting through the secondary master cylinder and an inline proportioning valve, the outer two pistons of the rear caliper. The rear brake pedal operates the center piston of the rear brake caliper, the center piston of the front right-side brake caliper and the outer two pistons of the front left-side caliper. A delay valve sensitive to the rider's pedal pressure smoothes front brake engagement. Anti-Lock Brake System (ABS) features an electric-motor-driven modulator that provides rapid and precise braking-pressure adjustments, resulting in smooth ABS operation. The system incorporates an integrated ECU, self-diagnostics with an interactive ECU test function, and automatic protection against system failure.
· Massive, 45mm front fork houses a cartridge damper in the right leg with 140mm of travel for a smooth yet superb ride in all road conditions.
· Anti-dive system minimizes front fork dive when braking. The system utilizes brake fluid pressure generated in the secondary LBS master cylinder mounted on the left fork leg and is activated by input from either the front brake lever or the rear brake pedal. This application of anti-dive and LBS produces enhanced stability when maneuvering at both low speeds and highway speeds.
· Pro-Link-mounted rear shock provides 105mm of plush travel for relaxed touring or sport riding.
· Computer-controlled adjustable hydraulic rear suspension preload is easily set by the rider with push-button controls and features a two-position memory.
· Unique driveshaft-damping system utilizes a double-pipe structure, with a rubber-bonded coating applied to the inner pipe to absorb road shock and engine torque. The long-life design simplifies rear wheel maintenance.
· Final gearcase assembly design in the Pro Arm eliminates wheel alignment splines and assures accurate alignment of the rear wheel after servicing.
· Cast aluminum 18 x 3.5-inch front wheel and 16 x 5.0-inch rear wheel are lightweight and strong.
· Radial touring tires are specifically engineered for the Gold Wing, providing a combination of excellent traction, cornering grip and tire life.

Touring Features
· The parallel two-valve cylinder head design, together with side-mounted radiators, allows optimum ergonomics, with excellent rider foot room and an enlarged passenger-cockpit.
· Slow-speed electric reverse system is engaged with the simple push of two thumb controls on the right handlebar.
· Lightweight electronic cruise control system utilizes a 16-bit ECU-controlled, motor-actuated throttle mechanism.
· The Gold Wing's aerodynamic bodywork is functional as well as beautiful, providing excellent rider wind protection while reducing the aerodynamic drag coefficient.
· A simple yet ingenious ratcheting windshield-adjustment system provides six settings over nearly 105mm of travel. Operated manually, the mechanism eliminates the weight and complexity of electric motors.
· The Gold Wing trunk provides 61 litres of storage capacity with an additional 5 litres of storage available if the optional CD changer is not installed. Two full-face helmets fit easily in the trunk. The saddlebags provide 40-plus litres of storage each, resulting in a total of more than 145 litres of storage space.
· The saddlebag lids feature hydraulic dampers for smooth operation.
· Specially designed luggage features a remote-control key-lock, permitting pop-open rear trunk operation; a remote lock/unlock feature for the trunk and the saddlebags; and a horn-actuated bike locator. If remote locking is attempted while a lid is open, the emergency lights flash to alert the rider.
· Storage pockets located in the fairing and rear trunk feature oil-damped doors for smooth operation.
· Soft-touch plastic elastomer provides a luxurious feel to the front console, front- and rear-pocket covers and the passenger armrests.
· Wind-tunnel-tested flow-through fairing ventilation system.
· Ergonomically designed saddle with a low, 740mm seat height has a plush passenger seat with integral backrest and side support for all-day riding comfort.
· Panasonic state-of-the-art audio system features two enclosed 25-watt rated stereo speakers for full-spectrum music reproduction with superb bass. Features include 12 FM and six AM preset stations, weatherband radio, station auto-select, headset-ready intercom, auxiliary adapter, ambient audio enhancement, auto volume control, and audio mute. Intuitively designed console-mounted controls provide all setup functions while ergonomically designed controls mounted on the left handlebar make rider-activated audio selection a simple process. A hooded, high-resolution LCD display is easy to read in all riding conditions. Options include a trunk-mounted six-disc CD changer, 25-watt-rated rear speakers and a 40-channel CB radio.
· Instrument cluster includes white-on-black analog displays for speedometer, tachometer, coolant temperature and fuel level, and features adjustable backlighting and high-luminescence red pointers. An LCD clock is located in the speedometer face. A high-resolution 110 x 254 dpi LCD, housed in a separate module, is legible in all lighting conditions and displays the odometer, A/B tripmeter, ambient temperature, audio modes, CB, rear suspension setting and trunk-open indicator. Indicator/ warning lights are provided for reverse, neutral, overdrive, oil pressure, fuel injection, high beam, sidestand, cruise on, cruise set and low fuel.
· Motorized headlight aiming system is operated by a dial switch located on the left fairing panel and provides 2.5 degrees of adjustment from level.
· Large, 25-litre fuel tank houses the PGM-FI fuel pump and provides excellent long-distance cruising range.

Additional Features
· Illusion Red and Illusion Blue paint with ChromaFlair brand light interference pigment alters hue as lighting conditions change.
· Headlight system features two 55W H7 low-beam and two 55W H7 high-beam bulbs with computer-designed multi-reflectors. In high-beam operation, all four bulbs produce a distinctive front lighting signature.
· Engine and saddlebag guards help protect the Gold Wing's bodywork in case of a tipover.
· Silver powder-coated finish helps ensure the Gold Wing's aluminum frame will remain beautiful for years to come.
· Maintenance-reducing features include: automatic choke, RACV automatic idle, programmed fuel injection, automatic cam-chain adjusters, sealed battery, electronic cruise control and electrically adjusted hydraulic rear suspension preload.
· Handsome two-piece aluminum handlebars are lightweight and strong.
· Adjustable brake and clutch levers.
· Self-canceling turn signals.
· Handlebar switches and controls use new internationally approved graphic symbols.
· Extensive tool kit.
· Dual electric spiral horns trumpet a distinctive note.
· 20-amp YTX maintenance-free battery.
· Dual helmet locks.
· Fold-down antennas for easy storage.
· Padded passenger handrails.
· Easy-to-use centerstand.
· Convenient ignition switch/fork lock for added security.

Specifications:
Engine
1832cc liquid-cooled horizontally opposed six-cylinder

Bore and Stroke
74mm x 71mm

Compression Ratio
9.8:1

Valve Train
SOHC; two valves per cylinder

Carburetion
PGM-FI sequential electronic fuel injection with twin 40mm throttle bodies

Transmission
Five-speed including overdrive, plus electric reverse

Final Drive
Shaft

Front Suspension
45mm cartridge fork with anti-dive system; 140mm travel

Rear Suspension
Pro Arm single-sided swingarm with Pro-Link single shock with electronically controlled spring preload adjustment with two memory presets; 105mm travel

Front Brakes
Dual full-floating 296mm discs with three-piston calipers, linked with the rear brake. Anti-lock brakes.

Rear Brake
Single ventilated 316mm disc with three-piston caliper, linked with the front brake. Anti-lock brakes.

Front Tire
130/70R-18

Rear Tire
180/60R-16

Wheelbase
1692mm (66.6 in.)

Seat Height
740mm (29.1 in.)

Dry Weight
363 kg. (799 lb.)

Fuel Capacity
25 litres (5.5 Imp. Gal.)


Specifications are subject to change without notice, in accordance with national regulation and legislations.