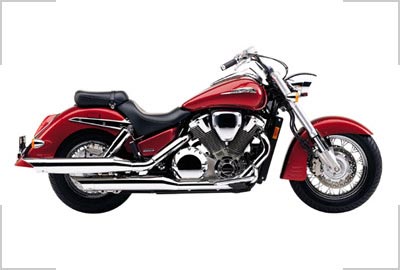 Back to 2002 Honda Motorcycle Index Page
Click photos to enlarge.
It makes a great desktop image.


2002 Honda VTX1800S

 
The biggest, baddest cruiser Honda has ever produced, the VTX is powered by a 1795cc V-twin with 106 horsepower and 120 pounds-feet of torque. With an exhaust valve bigger than a P-51's and an 18.8 kilogram crankshaft, the VTX is the King Kong of performance cruisers.
Combining the tank-mounted chrome instrument housing – featuring the speedometer, odometer/tripmeter, aviation-style fuel cap, and indicator lights – and the flared, valenced fenders of the 1800R with classic spoked wheels, the 1800S is the traditional VTX. A low-profile 170/80-15 bias-ply rear tire combines with the wide-footprint 150/80-17 front for the ultimate retro VTX.
Styling from the '50s. The power of the 21st century.


Unique VTX1800S Features
· Full-flowing deeply valanced front and rear steel fenders, chrome-hooded headlight, broad fuel tank with tank-mounted instruments, pullback handlebar and floorboards with heel-and-toe shifter create a classic retro style that puts the VTX1800S in a class of its own.
· Staggered dual exhausts.
· Spoke wheels with bias-ply tires offer a classic look.

Engine/Drivetrain
· 1795cc liquid-cooled 52-degree V-twin produces immense power–106 bhp at 5000 rpm and 120 lb./ft. of torque at 3500 rpm.
· Engine features 101mm cylinder bores and the largest connecting rods and cylinders Honda has ever made.
· Offset dual-pin crankshaft and two primary-shaft-mounted counterbalancer weights allow a high-performance engine design while eliminating harsh engine vibration. The result: muscular power across a broad rpm range for unequaled acceleration and roll-on performance.
· The 18.8 kilogram forged steel crankshaft uses bolted weights, reducing crankcase width nearly 50mm and reducing crankshaft weight 4 kilograms compared to a conventional one-piece design.
· The engine mounting system uses carefully matched hangers and rubber mounts to eliminate unwanted vibration, while preserving the powerful character of the VTX engine's V-twin design.
· Each three-valve cylinder head features two large, 36mm intake valves and a huge, 45mm exhaust valve to produce optimum flow for the incoming air/fuel charge.
· Two iridium-tip spark plugs per cylinder for efficient combustion at all engine speeds.
· Simple-to-service screw-and-locknut valve clearance adjusters.
· 4.5-litre airbox supplies a large volume of cool, clean air to the engine.
· Advanced, high-pressure programmed fuel injection (PGM-FI) features 42mm-diameter throttle bodies delivering air to two specially designed Denso 50-psi high-pressure fuel injectors. Fuel is delivered through 12 laser-drilled nozzle holes in each injector, producing an atomized fuel mixture that is highly combustible for maximum efficiency and power.
· Electronic control unit (ECU) provides individual digital 3-D fuel injection and ignition maps for each cylinder, creating ideal fuel mixture and spark advance settings for superb rideability.
· A unique dry-sump oil system utilizes a closed crankcase design and places the oil tank inside the gearbox case. The result is a freer-revving engine for improved power, and a lower engine height, allowing optimum rider ergonomics and a low, 698mm (27.5-inch) seat height.
· Radiator with cooling fan maintains consistent engine temperature for optimum performance and long engine life.
· Maintenance-free automatic cam-chain tensioners.
· Reliable electric-starter system.
· Handsome chromed two-into-two exhaust system produces a deep, exhaust note.
· Primary drive gear uses a cam-type damper to minimize powertrain lash.
· Sturdy eight-plate clutch with clutch-center damper assures smooth gear shifting.
· Five-speed transmission with carefully selected gear ratios for relaxed cruising and exciting roll-on performance.
· Shaft final-drive system provides smooth, low-maintenance operation.
· New driven flange in the final-drive gear case eliminates final-drive noise and wear and simplifies rear wheel installation.

Chassis/Suspension
· Massive tubular steel frame contains the engine's power and gives the VTX a long, low, muscular stance.
· Large, 45mm inverted front fork provides 130mm of plush yet responsive wheel travel.
· Dual chromed rear shocks have 100mm of wheel travel and feature an advanced internal valve system for a comfortable ride.
· The VTX's braking system features two three-piston front calipers and a single two-piston rear caliper. Application of the front brake lever activates the two outer pistons of the front calipers. Application of the rear brake pedal activates the two pistons of the rear caliper and the center pistons of the front calipers only. When only the rear brake pedal is used, an inline pressure valve delivers proportioned application of the front caliper center pistons.
· Specially designed rider and passenger seats for all-day touring comfort. Rider's seat boasts a low, 698mm (27.5-inch) seat height.
· Fat, 150/80 front tire on a 17-inch wheel gives the VTX1800S a commanding profile.
· Fuel tank capacity of 20 litres for extended touring range.
· Relaxed handlebar position and large levers contribute to the classic design.
· Classic taillight design.
· Spoke wheels with bias-ply tires offer a classic look.

Additional Features
· Seat boasts a low, 698mm (27.5-inch) height for confidence during low-speed maneuvers.
· Retro-styled front and rear fenders complement the VTX's classic cruiser styling.
· Tank-mounted chrome housing features a speedometer, odometer/tripmeter, aviation-style fuel cap, and indicator lights for the turn signals, high beam, neutral indicator, low fuel level, oil pressure, coolant temperature and fuel injection.
· Extensive chrome finishing of engine parts includes cylinder head covers, valve inspection covers, spark plug covers, airbox cover, left crankcase cover, clutch cover and left-rear engine cover.
· Distinctive chrome-hooded headlight housing features a powerful, 55W/60W halogen bulb with a computer-designed multi-reflector for superb lighting in all conditions.
· Large speedometer with easy-to-read numerals.
· New laid-back handlebar design provides a comfortable upright riding position.
· Comfortably padded large-diameter handgrips with polished aluminum handlebar switch housings and triple-clamp assembly.
· Reliable 300-watt alternator.
· Durable, maintenance-free 18AH battery.
· Convenient push-to-cancel turn-signal switch.
· Transferable one-year, unlimited-mileage limited warranty.

Specifications:
Engine
1795cc liquid-cooled 52-degree V-twin

Bore and Stroke
101.0mm x 112.0mm

Compression Ratio
9.0:1

Valve Train
SOHC; three valves per cylinder

Carburetion
PGM-FI with automatic enricher circuit

Transmission
Five-speed

Final Drive
Shaft

Front Suspension
45mm inverted fork; 130mm travel

Rear Suspension
Dual shocks with five-position spring preload adjustability; 100 millimetres travel

Front Brakes
Dual 296mm disc with three-piston calipers

Rear Brake
Single 316mm disc with twin-piston caliper

Front Tire
150/80-17

Rear Tire
170/80-15

Wheelbase
1715mm (67.5 inches)

Seat Height
698mm (27.5 inches)

Dry Weight
336 kg. (741 lb.)

Fuel Capacity
20 litres (4.4 gallons)


Specifications are subject to change without notice, in accordance with national regulation and legislations.