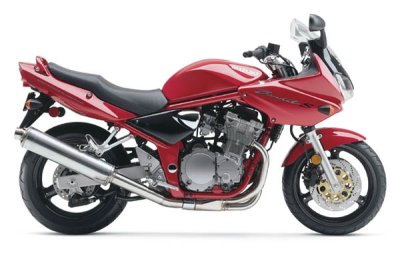 Back to 2002 Suzuki Motorcycle Index Page
Click photo to enlarge.
It makes a great desktop image.

 
2002 SUZUKI STREET LINE
Suzuki's street bike line has a solid reputation as having some of the best values in the industry. Versatile machines that have broad appeal, they offer the right combination of price, performance and style. For 2002 all three models are back with all the style, performance and value you've come to expect from Suzuki as well as a new addition to the Suzuki street line-up: the all new 2002 DL1000 V-Strom, a multi-purpose machine combining strong V-twin performance, easy handing and distinct styling to create Suzuki's first Sport Enduro Tourer.

BANDIT 600S (GSF600S)
After a stunning re-vamp in 2000, the Bandit 600S is back for 2002 sporting the style and performance you've come to expect from the middleweight Bandit. The 2002 Bandit 600S features a new LCD fuel gauge like the Bandit 1200 and comes clothed in two new colors as well. The Bandit 600S still features an aggressively-styled half-fairing with twin projector beam headlights, a full coverage windscreen and vent system for reduced turbulence around the riders head and neck. Instruments are step-motor-powered with an LCD odometer and tripmeter, with wide adjustable mirrors providing an ample view of everything to the rear. The Katana 600-based engine is equipped with 31 mm Keihin carburetors and a throttle position sensor for better low-rpm response and is mounted in a cradle style steel frame with a 25-degree rake angle and a long 56.7 inch wheelbase for stable and precise handling. Other features include a large 290 mm front disc brake, wide wheels with radial tires, a low 31.1 inch seat height, a 5.3 gallon fuel tank, large storage area, an easy-to-use centerstand, and a one-piece passenger grab rail.
GSF600S (K2) BANDIT AT A GLANCE
Suggested Retail: $5,849.00
Engine Type: 4-stroke, 4-cylinder, air/oil-cooled
Bore and Stroke: 62.6 mm x 48.7 mm
Front Brake: Dual Hydraulic Disc
Rear Brake: Single Hydraulic Disc
Wheelbase: 1,432 mm (56.4 in)
Dry Weight: 208 kg (458 lbs)

Specifications:
Overall Length: 2,060 mm (81.1 in)
Overall Width: 770 mm (30.3 in)
Overall Height: 1,218 mm (48.0 in)
Seat Height: 800 mm (31.5 in)
Ground Clearance: 135 mm (5.3 in)
Wheelbase: 1,432 mm (56.4 in)
Dry Weight: 208 kg (458 lbs)
Engine type: Air and oil-cooled 600 cc inline-4, DOHC, 16 valves. 80 hp (58.7 kW)/ 10,500 rpm, 55.2 Nm/ 9,500 rpm.



Specifications are subject to change without notice, in accordance with national regulation and legislations.