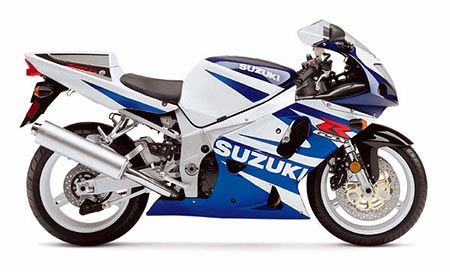 Back to 2002 Suzuki Motorcycle Index Page
Click photo to enlarge.
It makes a great desktop image.

 
2002 SUZUKI SUPERSPORT MACHINES:
GSX-R600, 750, 1000 & TL1000R
If there ever was a family of motorcycles that "owned the racetrack" the GSX-R line is it. Not surprising considering the thousands of GSX-R motorcycles sold worldwide since the model's inception, and their popularity at all levels of roadracing. The complete line of high performance GSX-R's is here for 2002 featuring the supersport GSX-R600, the superbike GSX-R750 and the open-class GSX-R1000. Rounding out the supersport line-up is the TL1000R – a V-twin powered machine with outstanding performance on the street or the track.
GSX-R750: SUPERBIKE BENCHMARK
Once again the Suzuki GSX-R750 is by far the best performing and most technologically advanced 750cc sportbike in its class. A host of changes have been made to the already potent GSX-R750 in 2002, including a fully adjustable swingarm pivot system, both headlights now operate in the low beam position, new bolt-on bungee hooks, and a new polished stainless steel exhaust pipe. In addition, the secondary throttle valve is now driven by a throttle body-mounted stepping motor resulting in reduced weight and more precise control of the SDTV system. The impressive power-to-weight ratio, rock solid chassis and proven performance make the GSX-R750 the benchmark from which other 750 sportbikes are judged.
The GSX-R750 introduces two new looks for 2002, while still retaining the incredible performance and style of the GSX-R series. The 4-stroke, 4-cylinder, 16-valve liquid-cooled engine features a lightweight compact design including: narrow 25 degree valve angle, hollow camshafts, forged pistons, shot-peened connecting rods, narrow crankshaft journal diameter, and a one-piece cylinder block and upper crankcase section. The combination of the cylinders and the upper crankcase unit create a strong and lightweight assembly and allows for the internal routing of lubricating oil, eliminating external oil hoses. A sixteen-bit electronic control module operates the precise fuel injection system, assuring strong horsepower and smooth throttle response. The unique Suzuki Dual Throttle Valve System (SDTV), and tapered throttle bodies provide a steep fuel injector spray angle and maintain correct intake air velocity for maximum performance.
A strong engine is nothing without a strong chassis and the GSX-R750 does not disappoint. The chassis is based around a lightweight and compact aluminum-alloy frame with a long swingarm designed to distribute more weight to the front wheel. The frame's optimal torsional rigidity-to-weight ratio and steering geometry provide excellent turn-in ability, rear wheel traction and straight line tracking on the race track. Suspension units consist of 43 mm inverted forks with 125 mm of wheel travel along with an aluminum-bodied rear piggyback shock absorber. Front brake calipers are a four-piston design with lightweight aluminum pistons, while lightweight seventeen-inch wheels and radial tires are used front and rear. Aerodynamic bodywork with large ram air inlets, narrow one-piece headlight assembly and a compact digital instrument cluster complete the GSX-R750 package.

GSX-R750 (K2) AT A GLANCE
Suggested Retail: $9,449.00
Engine Type: 4-stroke, liquid-cooled
Bore and Stroke: 72.0 mm x 46.0 mm
Front Brake: Dual Hydraulic Disc
Rear Brake: Single Hydraulic Disc
Wheelbase: 1,410 mm (55.5 in.)
Dry Weight: 166 kg (365 lbs)
Specifications:
Overall Length: 2,040 mm (80.3 in)
Overall Width: 715 mm (28.1 in)
Overall Height: 1,135 mm (44.7 in)
Wheelbase: 1,410 mm (55.5 in.)
Dry Weight: 166 kg (365 lbs)
Engine type: 749cc, 4-stroke, four-cylinder, liquid-cooled, DOHC, 16-valve, TSCC. 141 hp (104 kW)/ 12,500 rpm, 86 Nm/ 10,500 rpm.


Specifications are subject to change without notice, in accordance with national regulation and legislations.