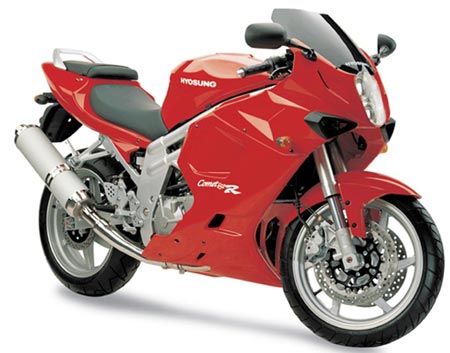 You are here: Home — New Models — 2005 Hyosung Manufacturer Models
2005 Hyosung GT650R / GT650RL
Back to 2005 Other Motorcycle Manufacturer Index Page
Click photos to enlarge.
They make great desktop images.


2005 Hyosung GT650R

 
– 2005 Hyosung GT650R / GT650RL

GT650R and GT650RL
Hyosung GT650R – the rival to tradition – the new world beater!!

The 90 degree V-Twin has been taken to the extreme to ensure the ultimate rush.

Blistering performance is harnessed in a ridgid box frame with all the features advanced technology has to offer.

Any enthusiast in the world will be proud to take it to the roads in style
This is the Perfect bike for the rider who demands flexibility and performance.

Subtle yet aggressive – this is no ordinary bike.

Stunning good looks, broad power range, adjustable riding position and suspension make the GT650R unique. This is the perfect bike for the rider who demands flexibility and performance.


Total Motorcycle Note: The Hyosung GT650RL appears to be a normal GT650R restricted in horsepower (34 HP)
Features:

AVAILABLE IN HOT CHILLI RED & 8-BALL BLACK (not available in yellow – overseas model shown)

This compact water cooled 90 degree v twin, DOHC 8 valve engine incorporates the latest technology and produces 79 horsepower (approx 70 rear wheel horse power). Designed in Hamamatsu, Japan, it sets a new benchmark in V-twin performance. It has dual Mikuni downdraft carburetors, low restriction stainless steel exhaust, environmentally friendly secondary air intake system, which meets all world standards, including euro 2.

Adjustable footrests compliment the versatile chassis, tailor the ergonomics to suit your body and height. Dual lateral oval bar frame is designed to reduce weight and allow the engine to be carried lower to provide cornering agility comparable to European sports bikes.

Upside down forks compliment the chassis to give nimble handling and safer road holding. Twin front discs and dual twin piston fully floating brake calipers provide incredible stopping power. Fit racing pads and you are ready for the race track! Upside down forks have compression and rebound adjustment, and the rear shock is charged for suspension sophistication not normally available in this price range.

LCD instuments with fuel and temp gauges, clock and dual trip meter. A large 17 litre fuel tank ensures long touring range.

Split left/right fairing design allows cheaper repairs in the event of damage.

The comet GT650R also has convenience features such as pillion seat, grab rail and heavy duty tie down rails for all your gear for those long trips. The rider's seat is firm in design to provide good support and reduce fatigue. The comet series all incorporate key lock storage compartment under the pillion seat (see GT250 page). Items such as wet weather gear, maps, lunch etc can be stored here, as well as locking helmet security (depending on helmet design).

Specifications:
GT650R
Dimension and Dry Mass
Dimension and Overall Length(mm) 2,080
Dry Mass Overall Width(mm) 760
Overall Height(mm) 1,120
Ground Clearance(mm) 150
Dry Mass(kg) 180
Wheel Base(mm) 1,435
Seat Height(mm) 780
Frame Type Double Cradle
Engine Type 4-stroke, water cooled DOHC 8-valve,
V-twin (90 degrees)
Piston Displacement(cc) 647
Number Of Cylinder 2
Maximum Power 58.5 kW (79 HP)
Carburetor 2
Start System Electric
Capacity Fuel Tank (l)/ Reserve 17.0/2.5
Transmission Clutch Wet Multi-Plate Type
Gear Shift Pattern 1-down 5-up
Chassis Front Tire 120/60-17 55W
Rear Tire 160/60-17 69W
Front Suspension Telescopic, Oil Dampened
Rear Suspension Swing Arm
Caster(degrees) 25.5
Front Brake Double Disc (ABS Type)
Rear Brake Disc
Electric Ignition Type Igniter
Generator(W) 350
Battery Capacity (V/ah) 12V/12A




Specifications:
GT650RL
Dimension and Dry Mass
Dimension and Overall Length(mm) 2,080
Dry Mass Overall Width(mm) 760
Overall Height(mm) 1,120
Ground Clearance(mm) 150
Dry Mass(kg) 180
Wheel Base(mm) 1,435
Seat Height(mm) 780
Frame Type Double Cradle
Engine Type 4-stroke, water cooled DOHC 8-valve,
V-twin (90 degrees)
Piston Displacement(cc) 647
Number Of Cylinder 2
Maximum Power 24.6 kW (34 HP)
Carburetor 2
Start System Electric
Capacity Fuel Tank (l)/ Reserve 17.0/2.5
Transmission Clutch Wet Multi-Plate Type
Gear Shift Pattern 1-down 5-up
Chassis Front Tire 120/60-17 55W
Rear Tire 160/60-17 69W
Front Suspension Telescopic, Oil Dampened
Rear Suspension Swing Arm
Caster(degrees) 25.5
Front Brake Double Disc (ABS Type)
Rear Brake Disc
Electric Ignition Type Igniter
Generator(W) 350
Battery Capacity (V/ah) 12V/12A