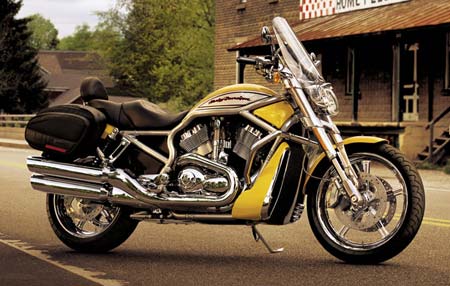 You are here: Home — 2006 Models — 2006 Harley-Davidson VRSCR StreetRod
2006 Harley-Davidson VRSCR StreetRod
Back to 2006 Harley-Davidson Motorcycle Index Page
Click photos to enlarge.
They make great desktop images.



2006 Harley-Davidson VRSCR StreetRod


2006 Harley-Davidson VRSCR StreetRod


2006 Harley-Davidson VRSCR StreetRod


2006 Harley-Davidson VRSCR StreetRod


2006 Harley-Davidson VRSCR StreetRod

Click here to see the 2006 Harley-Davidson VRSC Seating Position Differences
(V-Rod versus Street-Rod)

Click here to see the 2006 Harley-Davidson VRSC Lean Angle Differences
(V-Rod versus Street-Rod)

 
– 2006 Harley-Davidson VRSCR StreetRod
Feast your eyes on the new roadster-inspired VRSCR Street Rod.™ Consider yourself tempted. Now get ready to unleash 120 horses on some winding asphalt. Crack the throttle up to the retuned Revolution® engine's 9,000-rpm redline and you get deep into one of motorcycling's most satisfying powerbands. Hairpins are equally satisfying on a bike this agile. Inverted fork with sculpted triple clamp. Steep rake, cornering clearance and straight-shot dual pipes for 40° worth of lean. Mid-mount controls. Brembo® brakes. Staggered 10-Spoke wheels. And a big 5-gallon tank. Because for all its curb appeal, the Street Rod is built to be ridden long and hard, far from any curb.

OVERVIEW
VRSCR StreetRod™ Model Overview

A high-performance roadster, the new VRSCR Street Rod combines an upright seating position, a 40-degree lean angle and retuned suspension to create a motorcycle that marries custom styling with a new level of cornering agility. Mid-mount foot controls, shorter handlebar risers and a taller seat move the rider forward into a more aggressive position, ready to attack the curves. Fork angle is reduced from 38 degrees to 32 degrees, and the Street Rod wheelbase is 66.8 inches, 0.7 inches shorter than the VRSCA V-Rod. The 43mm inverted forks and rear shocks have a performance calibration to help deliver a performance-oriented ride. A retuned silver-and-black Revolution V-Twin engine with straight-shot dual exhaust pipes is pumped up to make 120 hp and 80 ft. lbs. of torque. A new, five-gallon fuel cell offers extended range. Staggered 10-Spoke Cast Aluminum wheels wear ZR-rated Dunlop performance tires. Offered in Vivid Black with a black frame and in four additional colors with a silver-leafed aluminum frame. A security system is optional.
VRSCR Street Rod features:
Liquid-cooled, 1130cc Revolution V-Twin engine
120 hp @ 8250 rpm/80 ft. lbs. torque @ 7000 rpm
Two-tone silver-and-black powder-coated engine with polished covers
Chrome straight-shot dual exhaust pipes
32-degree fork angle
43 mm inverted forks
Brembo triple-disc brakes
Braided brake lines
Powercoated hydroformed frame
Adjustable handlebars
Mid-mount foot controls
30-inch seat height
Staggered 10-Spoke Cast Aluminum wheels, 18-inch rear/19-inch front
Five-gallon under-seat fuel cell
Aluminum radiator shroud with twin vortex air scoops
Teardrop reflector-optic headlight
New clock and dual tripmeter
Improved side stand

2006 VRSCR STREET ROD SPECIFICATIONS1

DIMENSIONS
Length 93.7 in. (2380 mm)
Seat Height:
Laden2 30.0 in. (762 mm)
Unladen 31 in. (787 mm)
Ground Clearance 6.7 in. (170 mm)
Rake (steering head) 30°
Fork Angle 32°
Trail 4.3 in. (110 mm)
Wheelbase 66.8 in. (1697 mm)
Radial Tires (Dunlop® Harley-Davidson Series):
Front – D207F 120/70ZR-19 60W
Rear – D207F 180/55ZR-18 74W
Fuel Capacity3 5.0 gal. (18.9 L)
Reserve Fuel Capacity No reserve due to fuel injection
Oil Capacity 4.5 qts. (4.3 L)
Weight:
Dry Weight 618 lbs. (281 kg)
Vehicle Weight in Running Order 655 lbs. (297 kg)
Gross Vehicle Weight Rating 1060 lbs. (481 kg)

ENGINE
Engine4 Liquid-cooled, Revolution,® 60° V-Twin
Bore x Stroke 3.94 in. x 2.84 in. (100.0 mm x 72.0 mm)
Displacement 69 cu. in. (1130 cu. cm)
Compression Ratio 11.3:1
Fuel System3 Electronic Sequential Port Fuel Injection (ESPFI)
Air Cleaner Down draft intake – hidden
Lubrication System Wet-sump, integrated
w/powertrain crankcase

DRIVETRAIN
Primary Drive Gear, 117/64 ratio
Final Drive Belt, 72/28 ratio (72/30 ratio)
Clutch 9-plate, wet
Transmission 5-speed
Overall Ratio:
1st 11.752 (10.969)
2nd 7.898 (7.371)
3rd 6.322 (5.900)
4th 5.459 (5.095)
5th 4.899 (4.563)

CHASSIS
Frame Steel perimeter upper frame w/hydroformed
main rails and bolt-on lower frame rails, MIG welded
Swingarm Polished, 1-piece cast aluminum
Front Fork Wide, 49 mm custom fork
Wheels5 (aluminum, 10-spoke option): Staggered, 10-spoke cast aluminum
Front 19 in. x 3.0 in. (482.6 mm x 76.2 mm)
Rear 18 in. x 5.5 in. (457.2 mm x 139.7 mm)
Brakes:
Caliper Type 4-piston front and rear
Rotor Type (diameter x width): Patented, 1-piece fl oating rotor (front)
uniform expansion rotor (rear)
Front (dual) 11.811 in. x .197 in. (300 mm x 5.0 mm)
Rear 11.811 in. x .2756 in. (300 mm x 7.0 mm)
Suspension Travel:
Front Wheel 5.0 in. (127.0 mm)
Rear Wheel 5.0 in. (127.0 mm)

PERFORMANCE
Engine Torque (per SAE J607)6:
World 80 ft. lbs. @ 7000 rpm (109 NM @ 7000 rpm)
France (opt. Germany) 72 ft. lbs. @ 5500 rpm (98 NM @ 5500 rpm)
Japan 75 ft. lbs. @ 7000 rpm (102 NM @ 7000 rpm)
Lean Angle (per SAE J1168) Right: 40° Left: 40°
MPG (EPA urban/highway test)7 37/47 mpg (6.4/5.0 L/100 km)

ELECTRIC
Battery Sealed, maintenance-free, 12V, 12-amp/hour,
200 cca (per Battery Council International Rating)
Charging Three-phase, 38-amp system
(439W @ 13V, 2000 rpm, 489W max power @ 13V)
Starting 0.8 kW electric w/direct drive starter motor engagement
Lights (as per country regulation):
Headlamp (quartz halogen) 55-watt low beam, 65-watt high beam
Tail/Stop Lights 8W/28W refl ector-optics (5W/21W)
Turn Signal Lights 28W (21W) self-canceling
Indicator Lamps High beam, neutral, low oil pressure,
turn signals, engine diagnostics, security
system8, coolant temperature, low fuel

STYLING/CONVENIENCE
Engine Trim Two-tone silver and black
engine w/polished treatment
Exhaust System Chrome straight-shot dual pipes
Ignition Barrel keyed
Seat Two-up, textured vinyl w/fl ip-up fuel fi ll access
Handlebars Stainless steel, low-rise
Foot Supports Forward-mounted footpegs and controls
Brake and Shift Levers Mid-mount controls
Rear Fender Supports Internal to rear fender w/included
P&A saddlebag mounting points
Instruments Electronic speedometer w/odometer and resettable
tripmeter w/diagnostic capabilities and solid-state,
tell-tale indicator module; tachometer, trip A&B, clock
Hazard Warning Integrated into turn signal controls
Fork Lock Common w/ignition key
Security System Optional

COLORS9
Vivid Black, Black Cherry Pearl, Rich Sunglo Blue, Yellow Pearl,
Brandy Wine Sunglo, Mirage Orange Pearl

WARRANTY
Warranty10 24 months (unlimited mileage)
Service Interval First 1,000 miles (1,600 km), every
5,000 miles (8,000 km) thereafter11

1 Harley-Davidson reserves the right to discontinue models or change specifications at
any time without incurring any obligations. Vehicle specifications may vary from country
to country depending on local laws. Some models are not available in certain countries.
2 Measurement reflects 180 lb. (81.7 kg) operator weight.
3 Includes reserve on carburetor-equipped models.
4 Recommended 91 octane or higher fuel (R+M)/2 (87 octane or higher for XL883 models).
5 Standard and optional wheels may vary by country and region.
6 Values shown are nominal. Performance varies by country.
7 Based on tests conducted under ideal lab conditions per U.S. EPA test procedures.
Your mileage will vary depending on your personal riding habits, weather conditions,
trip length, vehicle conditions, and vehicle configuration. Break-in mileage will vary.
8 North American security system includes immobilizer; outside North America the
security system includes immobilizer and siren.
9 Availability may vary from dealer to dealer, and is subject to change without notice.
10 See motorcycle owner's manual for complete details.
11 Inspections of certain systems and components are required at 2,500 mile
(4,000 km) intervals.