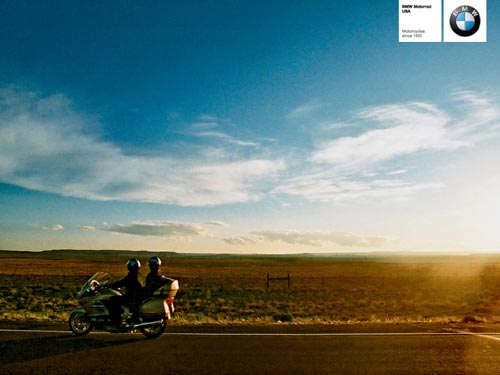 Back to 2007 BMW Motorcycle Index Page
Click photos to enlarge for detail.
They make great desktop images.
– 2007 BMW K1200LT

2007 BMW K1200LT
Peak performance and absolute amenities mile after mile after mile.
Among the forty-four standard features included on the dynamically modified K 1200 LT are a higher output engine, a modified gearbox, chrome package, a redesigned instrument panel and seats, a new paint finishes, and an electro-hydraulic center stand. Engineered for high-performance hauls over endless lengths of road, the K 1200 LT offers one of the smoothest, most comfortable rides imaginable.

Man's great dream of freedom now has a new dimension: the BMW K1200LT offers unsurpassed luxury for gliding along in relaxed comfort on the neverending open road. It also has the benefit of one or two innovations. The high-performance engine delivers 116 bhp and 120 Nm torque for swift acceleration when overtaking, even carrying a full load. The WAD spring strut with travel-dependent damping increases ride comfort especially on journeys when you have a pillion passenger and luggage. The seat has been narrowed according to an ergonomics analysis to make handling more convenient. Ground lighting makes getting on and off the bike safer. The BMW K1200LT can also offer the world's first electrohydraulic extending centre stand. All you need now is the time to enjoy it.


MSRP*: $27,500.00 Canada
MSRP: $21,770 USA
*Freight, retailer preparation & taxes extra.
Standard Equipment
Hazard Warning Flashers

Heated Hand Grips

ABS Full Integral

Cruise Control

Chrome Package

5 Speed Gearbox with

Stainless Steel Exhaust System

Closed Loop Catalytic Converter

Audio Sound System w/RDS Radio

2 Power Sockets

Dual Horn

Adjustable Ventilation for Rider's Area

Single Key Locking System

Adjustable Brake and Clutch Levers

Electro-Hydraulic Center Stand

Adjustable Rider's Seat

Electrically Adjustable Windshield

On-Board Computer

Rear Suspension Strut with

Multifunctional Display

Low-Beam Headlamp Height Adjustment

Diagnostic Interface

Xenon Light

Preparation for BMW Motorrad Navigator

Central Locking

Floor Lighting (available w/ZKC package only)

Top Case Rack with Brake Light

Soft Touch Seat (only with 518)

Heated Seats and Passenger Backrest

Intercom System

Anti-Theft Alarm

Convenience Package

Specifications USA

Engine
Type Liquid-cooled inline four-cylinder
Bore x Stroke 70.5 mm x 75.0 mm
Displacement 1172 cc
Horsepower 116 bhp @ 8000 rpm
Torque 86 lb/ft @ 5250 rpm
Compression Ratio 10.8 :1
Valve Gear DOHC, chain-driven with bucket tappets
Valves 2 x 26.5 mm intake / 2 x 23 mm exhaust
Valves / Cylinder Four
Engine Oil Capacity 4.0 quarts
Engine Management Motronic MA 2.4
Fuel Requirement Premium Unleaded
Fuel Tank HDPE, internal pump and internal filter
Fuel Capacity 6.2 U.S. gallons including 1 gallon reserve
Charging System 840 Watts @ 14 Volts
Battery 12 Volts 19 Amps/hour
Cooling System Dual radiators, 50/50 water/anti-freeze mix
Drivetrain
Primary Drive 1:1.889 with reverse gear 116:1
Clutch 180 mm dry, single plate with hydraulic actuation
1st Gear Ratio 2.05:1
2nd Gear Ratio 1.60:1
3rd Gear Ratio 1.27:1
4th Gear Ratio 0.96:1
5th Gear Ratio 0.70:1
6th Gear Ratio N/A
Final Drive System Enclosed driveshaft with two universal joints
Final Drive Ratio 2.75:1
Frame and Suspension
Frame Central beam cast alum. w/ steel tube rear frame
Front Suspension BMW Telelever
Front Travel 4.0 inches
Rear Suspension BMW Paralever
Rear Travel 5.1 inches
Brakes
Brake System BMW EVO with full integral ABS
Front Brakes Two, four-piston fixed calipers
Front Rotor 12.6 inch dual floating rotors
Rear Brake Single, four-piston fixed caliper
Rear Rotor 11.2 inch single floating rotor
Actuation Method Hydraulic, DOT 4 fluid type
Wheels and Tires
Front Wheel 3.50 x 17 cast alloy, five double-spoke
Rear Wheel 5.00 x 17 cast alloy, five, double-spoke
Front Tire 120/70 x 17 tubeless
Rear Tire 160/70 x 17 tubeless
Dimensions
Overall Length 98.5 inches
Overall Width 42.5 inches
Wheelbase 64.1 inches
Ground Clearance 3.5 inches
Seat Height 30.3 inches
Steering Angle 63.0 degrees
Front Wheel Trail 4.6 inches
Weight – Dry 761 lbs. excluding options & accessories
Weight – Wet 835 lbs. excluding options & accessories
Maximum Load 1322 lbs. GVWR
Standard Colors
Code  Price Description
716     N / C Night Black
847     N / C Biarritz Blue Metallic
N02     N / C Storm Gray Metallic
Standard Equipment
320     N / C Xenon Light
394     N / C Preparation for BMW Motorrad Navigator
445     N / C Top Case Rack with Brake Light
496     N / C Soft Touch Seat (only with 518)
518     N / C Heated Seats and Passenger Backrest
519     N / C Heated Hand Grips
538     N / C Cruise Control
600     N / C Intercom System
603     N / C Anti-Theft Alarm (available with ZKC Package only)
ZKC     N / C Convenience Package (incl. 417, 418 and 603)
Available Equipment
553     $100 Tall Windshield
713     $500.00 6-Disc CD Changer
765     $55.00 Dual Accessory Socket
773     N / C Seat – Black
787     $415.00 Adjustable Passenger Footrests – Chrome
Specifications Canada:
BMW K1200LT

Engine
Type . . . . . . . . . . . . . . . . . . . . . . . . . Water-cooled, 4-stroke in-line
four-cylinder, two camshafts,
four valves per cylinder
Bore / stroke . . . . . . . . . . . . . . . . . .70.5 mm x 75 mm
Capacity . . . . . . . . . . . . . . . . . . . . .1,171 cc
Rated output . . . . . . . . . . . . . . . . . .85 kW (116 hp) at 8,000 rpm
Max. torque . . . . . . . . . . . . . . . . . . .120 Nm at 5,250 rpm
Compression ratio . . . . . . . . . . . . . .10.8 : 1
Fuel / engine management . . . . . . . Electronic intake pipe injection/
BMW engine management, Motronic MA 2.4 with overrun fuel cut-off
Emission control . . . . . . . . . . . . . . . Closed-loop 3-way catalytic
converter, emission standard EU-3
Performance / fuel consumption
Maximum speed . . . . . . . . . . . . . . .over 200 km/h
Fuel consumption per 100 km
at constant 90 km/h . . . . . . . . . . . .4.3 l
at constant 120 km/h . . . . . . . . . . .5.7 l
Fuel type . . . . . . . . . . . . . . . . . . . . . Unleaded super, minimum octane rating 95 (RON)
Electrical system
Alternator . . . . . . . . . . . . . . . . . . . .three-phase alternator 840 W
Battery . . . . . . . . . . . . . . . . . . . . . .12 V / 19 Ah, maintenance-free
Power transmission
Clutch . . . . . . . . . . . . . . . . . . . . . . . Single dry plate clutch,
hydraulically operated
Gearbox . . . . . . . . . . . . . . . . . . . . . . Constant mesh 5-speed gearbox (overdrive) plus additional reversing aid
Drive . . . . . . . . . . . . . . . . . . . . . . . .Shaft drive
Man's great dream of freedom now has a new dimension: the BMW K 1200 LT offers unsurpassed luxury for gliding along in relaxed comfort on the neverending open road. It also has the benefit of one or two innovations. The high-performance engine delivers 85 kW / 116 bhp and 120 Nm torque for swift acceleration when overtaking, even carrying a full load. The WAD
spring strut with travel-dependent damping increases ride comfort especially on journeys when you have a pillion passenger
and luggage. The seathas been narrowed according to an ergonomics analysis to make handling more convenient. Ground
lighting makes getting on and off the bike safer. The BMW K 1200 LT can also offer the world's first electrohydraulic extending
centre stand. All you need now is the time to enjoy it.
Paintwork: sturmgrau-metallic
Seat: greige, optionally available in black
Paintwork: night black
Seat: black
Paintwork: Biarritz blue metallic
Seat: black
Chassis / brakes
Frame . . . . . . . . . . . . . . . . . . . . . . . Bridge-type frame, cast aluminium, engine with vibration-decoupled mountings
Front suspension . . . . . . . . . . . . . . . BMW Motorrad Telelever; stanchion diameter 35 mm, central spring strut
Rear suspension . . . . . . . . . . . . . . . Cast aluminium single-sided swing arm with BMW Motorrad Paralever; central spring strut, spring pre-load hydraulically adjustable (continuously variable) at handwheel
Travel front / rear . . . . . . . . . . . . . . .102 mm / 130 mm
Wheelbase1 . . . . . . . . . . . . . . . . . . .1,627 mm
Castor1 . . . . . . . . . . . . . . . . . . . . . . .117 mm
Steering head angle1 . . . . . . . . . . . .63.0°
Wheels . . . . . . . . . . . . . . . . . . . . . . .Cast aluminium
Rim, front . . . . . . . . . . . . . . . . . . . . .3.50 x 17″
Rim, rear . . . . . . . . . . . . . . . . . . . . .5.00 x 17″
Tyre, front . . . . . . . . . . . . . . . . . . . .120/70 ZR 17
Tyre, rear . . . . . . . . . . . . . . . . . . . . .160/70 ZR 17
Brake, front . . . . . . . . . . . . . . . . . . . Twin disc, floating brake discs,
ø 320 mm, 4-piston fixed calipers
Brake, rear . . . . . . . . . . . . . . . . . . . . Single disc, floating brake disc,
ø 285 mm, four-piston fixed caliper
ABS . . . . . . . . . . . . . . . . . . . . . . . . . BMW Motorrad Integral ABS
(fully integral)
Dimensions / weights
Seat height . . . . . . . . . . . . . . . . . . .770 / 800 mm
Inner leg curve . . . . . . . . . . . . . . . . .1,860 / 1,920 mm
Unladen weight, road ready2 . . . . . .387 kg
Dry weight3 . . . . . . . . . . . . . . . . . . .353.5 kg
Permitted total weight . . . . . . . . . . .600 kg
Payload (with standard equipment) 213 kg
Usable tank volume . . . . . . . . . . . . .24 l
Reserve . . . . . . . . . . . . . . . . . . . . . .approx. 4 l
Length . . . . . . . . . . . . . . . . . . . . . . .2,502 mm
Height (excl. mirrors) . . . . . . . . . . . .1,395 mm (with aerial: 1,915 mm)
Width (incl. mirrors) . . . . . . . . . . . . .1,080 mm

Specifications and features are subject to change