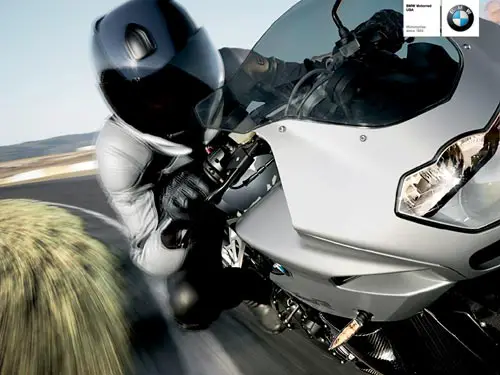 Back to 2007 BMW Motorcycle Index Page
Click photos to enlarge for detail.
They make great desktop images.
– 2007 BMW K1200R Sport

2007 BMW K1200R Sport
Only the strong survive on the streets.
The new K 1200 R Sport is the latest addition to BMW's collection of 4 cylinder bikes. This performance sports tourer is a dynamic, more civilized version of the revolutionary K 1200 R, which won Motorcyclist's Bike of the Year in 2005. It features a semi-faired design that provides protection from wind and rain while allowing the rider to assume a more upright position than other sport bikes. But don't let its refinements fool you. The K 1200 R Sport features the same 163 hp growl of its unfaired sibling and is capable of rocketing you to motorcycle euphoria in a matter of moments. Ready to hit the throttle? It hits the streets in 2007.

MSRP: $14,450 USA

*Freight, retailer preparation & taxes extra.
Standard Equipment
Closed Loop 3 Way Catalytic Converter

Diagnostic Interface

Electronic Immobilizer

Frame Mounted Half Fairing

Hazard Warning Flashers

Info Flat Screen

Power Socket

Side Stand with Starter Inhibition

Single Key Locks


Specifications USA

2007 BMW K 1200 R Sport
MSRP:  $14,450.00* Destination charge (not included in MSRP): $475.00
Copyright 2007 BMW of North America, LLC., Woodcliff Lake, New Jersey all rights reserved.
*Actual price determined by dealer. MSRP includes equalized freight charges and PDA. Price excludes taxes, license, options and handling charges.
Prices and specifications subject to change without notice.
Engine
Type Transverse mounted, liquid-cooled inline 4-cylinde
Bore x Stroke 79 mm x 59 mm
Displacement 1157 cc
Horsepower 163 bhp @ 10250 rpm
Torque 94 lb/ft @ 8250 rpm
Compression Ratio 13.0 :1
Valve Gear DOHC, chain-driven with bucket tappets
Valves 2 x 32 mm mm intake / 2 x 27,5 mm mm exhaust
Valves / Cylinder Four
Engine Oil Capacity 3.7 quarts
Engine Management BMW Engine Controller – BMS K
Fuel Requirement Unleaded, premium grade, 93 AKI
Fuel Tank HDPE, internal pump and internal filter
Fuel Capacity 5.0 U.S. gallons including 1 gallon reserve
Charging System 580 Watts @ 14 Volts
Battery 12 Volts 14 Amps/hour low maintenance
Cooling System Single Radiator, 50/50 water/anti-freeze mix
Drivetrain
Primary Drive 1:1.559
Clutch 151 mm, multi-disc oil bath
1st Gear Ratio 2.40:1
2nd Gear Ratio 1.87:1
3rd Gear Ratio 1.53:1
4th Gear Ratio 1.30:1
5th Gear Ratio 1.14:1
6th Gear Ratio 1.01:1
Final Drive System Enclosed driveshaft with two universal joints
Final Drive Ratio 2.91:1
Frame and Suspension
Frame Composite aluminum frame
Front Suspension BMW Duolever
Front Travel 4.5 inches
Rear Suspension BMW EVO Paralever
Rear Travel 5.3 inches
Brakes
Brake System BMW EVO
Front Brakes Two, four-piston fixed calipers
Front Rotor 12.6 inch dual floating rotors
Rear Brake Single, two-piston fixed caliper
Rear Rotor 10.4 inch single, fixed rotor
Actuation Method Hydraulic, DOT 4 fluid type
Wheels and Tires
Front Wheel 3.50 x 17 cast alloy, five double-spoke
Rear Wheel 5.50 x 17 cast alloy, five double-spoke
Front Tire 120/70 x 17 tubeless
Rear Tire 180/55 x 17 tubeless
Dimensions
Overall Length 87.7 inches
Overall Width 33.7 inches
Wheelbase 62.2 inches
Ground Clearance Info. Unavailable
Seat Height 32.3 inches
Steering Angle 61.0 degrees
Front Wheel Trail 4.5 inches
Weight – Dry 474 lbs. excluding options & accessories
Weight – Wet 531 lbs. excluding options & accessories
Maximum Load 992 lbs. GVWR
Standard Colors
Code  Price Description
954     N / C White Aluminum Metallic
N05     N / C Cosmic Blue metallic
Standard Equipment
Available Equipment
173     $275.00 Sport wheels
416     $800 Electronic Suspension Adjustment (ESA)
519     $235 Heated Hand Grips
530     $260 Tire Pressure Monitoring (TPM)
539     $275 On Board Computer (incl. Oil Level Warning)
588     $50.00 White Turn Indicator
603     $235 Anti-Theft Alarm
630     $1040.00 Integral ABS II
665     $135.00 Luggage Grid
774     $N / C Dual Bench Seat – Low (31.1 inches)

Specifications Canada:
BMW K1200R Sport

Not available in Canada

Specifications and features are subject to change