You are here: Home — New 2007 Models — 2007 Harley-Davidson Motorcycle Models
2007 Harley-Davidson FLTR Road Glide
Back to 2007 Harley-Davidson Motorcycle Index Page
Click photos to enlarge.
They make great desktop images.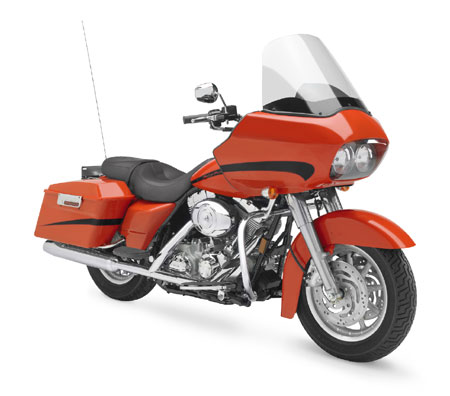 2007 Harley-Davidson FLTR Road Glide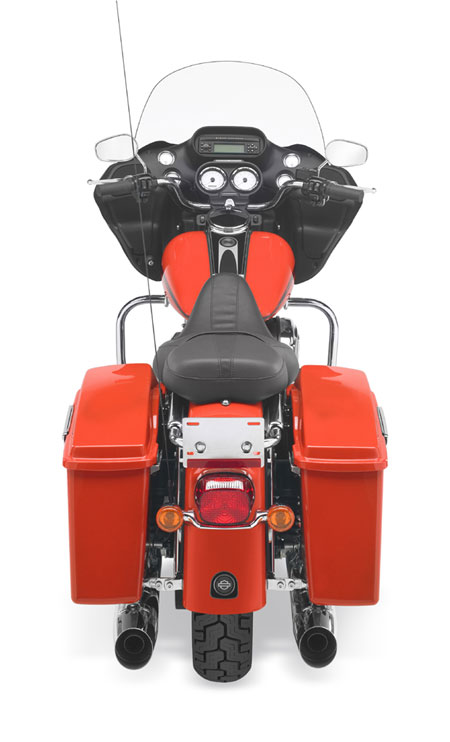 2007 Harley-Davidson FLTR Road Glide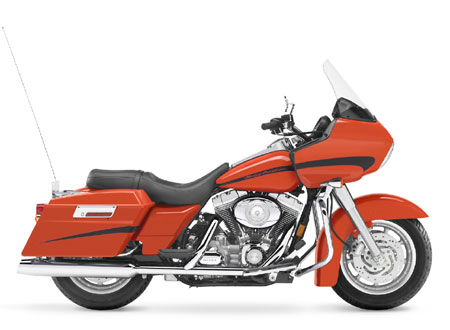 2007 Harley-Davidson FLTR Road Glide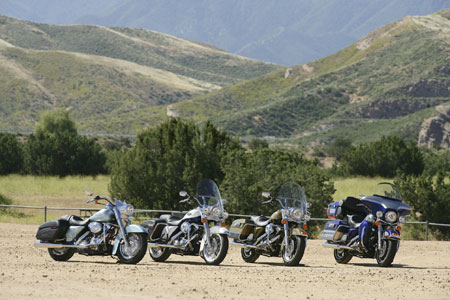 2007 Harley-Davidson FLTR Road Glide


– 2007 Harley-Davidson FLTR Road Glide

2007 Harley-Davidson FLTR Road Glide
FLTR Road Glide® Model Overview
A uniquely designed "shark nose" fairing and sleek styling make the FLTR Road Glide stand out among Harley-Davidson touring motorcycles. The frame-mounted fairing reduces weight on the fork and handlebar giving the Road Glide an enjoyable highway ride with protection from the elements. That ride gets even better for 2007, with the addition of the Twin Cam 96 engine and 6-speed Cruise Drive transmission for improved power and relaxed cruising. The Road Glide instrumentation features the 40-watt Advanced Audio System by Harman/Kardon. Hard-shell saddlebags, cruise control and Electronic Sequential Port Fuel Injection (ESPFI) are standard. Black slashing graphics add an original color contrast. The Road Glide is available in nine solid color combinations for 2007.
FLTR Road Glide features:
New rubber mount 1584cc Twin Cam 96 engine
Silver powder-coated engine with chrome treatment
New 6-speed Cruise Drive transmission
Standard Electronic Sequential Port Fuel Injection (ESPFI)
New redesigned football shape air cleaner
Dual clear-lens, reflector-optics headlights
Frame-mounted, aerodynamic fairing
Silver gauges, wheels and calipers
Slashing, broad-stripe graphics
40-watt CD/AM/FM/WB/MP3 Advanced Audio System by Harman/Kardon
Sleek custom saddle
GTX nylon hard saddlebags with hidden supports
Full cockpit-style instrumentation
Electronic cruise control
Triple-disc brakes
Air adjustable rear suspension
Triple Circuit Damping (TCD) front forks
SPECIFICATIONS:
Dimensions
Length 93.7 in. (2380.0 mm)
Overall Width 35.8 in. (909.3 mm)
Overall Height 55.0 in. (1397.0 mm)
Seat Height:
– Laden2
– Unladen
26.9 in. (683.3 mm)
29.5 in. (749.3 mm)
Ground Clearance 5.1 in. (129.5 mm)
Rake (steering head) 26°
Fork Angle 29.3°
Trail 6.2 in. (157.5 mm)
Wheelbase 63.5 in. (1612.9 mm)
Tires (Dunlop® Harley-Davidson Series, blackwall):
– Front – D402F
– Rear – D402
MT90B16 72H
MU85B16 77H
Fuel Capacity 5.0 gal. (18.9 L)
(warning light at approximately 1.0 gal.)
Oil Capacity (with filter) 4.0 qts. (3.8 L)
Transmission Capacity 1.0 qts. (0.95 L)
Primary Chain Case
Capacity10
1.4 qts. (1.3 L)
Weight:
– As Shipped
– In Running Order
– Gross Vehicle Weight
Rating
– Gross Axle Weight Rating:
– Front
– Rear
761 lbs. (345 kg)
792 lbs. (360 kg)
1259 lbs. (571 kg)
500 lbs. (227 kg)
827 lbs. (375 kg)
Engine
Engine Air-cooled, Twin Cam 96®
Valve Train Pushrod-operated, overhead valves
with hydraulic, self-adjusting lifters;
two valves per cylinder
Bore x Stroke 3.75 in. x 4.38 in. (95.18 mm x 111.13 mm)
Displacement 96 cu. in. (1584 cc)
Compression Ratio 9.2:1
Fuel System3 Electronic Sequential Port Fuel Injection
(ESPFI)
Air Cleaner Paper, washable
Lubrication System Pressurized, dry-sump
Drivetrain
Primary Drive Chain, 46/34 ratio
Final Drive9 Belt, 32/66 ratio
Clutch 9-plate, wet
Transmission 6-speed Cruise Drive™
Gear Ratios (overall):
– 1st
– 2nd
– 3rd
– 4th
– 5th
– 6th
U.S. HDI JPN
9.321 9.312 9.030
6.421 6.421 6.226
4.774 4.774 4.630
3.926 3.926 3.807
3.279 3.279 3.179
2.790 2.790 2.706

Chassis
Frame Mild steel, square-section backbone with
twin downtubes
Swingarm Mild steel, rectangular tube sections,
stamped junctions; MIG welded
Front Forks 41.3 mm telescopic, cartridge-style damping
Rear Shocks Air-adjustable
Wheels4 (Chrome, Profile Laced
Aluminum Option):
Silver, 9-spoke Cast Aluminum
– Front
– Rear
16 in. x 3.0 in. (406.4 mm x 76.2 mm)
16 in. x 3.0 in. (406.4 mm x 76.2 mm)
Brakes:
– Caliper Type
– Rotor Type (diameter x width):
– Front (dual)
– Rear
4-piston front and rear
Patented, uniform expansion rotors
11.5 in. x .20 in. (292.1 mm x 5.08 mm)
11.5 in. x .23 in. (292.1 mm x 5.84 mm)
Suspension Travel:
– Front Wheel
– Rear Wheel
4.6 in. (116.8 mm)
3.0 in. (76.2 mm)

Performance
Engine Torque (per SAE J1349)5:
– North America 92.6 ft. lbs. @ 3500 rpm (125.5 NM @ 3500 rpm)
Lean Angle (per SAE J1168):
– Right
– Left
32°
30°
Fuel Economy
(EPA urban/highway test)10 32.5/45.0 mpg (7.24/5.23 L/100 km)


Electric
Battery (per Battery Council
International Rating)
Sealed, maintenance-free, 12V,
28-amp/hour, 270 cca
Charging Three-phase, 50-amp system
(585W @ 13V, 2000 rpm, 650W max power @ 13V)
Starting 1.2 kW electric with solenoid shift starter
motor engagement
Lights (as per country regulation):
– Headlamp (quartz halogen)
– Auxiliary Lamps
– Tail/Stop Lights
– Turn Signal Lights
– Indicator Lamps
55-watt low beam, 60-watt high beam
Two @ 35W each (except where prohibited by law)
8W/28W (5W/21W)
28W (21W) self-canceling
High beam, running lights, directional
light bar, neutral, low oil pressure, engine
diagnostics, turn signals, security system6
(optional), 6-speed, low fuel warning

Styling / Convenience
Glovebox Two, located inside fairing with spring-return lids
Instruments Electronic speedometer w/odometer,
resettable tripmeter, tachometer, fuel
gauge, voltmeter, low oil pressure guage,
diagnostics readout, 6-speed indicator
light, cruise control with indicator light,
ambient air temperature gauge
Stereo Premium sound system (40W per speaker) w/
AM/FM/CD MP3 player; fairing-mounted
speakers, weather band, clock,
bi-directional seek/scan, track search/
scan, 8 presets and automatic volume
control w/ adjustable sensitivity
Auxiliary Audio Input On radio face; will accommodate any
line-level audio output device, like
personal CD or MP3 player
Antenna Single AM/FM/WB antenna
Cruise Control Electronic with set, resume, accelerate
and decelerate
Hand Conrols
Start, engine cutoff, lturn signals, horn,
hi/low beam, stereo system, cruise control,
"ultra" CB and intercom controls in place
for easy installation of available systems
Hazard Warning Integrated into turn signal controls
Electric Power Outlet Cigarette lighter, accessory connector
under seat
Saddlebags Injection-molded GTX®12; Vol.:2.26 cu. ft.
(64.0 L)
Luggage/Fork/
Gas Cap Locks
Saddlebags, barrel key; common with
ignition key
Smart Security System Optional, next-generation hands-free security
fob; operates based on proximity to vehicle


Colors12
Vivid Black, Black Cherry Pearl, Black Pearl, Fire Red Pearl, Deep Cobalt
Pearl, Pacific Blue Pearl (new), Pewter Pearl (new), Yellow Pearl, Mirage
Orange Pearl

Warranty
Warranty7 24 months (unlimited mileage)
Service Interval First 1,000 miles (1,600 km),
every 5,000 miles (8,000 km) thereafter8

1 Harley-Davidson reserves the right to discontinue models or change specifications at
any time without incurring any obligations. Vehicle specifications may vary by country
and region depending on local laws. Some models are not available in certain countries.
2 Measurement reflects 180 lb. (81.7 kg) operator weight.
3 Recommended 91 octane or higher fuel (R+M)/2 (87 octane or higher for XL 883
models). Standard and optional fuel systems may vary by country and region.
4 Standard and optional wheels may vary by country and region.
5 Values shown are nominal. Performance may vary by country and region.
6 North America security system includes immobilizer; outside North America the security
system includes immobilizer and siren.
7 See motorcycle owner's manual for complete details.
8 Inspections of certain systems and components are required at 2,500 mile (4,000 km) intervals.
9 U.S. and HDI markets except Japan: Belt 32/64 ratio.
10 Primary case oil fill is 45 oz. or as needed to fill to bottom of diaphragm spring.
11 Estimated from fuel economy tests on a sample motorcycle from the corresponding
family conducted by Harley-Davidson under ideal laboratory conditions. Not all
motorcycle models undergo fuel economy testing. Fuel economy and mileage may vary
among motorcycle models within a family. Your Mileage may vary depending on your
personal riding habits, weather conditions, trip length, vehicle condition and vehicle
configuration and other conditions. Break-in mileage may vary.
12 GTX® is a registered trademark of General Electric Company.
13 Availability may vary from dealer to dealer, and is subject to change without notice.