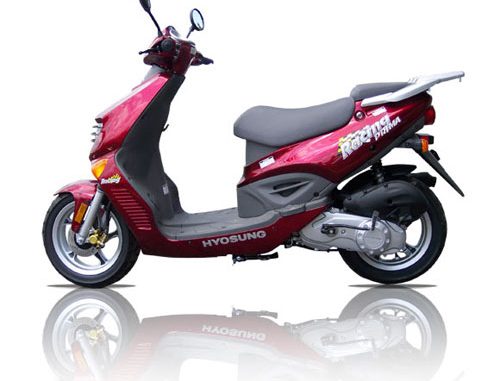 You are here: Home — New 2007 Models — 2007 Hyosung Motorcycle Models
2007 Hyosung MS3 250
Back to 2008 Hyosung Motorcycle Index Page
Click photos to enlarge for detail.
They make great desktop images.
– 2007 Hyosung MS3 250

2007 Hyosung MS3 250
Your lifestyle changes.
Refined looks, simple handling and large storage capacity.
Features & Benefits
– It's a scooter
– The manufacter didn't list any, sorry.
– Anyone reading this should be smiling about…. now.
Specifications USA
MSRP
$1,599


Specifications Canada:
MSRP: $2,549 CDN
Longueur 1,845 mm
Largeur 635 mm
Hauteur 1,110 mm
Distance du sol 125 mm
Poids 88 kg
Type 2 temps / Ref. Ã  l'air
Cylindrée 49 cc
Carburateur VM 14
Démarreur Électrique & au Pied
Réservoir à essence 4.8 Litres
Embrayage Automatique (À sec)
Entrainement Automatique (V-Belt)
Pneu Avant 110/70-12
Pneu Arrière 120/70-12
Suspension Avant Téléscopique
Suspension Arrière Ressorts
Frein Avant Disque
Frein Arrière À tambours



Specifications and features are subject to change