You are here: Home — 2007 Models — 2007 Moto Guzzi Motorcycle Models
2007 Moto Guzzi Nevada Classic 750
Back to 2007 Moto Guzzi Motorcycle Index Page
Click photos to enlarge.
They make great desktop images.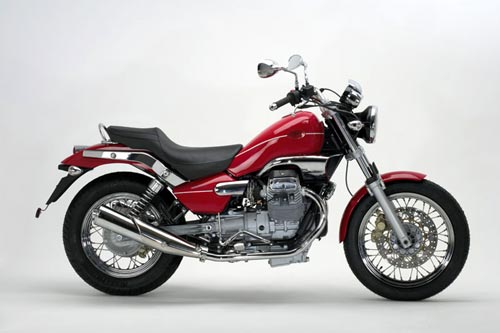 2007 Moto Guzzi Nevada Classic 750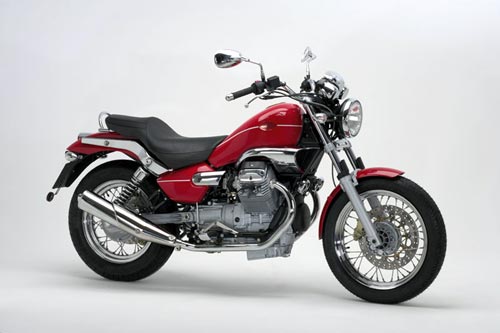 2007 Moto Guzzi Nevada Classic 750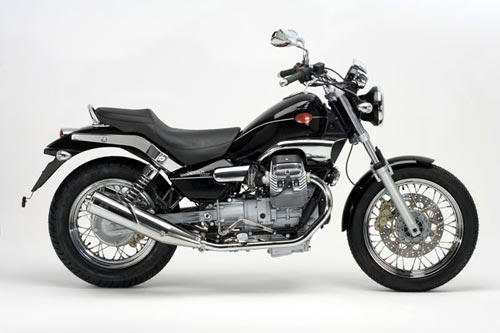 2007 Moto Guzzi Nevada Classic 750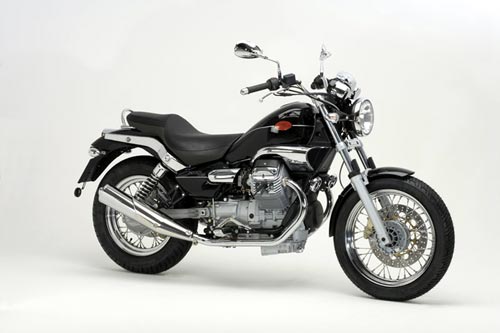 2007 Moto Guzzi Nevada Classic 750
– 2007 Moto Guzzi Nevada Classic 750

2007 Moto Guzzi Nevada Classic 750
The environmentally-friendly custom bike

What could be better than the classic Nevada 750 equipped with electronic fuel injection?
Only Moto Guzzi could surpass itself in this way, injecting a new lease of life into a motorcycle that time alone cannot stop.

The Nevada Classic 750 i.e. is an absolutely modern motorcycle. 87% of the bike, some 383 parts out of 441, have either been redesigned or replaced and the look is totally new, even if the bike maintains all the fascination of a thoroughbred custom. Side panels, shock absorber covers, seat, rear mudguard, tail light and even the rider footrests have been restyled. The resulting look is eye-catching and contemporary but still leaves that unique Nevada spirit shine on through. The brand new, ultra-modern instrumentation now includes an LCD display. The handlebars and grips have been redesigned, as has the clutch lever, which affords smoother, easier action. Riding ergonomics have been improved to give better control and easier handling in rush-hour traffic. The new profile seat has a height of only 760 mm, making for beautifully easy low speed manoeuvring in tight spaces.

The engine is Guzzi's magnificent 744 cc 90° V-Twin of course, but electronic fuel injection has been added to improve performance in all situations and a Lambda probe catalyser minimises emissions too. Likewise, the beautifully balanced frame is still one of the Nevada's strong points, but cornering and steering precision have been improved by a new Marzocchi 40 mm fork.



Rider and passenger comfort is guaranteed by soft suspensions and the two rear shock absorbers are adjustable to suit load. Brakes are those of a sportster, with a mighty 320 mm front disc operated by a four-pot calliper and a 260 mm disc at the rear. The Nevada Classic 750 i.e. is also backed up by an extensive range of dedicated accessories to permit individual customisation. The Nevada Classic 750 i.e. comes in a choice of two colour schemes: Nero Guzzi (black), Rosso del Lario (red).




Features and Benefits:

The new Moto Guzzi range. Every trip is a journey.
The journey is more important than the destination. The knee-down excursion on tortuous roads, the leisurely cruise across the continent in company, even the simplest commuting between home and office all have a common denominator – the pleasure of riding your motorcycle, soothed by the throb of the 90° V-Twin, in the seat of the maximum expression of technology and Italian creativity. The new range reflects this idea and applies it to all the facets of motorcycling today.
The custom segment has always expressed the purest and most direct essence of freedom and is well represented by the Nevada 750 Classic and California Classic, two motorcycles immune to the passage of time.
The naked segment is also fierce, with the Breva 750, agile and robust as a genuine Moto Guzzi, its big sister the Breva 1100, attractive and fun to ride.
Completing the picture is the extraordinary Griso 1100, a flash of originality and passion to be enjoyed down to the last drop.
Every future trip on the back of a Moto Guzzi will not just be a pleasure, but also more "cleaner", with the Euro3 engines fitted on the entire range.
All Moto Guzzi motorcycles include a 2 year factory warranty and 24-hour Roadside Assistance. With our factory warranty and roadside service you can ride with the peace of mind knowing that help and service is just a phone call away. Please see your local dealer for more details.


Accessories
BAG KIT 30 LITRES

CASE 40 LITRES

CARRIER-BACKREST KIT

FUEL TANK BAG

MOTORCYCLE COVERING

MID-SIZE WINDSHIELD

BAG KIT 30 LITRES

CENTRAL STAND.


2007 Moto Guzzi Nevada Classic 750 Specifications:
Engine
Type 90° V-twin, four stroke
Cylinders Aluminium alloy with Gilnisil treatment
Pistons Forged with 2 inner liner and 1 oil control ring
Cooling system Air cooled
Displacement 744 cc
Bore and stroke 3.15" x 2.9" (80 mm x 74 mm)
Compression ratio 9,6 : 1
Timing system two overhead valves, moved by light alloy push-rods
Valve timing: Intake open 18° B.T.D.C.;
intake close 50° A.B.D.C.;
exhaust open B.B.D.C.;
exhaust close 15° A.T.D.C. with valve clearance 1 mm
Maximum power 35.5 kW (48.28 HP) at 6.800 rpm
Maximum torque 54.7 Nm at 3.600 rpm
Fuel system Weber-Marelli electric injection
Starting system Electric
Ignition Magneti Marelli IAW 15RC electronic digital ignition with inductive spark
Exhaust system Three-way catalyzer with Lambda sensor

Transmission
Gearbox 5 speed
Internal ratios 1° 11/26 = 1 : 2,3636
2° 14/23 = 1 : 1,6429
3° 18/23 = 1 : 1,2778
4° 18/19 = 1 : 1,0556
5° 25/22 = 1 : 0,88
Lubrification By lobes with pressure pump
Primary drive By helical gears, ratio: 16/21=1 : 1,3125
Secondary drive Shaft drive, ratio: 8/33=1 : 4,825
Clutch Single disc, dry, with cush drive

Chassis
Frame Detachable tubular duplex cradle in special high-strengh steel
Wheelbase 57.75" (1,467 mm)
Trail 5.4" (138 mm)
Rake 27,5°
Front suspension Marzocchi hydraulic telescopic fork, Ø 1.57" (40 mm)
Front wheel travel 130 mm
Rear suspension Swinging arm in light cast alloy with two dampers, preload/rebound adjustable
Rear wheel travel 5.1" (130 mm)
Front brake Single stainless steel floating disc, Ø 12.6" (320 mm), four piston calipers
Rear brake Single steel disc, Ø 10.2" (260 mm)
Wheels: spoked steel rims
Front rim 2,50″x18″
Rear rim 3,50″X16″
Tyres Front 100/90 V18″
Rear 130/90 V16″

Electrical equipment
Voltage 12 V
Battery 12 V – 14 Amp/h
Alternator 12 V – 350 Watt

Dimensions
Length 85.3" (2,166 mm)
Width 31.7" (805 mm)
Height 42" (1,068 mm)
Seat height 30.2" (767 mm)
Ground clearance 8.2" (290 mm)
Dry weight 405.6 lbs (184 kg)
Fuel tank capacity 3.7 gallons ( 14 liters)
Reserve 1 gallons (4 liters)
Colours Black, Red

MSRP $8,990
Two-year factory warranty and 24-hour Roadside Assistance come standard.

* the colour and data specification may be subject to change without prior notice


Specifications and features are subject to change