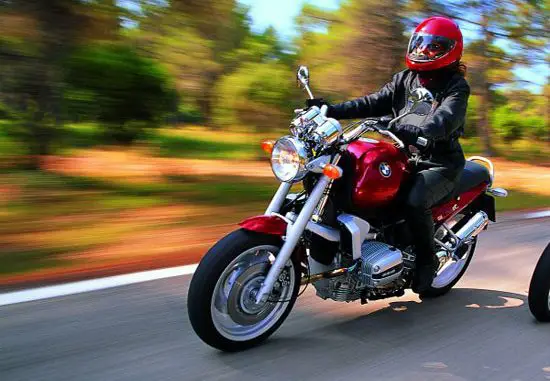 You are here: Home — 2000 Motorcycle Models — 2000 BMW Motorcycle Models
2000 BMW R1100R
Back to 2000 BMW Motorcycle Index Page
Click photo to enlarge.
It makes a great desktop image.
– 2000 BMW R1100R
Note the 5.5-gallon steel fuel tank. Comfortable saddle. Trademark opposed Boxer twin and drive shaft. Yep, there's no mistaking this bike for anything other than a BMW. As expected, it's got versatility coming out the exhaust. Thanks to rock-solid handling and plenty of throaty torque, it can pull triple duty as a pick-up-a-gallon-of-milk bike, a corner carver, or even mile gobbler. Think of it as an 80-horsepower chameleon.
Standard Equipment
Air / oil cooled, Boxer twin cylinder, 1085cc engine
Bosch Motronic MA 2.2 engine management
Electronic Fuel Injection
Three-way catalytic converter
High mounted stainless steel muffler
Shaft drive
Telelever front suspension
Paralever rear suspension
Adjustable seat height (three positions)
Adjustable front brake lever
Integrated ignition and steering lock
Single-key lock system for ignition, steering, fuel cap, seat storage compartment locks
Saddlebag mounting brackets
Hazard warning flashers
Power accessory socket
Center stand
Optional Equipment
ABS II antilock brake system
2000 BMW R1100R Specifications:
Engine
Type Air cooled / Oil cooled twin cylinder, 4-stroke
Bore x stroke 99 mm x 70.5 mm
Displacement 1085 cc
Horsepower 80 bhp @ 6750 rpm
Torque 72 lb.-ft @ 5250 rpm
Compression ratio 10.3:1
Valve gear HC, chain-driven
Valves 2×36 mm intake / 2×31 mm exhaust
Valve timing
(measured at 3 mm valve clearance)
Intake opens 10 degrees after TDC
Intake closes 36 degrees after BDC
Exhaust opens 35 degrees before BDC
Exhaust closes 3 degrees before TDC
Valves per cylinder Four
Camshafts 300 degrees
Engine oil capacity 4 quarts of SF, SG motor oil, also w/CC or CD
Engine oil filter Spin-on Micronic filter cartridge
Carburetion Fuel injection and electronic ignition MA 2.2
Ignition Controlled by Bosch Motronic
Fuel demand Unleaded, middle-grade premium, 90 (AKI)
Fuel tank Steel tank with enclosed fuel pump & filter
Fuel capacity 5.5 U.S. gallons including 1 gal. reserve
Air Filter Paper-type element
Charging system 14 V, 50 Amp Alternator (700 W)
Battery BMW Mareg, 19.5 Amp/h low maintenance
Cooling system Combined air/oil cooled

Drivetrain
Primary drive Helical-cut gears with tensioner
Clutch 180 mm dry, single plate with diaphram spring
Gear ratios 1 st gear: 4.16:1
2nd gear: 2.91:1
3rd gear: 2.13:1
4th gear: 1.74:1
5th gear: 1.45:1
Drive system Enclosed driveshaft with two universal joints and integral torsional damper
Final drive Spiral bevel gears, 3.0:1 ratio (33/11)
Frame and Suspension
Frame New 3-section frame concept
Front suspension Telelever with central spring strut. Linear-rate coil spring. Twin-tube gas-filled.
Travel / dimensions 4.72 inches total travel
Rear suspension Patented BMW Paralever swingarm & shaft drive, single shock with variable rebound damping
Travel / dimensions 5.31 inches total travel, 7-position preload

Brakes
Brake system Optional BMW / FAG anti-lock brake system ABS II
Front brakes Two 4-piston calipers, wear compensation
Front rotors Dual 12.0 inch floating rotors
Actuation method Hydraulic, DOT 4 fluid type
Rear brake One 4-piston caliper, floating mount
Rear rotor Single 10.9 inch diameter fixed rotor
Actuation method Hydraulic, DOT 4 fluid type

Wheels and Tires
Front wheel 3.50 x 17 MT-H2, cast alloy, 3-spoke U-profile
Rear wheel 4.50 x 18 MT-H2, cast alloy, 3-spoke U-profile
Front tire 120/'70 – ZR 17 tubeless
Rear tire 160/60 – ZR 18 tubeless

Dimensions
Overall length 85.68 inches (2197 mm)
Overall width 35.02 inches (898 mm) (over mirrors)
Wheelbase 57.99 inches (1487 mm) (unladen)
Ground clearance 5.38 inches (1 38 mm) (unladen)
Seat height 29.9 / 30.7 / 31.5 inches (760 / 780 / 800 mm)
Handlebar width 29.68 inches (761 mm)(with weights)
Steering angle 64 degrees
Front wheel trail 4.68 inches (120 mm) (unladen)
Weight – dry 482 lbs
Weight – wet 518 lbs
Maximum load 990 lbs. gross vehicle weight rating
Wheel load limits Front = 396 lbs. Rear = 660 lbs.
Top Speed 121 mph (195 km/h)
Colors
#689 Mystic Red
#704 Graphite Metallic
#744 Pacific Blue Metallic
#763 Graphite Metallic & Ice Blue with yellow stripping
Specifications are subject to change without notice, in accordance with national regulation and legislations.