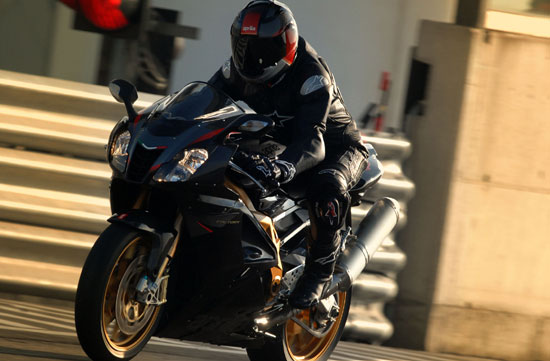 You are here: Home — 2009 Models — 2009 Aprilia Motorcycle Models
2009 Aprilia RSV 1000 R Factory
Back to 2009 Aprilia Motorcycle Index Page
Click photos to enlarge.
They make great desktop images.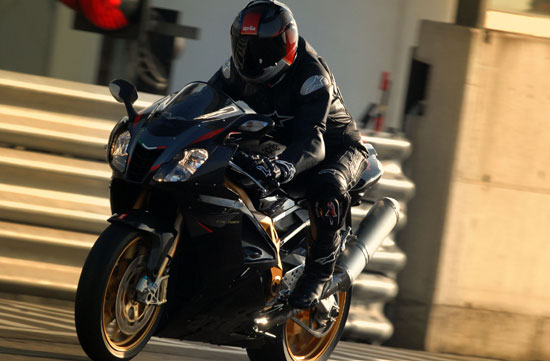 2009 Aprilia RSV 1000 R Factory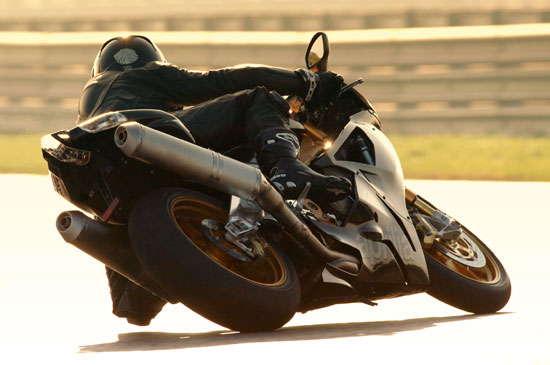 2009 Aprilia RSV 1000 R Factory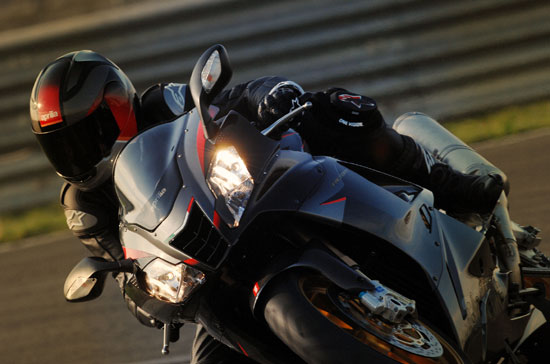 2009 Aprilia RSV 1000 R Factory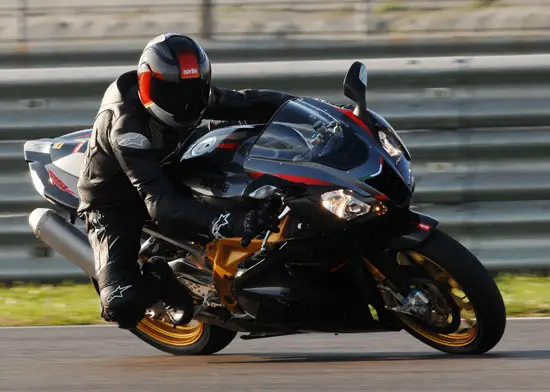 2009 Aprilia RSV 1000 R Factory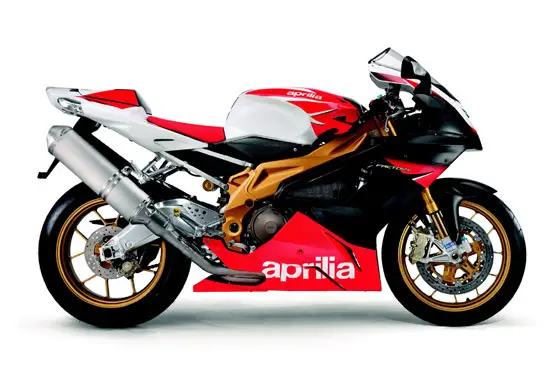 2009 Aprilia RSV 1000 R Factory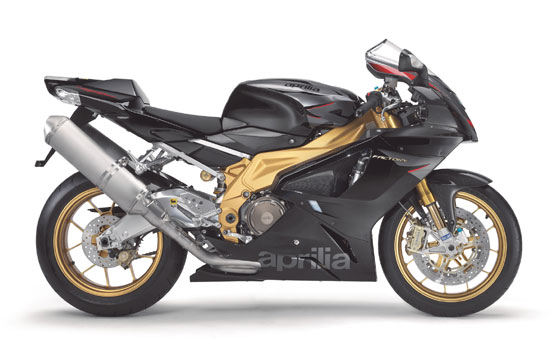 2009 Aprilia RSV 1000 R Factory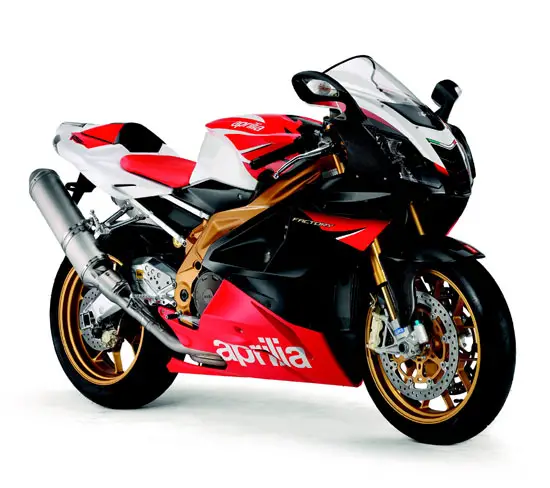 2009 Aprilia RSV 1000 R Factory
– 2009 Aprilia RSV 1000 R Factory

2009 Aprilia RSV 1000 R Factory
'FACTORY' IS A MAGIC WORD THAT IMMEDIATELY CONJURES UP THE WORLD OF RACING AND SPECIAL BIKES FOR SPECIAL RIDERS WHO FULLY APPRECIATE THE THRILL OF SPORTS RIDING. ONCE AGAIN IN 2007, TOP OF THE RSV RANGE IS THE RSV 1000 R FACTORY, A REFINED SUPERSPORT THAT IS AWESOMELY SUCCESSFUL ON THE TRACK.

APRILIA RSV 1000 R FACTORY
The Aprilia RSV 1000 R Factory was the fastest bike around ten out of twelve curves and the fastest in top speed at the end of six out of twelve straights. The Aprilia RSV 1000 R Factory did not just win, it dominated the final of the 2006 Master Bike, thanks to amazingly safe braking, rapid yet smooth and precise control when leaning into curves, excellent rear wheel feel under acceleration and, last but not least, a final drive gear ratio specially calculated for effective racing.
This year's Master Bike has scientifically and conclusively demonstrated that the Aprilia RSV 1000 R Factory is the most efficient winning machine on the racetrack. It is also the first non-Japanese bike to dominate the final points table, and the most impressive V twin in the competition.
The RSV 1000 R Factory is the best twin cylinder supersport that money can buy. Its updated V60 Magnesium engine and new chassis combine with special, ultra-light materials and the best components in the world to ensure absolute excellence on the track. The Aprilia RSV 1000 R Factory is the utmost expression of Aprilia's technological and sporting heritage.
Here is a bike designed for those who demand maximum performance on the track. Yet, like all previous RSV 1000 R models, the new Factory still sells at a surprisingly low price. Just like its predecessors, the new Factory brings you the best motorcycle technology in the world at a rock bottom price. Nowhere else will you find this level of equipment for such a low outlay.

The Factory is an RSV 1000 R that has been pushed beyond the excellence barrier, cleverly modified and equipped with only superlative components.
The important details that distinguish the Factory from the standard RSV 1000 R are:
" Fully adjustable Öhlins Racing rear monoshock
" Adjustable Öhlins steering damper fitted as standard
" Gold painted, forged aluminium wheels
" Carbon fibre parts kit fitted as standard
" Rider's seat with non-slip racing upholstery
" Frame finished in gold
" Pirelli SuperCorsa Pro 120/70 – 190/55 ZR 17 tyres
The Aprilia RSV 1000 R Factory is equipped with world-beating solutions and components taken directly from the world of racing.
The result is truly impressive in terms of design and manufacturing quality. The RSV 1000 R Factory stands apart from other twin-cylinder machines for the perfect balance it achieves between quality, technology, high-tech components and finish.
ENGINE
Even the V60 Magnesium engine that powers the Factory has benefited from many improvements introduced to boost performance and achieve Euro 3 homologation at the same time. The new engine puts out 105.24 kW (143 HP) at 10,000 rpm and develops a maximum torque of 103 Nm at 8,000 rpm. The exhaust system now has external catalytic converters that are installed nearer the collector pipes to cut activation time. The Factory is homologated to Euro 3 standards as a result, meaning lower emissions than ever before.
FRAME
The Factory has the same super-light frame as the RSV 1000 R. Only the gold finish is different, giving the bike a more aggressive look. The swingarm is the same too, but is polished instead of painted for greater wear resistance.
SUSPENSION
The 43 mm upside-down Öhlins Racing fork is titanium nitride (TiN) coated for maximum smoothness. Its advanced design with longer sleeves and shorter fork bottoms reduces load at two critical points, the slide bush and the stanchion to fork bottom joint. Wheel travel is 120 mm.

Like all top racing forks, the Öhlins allows precision adjustment of compression and rebound damping as well as spring preload.
The fork has new, forged aluminium mounting blocks to enable radial calipers to be fitted.
An Öhlins Racing rear monoshock is fitted as standard. The unit incorporates a separate piggy back nitrogen cylinder and provides adjustments for spring preload, compression and rebound. A characteristic unique to Aprilia is that the length of the monoshock can be adjusted directly from the unit itself to vary the height of the bike's rear end. Perfect suspension setup can therefore be achieved for all riding styles and all track characteristics
BRAKES
The world's top twin cylinder supersport demands top quality brakes. The RSV 1000 R Factory is at the cutting edge of technology, and is equipped with Triple Bridge, radial caliper front brakes developed by Aprilia in conjunction with Brembo.
The rear brakes are Brembo too, and have a 220 mm stainless steel disc and a caliper with two 32 mm pistons.
The front and rear braking circuits both use aeronautical metal braid hoses to eliminate the pressure variations associated with conventional rubber brake lines, guaranteeing maximum braking precision.
COMPONENTS
What places the Aprilia RSV 1000 R Factory in a class of its own is the care taken in its design and manufacture and the attention paid to every single component on the bike. The result is increased performance, better feel and greater rideability, with reduced weight and a quality and finish that no other bike can equal.
An exclusive two chamber steering damper from Öhlins Racing's competition range is fitted as standard. The damper is adjustable to adapt steering response to all possible riding conditions.
Extensive use of carbon fibre components makes the bike far lighter as well as more refined. The mudguards and various fairing parts are made of extremely light woven black carbon fibre.

The RSV 1000 R Factory also features a steering pin in aluminium instead of steel to help reduce weight.
The exclusively designed forged wheels deserve special mention. These wheels are one of the most distinctive features of the bike, not just in appearance, but in technical specifications too.
Finite element analysis was used to identify the best possible wheel design. The result is a six spoke front wheel and a five spoke back wheel with 'Y' profile spokes forking at the rim to provide two anchor points each.

This spoke design is not just a question of looks. It gives excellent lateral and torsional rigidity and thus helps maintain perfect wheel to suspension alignment. On the RSV 1000 R Factory everything has been designed for performance and beauty.

The saving in weight is also exceptional. Each wheel weighs about 25% less than the lightest available wheels made using conventional aluminium casting techniques.

Inertia is therefore 25% lower than with cast aluminium alloy wheels.

The wheels are also anodised instead of painted. This has further reduced weight and ensures that these essential components keep their characteristic finish for the entire life of the bike. Even the manufacturing specifications have been recessed into the wheel instead of embossed on it, for a final touch of class.
Added together, all these tiny savings mean that the RSV 1000 R Factory achieves an amazing dry weight of only 185 kg.
Exclusive components on the RSV 1000 R Factory
– Öhlins Racing fork, set up and optimised for solo riding, with adjustments for spring preload, compression and rebound damping;
– Öhlins Racing rear monoshock, set up and optimised for solo riding, adjustable in length (as well as spring preload, compression and rebound)
– Öhlins Racing two chamber steering damper
– carbon fibre front mudguard
– carbon fibre rear mudguard
– carbon fibre fairing air vents
– carbon fibre cockpit fairing spoilers
– carbon fibre fairing cover
– forged aluminium front wheel
– forged aluminium rear wheel
– Pirelli SuperCorsa Pro 120/70 – 190/55 tyres
COLOURS
The RSV 1000 R Factory comes in the stunning Dark Lion and Red Lion colour combinations.
ACCESSORIES
" Akrapovic Aprilia Racing EVO6 complete exhaust system for racetrack use only;
" Akrapovic complete homologated exhaust system
" Akrapovic homologated slip-on silencers
" Ergal reverse shifter
" Adjustable aluminium footrests
" Tank bag
" Electronic anti-theft system
" Comfort passenger seat (with deeper padding and integrated grab handles)
" Paddock stand
" Z15 pinion for racetrack use only

2009 Aprilia RSV 1000 R Factory – Press Release Specifications

Engine
V60 Magnesium four stroke longitudinal 60° V twin. Liquid cooling with three way pressurised circuit. Double overhead camshaft with mixed gear/chain drive; four valves per cylinder. Patented AVDC (Anti Vibration Double Countershaft). Euro 3.
Fuel Unleaded petrol.
Bore and stroke 97 x 67.5 mm.
Displacement 997.62 cc.
Compression ratio 11.8 : 1.
Maximum power at the crank 105.24 kW (143 HP) at 10,000 rpm.
Maximum torque at the crank 10.3 kgm (101 Nm) at 8,000 rpm.
Fuel system Integrated electronic engine management system. Indirect multipoint electronic injection. 57 mm throttle bodies. 10.3 litre airbox with Air Runner air scoop.
Ignition Digital electronic ignition, with one spark plug per cylinder, integrated with fuel injection system.

Starting
Electric.
Alternator 12 V – 500 W.
Lubrication Dry sump with separate steel oil tank.
Double trochoid pump with oil cooler.

Gearbox Six speed.
Transmission ratios:
1st 34/15 (2.27)
2nd 31/19 (1.63)
3rd 26/20 (1.3)
4th 24/22 (1.091)
5th 24/25 (0.96)
6th 23/26 (0.88)
Clutch Multi-plate clutch in oil bath with patented PPC power-assisted hydraulic control.
Metal braided clutch line.
Radial master cylinder.
Primary drive Spur gears. Transmission ratio: 60/31 (1.935).

Final drive
Chain.
Transmission ratio: 40/16 (2.5).

Frame
Box section sloping twin-spar frame in aluminium alloy.
Öhlins Racing adjustable double chamber steering damper with monoblock mounting.

Front suspension 43 mm Öhlins titanium nitride coated upside-down fork. 120 mm wheel travel.
External adjustment system for rebound, compression and preload.
Shortened fork bottoms with radial caliper fittings.
Rear suspension Aluminium alloy double arched member swingarm. Aprilia Progressive System (APS) linkages.
Öhlins Racing monoshock with piggy-back cylinder, adjustable in compression, rebound, preload and length. Wheel travel 133 mm.

Brakes
Front: Brembo double stainless steel floating disc, 320 mm. Radial caliper with four 34 mm pistons and four sintered pads.
Metal braided brake line.
Rear: Brembo stainless steel disc, Ø 220 mm. Twin 32 mm piston caliper. Sintered pads. Metal braided brake line.

Wheels
Forged aluminium alloy.
Front: 3.50 X 17″.
Rear: 6.00 X 17″.

Tyres
Radial tubeless.
Front: 120/70 ZR 17.
Rear: 190/55 ZR 17 (alternative: 180/55 or 190/50).

Dimensions
Overall length: 2,035 mm
Overall width: 730 mm (at handlebars)
Overall height: 1,130 mm (at windshield)
Seat height: 810 mm
Handlebar height: 830 mm (at bar ends)
Wheelbase: 1,418 mm
Trail: 101.7 mm
Rake angle: 25°
Aprilia weight 185 kg, dry.
Tank Capacity 18 litres, 4 litre reserve.

Colours Dark Lion, Red Lion

2009 Aprilia RSV 1000 R Factory – USA Specifications
MSRP: $TBD USD

TBA


2009 Aprilia RSV 1000 R Factory – Canada Specifications
MSRP $TBD CDN
TBA
2009 Aprilia RSV 1000 R Factory – UK Specifications
MSRP: £TBD
TBA