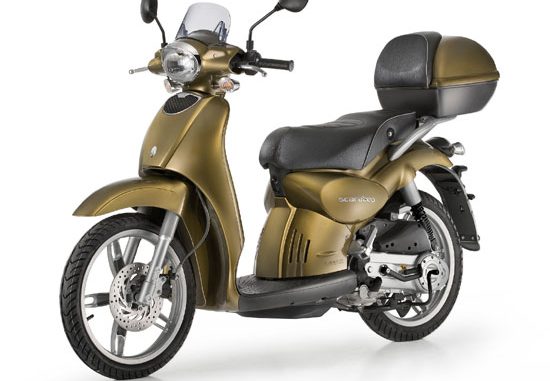 You are here: Home — 2009 Models — 2009 Aprilia Motorcycle Models
2009 Aprilia Scarabeo 100 4T
Back to 2009 Aprilia Motorcycle Index Page
Click photos to enlarge.
They make great desktop images.
– 2009 Aprilia Scarabeo 100 4T

2009 Aprilia Scarabeo 100 4T
Ever since its arrival back in 1993, Aprilia's Scarabeo has set the pace for scooter design and technology, becoming a style icon in its own right. Every large wheel scooter produced since then has tried to copy Scarabeo's design. Because still today Scarabeo represents the most successful mix of classical and modern lines in any scooter.
Scarabeo's reassuring, essential looks never go out of fashion. And with its flat platform, and modern, reliable engines, Scarabeo is amazingly easy to ride too. In fact, Scarabeo's recipe for success is so beautifully simple that it is impossible to copy. That is why riders become so attached to their Scarabeos that they would never change to another scooter. That too is why Aprilia takes such great care whenever it makes any improvements to this legend on two wheels. Scarabeo can evolve, but cannot be changed, and this is reflected in the new 2007 model. The improvements are radical, but in no way betray the original concept that has created one of the world's most iconic two wheelers.
Scarabeo 100 Four Stroke is designed for riders who want that extra performance. As compact as a 50, and as sporty as a 125, the Scarabeo 100 Four Stroke gives sprightly acceleration and the ability to tackle longer journeys without fatigue.
STYLE
Unmistakable from the very first glance, the 2007 Scarabeo has many modern features while maintaining the acclaimed classical elegance that has given rise to so many imitations. Appearance has been enhanced by various improvements to style, like new-look lights with the latest technology. The tail light cluster has been totally redesigned to use LED technology for better visibility and greater safety. The new direction indicators feature satin finish stems and white lenses. The headlight cluster is new too. Four stroke versions are also fitted with a compact fly-screen for better wind protection. Even the instruments have been redesigned, though they remain generous and in perfect keeping with Scarabeo's overall styling. The new wheels maintain a family feeling with the previous models but are lighter in weight. Whether two or four stroke, all 2007 Scarabeos share the same overall design. For the Scarabeo Four Stroke in particular, this means a return to the roots, with a slimmer tail, a new seat and a far more Scarabeo look.
CHASSIS
Thanks to a robust, tubular frame in high strength steel, Scarabeo offers pace-setting manoeuvrability and unrivalled stability.

With a wheel travel of 80 millimetres, the hydraulic fork soaks up the bumps even over rough cobbled streets. On Scarabeo, comfort and control go hand in hand. The rear suspension system is based on a robust, adjustable hydraulic monoshock that affords a generous 82 mm of wheel travel.

Thanks to reduced weight and steering inertia, the new lighter wheels not only look better but improve handling too.

The braking system is a further guarantee of safety under all riding conditions. The front brake features a 220 mm disc and a caliper with two opposed 30 mm pistons. The back brake is a generous 140 mm drum unit, for precise, gradual, yet powerful braking.
ENGINE
The Scarabeo 100 engine is a horizontal single cylinder, 96.2 cc four stroke with forced air cooling and a two valve head. Thanks to a power output of 8 HP, this powerplant offers fuel consumption figures similar to those of a 50 with performance typical of a 125. If you want that bit extra from your Scarabeo without having to move up to a big engine with all the associated weight and running costs, this is the model for you.
STANDARD EQUIPMENT
Scarabeo Four Stroke models are equipped with a new, even more comfortable seat. Handles incorporated in the luggage rack give passengers a comfortable and safe grip and make it easier than ever to lift Scarabeo on to its centre stand for parking. Scarabeo is equipped as standard with everything you could possibly need for an easy life in our busy cities, including an automatic choke and an ample 8 litre fuel tank for excellent autonomy and extended intervals between refuelling. The leg shield storage compartment is big enough to hold all those items you need to keep to hand. The clear glass, multi-focal, motorcycle style headlight projects an intense light beam, with dipped and main beam settings. The instrument panel features new graphics and provides all the information you could want in an instantly readable form. Instruments are clearly visible under all lighting conditions, even at night, thanks to backlighting specifically designed to make everything easy to read. Scarabeo's instruments, function indicators and warning lights keep you fully informed at all times.
ACCESSORIES
A vast range of accessories lets you personalise your Scarabeo to suit your own needs, preferences and lifestyle. Scarabeo's appeal is enhanced even further by the must-have top box with built-in backrest, finished to match the original colour of your scooter. The top box is fitted with a single key locking system that lets you open the top box with your scooter's ignition key, so you only need one key to make full use of Scarabeo.
2009 Aprilia Scarabeo 100 4T – USA Specifications
MSRP: $2,699* USD

Engine
Horizontal single cylinder four stroke. Forced air cooling. Secondary air catalytic converter.
Cooling
Forced air cooling.
Fuel
Unleaded fuel.
Bore
50 mm
Stroke
49 mm
Displacement
96.2 cc
Compression ratio
10.5:1
Starting
Electric and kick-start.
Generator
Permanent magnet flywheel 12 V – 120 W.
Gearbox
Air cooled, automatic variator.
Primary drive
V belt.
Final drive
Gearbox.
Clutch
Centrifugal.
Frame
Twin member single spar frame with double cradle in high strength steel.
Front suspension
Hydraulic fork. Wheel travel 80 mm.
Rear suspension
Hydraulic monoshock. Wheel travel 82 mm.
Brakes
Front: 220 mm stainless steel disc. Caliper with two opposed 30 mm pistons.
Rear: 140 mm drum, single leading shoe.
Wheels
Light alloy, five spokes.
Front 1.60 x 16″.
Rear 1.85 x 16".
Tyres
Front : 2.5 x 16″ 42J.
Rear : 2.75 x 16″ 46J.
Dimensions
Overall length: 1905 mm
Overall width: 705 mm
Overall height: 1270 mm
Seat height: 780 mm
Wheelbase: 1256 mm
Weight
88 kg
Tank capacity
8 litres (1 litre reserve)
Accessories
Complete large windshield, leg cover, LH mirror, interchangeable leg shield inserts (graphics: Italy / UK / Tiger / Zebra / Mimetic / Sky).

2009 Aprilia Scarabeo 100 4T – Canada Specifications
MSRP $TBA CDN
Model not available in Canada
2009 Aprilia Scarabeo 100 4T – UK Specifications
MSRP: £0
Model not available in the UK

*All prices shown are MSRP (Manufacturer's Suggested Retail Price).
Freight/destination, tax, license, title, or other dealer charges and optional or regionally required equipment (e.g., helmet) are excluded. Pricing, standard features, specifications and available equipment are those in effect when the page on which the information appears was produced and are subject to change without notice. Some images may reflect European models. Obey local traffic safety laws and always wear a helmet, appropriate eyewear and proper apparel.

** Windshield shown is not available in the U.S.

Colours, specifications and technical data may be subject to change without prior notice.