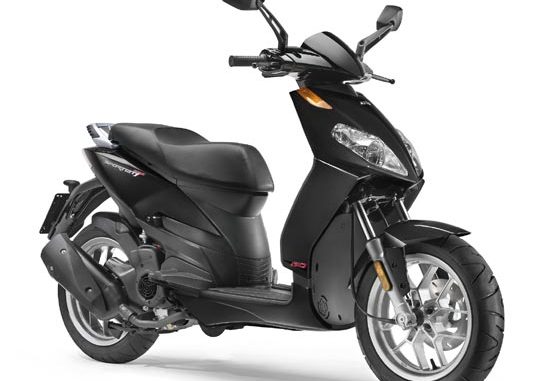 You are here: Home — 2009 Models — 2009 Aprilia Motorcycle Models
2009 Aprilia Sportcity One 50
Back to 2009 Aprilia Motorcycle Index Page
Click photos to enlarge.
They make great desktop images.
– 2009 Aprilia Sportcity One 50

2009 Aprilia Sportcity One 50
THE NEW SPORTCITY RANGE: NOW SPORTIER THAN EVER
AGILE, COMFORTABLE, SPACIOUS, AND SUPERBLY EQUIPPED, APRILIA'S COMPLETELY RENEWED ENTRY LEVEL SCOOTER SETS NEW STANDARDS FOR QUALITY AND PRICE. MEDIUM SIZE WHEELS, SPORTY DESIGN, AND ECOLOGICAL YET POWERFUL ENGINES MAKE THE SPORTCITY ONE A TRUE MASTER OF ALL

APRILIA SPORTCITY ONE
Our increasingly congested world is crying out for vehicles capable of beating urban traffic with speed, style and elegance. Almost by definition, the scooter is the ideal urban vehicle. And over the years the scooter has evolved to cater for changing needs. The latest design trends emphasize practicality, safety, agility and economy, with a flair for fashion and style.
Now, thanks to the Sportcity One you can save money without having to scrimp on comfort and technology. In fact, you still benefit from a superb design based on quality and practicality. Aprilia's Sportcity range re-interprets the concept of the high wheel scooter. The Sportcity stands out for its unique style and its ability to offer safety, fun and economy.
Aprilia's recipe has obviously gone down well with the public, given the excellent sales figures achieved. Now the Sportcity family is bigger than ever thanks to the introduction of the Sportcity One.
The Aprilia Sportcity One conserves all the features that made its "big sister" so popular but offers an even better quality to price ratio. Original and unmistakable, the One is a truly modern scooter and a worthy addition to the Sportcity range. With the same elegant design and sporty personality that made the range so popular, the Sportcity One stands our for its rational and practical character. The Sportcity One is Aprilia's offer to riders in search of a scooter that is not only fashionable but easy to ride too.
The Aprilia Sportcity One is safe, agile, and able to beat city traffic in comfort and style – and with negligible running costs. This king of the metropolitan jungle is designed precisely as an everyday, urban commuter and just loves to nip through city traffic. The Sportcity One uses advanced technology to reduce costs (both purchase cost and running costs) and to deliver exciting performance. Even the standard equipment is impressive. The Sportcity One comes in a 50cc engine to cover urban mobility needs.
DESIGN: A TRUE SPORTCITY
With its decisive, simple yet distinctive lines, one glance is enough to see that the One is a true Sportcity. The compact yet protective front shield, generous seat, passenger grab handles and flat platform all compress maximum spaciousness into minimum space. Neither does the Sportcity One's essential design stop it from offering one of the best under-seat storage compartments in its class, with enough room for a full face helmet.
Thanks to an exceptionally rational design and clever use of space, the Sportcity One gives you all the benefits of a prestige large wheel scooter at an unrivalled price. The Sportcity One's quality to price ratio is simply the best on the urban scooter market.
Compact size, comfort and practicality have always been winning features of the Sportcity range. Now, on the Sportcity One, they are taken to the logical next step. Superbly agile, the Sportcity One is the perfect antidote to traffic despite its spaciousness and comfort. Its generous, anatomically shaped seat offers plenty of room for rider and passenger. Its flat platform also provides ample space for bulky objects.
The passenger grab handle is ergonomically shaped. And the complete but rational instruments deliver all the information you could possibly need, in a clear and intuitive manner.
CHASSIS
Designed for maximum rationality, the Sportcity One's frame is a classical open cradle frame in high strength steel tube. Thanks to careful engineering, this frame delivers excellent rigidity and gives a confidence-inspiring ride and an excellent level of active safety.
With 32 mm stanchions and a wheel travel of 85 mm, the hydraulic fork effectively smoothes out even the roughest road surfaces.
As with all scooters of the type, the engine-transmission assembly acts as swingarm and is damped by an adjustable shock absorber. A particularly generous wheel travel of 84 mm (one of the best for this category of scooter) achieves a smooth ride even on uneven and damaged road surfaces.
To keep the Sportcity One as compact as possible, 14 inch wheels have been combined with generous tubeless tyres (120/70 at the front and rear). Combined with the excellent frame, this suspension and wheel system gives the Sportcity One excellent stability and a truly intuitive ride that anybody can enjoy. A powerful 220 mm front disc with a two-piston floating caliper, plus a dependable 140 mm rear drum mean instant stopping.
THE ENGINES
A modern and ecological four stroke engine makes Sportcity One nippy in traffic as well as safe and comfortable. Thanks to advanced design and ultra-efficient combustion, these engines are sporty, clean running, and impressively economical to run. Simple design means robustness and reliability too. Both engines feature forced air cooling and a carburettor fuel system.
The Sportcity One 50 offers an extremely economical solution for city center mobility, running for over 24.85 miles on one liter (.264 gal) of fuel. Light weight and a sporty engine mean zippy acceleration at the traffic lights and take the Sportcity One 50 to its permitted top speed in next to no time. Here is the perfect 50 for anybody wanting a touch of class as well as full membership of the Sportcity family.
COLOR SCHEMES

The Sportcity One 50 is available in energetic and elegant color schemes: Aprilia Black; and Excalibur Grey.
2009 Aprilia Sportcity One 50 – USA Specifications
MSRP: $2,099 USD

Specifications to be released.
2009 Aprilia Sportcity One 50 – Canada Specifications
MSRP $0 CDN
Model not available in Canada

2009 Aprilia Sportcity One 50 – UK Specifications
MSRP: £0
Model not available in the UK

Colours, specifications and technical data may be subject to change without prior notice.
*All prices shown are MSRP (Manufacturer's Suggested Retail Price).
Freight/destination, tax, license, title, or other dealer charges and optional or regionally required equipment (e.g., helmet) are excluded. Pricing, standard features, specifications and available equipment are those in effect when the page on which the information appears was produced and are subject to change without notice. Some images may reflect European models. Obey local traffic safety laws and always wear a helmet, appropriate eyewear and proper apparel.