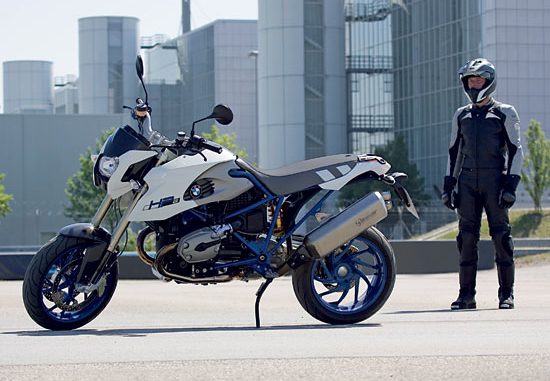 You are here: Home — 2009 Models — 2009 BMW Motorcycle Models
2009 BMW HP2 Megamoto
Back to 2009 BMW Motorcycle Index Page
Click photos to enlarge.
They make great desktop images.
– 2009 BMW HP2 Megamoto

2009 BMW HP2 Megamoto
Overall concept and vehicle properties.

Primal scream therapy.
On the track or the street, there's never been a supermoto like the awesome new HP2 Megamoto. The street version of the monster HP2 Enduro, the Megamoto is armed with tons of power in the form of a 113 hp Boxer motor that spits out 85 lb/ft of torque. Every extra detail has been stripped away to create a a supermoto machine offering thrilling, out of this world excitement in every gear. With a dry weight of just 393 lbs, low center of gravity, inverted Marzocchi forks, Ohlins rear shock, and plenty of wheel travel in both front and rear suspensions, the HP 2 Megamoto's enjoys sharp, supremely responsive handling. An Akrpovic exhaust adds efficiency, while Brembo brakes assure maximum stopping power. On a supermoto machine with this much raw performance, one thing is for sure: those corners don't stand a chance.

High-performance – the HP2 Megamoto.

What happens when the BMW Motorrad engineers are given completely free rein and literally let loose? The result: the HP2 Megamoto – the benchmark for every other bike over the most testing of roads. Over 110 bhp of flat twin power and huge pulling power from the lowest engine speeds, high-quality, racing-style tubular space frame with extreme torsional stiffness. And not an ounce overweight at 178 kg dry weight. Uncompromising, dynamic and exclusive – even when standing still. Thanks to perfect suspension geometry combined with the very finest engine technology, this high performance sports bike never gets out of breath. Incredible stopping power and extreme cornering at lean angles otherwise only offered by superbikes! Once on board, you won't want to get off. This is an exclusive, limited edition model with a wide range of perfect features specifically conceived for this motorcycle, and a design which treads the fine line between style and ultimate performance. Contact your local BMW Motorrad dealer for a test-ride – and discover for yourself what Simo Kirssi and Chris Pfeiffer have been raving about.
Standard Equipment:
Closed-Loop 3-Way Catalytic Converter
Öhlins Rear Suspension
Available Equipment:
ABS Brakes
2009 BMW HP2 Megamoto – USA Specifications
USA MSRP: $20,520 USD
Canada MSRP: $22,250.00 CDN
Engine
Type Air-cooled/oil-cooled Boxer twin-cylinder
Displacement 1170 cc
Bore X Stroke 101.0 mm x 73.0 mm
Horsepower 113 bhp @ 7500 rpm
Torque 85 lb/ft @ 6000 rpm
Valve Gear Chain-driven, high cam, OHV, w/adj. rocker arms
No of cylinders 2
Compression Ratio 12.0 :1
Engine Management BMW Engine Controller – BMS K
Valves per Cylinder Four
Valves 2 x 36 mm intake / 2 x 31 mm exhaust
Fuel Tank HDPE, internal pump and internal filter
Alternator W 600 Watts @ 14 Volts
Battery V/AH 12 Volts 12 Amps/hour
Engine Summary The two cylinder flat twin Boxer engine is BMW's famous, time-tested, signature design. First designed in 1923, its two horizontally mounted cylinders are like a boxer's

Drivetrain
Clutch 180 mm dry, single plate with hydraulic actuation
Gear Box 6 Speed Gear Box
Primary Transmission 1:1.823
Gear Ratios I: 2.28
II: 1.58
III: 1.26
IV: 1.03
V: 0.90
VI: 0.81

Final Drive System Enclosed driveshaft with two universal joints
Final Drive Ratio 2.82:1
Frame & Suspension
Frame Tubular steel trellis frame
Front wheel suspension WAD UPSD fork 45 mm
Rear wheel suspension BMW EVO Paralever
Spring Travel front/rear 6.3 inches / 6.3 inches
Ground Clearance Info. Unavailable
Handlebar center point angle N/A

Brakes
Brake System BMW
Front Brakes two, four-piston fixed calipers
Front Rotor 12.6 inch dual floating rotors
Rear Brakes Single, four-piston fixed caliper
Rear Rotor 10.4 inch single, fixed rotor
Actuation Hydraulic, DOT 4 fluid type
Wheels & Tires
Front Wheel 3.50 x 17 cast alloy, five double-spoke
Rear Wheel 5.50 x 17 cast alloy, five double-spoke
Front Tire 120/70 x 17 tubeless
Rear Tire 180/55 x 17 tubeless

Dimensions
Overall Length 92.5 inches
Overall Width 36.2 inches
Wheelbase 63.6 inches
Seat height 35.0 inches
Weight – Dry 395 lbs.
Max permissible weight 874 lbs.
Fuel Capacity 3.4 U.S. gallons


Available Equipment
ABS $1000

2009 BMW HP2 Megamoto – Canada Specifications
MSRP: $22,250.00 CDN

See specifications above
2009 BMW HP2 Megamoto – UK Specifications

Engine

Type Air/oil-cooled flat twin ('Boxer') 4-stroke, one camshaft and four valves per cylinder

Bore x stroke 101 mm x 73 mm

Capacity 1,170 cc

Rated output no data available

Max. torque no data available

Compression ratio 12.0 : 1

Mixture control / engine management Electronic intake pipe injection/BMS-K digital engine management with overrun fuel cut-off, twin-spark ignition

Emission control Closed-loop 3-way catalytic converter, emission standard EU-3


Performance / fuel consumption

Maximum speed Over 200 km/h

Fuel consumption per 100 km at constant 90 km/h no data available

Fuel consumption per 100 km at constant 120 km/h no data available

Fuel type Unleaded premium, octane number 98 (RON), automatic knock control permits operation with minimum octane number 95 (RON)


Electrical system

Alternator three-phase alternator 600 W

Battery 12 V / 12 Ah, maintenance-free

Power transmission

Clutch Single dry plate clutch, hydraulically operated

Gearbox Constant mesh 6-speed gearbox with helical gear teeth

Drive Shaft drive



Chassis / brakes

Frame Tubular steel space frame

Front wheel location / suspension Upside-down front fork, compression damping and rebound damping adjustable

Rear wheel location / suspension Cast aluminium single-sided swing arm with BMW Motorrad Paralever; Öhlins-central spring strut, spring pre-load adjustable to continuously variable levels, rebound damping and compression damping adjustable

Suspension travel front / rear 160 mm / 180 mm

Wheelbase 1,616 mm

Castor 99 mm

Steering head angle 61°

Wheels Cast aluminium wheels

Rim, front 3.50 x 17"

Rim, rear 5.50 x 17"

Tyres, front 120/70 ZR 17

Tyres, rear 180/55 ZR 17

Brake, front Dual disc brake, floating brake discs, 320 mm diameter, four-piston fixed caliper

Brake, rear Single disc brake, diameter 265 mm, double-piston floating caliper

Dimensions / weights

Length no data available

Width (incl. mirrors) no data available

Height (excl. mirrors) no data available

Seat height, unladen weight 890 mm (with low seat and low chassis: 845 mm)

Inner leg curve, unladen weight no data available

Unladen weight, road ready, fully fuelled 1) 198 kg

Dry weight 2) 178 kg

Permitted total weight 380 kg

Payload (with standard equipment) 182 kg

Usable tank volume 13.0 l

Reserve approx. 2.0 l


1) According to guideline 93/93/EWG with all fluids, fuelled with at least 90% of usable tank volume
2) Unladen weight without fluids