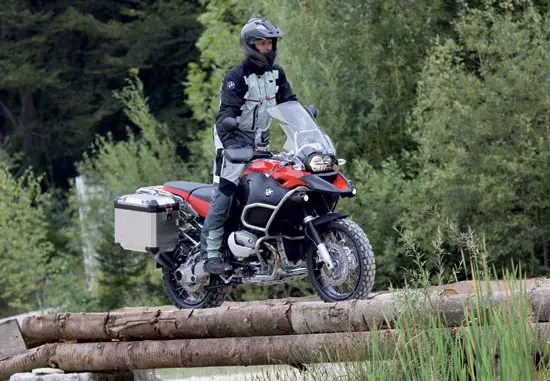 You are here: Home — 2009 Models — 2009 BMW Motorcycle Models
2009 BMW R1200GS Adventure
Back to 2009 BMW Motorcycle Index Page
Click photos to enlarge.
They make great desktop images.
– 2009 BMW R1200GS Adventure

2009 BMW R1200GS Adventure
Nothing on earth comes between this bike and its destination. It is built without compromise to handle everything nature has to throw at it, be it on road or off. A first glance is enough to tell you this – and a first ride is enough to confirm it. The BMW R 1200 GS Adventure will excite you with its effortless throttle response and superb traction, not to mention the added comfort and versatility of such features as the optional Enduro ESA (Electronic Suspension Adjustment). This means that the chassis can be set up for the current riding conditions and load at the touch of a button, with adjustable damper settings and suspension height on both wheels. As a result, the suspension has the travel to prevent bottoming out on rough ground, but still delivers optimum roadholding in everyday use. In short, it's up for any challenge.
Being Unstoppable means being one of a kind. The short first gear option is exclusive to the R 1200 GS Adventure, and reduces the already-low creep speed by a further 10 per cent, something which is particularly useful over broken ground in tight spaces. Because control is every bit as important as power – especially in the sort of terrain that other bikes can't even reach in the first place. Other optional extras include ASC (Automatic Stability Control) and TPC (Tyre Pressure Control).
105 bhp and a torque of 115 Nm go together to provide dynamic riding fun – a lasting pleasure thanks to the 33-litre fuel tank. Individualists will find more ideas in the extensive range of special accessories. When will you live your dream of unlimited freedom? The R 1200 GS Adventure is available for you to test ride at your local dealer.

It's your planet. Ride it.

True two-wheeled adventurers know that when it comes to epic riding that crosses continents, there's only one choice: the unstoppable, all-conquering R 1200 GS Adventure. A 5% increase in horsepower kicks its engine output to 105 HP. Combined with a taller windshield, adjustable seat, extra wide foot pegs, optional ABS and an 8.7 gallon fuel tank, even the longest days in the saddle are a breeze. Add Enduro ESA (Electronic Suspension Adjustment) and you can customize both front and rear suspension settings to fit off-road or on-road riding conditions with the flick of a switch.
2009 BMW R1200GS Adventure – Specifications
USA MSRP: $14,750 USD
Canada MSRP: $19,200 CDN
Engine
Type Air and oil cooled Boxer Twin
Displacement 1170 cc
Bore X Stroke 101mm x 73mm
Horsepower 105 bhp @ 7500 rpm
Torque 85 lb/ft @ 5750 rpm
Valve Gear High Camshaft, chain driven
No of cylinders 2
Compression Ratio 12.0 : 1
Engine Management BMW Engine Controller – BMS K
Valves per Cylinder Four
Valves 2 x 36mm intake / 2 x 31mm exhaust
Fuel Tank HDPE, internal pump and internal filter
Alternator W 720 Watts @ 14 Volts
Battery V/AH 12 Volts / 14 Amps/hour
Engine Summary The two cylinder flat twin Boxer engine is BMW's famous, time-tested, signature design. First designed in 1923, its two horizontally mounted cylinders are like a boxer's

Drivetrain
Clutch 180mm dry, single plate with hydraulic actuation
Gear Box 6 speed gear box
Primary Transmission 1.73
Gear Ratios I: 2.37
II: 1.64
III: 1.29
IV: 1.06
V: 0.93
VI: 0.84

Final Drive System Enclosed driveshaft with universal joints
Final Drive Ratio 2.91

Frame & Suspension
Frame Tubular steel frame
Front wheel suspension BMW Telelever
Rear wheel suspension BMW Paralever
Spring Travel front/rear 8.3 inches / 8.7 inches
Ground Clearance N/A
Handlebar center point angle 63.8 degrees

Brakes
Brake System BMW
Front Brakes BMW 4 Piston Caliper x 2
Front Rotor 12.0 inch Dual Rotors
Rear Brakes BMW 2 Piston Caliper
Rear Rotor 10.4 inch single Rotor
Actuation Hydraulic, DOT 4 fluid type

Wheels & Tires
Front Wheel 2.5 x 19 spoked wheel
Rear Wheel 4.0 x 17 spoked wheel
Front Tire 110/80-19
Rear Tire 150/70-17

Dimensions
Overall Length 88.6 inches
Overall Width 37.4 inches
Wheelbase 59.4 inches
Seat height 35.2 / 36.0 inches
Weight – Dry 491 lbs
Max permissible weight 1,045 lbs
Fuel Capacity 8.7 gallons

Standard Equipment
Enduro Transmission $N/C
Cross-Spoke Wheels $N/C

Available Equipment
Anti Theft Alarm $395
Integral ABS II $1100
Off Road Tires No Charge if Factory Equipped
Chrome Exhaust Pipe $150
Heated Hand Grips $250
Tire Pressure Monitoring (TPM) $250
On Board Computer (includes Oil Level Warning) $295
ASC (Automatic Stability Control) $400
Saddle Bag Mounts $350
Additional Fog Lights $450
Electronic Suspension Adjustment (ESA) $800


2009 BMW R1200GS Adventure – Canada Specifications
MSRP: $19,200CDN

See specifications above
2009 BMW R1200GS Adventure – UK Specifications

Engine
Type Air/oil-cooled flat twin ('Boxer') 4-stroke, one camshaft and four valves per cylinder, central balancer shaft
Bore x stroke 101 mm x 73 mm
Capacity 1,170 ccm
Rated output 77 kW (105 hp) at 7,500/rpm
Max. torque 115 Nm at 5,750/rpm
Compression ratio 12.0 : 1
Mixture control / engine management Electronic intake pipe injection/BMS-K digital engine management with overrun fuel cut-off, twin spark ignition
Emission control Closed-loop 3-way catalytic converter, emission standard EU-3

Performance / fuel consumption
Maximum speed Over 200 km/h
Fuel consumption per 100 km at constant 90 km/h 4.6 l
Fuel consumption per 100 km at constant 120 km/h 6.1 l
Fuel type Unleaded super, octane number 95 (RON), automatic knock control permits operation with minimum octane number 91 (RON).

Electrical system
Alternator three-phase alternator 720 W
Battery 12 V / 14 Ah, maintenance-free

Power transmission
Clutch Single dry plate clutch, hydraulically operated
Gearbox Constant mesh 6-speed gearbox with helical gear teeth
Drive Shaft drive


Chassis / brakes
Frame Two-section frame consisting of front and rear sections, load- bearing engine-gearbox unit
Front wheel location / suspension BMW Motorrad Telelever; stanchion diameter 41 mm, central spring strut, spring pre-load with 5-position mechanical adjustment
Rear wheel location / suspension Cast aluminium single-sided swing arm with BMW Motorrad Paralever; WAD strut (travel-related damping), spring preload hydraulically adjustable (continuously variable) at handwheel, rebound damping adjustable
Suspension travel front / rear 210 mm / 220 mm
Wheelbase 1,510 mm
Castor 89 mm
Steering head angle 65.2°
Wheels Cross-spoke
Rim, front 2.50 x 19″
Rim, rear 4.00 x 17″
Tyres, front 110/80 R 19
Tyres, rear 150/70 R 17
Brake, front Twin disc, floating brake discs, 305 mm diameter, four-piston fixed calipers
Brake, rear Single disc, diameter 265 mm, double-piston floating caliper
ABS Optional extra: BMW Motorrad Integral ABS (part-integral), can be switched off

Dimensions / weights
Length 2,240 mm
Width (incl. mirrors) 990 mm
Height (excl. mirrors) 1,525 mm
Seat height, unladen weight 910 / 890 mm
Inner leg curve, unladen weight 2,000 / 1,960 mm
Unladen weight, road ready, fully fuelled 1) 256 kg
Dry weight 2) 223 kg
Permitted total weight 475 kg
Payload (with standard equipment) 216 kg
Usable tank volume 33.0 l
Reserve approx. 4.0 l
Technical data relate to the unladen weight (DIN)

1) According to guideline 93/93/EWG with all fluids, fuelled with at least 90% of usable tank volume
2) Unladen weight without fluids