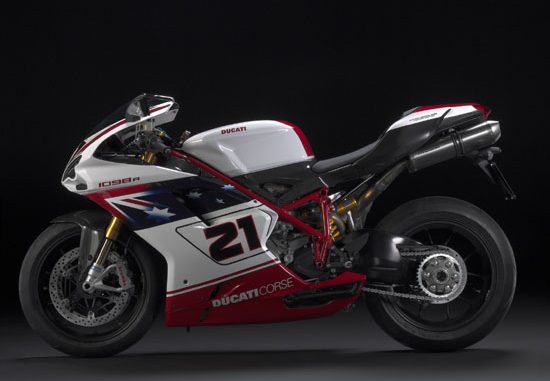 You are here: Home — 2009 Models — 2009 Ducati Motorcycle Models
2009 Ducati 1098R Bayliss Limited Edition
Back to 2009 Ducati Motorcycle Index Page
Click photos to enlarge.
They make great desktop images.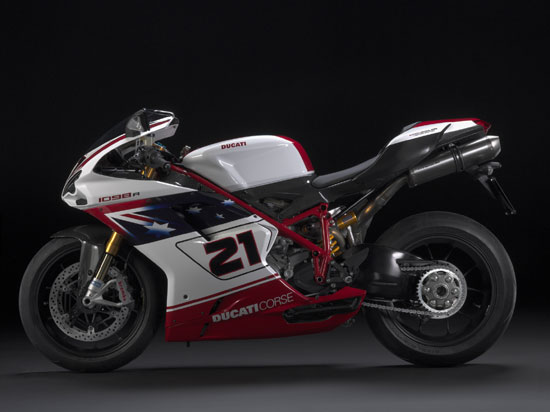 2009 Ducati 1098R Bayliss Limited Edition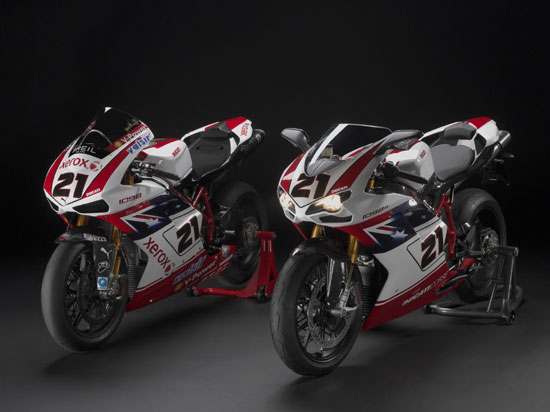 2009 Ducati 1098R Bayliss Limited Edition

2009 Ducati 1098R Bayliss Limited Edition
– 2009 Ducati 1098R Bayliss Limited Edition

2009 Ducati 1098R Bayliss Limited Edition
Troy Bayliss is a Ducati legend. In celebration of his victory in the 2008 World Superbike Championship aboard the 1098 R, and the end of a career that proudly claims three World Championships aboard three generations of Ducati Superbike, the factory have built a 1098 R Bayliss Limited Edition.
Enjoying exactly the same high specification as the standard 'R' model, the 1098 R Bayliss Limited Edition has a special colour scheme designed by Aldo Drudi. The livery, which was used during Troy's final race at Portimao in Portugal, incorporates the key colours of his success. Sporting the famous number '21' on the pearl white nose and side-fairing number plates, the red and white paint scheme uses the dark blue background of the Australian national flag to blend beautifully along the side of the bodywork and into the unpainted carbon fibre stripe along the seat unit. This attention to fine detail is also evident in features like the carbon lower-fairing finished in red, except for aerodynamic recess for the side-stand, which remains natural carbon fibre. A subtle '1098 R Bayliss Limited Edition' graphic on the tail fairing leaves no doubt as to what this magnificent bike is.

The striking design contrasts perfectly against the 5-spoke wheels finished in matte black and additional special features like the carbon fibre heat shield on the exhaust.
The 1098 R Bayliss Limited Edition will be limited to only 500 units and comes with a numbered plaque on the top fork clamp, indicating exactly where in the limited edition the motorcycle was built. The number also corresponds to a numbered commemorative desk-top plaque, beautifully encased for safe keeping and bearing the engraved signatures of Ducati Motor Holding CEO Gabriele Del Torchio and Ducati Corse triple World Superbike Champion, Troy Bayliss.
In addition, the model will be supplied with a full racing exhaust system including 102dB carbon fibre mufflers by Termignoni (strictly for track use only), a dedicated ECU, branded bike cover and rear paddock stand.
What better way to mark the incredible career of Troy Bayliss than by Ducati building the 1098 R Bayliss Limited Edition.

Troy Bayliss
Troy Bayliss is a Ducati legend. His racing career with Ducati has taken him from amateur obscurity to professional stardom, winning three World Championships on three different generations of Superbike. His 'never-give-up' style fight to the top, powered by Ducati's passion for victory have been food and drink to 'Ducatisti' all over the world.
Arriving in Europe in 1998, Troy immediately found his way by winning the 1999 British Superbike Championship aboard a Ducati 996. His success took him to the AMA series for Ducati in the US, but an early season call-up from the factory to replace the injured Carl Fogarty in World Superbike brought him back across the Atlantic to Europe. It only took a few races before Troy clinched his first world level race win at Hockenheim aboard the 996 R. More of the same performances that year secured the support of thousands of fans, scored him 6th in the World Championship and helped Ducati lift the Manufacturers' title.
2001 was the year that Bayliss had been working for. His 996 R Ducati took him all the way to the top, clinching his first World Superbike Championship title and another Manufacturers' title for Ducati. If 2001 had been the year that proved Troy 'the rider' to Ducati, then 2002 would be the year that proved Troy 'the sportsman' to his fans. A tough and hard-fought season on the 998 R came down to the wire at the final race in Imola. His two 2nd place finishes that weekend were dubbed 'the Superbike races of all time', but it was the way in which he conceded the title and stepped up the podium with a smile on his face that won the hearts of his fans.
For 2003 Troy moved across to Ducati's new MotoGP project aboard the Desmosedici. It may have been his first year on the Grand Prix scene, but his rookie status didn't stop him scoring three podiums and closing the season an incredible 6th in the World Championship. 2004 proved considerably harder, however, and the Australian struggled to 14th in the series.
After a year away from Ducati, Troy returned to the Ducati Superbike team in 2006, hungry to fight his way back to the top and prove that he was still champion material. He did just that. His first year aboard the Ducati 999 R secured him his second World Superbike Championship and returned the Manufacturers' title to Ducati. At the end of the 2006 season he also got the chance to prove that he could win at MotoGP level. Drafted in as a last-minute replacement to the injured Sete Gibernau, Troy qualified the Desmosedici GP6 on the front row of the grid at the Valencia Grand Prix and powered to a convincing, spectacular and popular victory.
In 2007 Troy struggled against injuries as he rode the now ageing 999 R to its absolute limit. Disappointed with finishing 4th in the World Superbike Championship and now considering retirement, the one thing that kept Troy motivated was the imminent arrival of the 1098 R.
With a capacity of 1198cc, in accordance with new Superbike regulations, Troy's 2008 bike powered him back to the top where he belonged. Securing both the Riders' and Manufacturers' titles in Magny-Cours with just one race left on the calendar, Troy achieved his goal and completed a dream career that had seen him win World Championships on three generations of Ducati Superbikes – 996 R, 999 R and 1098 R.
Throughout the year, Troy worked non-stop to develop, improve and perfect the 1098 R ready for his successor and in order that the 1198, 1198 S and 1098 R would be the bikes that carried the most racing technology through to production. In the final race of his career in Portugal, Troy rode the 1098 R in a special celebratory colour scheme. Ducati will now build a 1098 R Bayliss Limited Edition bearing that same livery… the ultimate thank you for an incredible career.

DUCATI SUPERBIKE
More World Championship-winning race technology than ever before
The 2009 Superbike range presents five models: The lightweight and agile 848, the awesomely powerful new 1198, and for those who demand the ultimate in specification, the 1198 S and 1098 R, both now with race-level Ducati Traction Control systems for the road. To mark his 3rd Superbike World Championship and to celebrate the career of Troy Bayliss, who will now retire from motorcycle racing, Ducati will build a 1098 R Bayliss Limited Edition.
Engineered by the stopwatch
The Ducati 848, 1198 and 1098 R Superbikes are the most advanced, most powerful twin-cylinder motorcycles ever built. They are the product of a team of designers and engineers who have combined their Ducati MotoGP and World Superbike technologies to create the finest sport bikes in the world. From race-level engine specifications to world championship-winning traction control, the results are pure excellence. The Ducati Traction Control (DTC) system further underlines Ducati's technology flow from racing to production and demonstrates how solutions developed for the track can be applied to enhance safety on the road.
Designed by the race track
The look and stance of the Ducati Superbikes are the result of intense race development and Ducati heritage. Their striking aerodynamic shapes create a natural riding position, confirmed by Ducati development and factory team riders as the optimum for speed and agility. Their passion for racing has shaped the Superbike family.
Pure Ducati
Ducati Superbikes are race bikes, pure and simple. They are immediately recognisable for their purposeful, no-nonsense attitude. Performance is first and foremost in every detail.
Trademark Ducati features like the high tail section and compact front end combine with twin under-seat silencers and single-sided swingarm to express the sheer engineering beauty of aerodynamics and agility. Add the Testastretta Evoluzione engines as the hearts of the machines and the result is all-out performance Ducati Superbikes that look fast even when parked.
Winning is Ducati's passion
Ducati Superbikes, designed, engineered and built in Bologna, Italy, have always represented the pinnacle of Ducati motorcycle technology and racing success. For Ducati, racing and winning are a way of life and a way of thinking for their designers, engineers and everyone at the factory. Their unique engineering solutions are proven on the race track, where the only way to win is to have technical superiority and dependable performance.
Ducati have dominated World Superbike racing, winning 13 World Championships and taking the Manufacturers' title 15 times. Furthermore, Ducati have won more individual World Superbike races than all other manufacturers combined. Add these unequalled performances to the historic achievement of winning the 2007 MotoGP World Championship, and their results speak for themselves.


COLOUR SCHEME
Tank Frame Wheels
848
Red Red Black
Pearl White Racing grey Black

1198
Red Racing black Graphite grey
Pearl White Racing black Graphite grey

1198S
Red Bronze Bronze
Midnight black Bronze Bronze

1098R
Red Red Racing Gold

1098R Bayliss Limited Edition
Bayliss Red Black
2008 Ducati 1098R Bayliss Limited Edition North American Specifications:
MSRP $TBA USD ($TBA CDN)

CHASSIS
Frame Tubular steel Trellis frame in ALS 450
Wheelbase 1430 mm / 56.3 in
Rake 24°30′ / 24,5°
Front suspension Ohlins 43mm fully adjustable upside-down fork with TiN
Front wheel travel 120 mm / 4.7 in
Front brake 2 x 330 mm semi-floating discs, radially mounted Brembo Monobloc calipers 4-piston, 2-pad.
Front wheel 5-spoke in light alloy 3.50 x 17
Front tyre 120/70 ZR 17
Rear suspension Progressive linkage with fully adjustable Ohlins monoshock with top-out spring. Aluminium single-sided swingarm
Rear wheel travel 127 mm / 5 in
Rear brake 245 mm disc, 2-piston caliper
Rear wheel 5-spoke forged light alloy 6.00 x 17
Rear tyre 190/55 ZR 17
Fuel tank capacity 15.5 L (of which 4L reserve) / 4.1 US gal (of which 1 US gal reserve)
Weight * 171 kg / 377 lbs
Seat height 820 mm / 32.2 in
Instruments Digital MotoGP derived unit displaying: Speedometer, rev counter, clock, scheduled maintenance warning, warning light for low oil pressure, fuel level, oil temperature, fuel reserve, trip fuel, neutral, turn signals, average speed, average fuel consumptio
Warranty 2 years unlimited mileage
Body colours (frame/wheels) (Red – Red – Black) (Midnight Black – Red – Black)
Versions Dual seat
* = The weight excludes battery, lubricants and, where applicable, cooling liquid.

ENGINE
Type L-Twin cylinder, 4 valve per cylinder Desmodromic, liquid cooled
Displacement 1099 cc
Bore x Stroke 104 x 64.7 mm
Compression Ratio 12.5:1
Power* 119.3 kw – 160 hp @ 9750rpm
Torque* 90.4 lb-ft – 12.5 kgm @ 8000rpm
Fuel injection Marelli electronic fuel injection, elliptical throttle bodies
Exhaust Lightweight 2-1-2 system with catalytic converter and lambda probe. Twin stainless steel mufflers
Emissions Euro3

TRANSMISSION
Gearbox 6 speed
Ratios 1st 37/15, 2nd 30/17, 3rd 28/20, 4th 26/22, 5th 24/23, 6th 23/24
Primary drive Straight cut gears; Ratio 1.84:1
Final drive Chain; Front sprocket 15; Rear sprocket 38
Clutch Dry multiplate with hydraulic control
* = Data calculated using an inertia dynamometer

Specifications and features are subject to change.
2008 Ducati 1098R Bayliss Limited Edition International Specifications:
MSRP: $TBA USD

Not Available
PRESS/MEDIA RELEASE
November 4th, 2009
DUCATI PRESENTS ITS NEW MODEL RANGE 2009
THE NEW DUCATI MODELS ARE MAKING THEIR DEBUT BEFORE THE HUGE CROWDS OF EICMA. THE GLOBAL PREVIEW OF THE NEW DUCATI STREETFIGHTER WAS A GREAT SUCCESS WHILE THE SUPERBIKE FAMILY WELCOMES THE NEW 1198 AND THE LIMITED EDITION 1098 R 'BAYLISS'. THE 1100 MONSTER COMPLETES THE NEW ADDITIONS FOR 2009.
Rho (Milan), 3 November 2008 – A real, live runway, as those used during the Milan fashion week, set the scene for the entrance of the 2009 new additions in the Bologna manufacturer's range. These dream bikes are the result of Italian genius and creativity and will capture the attention of everyone visiting EICMA 2008, Milan's international motorcycle show being held at the city's international exhibition centre in Rho, from 4 to 9 November. From here they will go on to setting new standards as they arrive on the international market.
A press conference brimming with information, technical details and new unveilings was held prior to the official opening of the show. Gabriele Del Torchio, CEO of Ducati Motor Holding, met members of the international press and presented the amazing sporting and sales achievements that the Bologna company has recently recorded, as evidence of the Italian manufacturer's strength and performance.
Before the 2009 models were let loose, the press was also shown the new Ducati logo, an evolution of the historic brand name, which now includes a new red shield featuring a new graphic symbol, alongside the classic Ducati script. This replaces the previous, celebrated, stylised letter 'D' and makes this motorcycling logo even more eye-catching and unique in its representation of passion, competition and performance.
"Confidence and passion are the two key words for the coming year. – said Mr Del Torchio as he opened the conference – These words are directly inspired by the results we have achieved in 2008, during which we have continued to grow, despite the shrinking markets, to the extent that our sales have increased by 25% in just two years. Our confidence and passion come from having identified a series of strategic activities that we at Ducati are working on both internally and externally, in order to offer our customers all around the world increasingly innovative, reliable and distinctive products, which are guaranteed to make their dreams come true. We are convinced that by working in this direction, as we have underlined in our company mission, we can generate a positive future for our shareholders and our customers, as ambassadors of Italian products adding prestige to our worldwide standing.
The amazing new products that we have brought to EICMA 2008 represent the fruit of our technological research and development, which Ducati expresses through its updated range, confirming how much this company is focused on the product as well as supporting and sustaining our sales targets for the next few years."
Claudio Domenicali, General Product Manager of Ducati Motor Holding, introduced the major and eagerly awaited new Ducati products for 2009. The motorcycles made their entrance on the runway ridden by Ducati factory racers and testers: Giulio Malagoli (Monster 1100), Niccolò Canepa (1198), Vittoriano Guareschi (Streetfighter) and Claudio Domenicali (1098 R Bayliss). It was a truly impressive, spectacular presentation that made the occasion even more thrilling.

The real star of the event was the new Ducati Streetfighter, which is already among the top contenders for the title "best bike of the show".
Stripped to the bare essentials, its combination of state-of-the-art race technology, exposed styling and cultured design takes Ducati's big naked concept to the very top of the fighter food chain.

With 155hp of awesome Ducati L-Twin muscle harnessed in a stripped-down, super-light bike that packs more punch for its weight than any other contender, this fighter is gloves-off and ready for action.

Whether laying down the miles on open roads or ripping up the urban asphalt, no other bike in town will roll with the same stylish fire-power.

This ultimate naked will be ripping-up the asphalt from Spring 2009.
Ducati Streetfighter is also available in a "S" version equipped with Öhlins suspension, lightweight forged Marchesini wheels, carbon fibre parts and a street-going Ducati Traction Control.
For 2009, the Ducati Superbike family has two major new additions, both made absolutely special by their engine size as well as equipment and components – these are two bikes that are sure to carry on and increase the success achieved with the celebrated 1098.
The new DUCATI 1198, while maintaining the same look as the previous 1098, is in fact a totally new bike. The 1198, which produces a powerful 170hp (125kW) from its new Testastretta Evoluzione engine, and has a dry weight of just 171kg (377lb), incorporates all of the World Superbike technology derived directly from the 2008 World Championship winning race bike of Troy Bayliss.
The Ducati Data Analysis, supplied as standard equipment on the 1198 S model, enables the retrieval and analysis of data collected from a track session or road trip. The innovative road-going Ducati Traction Control (DTC) system monitors front and rear wheel speeds to detect rear wheel-spin under acceleration and electronically reduces engine power to restore traction. DTC, which offers a choice of eight settings, provides a considerable increase in safety during mid-corner acceleration.
EICMA is also the first major opportunity to celebrate the great sporting results Ducati has achieved in 2008. Second place in the MotoGP series and Superbike World Championship titles, both for riders' and manufacturers', thanks to the victory of Troy Bayliss – in the debut year of the 1098 F08.
After his resounding victory, Troy announced his retirement from motorcycle racing and Ducati decided to celebrate his career by producing the limited edition '1098 R Bayliss', a worthy conclusion to a career during which he won three World Championship titles aboard three different generations of Ducati Superbikes.

The newly crowned World Superbike Champion, Troy Bayliss will be at the Ducati stand the next Thursday 6th November to meet all his fans and see the new 1098 R Bayliss Limited Edition version.
Ducati add the new Monster 1100 and 1100 S to the 2009 range, both icons of Italian excellence. Dedicated to those who want to make the ultimate expression, this jewel of style and performance is powered by the charismatic two-valve 1100cc Desmodromic twin-cylinder engine, famous the world over for its legendary torque and acceleration.
The 2009 range is completed by the new pearl white colour for the Hypermotard 1100 and Multistrada 1100 S and the new black with white stripe livery version of the GT 1000, available also in a special Touring version.

In addition, Ducati presents many new accessories, special components and a new collection of Ducati clothing.