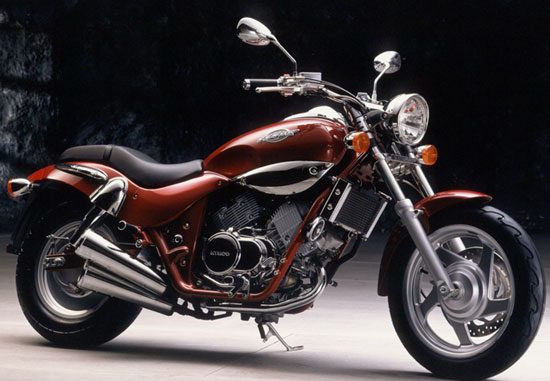 You are here: Home — 2009 Models — 2009 Kymco Motorcycle Models
2009 Kymco Venox 250 Fuel Injected
Back to 2009 Kymco Motorcycle Index Page
Click photos to enlarge.
They make great desktop images.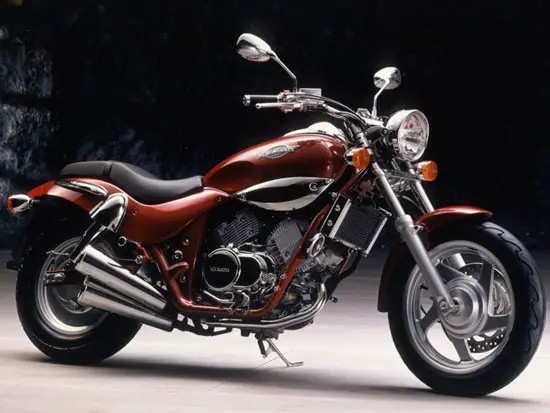 2009 Kymco Venox 250 Fuel Injected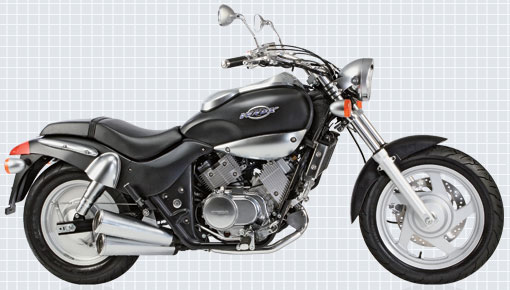 2009 Kymco Venox 250 Fuel Injected


– 2009 Kymco Venox 250 Fuel Injected

2009 Kymco Venox 250 Fuel Injected
Note: This version may be available in 2009 in North America.
High performance V-twin engine, big cruiser looking, lightweight, stable and reasonable price, Venox 250 express a typical and outstanding big cruiser spirit.

The KYMCO Venox 250 has the look of a big cruiser with plenty of visual appeal. Yet it is light in weight, easy handling, and even easier on the pocketbook. KYMCO's proven 250cc V-twin, 8 valve DOHC engine provides the power, a 5-speed gearbox delivers it to the road. The Venox is an impressive bike for any entry- level rider or any seasoned rider looking for a motorcycle that's just a real blast to own. A beautiful finish with plenty of chrome and available accessories rounds out this already complete package.
With the Venox 250, KYMCO has engineered a lightweight motorcycle with a low centre of gravity for a perfectly balanced ride. Chrome accents, sleek lines, aluminium wheels, a slightly stretched fuel tank, and staggered exhaust pipes all add to its uniquely attractive look. The Venox also features a large front disk brake and a solid rear wheel in a silver painted finish available in three rich colours.
Additional Features: Aluminium wheels, dual piston front caliper, low center of gravity, adjustable rear shock, fuel tank mounted analogue gauges, chrome accents, staggered "trumpet" exhaust pipes, single round front headlamp, chrome controls and handlebars, classic colours, low seat height, side ignition, folding passenger pegs.
2009 Kymco Venox 250 Fuel Injected – International Specifications
MSRP $ USD
ENGINE TYPE 4 STROKE DOHC 8V injection

BORE*STROKE (mm) f58 x 47.2

DISPLACMENT (cc) 251 / 249

CYLINDER V-TWIN

COOLING SYSTEM LIQUID COOLING

MAX.HORSEPOWER ENGINE (ps/rpm) / kw(r/min) 21 / 10500

MAX.TORQUE (kg.m/rpm) / N.m(r/min) 20.5 / 8000

IGNITION TYPE CDI

STARTING SYSTEM ELECTRIC

FUEL TANK CAPACITY (L) 14

CLUTCH TYPE 5-SPEED

OVERALL LENGTH (mm) 2325

OVERALL WIDTH (mm) 850

OVERALL HEIGHT (mm) 1100

WHEELBASE (mm) 1600

GROUND CLEARANCE (mm) 150

SADDLE HEIGHT (mm) 725

DRY WEIGHT AMOUNT (kg) 175

FRAME DOUBLE CRADLE


TYPE (FR/RR) TUBELESS / TUBELESS

STD. (FR/RR) FR: 120 / 80 – 17 ; RR: 150 / 80 – 15

WHEEL MATERIAL AL


TYPE (FR/RR) DISK / DRUM

DIAMETER FR/RR (mm) 316 / 160


TYPE (FR/RR) FR:TELSCOPE ; RR:DOUBLE SWING

STROKE (FR/RR) 140 / 55


OIL LAMP

F/TANK LOCK KEY

METER INDICATOR

STEP PILLION