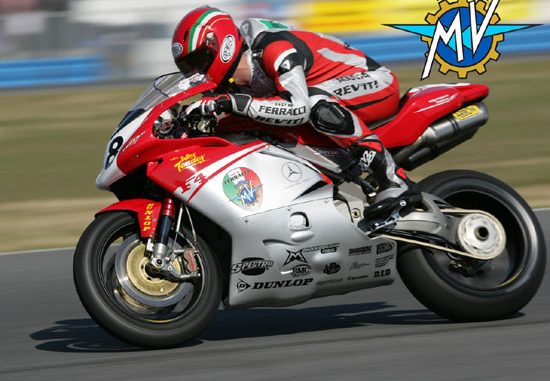 You are here: Home — 2009 Models — 2009 MV Agusta Motorcycle Models
2009 MV Agusta F4 RR 312 1078 (F4 1078RR)
Back to 2009 MV Agusta Motorcycle Index Page
Click photos to enlarge.
They make great desktop images.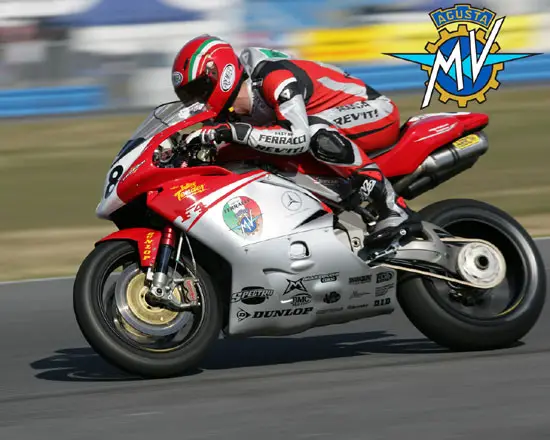 2009 MV Agusta F4 RR 312 1078 (F4 1078RR)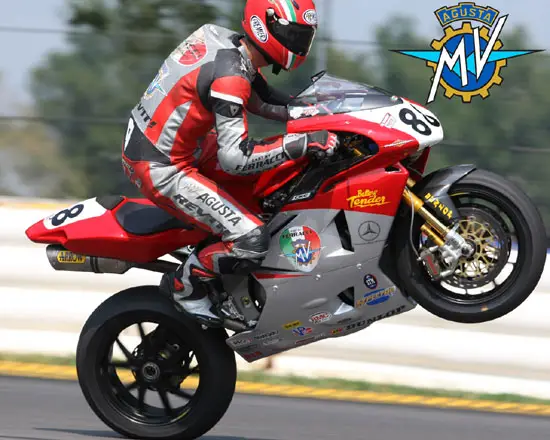 2009 MV Agusta F4 RR 312 1078 (F4 1078RR)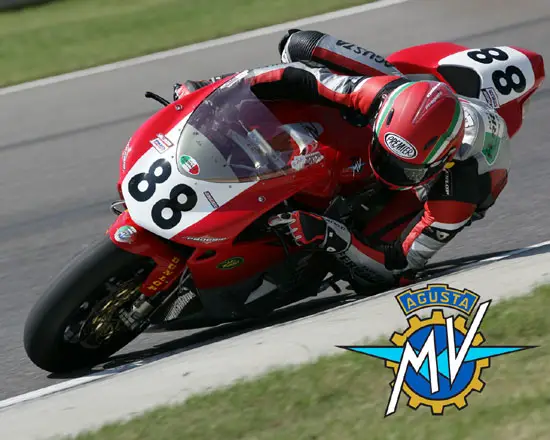 2009 MV Agusta F4 RR 312 1078 (F4 1078RR)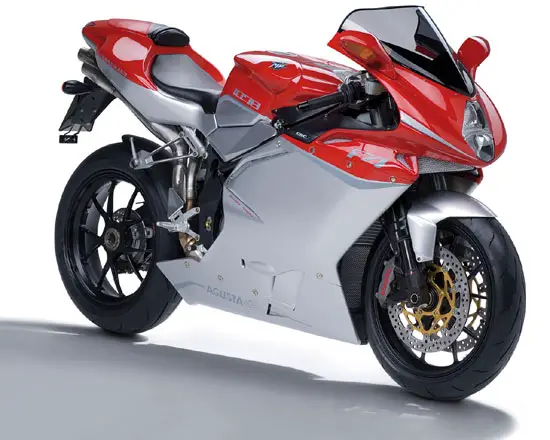 2009 MV Agusta F4 RR 312 1078 (F4 1078RR)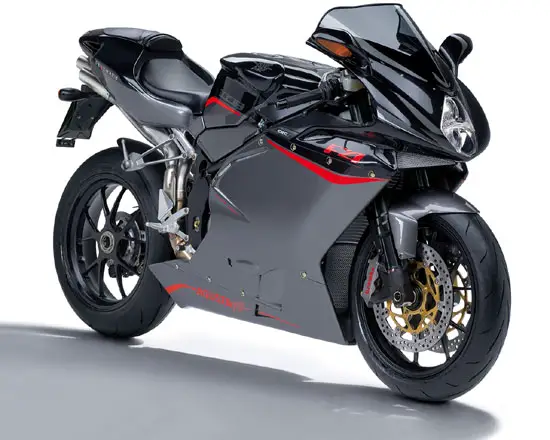 2009 MV Agusta F4 RR 312 1078 (F4 1078RR)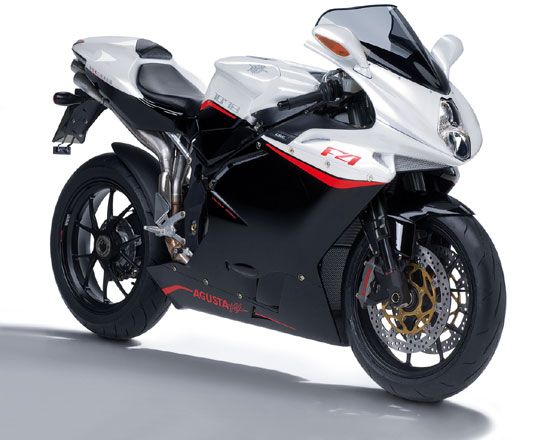 2009 MV Agusta F4 RR 312 1078 (F4 1078RR)
Click to Hear the: 2009 MV Agusta F4 RR 312 1078 (F4 1078RR) engine acceleration!


– 2009 MV Agusta F4 RR 312 1078 (F4 1078RR)

2009 MV Agusta F4 RR 312 1078 (F4 1078RR)
ART AND POWER IN 190 HP
With the ambition of one accustomed to winning and the self-confidence of a company with all the know-how in the world, MV Agusta has "crossed" their two latest creations, the F4 CC and the F4 R 312. They have made the ultimate cocktail of power and controlled aggression to once more unleash the beast also known as "the most beautiful motorcycle in the world".
They have added another "R" to the F4 and the superb R 312 that, flat out in sixth, has reached 312 kph (193.88 mph). The F4 R 312 performance can only to be eclipsed by the RR. There is only one objective for 2009 – improvement. An objective like this is by now customary for a company that already has 75 championship titles behind it (37 constructors and 38 riders) and success embedded in its soul past and present. This year's challenge is that of putting a machine on the road that goes faster than a 747 at lift-off.
Like other challenges in the past of beating whatever the opposition has had to offer, this new challenge has again called for courage, desire, passion, sacrifice, and investment from the "Team MV". The goal was simple – to create the best sports bike in the world and any lesser result would have been unthinkable. The 1078 cubic capacity of the exclusive and much appreciated F4 CC has been repeated in the new F4 RR 312. The extra capacity has given both more torque and a silkier touch to the sheer power of the high revving engine. This is due to a series of refinements to the engine in those areas where such a thing was possible and the aim was simply to go beyond the limits imposed by a "standard" engine.
The RR 312 is not a machine to be bothered with limits or weak points and for this reason, only the best components that money could buy have been used.
The bike features the already well-known and developed frame that offers the same, much appreciated handling characteristics, solidity, and feel that are the trademark of the F4. Every single component of the machine has been analyzed and refined (where possible) to deal with the new power output that has now risen to 190 HP. It is in fact the new engine size that will bar it from racing in the current Superbike class. F4 R 312s will now leave MV dealerships for competition use only while the new RR will give true MV road-going enthusiasts the chance to put the latest machine through its not inconsiderable paces; open the throttle wide, lean hard into bends and see what she'll do. We are convinced that every bike enthusiast, at least once in his life, wants to do exactly that.
The F4 1000 will still be available for the race track and will have all the same mechanical updates as made to the larger engine (slipper clutch, new gear ratios) as well as all the modifications made to handling components (brakes, new suspension) and will be homologated for both FIM STK and SBK.
DESIGN – ITALIAN PRIDE
Design limitations for any product, and therefore any motorcycle, are dictated by varying parameters that include manufacturing processes and cost. MV can overcome such limitations. Its main aim has always been to create beauty and perfection. Beauty must never be forsaken in pursuit of something else. According to MV's way of thinking, this is the keystone around which a motorbike is built. Apart perhaps from a stroke of genius, fulfilling this philosophy calls more for design artists than for engineers. In Italy in general and, in MV in particular, just such a thing is possible. The F4 RR 312 is an example of this and adds to the pride the company has felt ever since the creation of the F4 that has been the most beautiful, long-lived and best-prepared "standard" sports bike ever made. Every line and every angle of the machine has been designed so as to create visual "special effects" involving all the senses with tailor made components, finishings, and games of light and shadow. The senses are further heightened by the new color schemes on the F4 RR 312. These are based on pearl white base, anthracite black and the traditional winning colors of silver/red. It is however attention to detail that makes a piece of machinery beautiful and, for this reason, MV has dedicated much time and effort to exactly that. New elements for 2009 include the new headlight unit and smoked screen from the F4 CC. Other aesthetic changes include decals and graphics not to mention changes made to the instrument panel, some of the plastic finishing components, the shock absorber spring that is now red instead of yellow and the tails of the four so-called "organ pipe" exhausts that are now stubbier and more sharply angled.
EQUIPMENT EBS AND SLIPPER CLUTCH
The successful evolution of the F4 RR 312 lies to a large extent in technical refinements in comparison with the R 312 and includes the following:
New decals and color schemes
Smoked screen from the F4 CC
Smaller exhaust tail pipes with the end piece cross section resembling a "slice of salami"
New suspension calibration
Sachs steering damper from the F4 CC
Brembo monoblock (one-piece) brakes
1,078cc engine
Slipper clutch
New close ratio gearbox
The end result is a significant "re-tuning" of one of the most longed for sports bikes in the world that has shown fans just what MV are capable of throughout the recently ended season.

1078cc ENGINE
From MV's point of view, the engine is the key component to both performance and rideability. This is because when the power from an engine is unleashed, it must be with done so with a degree of measure and intelligence so that the frame and suspension respond better to what the rider asks of them. In this case, "measure" relates to power delivery and the "intelligence" is electronic. Among the modifications made, one key element is the increase in cubic capacity from 996 to 1078 cc achieved by increasing the bore from 76 to 79 mm. The cylinder head has been reworked to meet new specifications and features new 10 mm longer intake horns. Power output benefits but so does tractability and the linearity of engine response from this four-cylinder marvel of engineering that is now the world's most powerful engine in the Hypersport class.
Despite the considerable increase in volume, the engine still revs very highly and offers more torque than ever: from 84.7 – 91.4 ft/lb (115 to 124 Nm) that, at 8,200 is down from the previous 10,000 rpm. The power output of the F4 RR 312 nowadays seems almost innocent, the words are but characters but, it's there in black and white: 190 HP. It's as simple as that……
As regards the gear ratios, the first three gears are longer and this spreads the power output better at high speed and also serves to restrain the initial surge on take-off. First gear takes the bike to 87, second to about 110 and third to nearly 135 mph. The snarling roar it makes as it passes the pits has to be heard to be believed.
The second most important modification is the introduction of a slipper clutch that does not replace the EBS (Engine Brake System) but works alongside it. It is a mechanical slipper clutch system with ramps and roller bearings. The result is immense deceleration caused by backing off the throttle but it is progressive and thus allows the rider to pick better lines into corners. Having such an easy to manage engine improves a rider's automatic reflexes, increases feel with the machine and makes riding it all the more satisfying. When really pushing the machine to the limits, the rider becomes more effective on both the road and the track, almost without realizing it.
FRAME A UNIQUE RIDING EXPERIENCE
Those of us who have only ridden MV Agustas know that the frame and engine performance are the F4's strong points. Geometry, specifications, and sturdiness are responsible for the sensation of great stability that the bike transmits when being taken flat out around the track. These three elements are blended together in the choice of the material from which the frame is made – chrome-molybdenum steel tubing. The task facing the engineers at Varese this time was to try to improve upon what was perfect – the balance of a machine that was already beyond perfection. The performance of this frame had already more than satisfied in race meetings where it was able to make the difference on bends and under braking. The diverse riding styles of various riders made no difference whether they were smooth as silk or tended to treat the bike more harshly. In either event, the frame was a winner.
The rear swingarm is still a single swingarm – nothing has changed – neither the mold nor the section has been modified for this component. It is more than able to deal with the power from the new engine as are the other two main settings i.e. the degrees of rake and trail.
SUSPENSION WITH NEW SPORTS CALIBRATION
Those of us used to working in the racing world know that sophistication lies at the heart of an "extreme" product and nothing must therefore be overlooked or left to chance. Even the smallest "technical" change can affect the overall "balance" of the machine. This means working very meticulously where perception counts as much as intuition. This is why the F4 RR 312 now has updated suspension calibration. The search for perfect balance has dictated that the forks and monoshock shock absorber behave differently to deal with the new power output. The components are the same as on the R 312: Enormous 50 mm Marzocchi front forks and a Sachs "monoshock" at the rear as with the new steering damper inherited from the F4 CC. These are professional components that have been prepared with infinitesimal precision and attention to detail so as offer a taste of what riding a race machine is really all about. The carbon nitride treated forks, apart from their aggressive, original color, improve sliding characteristics within the legs on the forks. Travel has been increased by 1 mm and is now 130 mm. To underline the race-bred nature of this bike, the monoshock is fitted with a hydraulic spring preload adjuster that can be easily and quickly reset with an Allen key. The hydraulic compression has two possible ranges of adjustment, one for high and the other for low speeds. These improve the behavior at the rear under heavy compression and when the rider encounters frequent changes in the road surface.
BREMBO MONOBLOCK BRAKES
Brembo racing brakes are fitted to the F4 RR 312. This system is an exact copy of the one used on race-going Superbikes and has two 320 X 5 mm discs up front with one-piece monoblock radial calipers housing 4 pistons and 4 pads. The only difference between the "official" Brembo race brakes lies in the second dust cover fitted to the pistons for the F4 RR 312 for road-going use. This component serves to reduce wear on the brakes that certainly will not be serviced as often as those on a pure racing version.

AVAILABLE COLOR OPTIONS:
Racing Red / Silver


Pearl White / Gloss Black


Black / Anthracite Gray



2009 MV Agusta F4 RR 312 1078 (F4 1078RR) – USA Specifications
MSRP $TBA Coming Fall 2008


ENGINE
Type Four cylinder, 4 stroke, 16 valve
Timing system "D.O.H.C", radial valve
Total displacement 1078.37 cm3 (65.78 cu. in.)
Compression ratio 13:1
Starting Electric
Bore x stroke 79 mm x 55 mm (3.1 in. x 2.2 in. )
Max. horse power – r.p.m. (at the crankshaft) 140 Kw (190 HP) at 12200 – Lim. 13000 r.p.m.
Max. torque – r.p.m. 124 Nm (12.4 Kgm) at 8200 r.p.m.
Cooling system Liquid cooled, water-oil heat exchanger
Engine management system "Weber Marelli" 5SM ignition – injection integrated system; induction discharge electronic ignition, "Multipoint" sequential timed electronic injection
Clutch Wet, multi – disc with mechanical anti-surging device
Gear Box Cassette gearbox; six speed, constant mesh
Primary drive 50/79
Gear ratio
First gear: Speed* 14/37 140.9 Km/h (87.5 mph) at 13000 r.p.m.
Second gear: Speed* 16/33 180.6 Km/h (112.1 mph) at 13000 r.p.m.
Third gear: Speed* 18/31 216.3 Km/h (134.3 mph) at 13000 r.p.m.
Fourth gear: Speed* 20/30 248.3 Km/h (154.2 mph) at 13000 r.p.m.
Fifth gear: Speed* 22/29 282.6 Km/h (175.5 mph) at 13000 r.p.m.
Sixth gear: Speed* 21/25 Over 300 Km/h (186.0 mph) at 13000 r.p.m.
Final velocity ratio 15×40

ELECTRICAL EQUIPMENT
Voltage 12 V
Alternator 650 W at 5000 r.p.m.
Battery 12 V – 9 Ah

DIMENSIONS AND WEIGHT
Wheelbase 1408 mm (55.40 in.)
Overall lenght 2007 mm (79.01 in.)
Overall width 685 mm (26.97 in.)
Saddle height 810 mm (31.87 in.)
Min. ground clearance 130 mm (5.11 in.)
Trail 103,8 mm (4.08 in.)
Dry weight F4 1078 RR 312: 192 Kg (423.3 lb) – F4 1078 RR 1+1 312: 193 Kg (425.5 lb)
Fuel tank capacity 21 l (5.54 U.S. gal.) – reserve fuel: 4 l (1.05 U.S. gal. )

PERFORMANCE
Maximum speed* Over 300 Km/h (186.0 mph)

FRAME
Type CrMo Steel tubular trellis (TIG welded)
Rear swing arm pivot plates: material Aluminium alloy

FRONT SUSPENSION
Type "UPSIDE – DOWN" telescopic hydraulic fork with rebound-compression damping and spring preload external and separate adjustment
Rod dia. 50 mm (1.97 in.) with carbonitriding treatment
Travel on leg axis 130 mm (5.11 in.)

REAR SUSPENSION
Type Progressive, single shock absorber with rebound and compression (High speed / Low speed) damping and spring preload (hydraulic control)
Single sided swing arm: materiale Aluminium alloy
Wheel travel 120 mm (4.72 in.)

BRAKE
Front brake Double floating disc with Ø 320 mm (Ø 12.6 in.) diameter, with steel braking band and aluminum flange
Front brake caliper Radial-type, single-piece with 4 pistons – Ø 34 mm (Ø 1.34 in.)
Rear brake Single steel disc with Ø 210 mm (Ø 8.27 in.) diameter
Rear brake caliper With 4 pistons – Ø 25,4 mm (Ø 1.00 in.)

RIM
Front: Material / size Forged aluminium alloy 3.50 " x 17 "
Rear: Material / size Forged aluminium alloy 6.00 " x 17 "

TIRES
Front 120/70 – ZR 17 (58 W)
Rear 190/55 – ZR 17 (75 W)

FAIRING
Material Thermoplastic
MV Agusta is committed to the constant improvement of our products. Therefore the information and technical characteristics of the vehicles are subject to change without notice.