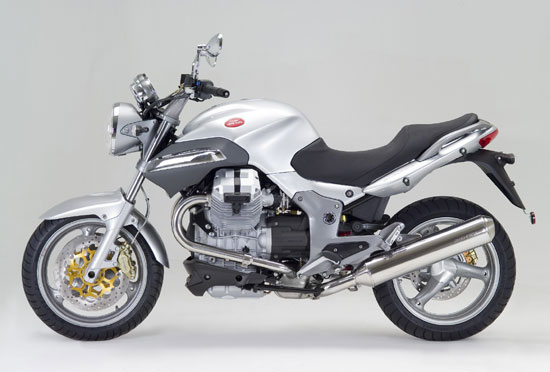 You are here: Home — 2009 Models — 2009 Moto Guzzi Motorcycle Models
2009 Moto Guzzi Breva V850
Back to 2009 Moto Guzzi Motorcycle Index Page
Click photos to enlarge.
They make great desktop images.
– 2009 Moto Guzzi Breva V850

2009 Moto Guzzi Breva V850
The motion is who chooses to them with the reason, nearly scientific operation that determines a sum of measurable qualities till the definition of intelligent solution. Others are that they choose with the heart, trying in the indefinibile motion those something that takes to the stomach quickly. Breva 850 satisfies both the categories of motorcyclists. Contemporary in the lines spinning from naked ready to all, agile and manageable with a studied ciclistica in order facilitating who the guide, is pushed from a motor that represents a chapter entire it of the history Guzzi Motion. But glorious the bicylindrical one to V of 90° that it has constructed happened of the models California in years '70 is recognizable only for the unmistakable difference between the cylinders. For the rest it is a technologically evolven propeller, perfectly balanced, round to lows, able of it lengthens amazing and pleasant for the absence of vibrations. All those that serves in order to amuse itself indeed, distinguishing itself from the mass, with the elegance and the confort typical of Guzzi Motion. with refinements like the cromatismi of motor and transmission, painted in gray to contrast the black one of the chassis, or the new covers of the valves, from the look hi-tech. But also with the infinite possibilities of personalizzazione offered from the line of accessories and apparel dedicated. A classic of our times could not assume various liveries from the Run Red fiammante, mythical the Black Guzzi, and elegant silver light.
2009 Moto Guzzi Breva V850 – USA Specifications
MSRP: $0 USD

Model not available in North America. See Breva 750 or 1100.

2009 Moto Guzzi Breva V850 – Canada Specifications
MSRP $0 CDN
Model not available in North America. See Breva 750 or 1100.
2009 Moto Guzzi Breva V850 – European Specifications
MSRP: £TBD

ENGINE
Type : 90° V-Twin, 4 stroke
Cooling system : air cooled
Displacement : 877 cc
Bore and stroke : 92 x 66 mm
Compression ratio : 9.8 : 1
Valve timing : intake open 24° B.T.D.C.
intake close 52° A.B.D.C.
exhaust open 54° B.B.D.C.
exhaust close 22° A.T.D.C.
Maximum Power : 53 kW at 7600 rpm
Maximum torque : 66 Nm at 7000 rpm
Fuel system : Magneti Marelli IAW alfa-n system Multipoint phased sequential fuel; 2 throttle bodies of 45 mm, Lambda sensor, stepper motor idle control
Starting : electric
Ignition : inductive discharge, digitally controlled, electronic twin spark ignition
Exhaust system : stainless steel, 2 in 1, with three ways catalyser and Lambda probe oxygen sensor
Homologation : Euro 3

TRANSMISSION
Gearbox : 6 speed
Internal ratios : 1^ 17/38 = 1 : 2.235
: 2^ 20/34 = 1 : 1.700
: 3^ 23/31 = 1 : 1.347
: 4^ 26/29 = 1 : 1.115
: 5^ 31/30 = 1 : 0.967
: 6^ 29/25 = 1 : 0.862
Lubrication : splash
Primary drive : helical gears, ratio 23/36=1 :1.565
Final drive : CA.R.C. Compact Reactive Shaft Drive; double universal joint with floating bevel gear, ratio 12/44 = 1:3.666
Clutch : dual disc dry