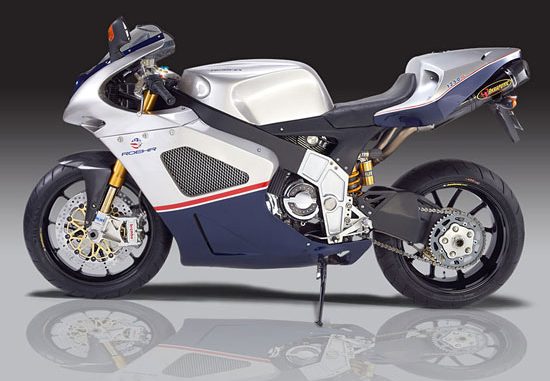 You are here: Home — 2009 Models — 2009 Roehr Motorcycle Models
2009 Roehr 1250sc
Back to 2009 Roehr Motorcycle Index Page
Click photos to enlarge.
They make great desktop images.
– 2009 Roehr 1250sc

2009 Roehr 1250sc
Introducing the Roehr 1250sc
The dream of owning an American made sport bike that could hold it's own against the world's finest machines has been a dream for many. This dream is now a reality. Not only is the Roehr 1250sc the fastest and most powerful American production sport bike, but one of the top performing machines in the world.
The 1250sc represents the birth of a new American motorcycle brand. A brand committed to producing beautiful, high performance machines made in the USA. The "can do" spirit that made America great is alive and well at Roehr Motorcycles. This passion is the foundation of our brand and expressed through our products.
The Roehr 1250sc, the rebirth of American world class performance.
ENGINEERING:
The American Performance Machine. The Bike:
The Roehr 1250sc is the fastest and most powerful American made production sport bike. The specially developed supercharged version of the Harley-Davidson* Revolution* engine provides unmatched power. This power is combined with our innovative BiMetal composite beam frame, top quality cycle parts and sleek styling. The result is a motorcycle that redefines the American performance bike. Hand crafted, exclusive, fast and beautiful. A true modern American thoroughbred
The Roehr Supercharging System (RSS)
The specially developed Roehr Supercharging System (RSS) provides the 1250sc with class leading power and torque outputs. But, just as important as outright power is the way the power is delivered. RSS provides smooth controllable power responding to the riders commands.

At the heart of RSS lies the patented Rotrex (C15-60) centrifugal supercharger unit. This supercharger provides the highest levels of efficiency and performance in a compact, light weight unit. This unit weights only 6.4 lbs. and is no larger than a typical small car alternator. Combined are a high efficiency, highly developed "Turbo" centrifugal compressor section, mated to a patented planetary roller drive mechanism. This drive mechanism provides an extremely high step-up ratio of 12.7/1 as well as very low noise output, low wear and excellent reliability.

RSS is designed to provide boost upon rider demand. A special bypass valve is employed to recirculate unneeded air back into the compressor during certain operating ranges such as idle, cruise and deceleration, this effectively disconnects and unloads the supercharger, thus reducing parasitic drag and increasing engine efficiency. In this mode, the engine operates as it's stock normally aspirated self.

Under acceleration the bypass valve closes allowing compressor air to pressurize the intake plenum. The Rotrex supercharger delivers air in proportion to it's driven speed. As engine speed increases the supercharger air output increases proportionally. This strategy is responsible for the extraordinarily smooth and linear power delivery. Power increases in proportion to engine RPM all the way to redline.

RSS enables efficient engine operation with stock emission output levels. Due to the relatively low boost levels of the RSS and low intake charge temperature increase relative to other supercharger types, an intake charge intercooler is eliminated, contributing to a lighter and more compact system.

RSS Technology = power + control + efficiency
The Engine (production version)
The heart and soul of a motorcycle is its engine. It determines the feeling and overall character of a motorcycle. Just as important as outright power is the way that power is delivered and the sound emitted from the exhaust, giving the motorcycle it's voice.

The Roehr 1250sc is powered by a 180hp, specially developed version of the Harley-Davidson* V-Rod* engine. The engine was designed by Harley Davidson in cooperation with Porsche AG. It is loosely based on the Harley-Davidson VR1000 superbike engine. The design goal was to create a new engine that was modern, powerful and reliable providing HD with an engine for the future.
The result was an 1130cc (now available in 1250cc) liquid cooled, DOHC, eight valve, 60 degree, V-Twin engine with a performance like large bore short stroke architecture. This engine was named the "revolution" engine.

The Revolution engine debuted in the 2002 Harley-Davidson V-rod power cruiser and was widely praised for its excellent power, near perfect power delivery and soul stirring exhaust note.

It is only fitting that the Roehr 1250sc would take this great American power plant back to its roots and unleash it's racing bloodline in a new American superbike.

Roehr Motorcycles has applied its Roehr Supercharging System (RSS) technology to enhance this engine's power output without changing the character of it's power delivery, resulting in a truly thrilling riding experience. The result is the most powerful American production motorcycle engine available.

Roehr Bi-Metal Frame Technology
The Roehr 1250sc features a unique Bi-Metal beam frame. The frame is constructed of 4130 Chrome-Moly steel and 6061 T6 Aluminum. This method allows each material to be used in areas of the frame that their material characteristics are best suited.

A motorcycle frame needs to be strong, stiff and light weight, but also needs to flex just enough under certain conditions. This controlled flex provides essential information, providing the rider with added confidence near the limits of tire grip. Additionally, this flex also adds a level of dampening which is especially beneficial when the motorcycle is leaned over on the edges of the tires. Under these conditions the motorcycle's suspension effectiveness is dramatically reduced due to road forces no longer acting on the suspension at parallel angles.
The Roehr Bi-metal frame provides a level of dampening that allows the tire to better follow road irregularities under these conditions.

Through the use of computer assisted finite element analysis, the Bi-metal frame was designed using large section, thin wall, 4130 steel, main chassis beams to provide a stiff yet soft structure that is bonded and bolted to extremely strong, stiff yet light weight billet aluminum swing arm pivot plates.
By combining these materials into one structure, the Roehr Bi-Metal frame provides the ultimate combination of strength, stiffness, controlled flex and light weight. This unique frame technology is a major contributor to the stellar handling characteristics of the Roehr 1250sc.
Supercharger
The specialy engineered supercharger places the full potential of the engine in the hands of the rider with near instant response. Precision engineering and tuned for the road or track. Hear it. Feel the power. Everything you dreamed of in a superbike will change. Strength of structure in a unique frame that ensures maximum stability and control on the track and on the road.
Important Notice:
While the Roehr Motorcycle Company (the Company) makes every effort to build a safe and durable product the Company cannot accept liability for any damages or injuries immediate, latent or consequential to persons or property by virtue of the use of their products as use of their products and the conditions under which they are used is entirely beyond their control. Such conditions and uses beyond the control of the Company are, but not limited to: road or other surface conditions, road hazards, weather, excess speed, use of parts beyond their design limits, rider health, rider skills or lack thereof, actions of third parties, lack of regular maintenance or normal care as common sense would dictate, use of non-approved or inappropriate parts. The Company cautions the rider/owner of this and every brand of motorcycle to carry sufficient vehicle insurance, to receive appropriate training in safe and proper motorcycle riding skills from a qualified instructor or organization prior to taking control of any motorcycle and to be properly licensed by the appropriate State and/or National licensing body to operate a motorcycle of like power and speed capabilities. Likewise the Company cautions all operators and passengers (as appropriate) to wear protective helmets, clothing, and other gear that may reasonably afford high visibility and some protection in the event of an accident or incident and as recommended or mandated by their local/state and/or national transprtation regulatory or advisory body. Failure to heed this important notice may result in injury or death. The Company further cautions owners of all motorcycles to observe posted speed limits and to comply with all traffic laws.

Warranty
Each owner of a Roehr Motorcycle is given a written limited warranty at the time of their purchase. Warranties may vary according to the state of residency of the purchaser therefore cannot be published here. As is the general rule in the motor vehicle industry any warranty becomes null and void if at any time the product is used for any form of competitive racing such as but not limited to: formal or informal time trials, impromptu or organized racing or events regardless of where such events may take place.

Key Features
The Roehr 1250sc A new American Classic
– Powered by a special version of the incomparable Harley-Davidson Revolution engine
– 180hp of supercharged American Muscle
– Innovative BiMetal composite beam frame
– Sleek European design flavor
– Performance without compromise
– Road or track
– World class cycle components
– Proudly handcrafted in the USA
– A true American thoroughbred
Control Ergonomic design combined with traditional placement of the controls helps the rider become one with the machine.

The power to stop Superb braking is achieved from the two semi-floating discs and radially mounted Brembo 4-piston calipers.

BiMetal composite frame Computer aided design, engineered for maximum rigidity and light weight, providing ultimate control and stability.

Wheels and tires Forged aluminum wheels and Pirelli high performance tires provide low unsprung weight and the ultimate in street tire performance.

A symphany of tuned power The custom muffler and exhaust system is tuned to match the power of the supercharged engine.

The final drive Chain driven for strength and reliability with a race proven quick change rear sprocket carrier.


2009 Roehr 1250sc – Specifications
MSRP: $TBA USD
The Bike: The Roehr 1250sc boasts high-spec running gear – Ohlins suspension, Marchesini alloy wheels, Brembo brakes with radial-mount calipers at the front, composite bodywork and is powered by the 1250sc 180HP, specially developed supercharged version of the HarleyDavidson* 1250cc Revolution* engine. State of the art supercharger technology has been applied, providing reliable high power output with a broad, linear power delivery.

Engine:
2 Cylinder, Supercharged, Liquid Cooled, DOHC, Counterbalanced, 60deg, V-twin
Displacement:
1250cc
Bore x Stoke:
105mm x 72mm
Compression ratio:
11.3 / 1

Transmission:
5 speed
Clutch: Wet, multi-plate, hydraulic actuation, slipper type

HP/Torque:
180hp @ 9100 RPM,
115 lb/ft torque @ 7600 RPM
Final drive: 520 O-ring chain

The Chassis: A unique modular CrMo steel and aluminum frame has been developed. This frame uses these two materials at areas in which their material characteristics are best suited. The result is a stiff, light weight structure that provides unparalleled steering response

Chassis Type:
Steel/aluminum composite beam frame, 4130 steel/ 6061 aluminum
Wheelbase:
56 inches (1422mm)
Rake/trail:
23.5deg. / 89mm
Seat height:
31.5 inches

Dry weight:
432 lbs. (196kg)
Front suspension:
Ohlins 43mm fully adjustable upside-down fork with TiN
Rear suspension:
Ohlins fully adjustable linkless monoshock

Front Brakes:
2 x 330mm semi-floating discs, radially mounted Brembo 4 piston calipers.

Rear brake:
245mm single disc, with 2 piston Brembo caliper
Front Wheel/tire:
3.5 x 17 forged aluminum 10 spoke Marchesini, 120/70 ZR17
Rear wheel/tire:
6.0 x 17 forged aluminum 10 spoke Marchesini, 190/55 ZR17
Fuel tank capacity:
3.2 US gallons
Reserve fuel:
.5 US gallons
* "Harley-Davidson" and "Revolution" are registered b55 trade names of the Harley-Davidson Motor Company Roehr Motorcycles LLC is in no way affiliated with the Harley-Davidson Motor Company
SPECIFICATIONS SUBJECT TO CHANGE WITHOUT NOTICE.
About Roehr Motorcycles:
From dream to reality…

In 1995, company founder, Walter Roehrich set out to build his ultimate street bike. It needed to be light weight, powerful and above all handle like a current GP bike.
The desire to take on this challenging project grew from Walter Roehrich's love and passion for the motorcycle and a desire to express his ideas and build a unique bike that was not available from current manufacturers.
He succeeded. There were many successes that marked the path to the top of the line machine now available to enthusiasts and collectors alike.
This American thoroughbred has arrived.

The Roehr 1250sc. Truly a new classic has been born. One that will turn heads and thrill the soul with looks and performance. One built upon the sure foundation of engineering excellence combined with a dream come to fruition.
The 180HP Roehr 1250sc