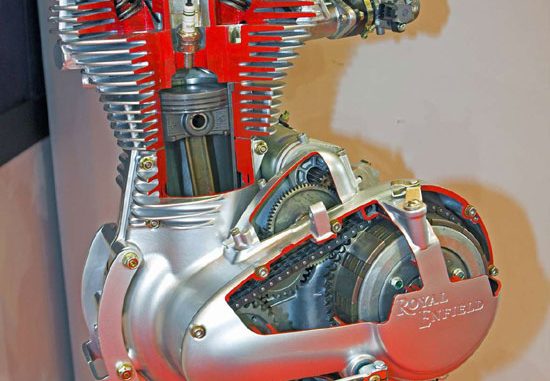 You are here: Home — 2009 Models — 2009 Royal Enfield Motorcycle Models
2009 Royal Enfield 500cc UCE EFI Engine
Back to 2009 Royal Enfield Motorcycle Index Page
Click photos to enlarge.
They make great desktop images.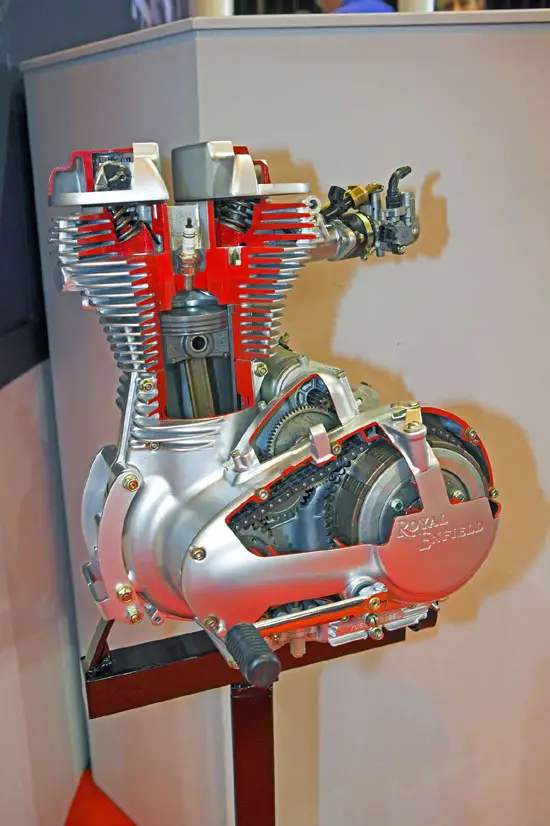 2009 Royal Enfield 500cc UCE EFI Engine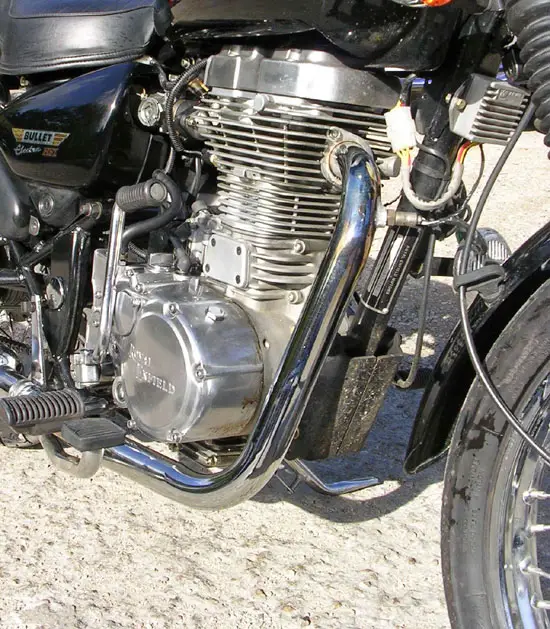 2009 Royal Enfield Electra EFI
– 2009 Royal Enfield 500cc UCE EFI Engine

2009 Royal Enfield 500cc UCE EFI Engine
Royal Enfield's Unit Construction, Fuel injected Machines

Royal Enfield motorcycles have been in continuous production for over 100 years, making them the longest running motorcycle brand in the world, and their success story is set to continue with the introduction of a brand new engine for 2009.
Designed to comply with tough European emission regulations, the all-new engine will secure the future of this unique heritage brand and guaranteeing that Royal Enfield has a position in the worldwide motorcycle market.
UNIT CONSTRUCTION (UC) means that the engine and gearbox are combined in one casing, whereas previous engines had a separate gearbox, while Electronic Fuel Injection (EFI) replaces the traditional carburettor. Power is increased to 27.5 BHP in standard form with 41.3 Nm of torque at 4000rpm.

However, this 500cc pushrod single cylinder, with a bore of 84mm and stroke of 90mm, gives an authentic-feeling 'British Single' experience.
All 2009-model Royal Enfields sold in Europe will be fitted with the new UC engine and first to appear in the UK will be the Electra EFI. This will be similar in appearance to the previous Electra model, but with UCE engine and a catalytic converter in the exhaust. Initial shipments are expected to arrive in the UK towards the end of 2008.

Manufacturing authentic classic motorcycles is at the heart of Royal Enfield's business and the company will continue to produce machines that retain the distinctive Royal Enfield style with a new generation of Bullet motorcycles that will be in production during 2009.
The flagship model in the range is the 500 Bullet Classic, which will be launched to UK riders at NEC (28 Nov – 7 Dec 2008). This completely new model has all the styling cues you would expect from a genuine classic Royal Enfield: single cylinder air-cooled pushrod engine, 1950's style nacelle and toolboxes, traditional paint scheme and highly polished engine components. It will appear in UK showrooms early in 2009.
With this next generation from Royal Enfield riders can experience pure motorcycling as it was intended, with the added reassurance of a reliable, economical, 500cc single.
A genuine classic for today's roads!
2009 Royal Enfield 500cc UCE EFI Engine – USA Specifications
TBD


2009 Royal Enfield 500cc UCE EFI Engine – UK Specifications

Engine
Single Cylinder, 4-Stroke, bore of 84mm and stroke of 90m

Capacity
499cc

Maximum Torque
41.3Nm @ 4000rpm

Power
20.3KW, 27.5 BHP @ 5250 rpm
Fuel Feed
Electronic Fuel Injection (EFI)

Transmission
5- speed gearbox with left hand gear change

Starting
Kick & Electric Start

Fuel
Unleaded Petrol