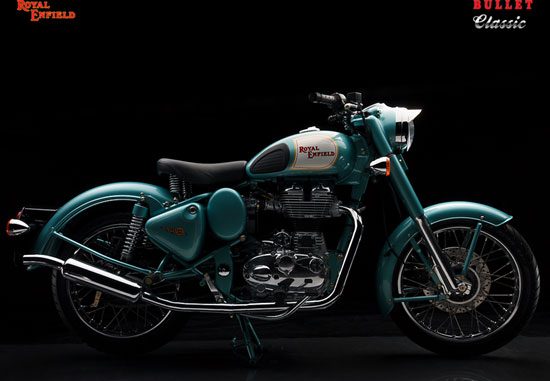 You are here: Home — 2009 Models — 2009 Royal Enfield Motorcycle Models
2009 Royal Enfield Bullet 500 Classic
Back to 2009 Royal Enfield Motorcycle Index Page
Click photos to enlarge.
They make great desktop images.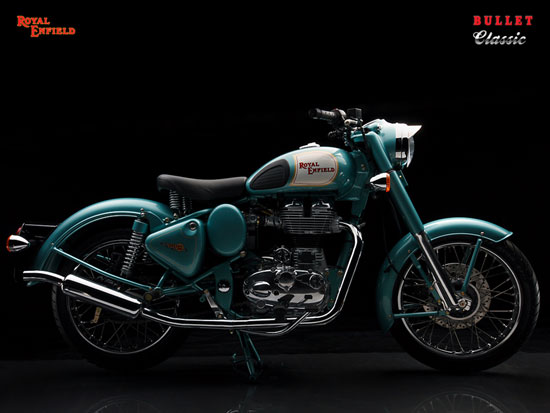 2009 Royal Enfield Bullet 500 Classic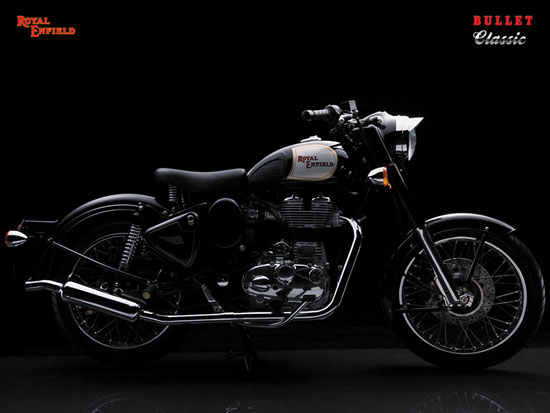 2009 Royal Enfield Bullet 500 Classic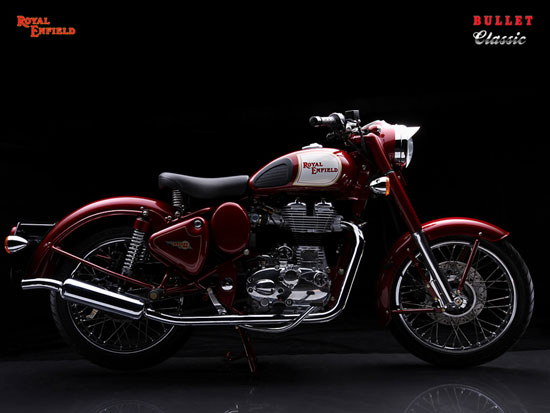 2009 Royal Enfield Bullet 500 Classic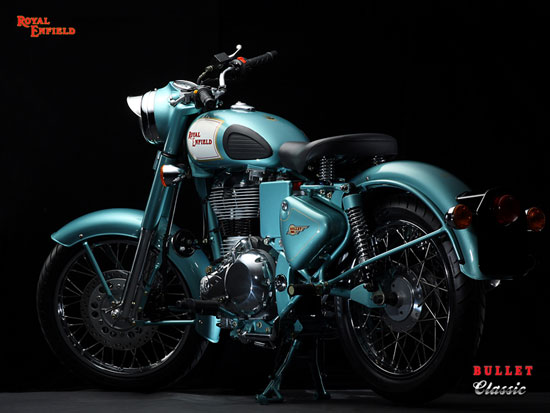 2009 Royal Enfield Bullet 500 Classic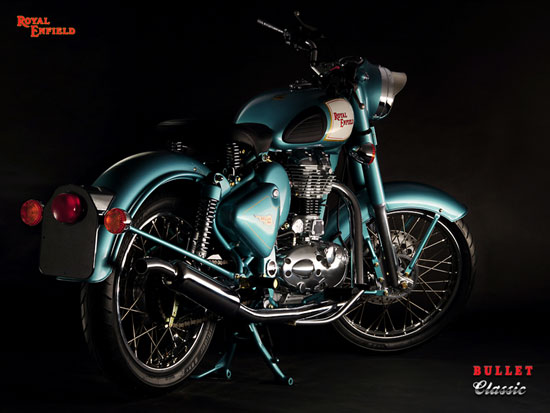 2009 Royal Enfield Bullet 500 Classic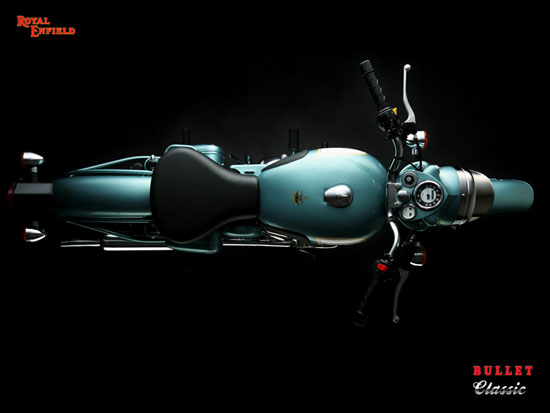 2009 Royal Enfield Bullet 500 Classic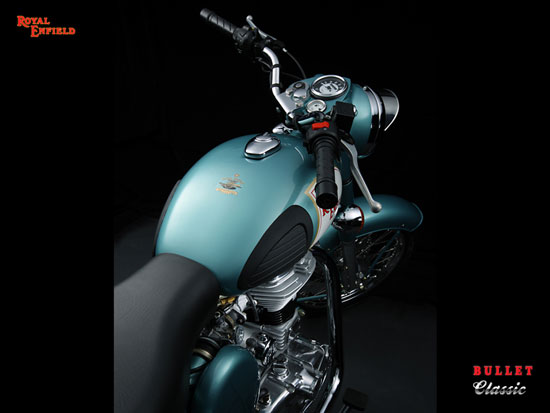 2009 Royal Enfield Bullet 500 Classic
– 2009 Royal Enfield Bullet 500 Classic

2009 Royal Enfield Bullet 500 Classic
A Classic is Reborn
Royal Enfield is now proud to present the new 2009 Royal Enfield Bullet 500 Classic, a modern reworking of the old legend, taking its styling cues from the simplicity of the original 1950's machine and combining the celebrated design and heritage with technological innovations of today.
The "Bullet" has been the longest running model in continuous production since 1932.
Now, in it's 76th year, in its "Classic" form, it has donned a younger look resplendent with styling cues one would expect only from a genuine Royal Enfiend: Single cylinder air-cooled pushrod engine, 1950s style nacelle and toolboxes, traditional paint scheme and buffed engine components.
The authentic vintage styling and striking one-color appearance truly sets it apart from others in the motorcycle market. The UCE design is inspired by the "Clipper 250" – a popular integrated Royal Enfield engine of yesteryears.
The front and rear mudguards, the headlight casing, the fuel tank, the oval tool box, the exhaust fins, the speedometer dials, the single-seat spring saddle, tail light assembly and the headlamp cap, all these conform to the native imagery of British motorcycles in the aftermath of World War II.
The style that started it all is still in high demand. The Classic's authentic vintage styling and striking, one-color appearance truly sets it apart from other motorcycles on the market.
Hand-painted pin stripes, a 5-speed transmission, 7" double leading shoe front brake and dual seat further distinguish this model, but leaves plenty of room for enhancement with any of our thousands of aftermarket parts, like those shown on the Classic to the right.
FEATURES:
ENGINE
The Unit Construction Engine (UCE) marks a dramatic shift in the traditional Royal Enfield engine architecture. While the characteristic Royal Enfield engine is distinguished by an external clutch and gearbox; in the UCE, both these elements are integrated within a common crankcase space. Therefore, these new Royal Enfield engines are more compact and offer benefits of reduced transmission losses, reduced friction, lower maintenance and higher reliability. It's clean and it's green!
EFI
In the new model, the Bullet's raw torque has been technically harnessed by equipping the UCE with electronic fuel injection (EFI) technology to result in enhanced combustion efficiency, so as to comply with Euro-III norms.
The EFI power train with extra power and torque provide for the dual ease and comfort of cruising at 70mph on highways.
Unique Features


Wheels – New 18 inch wheels for better ride and handling. Pagani turn signals, Avon Speedmaster Mk. II tires. Improved for higher speeds, better handling
Headlamp – The headlight casing features the "Tiger Eye Lamps" for the bullet look. The headlamp is traditional but with a powerful halogen bulb to provide good illumination.
Tank – Finely crafted tank with post war era graphics and thigh pads make for a vintage look. Hand-polished aluminum castings and hand-lined gas tank
Engine – New aluminum alloy Lean-Burn engine. 500cc, single cylinder, 4 stroke, spake ignition, air cooled, OHV engine produces 41.3 Nm of torque. It features the unmistakable Bullet "thump".
Toolbox – Toolbox with classic design.
Air Filter Box – Air filter box with classic styling.
Tail Lamp Assembly – Vintage tail lamp assembly features a classic design.
Instrument Cluster – Speedometer and Fuel warning indicator for the EFI system are integrated into the die-cast headlight casing. The speedometer features classic English font.
Seat – Single saddle seat with springs provides maximum comfort for a luxurious and relaxing ride.
Mudguards – Classic mudguards with stays for that authentic look. Features a deep and wide design for a splash free ride.
Silencer – Aesthetically designed for short silencer for that 1950's look. Available as an optional accessory for off-road use only.
Striking, one-color appearance with hand-painted pinstripes

Five-speed transmission

Now more environmentally friendly with lower emissions and increased fuel economy
2009 Royal Enfield Bullet 500 Classic – USA Specifications
MSRP: $5,349 USD

Engine Four Stroke, OHV
Bore & Stroke 8.4 cm x 9.0 cm
Cubic Capacity 499 cc
Compression Ratio 8.5 to 1
Engine Output/Torque 23 BHP @ 5500 RPM
Electrical 12 volts
Ignition Electronic
Lubrication Dry Sump
Gear-Type
Clutch Multi-plate, Oil-immersed
Transmission 5 Speed, Constant Mesh
Gear Shift Lever-Operated
1 Down & 4 Up
Suspension – Front Telescopic Hydraulic
Suspension – Rear Twin Shock Absorbers
Brakes- Front Twin Lead – Drum 7"
Brakes- Rear Drum 6"
Pedal-operated (right side)
Tires – Front 3.25 x 19
Tires – Rear 3.50 x 19
Tank Capacity 3.8 gallons
Reserve 0.33 gallons
Fuel Consumption 75 mpg
Dimension – L x W x B 82.25 x 27.25 x 41.5 in
Wheel Base 53.5 inches
Ground Clearance 5.5 inches
Seat Height 30 inches
Maximum Speed 75 mph
Dry Weight 370 lbs

2009 Royal Enfield Bullet 500 Classic – UK Specifications
MSRP: £4,355 British Pounds

Engine and Performance
Type: Single cylinder, 4 stroke, spark ignition, air cooled, OHV
Capacity: 499cc
Bore x Stroke: 84 x 90mm
Compression Ratio: 8.5 : 1
Fuel System: Electronic Fuel Injection
Ignition: Digital electronic ignition
Starting: Electric start
Performance
Maximum Power: 20.3 KW (27.2 bhp) @ 5250 rpm
Maximum Torque: 41.3 Nm @ 4000 rpm
Transmission
Primary Drive: Duplex chain
Final Drive: Chain
Clutch: Wet multiplate
Gear box: Constant mesh 5 speed
Electrical
Battery: 12V, 14 AH
Headlamp: 12V, 60/55W
Tail Lamp: 12V, 21/5W
Indicator: 12V, 10W
Ignition Coil: 12V DC
Vehicle and Dimensions
Frame: Tubular steel
Suspension – Front: Telescopic, hydraulic dampers
Suspension – Rear: Swingarm with gas filled shock absorbers
Brakes – Front: Disc brake. Single 280mm disc with 2 piston caliper
Brakes – Rear: Drum brake – 152mm
Tire – Front: 90×90-18″-51V
Tire – Rear: 110x80x18″-58V
Length: 2160mm
Width (Handle bars) 800mm
Height: 1050mm
Wheel base: 1370mm
Fuel tank capacity: 14.5 litres (3.2 gal)
Weight (Kerb): 187 kgs