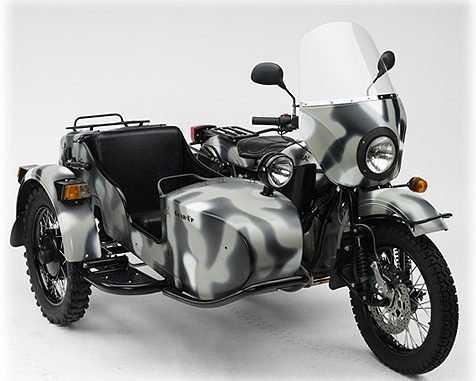 You are here: Home — 2009 Models — 2009 Ural Motorcycle Models
2009 Ural Wjuga
Back to 2009 Ural Motorcycle Index Page
Click photos to enlarge.
They make great desktop images.
– 2009 Ural Wjuga

2009 Ural Wjuga
The limited Ural edition 2008/2009 is born: Wjuga!
"Wjuga, northeast storms in the steppe of south Russia, including lots of snow and ice needles, occutring in spring and late autumn, lasting several days." – Source: Pierers universal encyclopedia, column 19, Altenburg 1865, page 309
"Wjuga, a numbered group of crude colored Ural sidecars, which appear likely from late autumn until springtime, although mostly during snowstorms and iced streets, frightening the inhabitants of heated rolling cages for the bourgeois." – Source: Ural Motorcycles GmbH, importer Ural motorcycles, Linz 2008
Without doubt this Ural is not beautiful. Disheveled, sloppy, grey-greyish colored. A doubtful appearance. But exactly the right answer for uncomfortable circumstances in the life of a motorcycle driver like coldness, snow, winter, wind.
A big windshield, knee shields and heated handgrips protect the driver.
Sidecar drive and knobbly tires secure thrust. With an Ural Wjuga you are definitely appropriate and in proper style on the winter motorcycle rallies which are becoming more and more popular. Contact your authorized Ural dealer quickly! Because the Ural Wjuga is only available this winter and in limited exclusiveness.
2009 Ural Wjuga – North America Specifications
MSRP: $0

Not available in North America
2009 Ural Wjuga – Europe Specifications
MSRP: £Limited edition
Engine
Type Air cooled 2-cylinder 4-stroke Boxer engine
Bore/stroke 78 mm x 78 mm
Capacity 745 cc
Rated output 29 kW at 5,600 rpm
Max. torque 52 Nm at 4,000 rpm
Carburator Twin KEIHIN L22A A
Max. speed approx. 100 km/h
Ignition Electronic

Power transmission
Clutch Dry double disc
Gearbox 4 speed plus 1 reverse
Final drive Bevel gear with drive shaft
Special feature Engageable sidecar drive shaft
Starting Electric plus kickstart

Chassis/Brakes
Frame Double loop steel tube
Front suspension Leading link forks with hydraulic spring shock
absorbers – 2 x adjustable
Rear suspension Double sided swinging arm with hydraulic spring shock absorbers – 2 x adjustable
Sidecar suspenison Single sided swinging arm with hydraulic spring shock absorbers – 2 x adjustable
Wheels 3 cross-spoked wheels plus 1 reserve wheel
Rims 2.15 x 19
Tyres Enduro 4.00 x 19 M/C
Brakes Discbrake on frontwheel