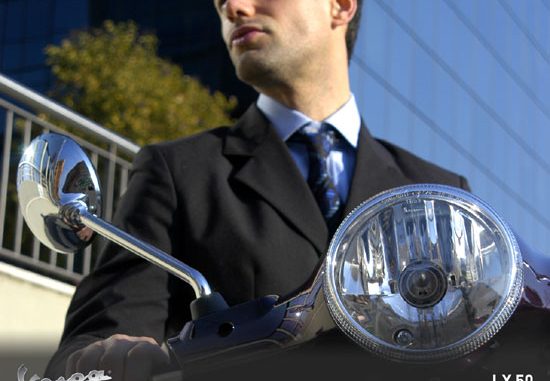 You are here: Home — 2009 Models — 2009 Vespa Scooter Models
2009 Vespa LX50
Back to 2009 Vespa Motorcycle Index Page
Click photos to enlarge.
They make great desktop images.
– 2009 Vespa LX50

2009 Vespa LX50
Congestion is for everyone else. Zip through traffic with a low center of gravity and a larger front wheel (11″ front-10″ back), which provides more control and agility. And your posture has never looked better. The ergonomically-designed seat allows for your legs and arms to be held at correct angles and your torso straight, for a comfortable ride.
The Vespa LX is offered in a 50CC and a roaring 150CC version. So take life at the speed you want. The LX 150 lets you do an impressive highway like 59 mph to get you where you want to go, fast.
Brake at a red light with confidence, with the LX's advanced mixed-type braking system. The front has a 7.8″ diameter disc, with hydraulic linkage and a dual opposed piston hydraulic caliper. The back has a 4.3″ diameter drum with mechanical linkage.

From the same pedigree as the first Vespa prototype built by Paiggio in 1946, the Vespa LX50 is more than 60 years in the making. Witness the evolution of style, comfort, and performance with the core values of Vespa that never change: Eco-friendly engineering, passion, individualism, and integrity.
2009 Vespa LX50 – Specifications
MSRP: $3,299 USD
ENGINE TYPE Single cylinder, four-stroke catalytic Hi-PER4
CYLINDER CAPACITY 49.4cc
BORE x STROKE 39 mm x 41.8 mm
MAX POWER AT SHAFT 3.1 kW at 8,750 rpm
MAX TORQUE 3.5 Nm at 6,500 rpm
MAX SPEED 39 mph
FUEL / TANK CAPACITY Unleaded 2.3 gallons (8.6 litres)
GAS MILEAGE 70-80 mpg
DISTRIBUTION Cam head single shaft-SOHC (2 valves)
COOLING SYSTEM Ram air with sound proof cover
LUBRICATION Wet sump, 850cc capacity; chain-driven lobe pump; intake and delivery filters
INGINTION Electric and kick start
GEARS CVT (Continuous Variable Transmission) transformer with torque slave
CLUTCH Automatic dry centrifuge with damper buffers
CHASSIS Load-bearing steel chassis with welded structural supports
FRONT SUSPENSION Single arm with helical spring and dual effect hydraulic single shock absorber
REAR SUSPENSION Coil spring and dual effect single shock absorber
FRONT BREAK 200 mm ø steel disc with hydraulic command
REAR BREAK 110 mm ø drum with mechanical command
FRONT TIRE Tubeless 110/70-11″
REAR TIRE Tubeless 120/70-10″
LENGTH 69.1″ (1755 mm)
WIDTH 29.1″ (740 mm)
WHEELBASE 50.4″ (1280 mm)
SEAT HEIGHT 30.5″ (775 mm)
DRY WEIGHT 225 lbs (102 kg)
TYPE APPROVAL EPA and CARB
AVAILABLE COLORS Capri Blue, Cortina Gray, Dragon Red, Midnight Blue, Yellow