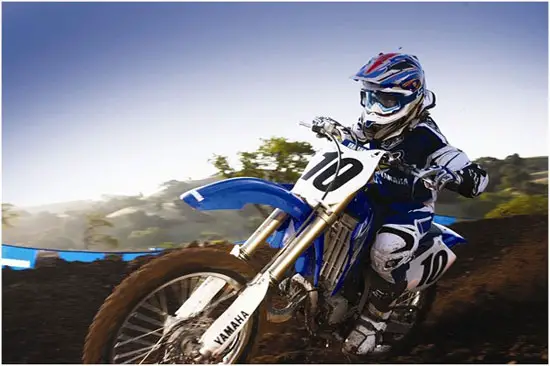 Back to 2009 Yamaha Motorcycle Index Page
Click photos to enlarge.
They make great desktop images.
– 2009 Yamaha YZ125

2009 Yamaha YZ125
The award-winning, light, nimble two-stroke that's ready to race right out of the crate.
Super light weight, instantaneous power, less expensive to maintain, and reduced noise. These are just a few of the reasons why many customers still love a YZ 2-stroke. For 2009 we have given these riders some more reasons to love the 2009 Yamaha YZ125. A revised seat cover, new drive chain and a lighter front brake hose clamp sharpen the YZ125's competitive edge.
Premix – Smells like Victory. Born from the award winning YZ competition bikes, the 2009 Yamaha YZ 125 features a light aluminum frame with a powerful, compact engine with awesome power-to-weight ratio. YZ125 is ready to race out of the crate complete with ProTaper aluminum handlebar, titanium footpegs and gripper seat.
While some manufacturers are putting all their eggs in one basket, the engineers at Yamaha believe that choice is a good thing.
So whether your weapon of choice is a berm blasting two stroke or arm stretching four stroke, we have your needs covered. Check out the new 2009 YZ125, we have made a number of detail improvements to go along with all the good stuff that already makes the YZ125 a great choice.
Highlights:
– New wave style rotors
– Revised 48mm inverted fork


Key Features:
Engine:

Liquid-cooled, 124cc, crankcase reed valve-inducted 2-stroke engine provides class leading power and acceleration. This compact engine provides class leading power and is easy to service.
7.5-degree cylinder angle and specially designed straight shot intake path through the combustion chamber provide maximum power output.
The cylinder features a ceramic composite plating on the cylinder bore to ensure uniform heat dissipation, reduced friction and increased service life.
Specially designed combustion chamber achieves a more complete burn at higher rpms for exceptional power output.
The flat top piston matches the combustion chamber design for maximum power delivery.
In order to reduce frictional losses, the lightweight crank uses special friction reducing crankshaft seals that reduce reciprocating losses for improved power.
Crankcases are both compact and lightweight.
Quick-access, magnesium outer clutch cover is light weight and speeds clutch access.
Close-ratio, 6-speed transmission uses optimized gear ratios to maximize power for outstanding acceleration and corner-exiting power.
Yamaha's patented YPVS system features a slide (guillotine) type power valve that provides the benefits of both solid, low-rpm power delivery combined with a strong top-end punch. This system varies the exhaust port height and timing based on engine rpm. The valve is also designed to match the curvature of the cylinder, resulting in a strong seal, thereby providing increased power delivery.
Mikuni TMXx38 carburetor features a "D" slide design. The TMXx carb uses a "D" shaped slide design to enhance overall power, while providing crisp throttle response at all rpms.
6-petal, carbon fiber reed design means stronger high-rpm performance with greater over-rev capacity.
Digital CD ignition system delivers a precise spark and monitors engine speed to ensure optimal timing at all rpms for fast, strong response.
Platinum NGK BR9EVX high performance spark plug is used to insure complete combustion and maximum power output. The electrode material is a specially designed platinum alloy.
Washable, dual-stage, foam air filter reduces maintenance costs.
Large-capacity, dual radiators feature a 10-row core to deliver maximum cooling efficiency.
High capacity water pump design uses a plastic impeller to reduce weight.
Lightweight exhaust system features a re-packable aluminum silencer which allows the rider / mechanic to maintain the correct amount of back pressure for maximum engine performance while reducing noise.
Works-style clutch lever features a race-spec "barrel adjuster" for on-the-fly adjustability.





Chassis/Suspension:

Lightweight, aluminum, semi-double-cradle frame combined with the compact engine design, offer an awesome power to weight ratio. The obvious benefit of an aluminum frame is a significant reduction in overall machine weight. Yamaha has maintained the semi-double cradle design because it offers an excellent balance between stiff lateral and torsional rigidity while offering more controlled flex in the longitudinal plane. This frame design offers the ideal "stiffness balance" which means it offers the flexibility of a steel frame with the light weight of an aluminum frame. This frame is made from a unique mix of castings, forgings and extrusions that provide stiffness where it is required and flexibility in other areas. The result is the world's lightest aluminum MX frame, which provides excellent handling, good ride quality, excellent stability and responsive cornering performance.
Removable rear subframe is constructed of square-section, lightweight aluminum. Detachable design allows easy access when servicing rear suspension components.
Lightweight, tapered design aluminum swingarm is produced using "hydro forming", a special forming method that uses high pressure water to form shapes.
Cast aluminum upper triple clamp and forged lower triple clamp provide both lightweight and strength for fast, easy handling.
Adjustable handlebar mounts allow the handlebars to be moved 10mm rearward if desired.
"Speed sensitive" 48mm, adjustable, inverted, Kayaba cartridge fork features a twin-chamber design. The twin chamber design means the damper unit is in a separate structure which prevents aerated fork oil from entering the inner damper assembly and degrading its damping abilities. Since the inner damper is pressurized, it also eliminates bubbles forming in the oil. The speeds sensitive design mean the damping force is controlled by the piston speed in the fork.
The balance between the inner and outer fork tubes has been optimized, while the Kashima coating on the pressure tank and the piston rod reduce friction for smoother suspension performance. The cylinder diameter is 24mm for excellent primary cushioning while low friction oil seals provide reduced stiction for a smoother stroke.
This fork also features a Transfer Control Valve (TCV). The TCV enhances the damping force of the inner damper from mid stroke to full stroke and improves bottoming characteristics. The benefit of TCV is more precise control throughout the full stroke range.
"Kashima coating" is applied to the fork tubes to reduce friction for smoother suspension performance. Front wheel travel is 300mm (11.8″).
Front fork adjustments include: 20-way compression damping and 20-way rebound damping. Optional fork springs are available through Genuine Yamaha parts.
"Wrap-around" plastic fork protectors provide excellent protection from dirt, mud and stone chips. The "self-supporting" design reduces friction for smoother fork operation.
Monocross link rear suspension system features a fully adjustable, Kayaba, piggyback shock which provides 315mm (12.4″) of wheel travel and features separate adjusters for high- and low-speed compression damping. Adjustments include: spring preload, 20-way rebound damping, 20-way low-speed compression damping and 2 turns of high speed compression damping. The damper rod diameter is 18mm in diameter, while Kashima coating is used in the shock body and sub tank to reduce friction and improve suspension performance during a long moto. The Kayaba shock utilizes a full rebound oil lock system for excellent suspension function and great ride quality.
Super lightweight, "Beta" titanium shock spring. This spring reduces weight by over 500 grams versus a conventional steel spring. A reduction in "unsprung" weight causes a dramatic effect on suspension performance. This titanium spring provides outstanding strength, and durability, combined with reduced weight.
250mm floating front disc brake features a "wave" style rotor (disc) which reduces weight and improves styling.
Compact Nissin twin piston front caliper utilizes lightweight aluminum pistons. The braking performance is excellent with great feel and control.
"Shorty" style front brake lever is adjustable for various hand sizes.
New light weight aluminum front brake hose clamp.
245mm rear disc brake with single piston caliper uses an integrated master cylinder (fluid reservoir is integrated into the top of the master cylinder) for strong stopping power with excellent feel and control.
"Wave" style rear rotor (disc) reduces weight and also adds a special styling highlight too.
The rear single piston brake caliper features a rugged plastic caliper protector, while the lower edge of the disc is protected by a lower disc guard.
Specially designed "Sun Star" rear sprocket increases the contact area between the sprocket and chain rollers, thereby reducing the load on the chain and increasing the service life of both chain and sprocket.
Lightweight, 21″ front and 19″ rear rims provide exceptional durability and help reduce unsprung weight for optimal suspension performance and handling.
Pro Taper handlebars with reinforcing crossbar and foam pad provide excellent durability and reduced weight.
New heavy-duty 520 gold anodized "O" ring chain.
Premium Dunlop knobby tires offer excellent race-spec traction.

Additional Features:

Revised "flat-design" seat features multi density foam that provides good initial softness / comfort and then increases the firmness as more pressure is applied. The "pebble" or "gripper" finish on the top and side surfaces has been revised and provides excellent rider grip and durability.
Seat, handlebar and fuel tank ergonomics provide excellent freedom of movement for the rider.
Large fuel cap and filler hole ensures easy opening and fast, hassle-free refueling.
Lightweight, wide titanium footpegs provide excellent grip and ground clearance.
Cleated, rear brake lever and folding shift lever tip offer superb grip and exceptional durability.
Stainless steel, inner clutch cable provides excellent strength, smooth action and long life.
Repackable exhaust silencer means a rider can maintain optimum engine performance and reduced noise levels.

2009 Yamaha YZ125 – USA Specifications
MSRP* $5,799 (Team Yamaha Blue/White) Available from June 2008


Engine
Type 124cc, liquid-cooled, 2-stroke, reed-valve inducted

Bore x Stroke 54.0 x 54.5mm

Compression Ratio 8.6~10.7:1

Carburetion Mikuni® TMX 38

Ignition CDI

Transmission Constant-mesh 6-speed; multiplate wet clutch

Final Drive Chain Drive


Chassis
Suspension/Front Speed-sensitive system inverted fork; fully adjustable, 11.8-in travel

Suspension/Rear Fully adjustable single shock; 12.4-in travel

Brakes/Front Hydraulic single disc brake, 250mm

Brakes/Rear Hydraulic single disc brake, 245mm

Tires/Front 80/100-21-51M

Tires/Rear 100/90-19-57M


Dimensions
Length 84.1 in

Width 32.6 in

Height 51.8 in

Seat Height 39.3 in

Wheelbase 56.8 in

Ground Clearance 15.2 in

Wet Weight 208 lb

Fuel Capacity 2.1 gal


Other
Warranty 30 Day (Limited Factory Warranty)



2009 Yamaha YZ125 – Canada Specifications
MSRP: $6,999 CDN
Engine 2-stroke, liquid-cooled, crankcase reed-valve, single
Displacement 124 cc
Bore and Stroke 54.0 x 54.5 mm
Compression Ratio 8.6~10.7:1
Maximum Torque 2.51 kg-m (18.2ft-lb @ 10,000 rpm)
Fuel Delivery Mikuni TMX x 38
Ignition CDI
Transmission 6-speed
Drive Train Chain

Suspension (Front) Adjustable 48 mm inverted fork; 300 mm (11.8″) travel
Suspension (Rear) Fully adjustable link Monocross; 315 mm (12.4″) travel
Brakes (Front) 250 mm floating disc
Brakes (Rear) 245 mm disc
Tires (Front) 80/100-21
Tires (Rear) 100/90-19

Length 2,139 mm (84.2″)
Width 827 mm (32.6")
Height 1,318 mm (51.9")
Wheelbase 1,443 mm (56.8")
Ground Clearance 388 mm (15.3″)
Seat Height 998 mm (39.3")
Dry Weight 86 kg (189.2 lb)
Fuel Capacity 8 litres (1.8 imp. gal)
Colour(s) Yamaha Blue

*Prices and specifications subject to change without notice.