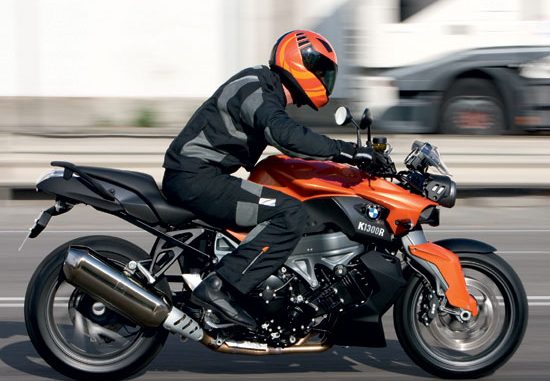 Great looking, big and glossy photos! Less reading, more looking!
Introducing the new 2009 BMW Motorcycles.

 

Superbike
The ultimate in speed, handling and technology.

 

Urban
The city's an intense place to ride. The action is always fast and furious. And on any of these bikes, you'll be able to rule the pavement.

– 2009 BMW K1300R
– 2009 BMW R1200R
– 2009 BMW F800R
– 2009 BMW G650X Country



Sport
Screaming, adrenaline-fueled performance turn you on? Check out our latest pavement-burners here and hold on to your helmet.

– 2009 BMW K1300S
– 2009 BMW F800S

 

High Performance
If you crave maximum performance, and need a hair more juice to bust loose, then our new HP bikes are sure to rev you up.

– 2009 BMW HP2 Sport
– 2009 BMW HP2 Megamoto


 

Enduro
Sometimes leaving it all for exotic, far away places is exactly what you need to do. And on these rugged rides, that's bound to happen.

– 2009 BMW R1200GS
– 2009 BMW R1200GS Adventure
– 2009 BMW F800GS
– 2009 BMW F650GS
– 2009 BMW G450X (G450X Sports Enduro)


 

Tour
Reach those distant horizons and enjoy unheard of luxury, comfort, and of course, excitement.

– 2009 BMW K1300GT
– 2009 BMW R1200RT
– 2009 BMW K1200LT
– 2009 BMW F800ST



 

Prototype
Rare, exotic, expensive, one of a kind motorcycle models offer a glimpse of the future…

– 2009 BMW S1000RR Prototype
– 2009 BMW Lo Rider Concept




Special Features
BMW history features






Behind the Scenes
– Industry News, Rumors, Spy Shots and information
– Manufacturer websites worldwide

– Industry News, Rumors, Spy Shots and information
Total Motorcycle is constantly on the look out for new 2010 and beyond motorcycle model information, industry rumors and spy shots. As we hear, conduct interviews and find the latest information we will post it here for you to read, share and enjoy.
Total Motorcycle Community Forums
Motorcycle Rumor Mill & New Model News Forum
Massive Motorcycle Specifications Handbook 1980-2009
Total Motorcycle's Big Book of Concept Bikes
Don't forget to check out our Huge Motorcycle Photo Gallery with thousands of photos for you to enjoy!
– Manufacturer Websites

BMW