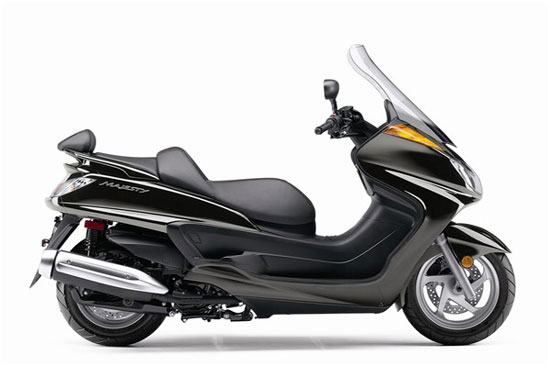 You are here: Index — 2009 Models — 2009 Yamaha Motorcycle Models
2009 Yamaha Majesty
Back to 2009 Yamaha Motorcycle Index Page
Click photos to enlarge.
They make great desktop images.
• 2009 Yamaha Majesty

2009 Yamaha Majesty
On the road, the luxurious and sophisticated Majesty is truly a prince. But at the gas pump, you'll pay…well, like a pauper.
The 2009 Yamaha Majesty, one of 2 "Maxi" scooters in the 2009 Yamaha line-up. The 395cc Majesty pumps out the power of a motorcycle with the convenience and comfort of a scooter. Offering a fully automatic transmission, an upright riding position, great weather protection, and tons of room for a passenger and gear, the Majesty breaks the traditional scooter mold and is fully highway capable.
Mobile Throne. Majesty features a rugged and reliable four-stroke engine, fully automatic transmission and push button electric starter. Run at highways speeds and cruise around town, Majesty gets and estimated *51 mpg and has a 3.7 gallon fuel tank.
Enjoy lots of responsive power while you cruise effortlessly in comfort around the city or on the highway. Convenient automatic "gas it and go" transmission and unparalleled weather protection are features of this class-leading "maxi" scooter. With plenty of room for a passenger, plus huge storage space for all of your gear – not to mention the power to push it thanks to a 395cc, 4-valve, 4-stroke engine – the Majesty gives you a ride that'll always have you grasping for new and better superlatives to describe it. The Majesty is fully highway capable, even with 2 aboard!
*Fuel economy estimates are based on US EPA exhaust emission certification data obtained by Yamaha. Your actual mileage will vary depending on road conditions, how you ride, maintain your vehicle, accessories, cargo and operator/passenger weight.
Highlights:
– 395cc, 4-stroke
– Fuel consumption: 21kpl/50mpg**

**Disclaimer for all models: fuel consumption figures based on 40km/hr speed on level ground.

Key Features:

Engine:

Peppy, 395cc, liquid-cooled, DOHC, 4-valve, 4-stroke engine produces excellent highway capable power and incredible fuel economy. Top speed of the Majesty 400 is over 150 km/hr, making it a great city and highway capable commuter.
Fuel consumption of 21 kpl or 50 mpg based on a 40 km/hr average speed on level ground.
Liquid cooling maintains consistent engine temperatures even while idling at stoplights or in traffic, for maximum performance and extended engine life.
Open deck cylinder design maximizes cooling efficiency.
Convenient electric starting with automatic decompression system means fast, reliable starting.
Automatic cam chain tensioner reduces both maintenance chores and mechanical engine noise.
Specially designed crankshaft utilizes plain bearings to reduce mechanical noise.
Single axis engine counterbalancer minimizes vibration to maximize rider and passenger comfort. This is one smooth running scoot.
4-valve cylinder head design provides optimum breathing efficiency for great engine performance. Highway speeds are easily obtainable with this powerful engine.
Suction piston-type throttle body fuel injection provides crisp, clean throttle response with excellent fuel economy and reduced exhaust emissions. The system also features a throttle position sensor (T.P.S.) that provides information to the ECU to provide the most accurate ignition timing possible for maximum performance at all rpms. Special idle speed control means there is no need to adjust the idle… a special motor regulates idle speed.
The F.I. system uses a single fuel injector with 12 spray holes for excellent fuel atomization and more complete combustion. The injector is located downstream of the throttle body in the intake manifold.
Electric fuel pump is mounted inside the fuel tank to provide consistent flow of fuel.
Rear-mounted radiator is assisted by an electric fan to maintain consistent engine temperatures even while idling in stop-and-go traffic.
Dual air box with dual air filters provides maximum performance and excellent air filtering qualities to extend engine life.
Fully automatic V-belt transmission ensures easy, twist-the-throttle-and-go operation.
Maintenance-free digital TCI ignition system provides a precise, high-voltage spark for seamless engine performance, sure starts and excellent reliability.
Air Induction System (A.I.S.) reduces exhaust emissions for a very clean, environmentally friendly engine. The A.I.S. system reduces hydrocarbons and carbon monoxide emissions by injecting fresh air into the exhaust port to completely burn any unburned gases in the exhaust. This design engine easily meets the EU-2 European emission standards.
Environmentally muffler not only produces a quiet exhaust note but also features a catalytic converter that reduces harmful hydrocarbons and nitrous oxide exhaust emissions.
Final drive is via a clean, quiet, double-cog V-belt.


Chassis/Suspension:

Open, step-through, backbone-style, aluminum and steel frame design allows fast, easy mounting and dismounting. The upper portion of the frame (rear section) utilizes Yamaha's controlled filling die-cast technology for great strength with light weight.
Trailing axle 41mm hydraulic front fork with 120mm (4.7″) of wheel travel delivers good bump-absorbing performance and great rider and passenger comfort.
Dual shock rear suspension features 104mm (4.1″) of wheel travel while providing a plush, comfortable ride.
267mm front disc brake with twin piston caliper provides excellent stopping power.
267mm rear disc with single piston caliper provides strong, reliable stopping power.
Special design parking brake provides additional confidence when parking the Majesty on sloped ground. A convenient handlebar-mounted lever activates the rear brake to prevent the unit from moving. The lever is designed to interfere with the left handlebar to prevent the unit from being ridden with the park brake activated.
Rugged, cast aluminum, "mag style" (5-spoke) wheels are fitted with tubeless tires. Front wheel size is MT3.00X14 (5-spoke) with 120/80×14 tubeless tire and rear wheel size is MT4.00×13 (6-spoke) fitted with a 150/70×13 tubeless tire.
Roomy, 2-person seat ensures excellent comfort. The rider portion of the seat features a back support for even more comfort. The rider position can be adjusted forward or backward to add or reduce leg room.
Huge, 60-litre, locking underseat storage compartment can easily hold two (2) full-face helmets. A vanity light is provided in the rear section of the trunk for added convenience.
Additional storage can also be found in the front area of the rider cockpit. There is one larger lockable compartment and one smaller non-lockable compartment.
Specially designed windshield with laminar flow venting (this vent helps reduce the vacuum effect common with many windshield designs) provides excellent wind and weather protection.
Dual 60/55-watt halogen headlights provide a bright beam of light as well as that sleek, cat-eye image.
Bright, eye-catching LED taillight
Stylish front apron and floorboards provide excellent splash and wind protection and highlights the Majesty's functional side.
Instrumentation includes analog tachometer and speedometer with digital odometer, dual tripmeters, fuel tripmeter, fuel gauge, outside air temperature and coolant temperature. The instrumentation also includes a V-belt wear indicator light and an oil change indicator light.


Additional Features:

Special-access panel for spark plug and other selected engine components
Convenient passenger grab rail is integrated into the rear bodywork.
Push-to-cancel-type turn signals
Easy-to-use centre stand and side stand
Side stand safety lock-out switch prevents unit from being ridden when side stand is down.
3-in-1 main ignition switch combines the ignition, fork lock and underseat storage compartment lock into one convenient switch.
Low-maintenance, sealed battery
Locking fuel cap is hidden by special-access panel located near the operator's feet.
Stylish heat shield on muffler protects rider and passenger from hot components.
2009 Yamaha Majesty – USA Specifications
MSRP* $6,099 (Metallic Titanium) Available from July 2008


Engine
Type 395cc liquid-cooled 4-stroke single; DOHC, 4 valves

Bore x Stroke 83.0mm x 73.0mm

Compression Ratio 10.6:1

Carburetion Electronic fuel injection

Ignition Digital TCI

Transmission Centrifugal clutch; double-cog V-belt auto

Final Drive V-belt


Chassis
Suspension/Front Telescopic fork; 4.7-in travel

Suspension/Rear Twin shock; 4.0-in travel

Brakes/Front 267mm disc

Brakes/Rear 267mm disc

Tires/Front 120/80-14

Tires/Rear 150/70-13


Dimensions
Length 87.8 in

Width 30.7 in

Height 54.3 in

Seat Height 30.0 in

Wheelbase 61.6 in

Ground Clearance 4.7 in

Fuel Capacity 3.7 gal

Fuel Economy** 51 mpg

Wet Weight N/A


Other
Warranty 1 Year (Limited Factory Warranty)


2009 Yamaha Majesty – Canada Specifications
MSRP* $7,999
Engine 4-stroke, liquid-cooled, DOHC, 4-valve, single
Displacement 395cc
Bore and Stroke 83 x 73mm
Compression Ratio 10.6:1
Maximum Torque 3.7 kg-m (26.8 ft-lb) @ 6,000 rpm
Fuel Delivery throttle body fuel injection
Ignition TCI
Transmission Fully automatic
Drive Train Belt

Suspension (Front) 41mm hydraulic fork
Suspension (Rear) Dual shocks
Brakes (Front) 267mm disc
Brakes (Rear) 267mm disc
Tires (Front) 120/80-14
Tires (Rear) 150/70-13

Length 2,230mm (87.8")
Width 780mm (30.7")
Height 1,380mm (59.3")
Wheelbase 1,565mm (61.6")
Seat Height 760mm (29.9")
Fuel Capacity 14 litres
Wet Weight 212kg (466.4 lb)
Colour(s) Dark Metallic Gray

*Prices and specifications subject to change without notice.