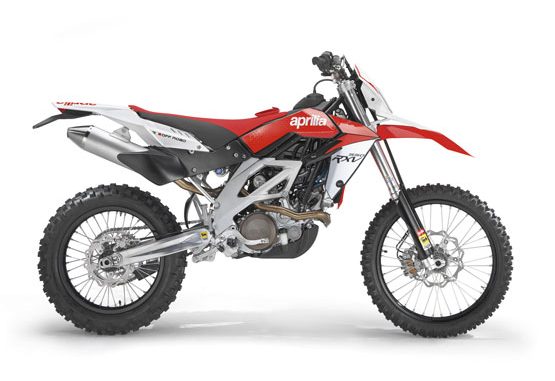 Back to 2010 Aprilia Motorcycle Index Page
Click photos to enlarge.
They make great desktop images.
- 2010 Aprilia RXV 4.5-5.5

2010 Aprilia RXV 4.5-5.5
EVOLUTION CONTINUES

Evolution in the name of competitiveness: this is the mission of Aprilia's RXV 4.5/5.5 model year 2009. Experience gained from Aprilia Racing's excellent results in the Enduro World Championship has led to Aprilia designers and engineers transferring even more race technology into this amazing production motorcycle.

Everybody involved with the RXV has worked hard and in close co-operation to introduce a number of major improvements compared to last year's motorcycle, making this year's model even more "race ready", and better able to deliver complete satisfaction to demanding amateur and professional riders.
DESIGN: DETAILS COUNT

As with all Aprilias, a tremendous amount of care and attention has been lavished on even the smallest details on the RXV.

As a result the RXV boasts a unique, unmistakable styling that is nevertheless fully functional in achieving the sort of unrivalled performance that a genuine competition motorcycle demands.
Essential, decisive lines convey a sensation of lightness and build quality. The RXV's designers have been eager to incorporate the features that distinguish all Aprilias, and have launched a whole new type of off-road motorcycle. You simply can't fail to appreciate technology like the V twin engine, mixed steel trellis frame and sculpted swingarm. The tail and rear side panels are totally different in styling from traditional off-road designs. Whichever way you look at it, the RXV presents a host of stunning technical solutions, all enhanced by original racing colours to express the aggressive nature of this born-to-race mean machine.

Every aspect of the bike features intelligent design solutions. Fixed air ducts, for example, allow the fuel tank to tilt up for easy access to the air filter box.

Everything about the RXV is dedicated to winning races. The quest for technical perfection has led the design team to improve even the most insignificant details on the basis of input from the many time champions who have raced the RXV.
ENGINE: CONTINUOUS EVOLUTION

The amazing 45.2 engine is, of course, the centre piece of RXV technology. Aprilia was the first manufacturer in the world to believe in the validity of V twin architecture in a market segment in which all other marques still cling rigidly to single cylinder engines. Aprilia's high-tech V twin design has already proved 100% reliable in competition. Even homologation for road use has not compromised the technology and performance of this exceptional engine, which is produced entirely by Aprilia. Since the earliest stages of the design process, the 45.2 has evolved to keep pace with chassis development and to give the RXV an unbeatable mix of power and handling.

The 77° V angle is the result of extensive testing, aimed not only at boosting power but also at reducing vibration. As a result Aprilia's engineers have been able to eliminate engine balancer shafts. Despite this the 45.2 engine still vibrates far less than any single cylinder alternative.

The cylinders themselves are integrated in the crankcase and have replaceable wet liners. This unique layout has allowed the engine ancillaries to be arranged in a way that achieves extremely compact dimensions. The results are amazing: the Aprilia V twin is one of the most compact twins in the world, and smaller in size than many singles of similar displacement.

All design choices have been taken in order to obtain maximum ridability and an extended power band for off-road riding.

The sophisticated electronic engine management system, developed by Aprilia Racing, incorporates numerous innovations for the off-road sector.

The injection system features 38 mm throttle bodies (40 mm on the 550) and is managed by a programmable control unit. The ECU is able to switch between two different mappings at the touch of a switch on the handlebars.

This extremely useful innovation offers a full power mapping for use in conditions of good grip, and a second, softer mapping for smoother power delivery under challenging conditions. The system provides an extremely valid aid to control and has been welcomed both by expert riders (the system was actually tested in the final phases of the world championship) and by off-road fans in general. All you need is one quick click to select exactly the right power delivery for the circumstances.

The new ECU and stepper motor throttle bodies make starting much easier under all conditions, and deliver smoother and more controllable power too.

Reduced unitary displacement has allowed Aprilia to develop an extremely compact and lightweight crankshaft. The engine is more responsive to variations in throttle opening as a result, and the bike as a whole is faster and more manoeuvrable thanks to the reduced gyroscopic effect from the crankshaft.

The flywheel has increased in weight to improve power delivery and achieve a smoother ride.

The single overhead cam configuration with four titanium valves per cylinder head represents an ideal compromise between compact size, light weight and high performance.

Thanks to its advanced technology, the 45.2 is also an extremely silent running and ecological engine. Technology, after all, should mean reliability and longevity as well as high performance. The 45.2 engine touches new heights in this direction, and permits extremely easy access to parts requiring regular maintenance like the spark plugs, oil filter and air filter.

Just as much effort has been put into weight reduction, and the 45.2 engine sets a new record for a V twin with an electric starter. Abundant use has been made of prestige lightweight materials. The central crankcase sections are in aluminium-silicon alloy; external engine casings are in magnesium; the valves are in titanium; and all gears are exceptionally light in weight.

A closer look at the unique characteristics of the 45.2 engine:
" Electronic fuel injection system with 38 mm throttle bodies (40 mm on the 550), complete with stepper motors and a new ECU that gives even better performance.
" Dry sump lubrication with separate external reservoirs for gearbox and engine oil to avoid contaminating engine oil with particles of clutch friction lining, and for extended lubricant life.
" Single overhead cam with four valve heads
" Single piece crankshaft
" Cylinders integrated in the crankcase with wet liners
" Maximum engine speed 12,000 rpm (450 version)
CHASSIS: LIGHTER THAN EVER
An uncompromising machine like the RXV demands a great chassis.
The perimeter frame has been developed in conjunction with the engine, with the result that the 2009 RXV has lost 2 kg in weight. The tubular steel trellis structure is interference fitted to forged aluminium side members to form an extremely rigid whole.
The engine itself forms an integral part of the chassis, acting as a load bearing element and contributing to overall rigidity.
The variable section aluminium alloy swingarm has been made even lighter to reduce rigidity and improve traction.
The rising rate suspension linkage is damped by a fully adjustable Sachs monoshock with piggy back cylinder and two different hydraulic settings for high and low speeds.
The calibration of the rear suspension has been modified to improve stability and control over rough surfaces.
The 45 mm upside down fork also boasts new settings for greater high speed stability and improved damping over stony ground, and can be adjusted to suit the needs of more expert users.
BRAKING SYSTEM
The advanced technology and high performance of the RXV chassis are reflected in a superb braking system. The RXV features Nissin calipers and lightweight wave discs (270 mm at the front) for maximum braking control even under the most challenging conditions.
The 240 mm rear disc is braked by a single piston caliper (lighter than on the previous model) for a perfect combination of power and control.
COMPONENTS: READY TO RACE
All parts of the Aprilia RXV are of the very best quality available.
Among the many prestige components are:
" Digital instruments: ultra-lightweight, compact and designed to provide all the information a rider could possibly need.Magura tapered aluminium handlebars with no cross member for optimal elasticity and control
" High luminosity LED tail light
" Aluminium oil filter cover
" New race-derived electrical system
" Racing sponge air filter
MAIN IMPROVEMENTS
" New aluminium swingarm with cast body and hydroformed members. The new swingarm is significantly lighter and more flexible, giving clear benefits in improved traction and better stability over rough ground (ruts/ridges).
" Lighter and more compact rear brake caliper.
" New lateral exhaust system homologated to FIM regulations.
" Fuel system with stepper motor throttle body control and new ECU. This development makes starting easier under all conditions and reduces weight significantly too. Power delivery is also smoother and easier to control.
" Simplified, lighter rear frame for a reduced seat height and a more comfortable seating position for riders of "all sizes".
" Lower seat height (-5 mm).
" New graphics and new seat.
" Reduced weight (-2 Kg).
2010 Aprilia RXV 4.5-5.5 - Unitied States Specifications
US MSRP: RXV 5.5 $9,299 - RXV 4.5 $8,599 USD

Engine: 77° V twin four stroke. Liquid cooled. Single overhead cam with rocker operated exhaust valves, chain timing drive. 4 valve heads with titanium valves.
Fuel: Lead-free petrol.
Fuel system: Integrated electronic engine management system controlling ignition and fuel injection, with two power mappings. Throttle body: 38 mm (40 mm).
Ignition: Electronic.
Starting: Electric starting.
Exhaust: Euro 3 lateral exhaust. Conforms to FIM regulations.
Generator: 340 W
Lubrification: Dry sump with external oil tank. Separate gearbox lubrication.
Gear box: 5 speed. Enduro gear ratios: 1st 12/31 2nd 13/25 3rd 15/23 4th 19/24 5th 21/22
Clutch: Cable operated multi-plate wet clutch.
Primary drive: Spur gears. Transmission ratio: 22/56.
Final drive: Chain. Transmission ratio: 15/50 (Z14 sprocket supplied).
Frame: Chrome-molybdenum steel perimeter frame with aluminium alloy vertical members. Steering head (rake) angle 27°. Lightweight rear frame.
Front suspension: Ø 45 mm upside down fork with two adjustments.
Rear suspension: Aluminium swingarm with cast body and hydroformed members. Hydraulic monoshock with compression and rebound adjustment.
Brakes: Front: Ø 270 mm floating disc in stainless steel with aluminium flange. Nissin floating caliper. Rear: 240 mm stainless steel disc with floating caliper.
Wheels: Black anodised aluminium alloy. Front: 1.60 x 21" Rear: 2.15 x 18"
Tyres: Front: Metzeler 90/90 x 21" Rear: Metzeler 140/80 x 18"
Dimensions: Overall length: 2,222 mm Overall width: 800 mm Ground clearance: 396 mm Seat height: 941 mm Wheelbase: 1,495 mm
Fuel tank capacity: Capacity 7.8 litres