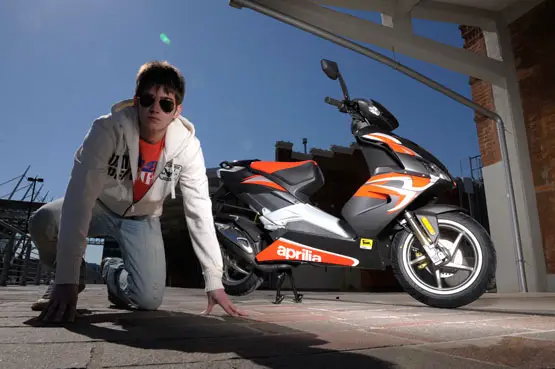 Back to 2010 Aprilia Motorcycle Index Page
Click photos to enlarge.
They make great desktop images.
– 2010 Aprilia SR50 R Factory

2010 Aprilia SR50 R Factory
WHO ARE YOU?
SR 50: the legend rides on, and gets better. Every year! When the SR 50 first came out, it was already in a class of its own. The "sports scooter" category was invented specially for it.
Now, the SR 50 features an aggressive new design, inspired by the RSV 1000 R Factory, but there's more to it than style! The SR 50 incorporates numerous technical solutions derived directly from Aprilia's world-beating maxi, to bring you the tops in equipment and the highest level of active safety you can get. With advanced technology, a legendary name, and guaranteed performance, the new SR is destined to be yet another Aprilia success story. Especially if ridden by people like you.
EVOLUTION OF THE SPECIES
Ever since it was first introduced, the SR has been the preferred scooter of the Aprilia Racing Team, and is used extensively at trials and race meetings to get quickly between pit lane and the paddock. Aprilia's top riders can also be seen riding their SRs around town in total freedom. Just like you.
BIG BIKE LOVER?
So you know all about sports scooters. You've read up on scooter technology and performance too. The you know you need the new SR 50.
Just to refresh your memory, the SR 50 was the first scooter to fit 13" wheels, the first with liquid cooling, the first with a double disc braking system, and the first with a direct injection engine.
And finish and equipment are superbike level. Just look at the mirrors, integrated footrests, and open brake master cylinders. The SR 50 has to be yours!
STYLE FANATIC?
Maybe you're one of those who remove original transfers and put your own stickers on instead. With all the trouble that Aprilia takes to give you such great graphics! Oh well, that's up to you! But we'd like to know that we've styled your new SR in a way can be proud of, with an uncompromising sposts look to reflect its cutting-edge technology, we've even designed a completely new steel frame for improved rigidity for unrivalled agility. And you can't fail to appreciate the SR's superior multi-functional digital instruments panel, twin halogen headlights, motorcycle-style switchgear and transponer anti-theft system.
In fact, there's only one thing missing…you! The SR is waiting.

SR, ONE OF THE PACK?
Maybe you use tour scooter to get around with your friends. If so, on an SR you're sure to attract the right company! SR riders always have something in common. Like you. They aggressive style, streamlined aerodynamics and impeccable handling when they see them. Everybody's different, but on an SR everybody's got something to share.
If we wanted to, we could write a book about the SR 50 R Factory's brand new, active matrix, digital instrument panel. After all, it does have analog rev counter and a large LCD display for fuel level, coolant temperature, clock, speedometer, odometer, dual trip counters, journey time, maximum speed, 16 stage timer, battery voltage, and complete diagnostic system, but we shall limit ourselves to pointing out that all these functions are accessible from convenient handlebar controls.

RESPONSIBLE YOUNG MAN!
Maybe you fit in neatly with one of the personalities described above – or maybe you don't! In any case, we're sure you're a responsible young man, and your family's pride and joy! So it's just as well that the SR has what it takes to keep everybody happy, including advanced safety systems like double disc braking, high performance shock absorbers, and a host of high-tech components.
However you see yourself, here are the good reasons for riding an SR. Don't forget to tell your family!
1. Sleek, aggressive styling, to ensure that all eyes turn your way.
2. Motorcycleroad-holding, precision, aglility and total safety.
3. Double disc brakes for bags of controllable stopping power and fantastic active safety.
4. Robust construction, to make sure that your SR remains faithful mile after mile after mile.
5. A digital instrument panel with on board computer
6. Transponder anti-theft system and provision for the body guard armoured cable lock. Because you can never be too sure.
7. The right size, not too small not too big. As real sports scooter should be.
8. Attention to detail to satisfy the most demanding.
9. Enviable equipment, including powerful 35 watt headlights, storage compartment in the seat nose, motorcycle style switchgear and number plate holder, and rear suspension with an open coloured spring.
What more could you want

2010 Aprilia SR50 R Factory – Canada Specifications
Canada MSRP: $TBA CDN

Engine: Liquid cooled horizontal single cylinder two stroke. Electronic direct fuel injection.
Bore x Stroke: 40 x 39,3 mm
Total displacement: 49 cc
Compression ratio: 11,5:1
Ignition: High power inductive ignition
Starting: Electric
Generator: Flywheel-magneto, 165 W – 12 V.
Lubrification: Oil injection with oil pump
Gear box: Continuous automatic variator
Clutch: Automatic centrifugal dry clutch
Primary drive: V belt
Final drive: Gears in oil bath.
Frame: Split single cradle frame in high tensile strength steel tube
Front suspension: Hydraulic fork, 90 mm wheel travel
Rear suspension: Engine unit acting as swingarm; frame linkages on two radial silent block mountings; wheel travel 70 mm. Rear: 190 mm stainless steel disc; racing caliper with twin opposed 30 mm pistons
Wheels: Five spoke, light alloy wheels front and rear: 3.50 x 13″
Tyres: Tubeless. Front and rear: 130/60 x 13"
Dimensions: Overall length: 1860 mm Overall width: 705 mm Overall height: 1120 mm Seat height: 820 mm Wheelbase: 1290 mm
Fuel tank capacity: 7 litres. 1.2 litres (0.2 litre reserve).
Intake: Reed valve
Other: Fuel injection Electronically controlled, air assisted, direct injection into the combustion chamber. Injector type EFI low flow injector. Direct injection system External opening, SMD 8 micron medium spray. Pressure regulator Pressure differential maintained at 2.5 bar. Throttle body Ø 18 mm throttle body with integrated TPS (Throttle Position Sensor). Air compressor Driven off crankshaft, lubricated by air-oil mix in crank chamber. Fuel pump 6.5 – 8 bar, high pressure pump with low electrical power absorption, < 0.5 A. Electronic Control Unit 8 Hz clock speed, 22 pin.