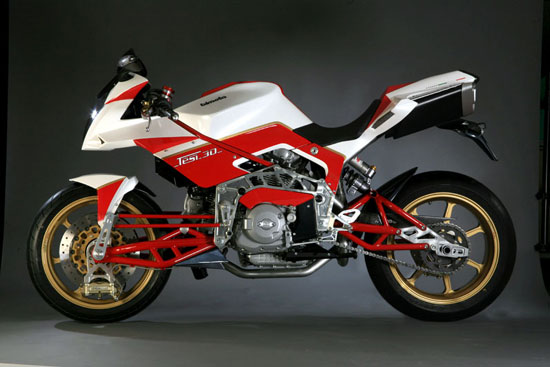 Back to 2010 Bimota Motorcycle Index Page
Click photos to enlarge.
They make great desktop images.
– 2010 Bimota Tesi 3D

2010 Bimota Tesi 3D
In a time of highly competitive markets, wholly subject to the pressures of globalization, values like genuine Passion, Talent, Skill, Courage and maniacal Love for perfection often seem to belong to an altogether different world. Exactly these values are what we are all about at Bimota. Our motorcycles capture and represent the essence of a decidedly different approach – the only approach we feel comfortable taking.
The eagerly awaited TESI 3D Concept, first introduced at the 2006 EICMA Motorcycle Show in Milan, Italy, is the standard-bearer for Bimota's cutting-edge technology of emotion. The TESI 3D, like all Bimota motorcycles, embodies all of the character and DNA of a small company that knows how to think big. Bimota is fully committed to the pursuit of excellence and the continuous refinement of our already state-of-the-art technologies.
Concentrating on innovative technical solutions, the TESI 3D has been developed entirely by our in-house staff at the Bimota factory in Rimini. Italy. Dressed in our traditional color-scheme of white, red, and gold, the motorcycle is propelled by a Ducati 1079cc engine. The electrical environment is developed by Bimota.
While featuring the original Hub-Steering developed by Bimota, the Tesi 3D Concept boasts several new developments and refinements: The front and rear swing utilize a trellis structure similar to the rear swing of our DB5 and DB6 series' models. Also the front suspension has been radically redesigned and now uses a pull-rod mechanism with the hydraulic suspension located low beside the engine. Carbon body-parts and cowling, forged alloy wheels, and radial disc brakes are further features of the new TESI 3D. The frame consists of light alloy.
The TESI 3D is now available in two color versions, red and white plus the new Carbon Black version.
The dynamic abilities and unique design of the new generation TESI put it at the top of supersport road bikes, while the trademark Tesi design distinguish Bimota in the world scene of motorcycling.
2010 Bimota Tesi 3D – Specifications
MSRP: $36,995 USD

ENGINE
Type: Ducati 1100DS
Configuration: 90 degree L-Twin
Displacement: 1079cc
Cooling: air/oil
Compression Ratio: 10.5±0.5:1
Valves per Cylinder: 2
Bore x Stroke: 98.0mm x 71.5mm
Redline: 9000rpm
Valve Angle: intake: 28 degree, outlet: 28 degree
Valvetrain Type: Desmodromic
Fuel Pump: Bitron 3.5bar, electronic
Throttle Body: 45mm
Air Filter: Paper
Exhaust System: 2 in 1 in 2, inox
Injection: Magneti Marelli
Lubrication: Wet Sump
Fuel Tank: 4.2gal/1.3gal reserve (16l/5l reserve)
TRANSMISSION
Type: Dry Clutch, multi-disc
Clutch: Hydraulic
Primary Drive: 32/59 teeth
Final Drive: 15/40 teeth
Gear Ratio: VI – 28/24; V – 24/23; IV – 22/24; III – 20/27; II – 17/30; I – 15/37
CHASSIS
Wheelbase: 54.7in (1390mm)
Steering Angle: 18.5 degrees
Swingarm Lenth: 20.3±0.8in (515±20mm)
Seat Height: 31.5in (800mm)
Footpeg Height: 15.2in (385mm)
Handlebar Height: 33.5in (850mm)
Steering Rod Center to Seat Center: 27.4in (695mm)
Front Suspension: Monoshock, Pull-Rod Extreme Tech, fully adjustable (Preload – External Hydraulic device, Compression, Rebound, travel 4.5in (115mm)
Front Wheel: 3.50 x 17.0 Forged Alluminium Alloy
Front Brake: Double 320mm Brembo floating discs, Brembo Radial Caliper, 4-piston, 4-pad
Rear Suspension: Monoshock, Push-Rod Extreme Tech, fully adjustable (Pre-load, Compression, Rebound)
Rear Wheel: 5.50 x 17.0 Forged Aluminium Alloy
Rear Wheel Trail: 4.5in (115mm)
Rear Brake: 220mm Brembo Disc , 2-piston, 2-pad
Curb Weight: 370lb (168kg)