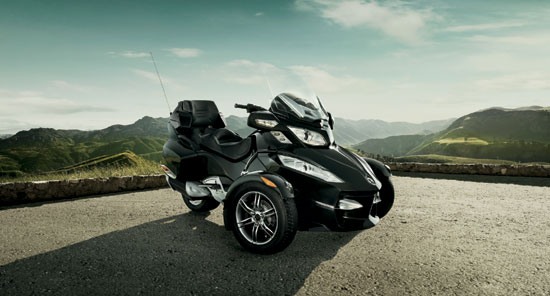 Back to 2010 MV Agusta Motorcycle Index Page
Click photos to enlarge.
They make great desktop images.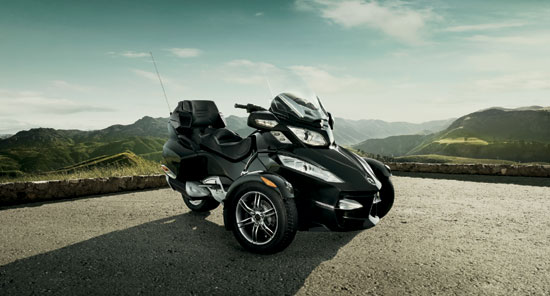 2010 Can-Am Spyder RT-622 Trailer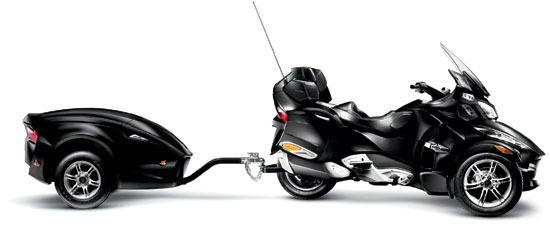 2010 Can-Am Spyder RT-622 Trailer
– 2010 Can-Am Spyder RT-622 Trailer

2010 Can-Am Spyder RT-622 Trailer
Features and Specifications
2010 Can-Am Spyder RT-622 Trailer – North American Specifications
North America MSRP: starting at $24,999 USD
Pull-behind trailer designed for the Spyder RT

Fully loaded with 622 liters (22 cu.ft) of cargo capacity

Features coil over independent suspension, 12″ vehicle matching cast aluminum mag wheels, fully carpeted interior, front and rear lids, gas shocks, integrated vehicle key locks

Utilizes same RT integrated lighting system

The VSS system of the Spyder RT has been calibrated to recognize the trailer in order to maximize vehicle's handling dynamics

Available in 3 color options to match your new Spyder RT – Orbital Blue, Timeless Black, Full Moon Silver
Only trailer on the market that maintains vehicle warranty requirements
MEDIA PRESS RELEASE
Washington, D.C., September 2, 2009 – BRP introduces the new Can-Am Spyder RT roadster in response to specific consumer demand for a touring platform. The 2010 Can-Am Spyder roadster line-up now includes the Spyder RS (roadster sport) and the Spyder RT (roadster touring) models.
The introduction of the touring model coincides with a substantial gain in market presence on the heels of strong consumer demand since the roadster's launch more than two years ago. Driven by a passionate owner community, the innovative three-wheel concept has become a global phenomenon in more than 50 countries to-date with authorized BRP dealers.

"The Can-Am Spyder RS is already a resounding market success, although, clearly, its full growth potential is only beginning to materialize," said Yves Leduc, vice-president – general manager Can-Am and After Sales Operations, responsible for North American Sales & Marketing. "We are delivering the expansion of our Can-Am Spyder roadster line-up as promised at its launch in 2007 and we believe the announcement of the Spyder RT will even further accelerate the momentum experienced thus far."

The Can-Am Spyder RT roadster powered by a Rotax 991 engine with Electronic Throttle Control optimized for touring stays true to the brand's promise to deliver a perfect balance of performance and peace of mind. The roadster features the same acclaimed BOSCH-engineered Vehicle Stability System (VSS) as found in the Spyder RS roadster, which includes Anti-lock Brakes, Traction Control and Stability Control systems. The VSS, coupled with the inherent stability of the roadster's 'Y-architecture' and overall ease of use reinvents riding for enthusiasts of all skill levels.

BRP is also introducing an industry-first optional RT622 trailer package*, providing an additional 622 litres (22 cu. ft) of storage, designed specifically for the Spyder RT roadster and compatible with the vehicle's stability system.

"The introduction of the Can-Am Spyder RT now provides options for sport and touring enthusiasts alike," said Chris Dawson, vice-president and general manager, International division. "BRP's superior design and innovation continues to deliver paradigm-shifting vehicles that push the envelope, and the RT model is no exception. The new platform goes well with what touring riders demand and there is no doubt in my mind the Can-Am Spyder RT is going to forever change the touring motorcycle category."

The Spyder RT roadster will be available for trial at authorized BRP dealerships this fall. Consumers currently have the option to pre-order Premiere Edition Spyder RT-S roadsters for delivery in the fourth quarter of 2009.

Bombardier Recreational Products (BRP), a privately-held company, is a world leader in the design, development, manufacturing, distribution and marketing of motorized recreational vehicles. Its portfolio of brands and products includes: Ski-Doo and Lynx snowmobiles, Sea-Doo watercraft and sport boats, Evinrude and Johnson outboard engines, direct injection technologies such as E-TEC, Can-Am all-terrain vehicles and roadsters, as well as Rotax engines and karts. With manufacturing facilities on three continents, BRP products are distributed in more than 80 countries.

Sea-Doo, Ski-Doo, Lynx, Evinrude, Johnson, Can-Am, Rotax, E-TEC, Spyder and the BRP logo are trademarks of Bombardier Recreational Products Inc. or its affiliates. All other trademarks are the property of their respective owners.

* Certain options may not be available (or homologated) in your country.