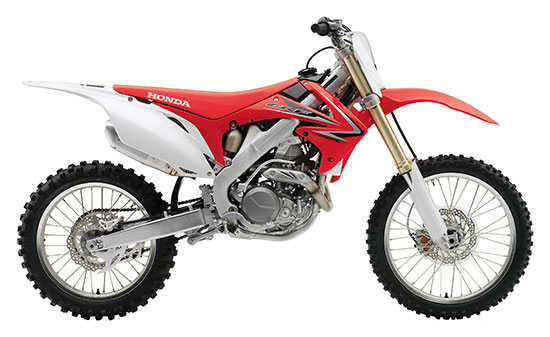 Back to 2010 Honda Motorcycle Index Page
Click photos to enlarge.
They make great desktop images.
– 2010 Honda CRF450R

2010 Honda CRF450R
CRF450R : The Undisputed Open-Class Champ

The perennial darling of the enthusiast press and racers alike, the CRF450R returns in 2010 to take its rightful place at the head of the class. With class-leading power and handling, the CRF450R features the perfect blend of power, suspension and handling for a genuine revolution in the premier motocross class. No wonder the award-winning CRF450R has won more magazine shootouts than any motocrosser in modern history.

The best just got better in a whole bunch of ways. For 2010 the amazing Honda CRF450R boasts numerous changes that add up to one thing: faster lap times. Its high-tech Unicam™ engine has always made big power, and improvements to the Electronic Control Unit makes that power even crisper and easier to use. Starting has also been made easier thanks to an improved auto-decompressor system. Plus, modifications to both the front and rear suspension combine with the CRF450R's innovative Honda Progressive Steering Damper™ to make tough terrain even easier to handle.



Features/Benefits

Engine/Drivetrain
Revised ECU programming and PGM-FI settings improve off/on throttle response, idle and stall resistance.

Redesigned engine auto-decompressor system enables easier kick-starting.

Liquid-cooled 449 cc four-valve Unicam engine produces more than 125.3 hp per litre and utilizes a four-lobe camshaft and individual rocker arms for each exhaust valve to reduce weight and contribute to a higher rpm ceiling.

Compact size of the Unicam engine allows it to be positioned closer to front wheel, resulting in a lower overall Cg and better weight distribution for better handling.

Positioning of the crankshaft main journal cradles (inside of flywheels) allows reduction of connecting rod big-end diameter, reducing weight while maintaining overall strength. Crankshaft cutaway eliminates piston skirt contact at BDC, also reducing weight.

Cylinder head combustion chamber is short yet has a large-volume squish area for better flame propagation.

Lightweight titanium intake valves and specially designed valve springs reduce overall engine height and permit higher rpm.

Low camshaft mount has been built into the cylinder head to reduce weight and engine height.

Cylinder attaches to engines cases with through-bolts instead of studs, allowing in-frame cylinder removal.

Forged slipper-piston material permits thinner crown, contributing to short cylinder height. Low-friction surface treatment assures high-rev potential.

Lightweight Ni-SiC cylinder lining provides cooler and quieter operation for extended engine life.

Programmed Fuel Injection (PGM-FI) system utilizes a 50 mm throttle body design with 12-hole injection nozzle fed by lightweight 50-psi pump to ensure optimum fuel atomization and precisely targeted fuel charge. System also achieves an improvement in fuel consumption.

PGM-FI system monitors throttle position, intake air and coolant temperatures, air pressure and gear position to accurately map fuel charge and ignition spark, significantly improving partial-throttle response and helping assure excellent rideability.

Twin-sump lubrication system separates the oil supply for the crankshaft, piston and valve train from the clutch and transmission. This ensures a cool supply of oil to the clutch, eliminates clutch and transmission material contamination of the engine oil and reduces the amount of circulating oil, allowing the oil pump size to be reduced.

Exhaust system incorporates a left-side cylinder head exhaust port, increasing header length and allowing the muffler to be positioned closer to centre of mass, contributing to significantly improved weight distribution and handling.

Gear-driven balancer reduces vibration and drives the water pump.

Coolant flow routed outside engine cases via bolt-on flange/jacket, allowing reduction of crankcase and cylinder width, and overall weight.

Oil pump strainer built into the engine case to reduce parts and weight.

Eight clutch plates handle the engine's massive torque.

Kashima coating applied to the clutch basket, clutch centre and pressure plate improve clutch life and clutch feel.

Chassis/Suspension
Fifth-generation Twin-Spar Aluminum Frame with forged-aluminum steering head is 397 grams lighter than previous design.

Forged swingarm pivot plates increase rigidity for improved handling.

Removable rear subframe is designed to eliminate brackets and cross-members.

Honda Progressive Steering Damper (HPSD) features a compact damper attached to the lower triple clamp and the steering head to allow more aggressive steering characteristics and assist straight-line handling. Damping action smoothly progresses as handlebar deflection increases, which produces very natural steering characteristics and feel.

Front and rear wheels feature HRC works-type lightweight aluminum spoke nipples.

Rear axle diameter of 25 mm and large diameter bearings provide additional rigidity.

Sophisticated inverted Air-Oil-Separated (AOS) fork features exclusive Honda 48 mm diameter fork made by Kayaba..

Revised valving and greater oil volume in the Kayaba fork combine for improved handling, while the rear Kayaba shock boasts a new piston design and a new compression adjuster for an easier ride and stronger acceleration over rugged terrain.

Pro-Link rear suspension features exclusive Kayaba integrated reservoir.

Large 50 mm rear shock damper piston diameter for consistent performance under demanding riding conditions.

HRC works-style rear brake system integrates the rear master cylinder and fluid reservoir, eliminating the separate reservoir and hose.

Works-style 240 mm front and rear brake rotors contribute to strong, controllable braking.

Additional Features
Honda First: Engine stop switch features an integrated LED pre-ride check indicator with EFI diagnostic capability to ensure that the CRF450R is operating at maximum capacity.

Radiator shrouds are narrow to aid rider movement.

Removable engine mounts allow easy engine removal.

Rider ergonomics are optimized by adapting the handlebar, seat and footpeg height for improved comfort and handling feel.

Lightweight aluminum brake pedal and shift lever are designed to complement new ergonomics.

Brake pedal features optimized ratio to match integrated rear-brake master-cylinder design.

Wide, cleated stainless steel footpegs provide excellent grip and are self-cleaning and corrosion resistant.

Adjustable front brake lever for improved control.

Quick-adjust clutch perch for easy cable adjustment.

Aluminum Renthal handlebar (971 bend) is rubber mounted to help reduce rider fatigue and improve comfort.

Handlebar holders provide two different mounting positions to match rider preference.

Washable, two-stage foam air filter for optimal engine protection and easy maintenance.

Repackable silencer for maximum performance and minimal noise.

Comfortable, durable controls and high quality fasteners.

Stainless steel clutch cable for long life.

2010 Honda CRF450R – USA Specifications
MSRP: $TBA USD

ENGINE
Engine Type 449cc liquid-cooled single-cylinder four-stroke
Bore and Stroke 96mm x 62.1mm
Induction Programmed Fuel Injection (PGM-FI), 50mm throttle body
Ignition Full transistor with electronic advance
Compression Ratio 12.0:1
Valve Train Unicam®, four-valve; 36mm intake, titanium; 30mm exhaust, steel

DRIVE TRAIN
Transmission Close-ratio five-speed
Final Drive #520 chain; 13T/48T

CHASSIS / SUSPENSION / BRAKES
Front Suspension 48mm inverted KYB® Air-Oil-Separate (AOS) with rebound and compression-damping adjustability; 12.2 inches travel
Rear Suspension Pro-Link® KYB single shock with spring preload, rebound damping adjustability, and compression damping adjustment separated into low-speed and high-speed; 12.6 inches travel
Front Brake Single 240mm disc with twin-piston caliper
Rear Brake Single 240mm disc
Front Tire 80/100-21
Rear Tire 120/80-19

DIMENSIONS
Rake 26°52′ (Caster Angle)
Trail 114.2mm (4.5 inches)
Wheelbase 58.7 inches
Seat Height 37.6 inches
Curb Weight 234.8 pounds (Includes all standard equipment, required fluids and a full tank of fuel-ready to ride)
Fuel Capacity 1.5 gallons
Ground Clearance 13.1 inches

OTHER
Model ID CRF450R
Available Color Red





2010 Honda CRF450R – Canada Specifications
MSRP: $9,299 CDN

Engine Type Liquid-cooled single-cylinder four-stroke

Displacement 449 cc

Bore & Stroke 96 mm x 62.1 mm

Compression Ratio 12:1

Valve Train Unicam, four-valve

Fuel Delivery PGM-FI electronic fuel injection with 50 mm throttle body

Transmission Close-ratio five-speed

Final Drive #520 chain; 13T/48T

Front Suspension 48 mm inverted Kayaba Air-Oil Separate (AOS) fork with 16-position rebound and 18-position compression damping adjustment; 310 mm (12.2 in.) travel

Rear Suspension Pro-Link Kayaba single shock with spring preload, 20-position rebound damping adjustment, and compression damping adjustment separated into low-speed (18 positions) and high-speed (1.5 turns); 320 mm (12.6 in.) travel

Tires 80/100 – 21 front; 120/80 – 19 rear

Brakes Front 240 mm disc with twin-piston caliper; rear 240 mm disc

Ground Clearance 333 mm (13.1 in.)

Seat Height 954 mm (37.6 in.)

Wheelbase 1,491 mm (58.7 in.)

Curb Weight 106.5 kg (234.8 lb) including required fluids and full tank of gas – ready to ride

Fuel Capacity 5.7 litres

Colour Extreme Red