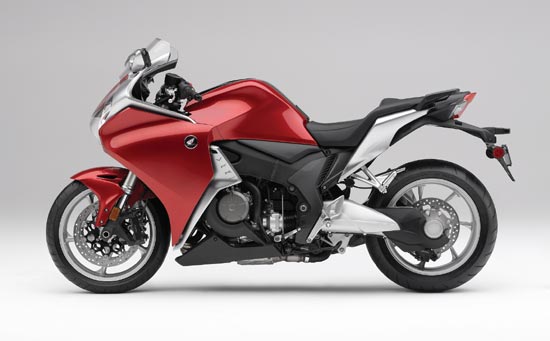 Back to 2010 Honda Motorcycle Index Page
Click photos to enlarge.
They make great desktop images.

2010 Honda Interceptor VFR1200FA

2010 Honda Interceptor VFR1200FA

2010 Honda Interceptor VFR1200FA

2010 Honda Interceptor VFR1200FA

2010 Honda Interceptor VFR1200FA

2010 Honda Interceptor VFR1200FA

2010 Honda Interceptor VFR1200FA

2010 Honda Interceptor VFR1200FA


2010 Honda Interceptor VFR1200FA

2010 Honda Interceptor VFR1200FA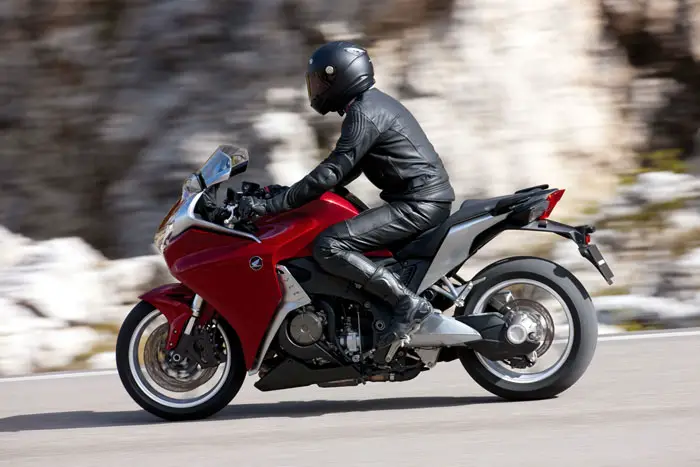 2010 Honda Interceptor VFR1200FA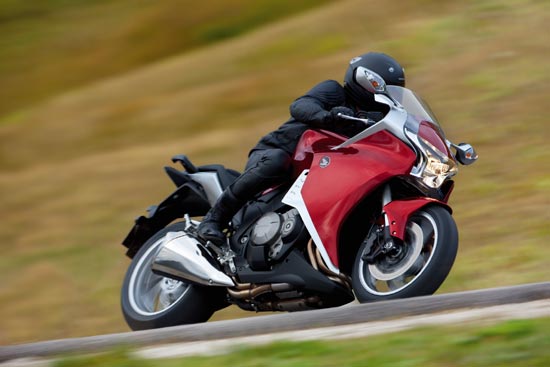 2010 Honda Interceptor VFR1200FA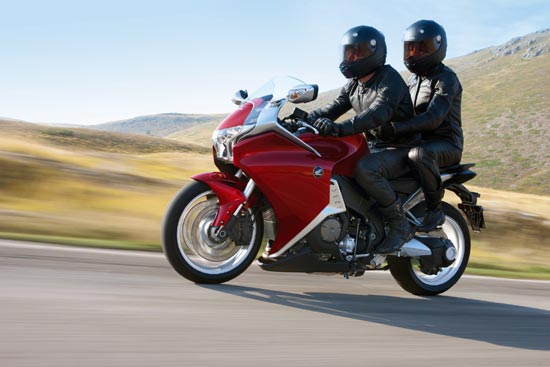 2010 Honda Interceptor VFR1200FA
– 2010 Honda Interceptor VFR1200FA

2010 Honda Interceptor VFR1200FA
Honda's storied V-4 heritage has been re-invented in an astonishing new sport motorcycle that's unlike anything you've ever seen, heard, or ridden. Drawing from an impressive history of V-4 innovation, the all-new Honda VFR1200FA incorporates technology borrowed from such diverse sources as MotoGP, motocross, and even high-end sports cars. Its 1,237 cc engine has a narrow 76-degree cylinder angle, Unicam™ valve train, asymmetrical front/rear cylinder spacing, and other advanced features, which combine to produce a remarkably compact engine. Throttle-by-wire, a smart new shaft-drive system, Dual Clutch Transmission… it all adds up to a futuristic new bike for those who love to ride hard, ride far, and ride often.
Drawing from a longstanding legacy of innovation within Honda's V-4 lineup, the 2010 VFR1200FA embodies the new generation of V-4 technology and unsurpassed rider benefits, setting the stage for Honda's next 50 years. Honda's V-4 heritage and VFR tradition is fully realized in the VFR1200FA. It has been re-created in astonishingly innovative form through the fusion of advanced technology imported from the MotoGP world and other cutting-edge environments. Net result: a futuristic sport motorcycle created for the sheer joy of riding, custom tailored for experienced hands who ride hard, ride long, ride far and ride often.
The 2010 VFR1200FA embodies the next generation of new motorcycle technology, resulting in unsurpassed rider benefits for those in search of a sporting motorcycle that truly transcends common bounds. Honda's V-4 heritage has been re-invented in astonishingly innovative form through the fusion of advanced technology to craft a futuristic sport motorcycle created for the sheer joy of riding, custom tailored for experienced hands who ride hard, ride long, ride far and ride often.
Just a few of the incredible features and benefits found in the VFR1200FA include Honda MotoGP engine technology and architecture; a light and compact 1237cc liquid-cooled 76-degree V-4 that pumps out amazing levels of power; Throttle By Wire for next-generation throttle response; lightweight and compact Unicam® valvetrain allows for significantly smaller cylinder heads; optional Dual Clutch Automatic Transmission with manual mode and automatic mode with two D/S modes and paddle-style shifters; Honda slipper clutch in the manual-shift VFR1200FA; GP technology layer-concept aero fairing for unrivaled air management and futuristic style; next-generation shaft drive system with offset pivot point and sliding constant-velocity joint for a new level of shaft-drive performance and control.
The VFR1200FA will be available at Honda dealers in Spring of 2010
The Dawn of a New Era
Style. Innovation – The perfect fusion of beauty and function. The integration of sophisticated design and Honda-renowned engineering. These are the qualities that are deeply embedded in the all-new VFR1200FA. This is a motorcycle like no other. A machine that can be many things to many riders. From the distinctive X-shape headlight to the flowing lines of the unified aerodynamic surfaces, the VFR1200FA surpasses everything before it. So special, it's in a class of one. The ultimate road-sport machine. The ultimate Honda.


Beauty is nothing without intelligence – When you climb onboard the new VFR1200FA, you will immediately sense something very striking. It seems to have been created specifically for each rider. You find yourself sitting more in it than on it: the result of ground-breaking, ergonomic design and intelligent engineering. The uniquely sculpted shape of the dual-layer fairing embraces you while efficiently guiding the flow of air around you: increasing stability and keeping both you and the engine cool. Ease open the throttle and you experience a seemless blend of power and poise. Effortless harmony between rider and machine, mile after mile.
Power to move you – A Honda V4 engine moves you in so many ways. The tangible aura of power. The raw, compelling note that only a V4 can produce. The VFR has a completely new power plant. Inspired by the track, perfected for the road. The enticing pulse at idle, giving way to an invigorating unmistakeable growl from the uniquely designed muffler at full throttle. The acres of responsive torque and useable power to take you effortlessly away from the crowd, or smoothly through the graceful curves of a mountain road. A rush of pure adrenaline, or the serenity of a day's relaxed cruising. A revolutionary cylinder layout and UNICAM configuration makes the engine broader at the front, narrower at the rear, to give the bike a slimmer waist and you a narrower seat. Perfect mass centralisation with superlative feedback, control and comfort. The VFR's V4 engine has it all.
Instinctive, effortless control – Everything about the new VFR1200FA has been designed to put you in control. It responds like an extension of your own instincts, creating an invigorating blend of precise riding feel and effortless handling. To achieve this, we created a completely new low-maintenance shaft-drive system that any experienced biker would swear feels just like a chain-drive. A unique new 'throttle-by-wire' system enhances rider connectivity. Throttle feedback is instant and decisive, for razor-sharp acceleration, superb manoeuvrability and enhanced fuel economy. Onboard, the ergonomic hand controls and intuitive instrument panel are function and elegance personified. Instinctive and effortless control: the defining character of the VFR1200FA riding experience.
Exhilarating freedom of choice – Show the VFR1200FA a pulse-quickening mountain road and you will quickly discover the soul of a performance thoroughbred. Take it on a long and leisurely ride with a passenger and you will experience refined road manners and relaxing comfort. Versatility that is more
than rewarding, it is simply awe-inspiring.
'Ma' and 'Tsuya' – Two Japanese values that find their perfect expression in the all-new Honda VFR1200FA. 'Ma' describes the space around an object that reveals a new perspective: the unique connection between the visible and the invisible. Each component of the VFR1200FA has been meticulously considered and works in complete harmony with every other component. 'Tsuya' describes the lustre of an object: its visual charm, how it captivates the eye. How the lines, curves and
angles of a design come to life. Ultra-modern materials and an unprecedented, mirror-like finish make the VFR1200FA the embodiment of 'Tsuya'.
Features/Benefits

Engine/Drivetrain
Light and compact 1,237 cc liquid-cooled 76-degree V-4 engine pumps out amazing levels of power with a distinctive feel and sound.
By combining many of Honda's most advanced technologies, engineers managed to create a remarkably compact engine that's both smaller and lighter than the V-4 engine in the VFR800A.
Unique cylinder layout locates the rear cylinders side by side but close together, and the front cylinders more widely spaced. This layout allows for a slim, compact "waist" that fits comfortably between the rider's legs. It also improves mass centralization, thereby contributing to the bike's balanced feel and ease of control.
The engine also incorporates a special high-strength Symmetrically Coupled Phase-shift Crankshaft that features a 28-degree crankpin offset that works in concert with the 76-degree V angle to essentially negate primary engine vibration for smooth running. And because the powerplant now has perfect primary balance, the need for a balance shaft is eliminated, which allows for a more compact engine and also yields a weight savings of nearly 1.4 kg (3 lb) .
Lightweight and compact Unicam™ valve train allows for significantly shorter and smaller cylinder heads with no loss in efficiency. It's the same technology used in Honda's potent CRF motocross bikes.

Also borrowed from the CRF range and the RC211V MotoGP bike is the sealed crankcase system that reduces the pumping loss created through piston movement, marking the first time this system has been used on a street motorcycle.

The new engine's performance is delivered where it's most useful and most enjoyable. Its linear torque curve is focused in the low-end and midrange, making it possible for the rider to simply roll on and off the throttle while powering through bends. This effortless control makes the VFR1200FA great fun to ride – this is a sportbike with real-world-usable power.

Asymmetrical exhaust lengths between front and rear cylinders further improve power output and add to the VFR1200FA's unique sound and feel.

Engineered to provide excellent cornering clearance and minimal intrusion to the feet of the rider and passenger, the high-volume, twin-outlet muffler produces an unobtrusive but fantastically stirring note. At low revs the sound is almost like a human heartbeat. Further up the rev range, once the internal servo-operated exhaust valve is opened, the sound changes to a truly inspiring, hard-edged V-4 howl.

A throttle-by-wire system replaces the throttle cable with sophisticated electronics. It provides light, precise fuel metering at all engine rpm, the system's accuracy gives the rider increased levels of control.

The Dual Clutch Transmission includes two automatic modes and a manual mode with paddle-style shifters, and is similar to systems found on high-end sports cars. Its mechanical efficiency matches that of a manual gearbox, meaning you get to enjoy the convenience of an automatic with the unbridled performance of a manual.

The next-generation shaft-drive system routes the shaft below the swingarm pivot point to eliminate the squat and lift of conventional shaft drives without resorting to complex and heavy countermeasures as found on some competing models. Special dampers eliminate any excessive slack or jerkiness in the system, resulting in smooth on- and off-throttle transitions.
Chassis/Suspension

The patented layered fairing design creates a uniquely beautiful shape and, at the same time, optimal airflow and heat management. The fairing incorporates two layers. Air entering between the layers and through two oval-shaped spaces in the front of the fairing is channelled in exactly the directions needed to enhance the bike's stability at higher speeds. Plus, by channelling air through smaller apertures before it reaches the radiators and thereby increasing its velocity, engine cooling is optimized and the hot, exhausted air is carried quickly away from the rider and passenger for a cooler, more comfortable ride. The heat generated by the engine is also channelled away to keep hot air away from the rider.Honda Pro-Arm single-side swingarm with single gas-charged shock features a handy remote spring-preload adjuster, rebound damping adjustability, and 130 mm (5.1 inches) of travel. At the front the VFR1200FA boasts a stout, sport-oriented 43 mm inverted cartridge fork with spring preload adjustability and 120 mm (4.7 inches) of travel.The VFR1200FA is equipped with a sophisticated braking system that's ideal for all-round sportbike use. Powerful new six-piston calipers for the front and a two-piston caliper at the rear act on large full-floating discs (320 mm front; 276 mm rear). Honda's Combined Braking System creates the optimal balance of front and rear braking forces, while the compact and lightweight Anti-lock Braking System (ABS) lets you brake with confidence on even difficult surfaces.Additional Features

New-technology seat construction permits a higher level of seat shaping and forming detail for excellent rider and passenger comfort and a sleek look.Integral saddlebag mounts come standard on both versions of the VFR1200FA.New painting technologies, specially developed at Honda's new high-tech Kumamoto factory, result in a level of finish far above normal production standards .The handlebar and the layout of the controls are the result of careful study of ergonomics and rider needs. The designers looked at the time required to reach controls comfortably and the ease of operation- particularly during cornering. As a result, the VFR1200FA has new handlebar switches and a new layout with reversed horn and indicator controls. The indicator switch shape is designed around natural thumb movement for effortless operation.

2010 Honda Interceptor VFR1200FA – USA Specifications
MSRP: $NA USD

See Model: VFR1200FA / VFR1200FA with Dual Clutch Automatic Transmission

2010 Honda Interceptor VFR1200FA – Canada Specifications
MSRP: $TBD CDN

TBA
2010 Honda Interceptor VFR1200FA – World Specifications

VFR1200FA
Engine: Liquid-cooled 4-stroke UNICAM 76° V4
Capacity: 1,237 cm³
Max power: 127 kW / 10,000 min-1 (95/1/EC)
Max torque: 129 Nm / 8,750 min-1 (95/1/EC)
Fuel capacity: 18.5 litres
Seat height: 815 mm
Kerb weight: 267 kg

Colours: Candy Prominence Red
Seal Silver Metallic Pearl Sunbeam White

All specifications are provisional and subject to change without notice. The above mentioned
technical data are general data (ED-type). Please speak to your Honda dealer for local information