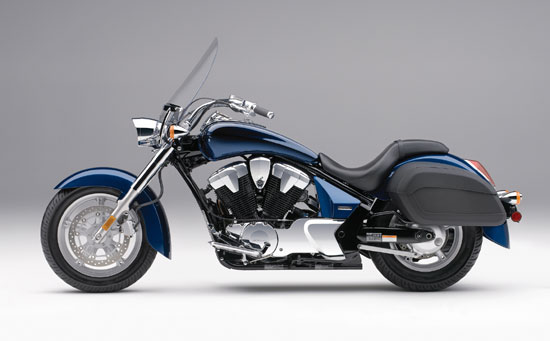 Back to 2010 Honda Motorcycle Index Page
Click photos to enlarge.
They make great desktop images.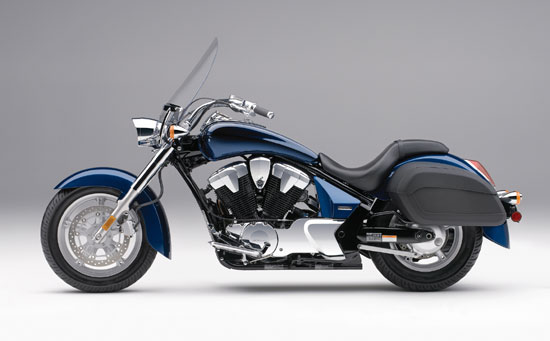 2010 Honda VT1300CT Interstate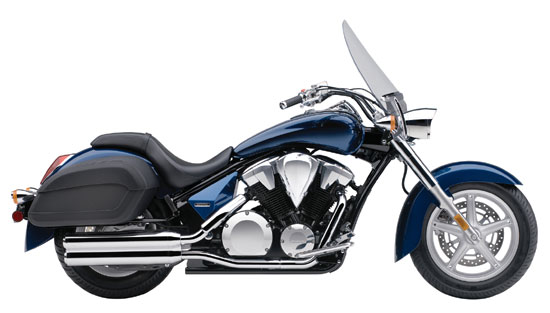 2010 Honda VT1300CT Interstate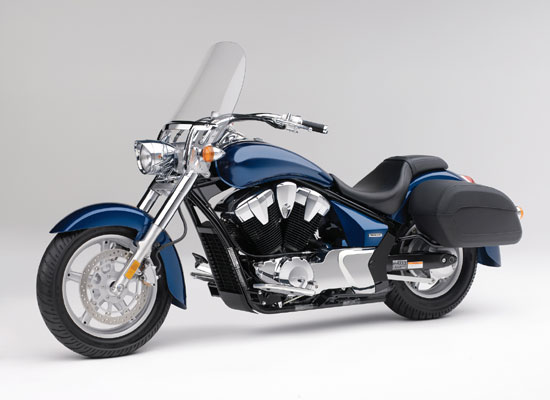 2010 Honda VT1300CT Interstate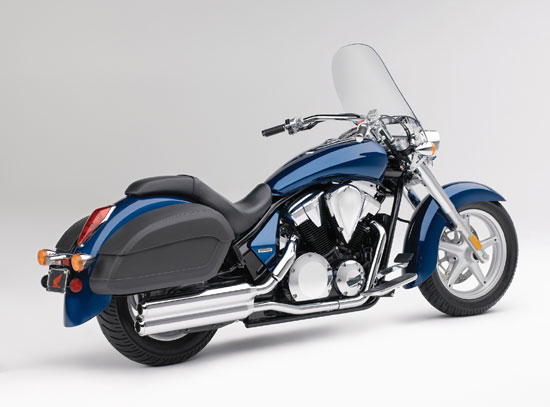 2010 Honda VT1300CT Interstate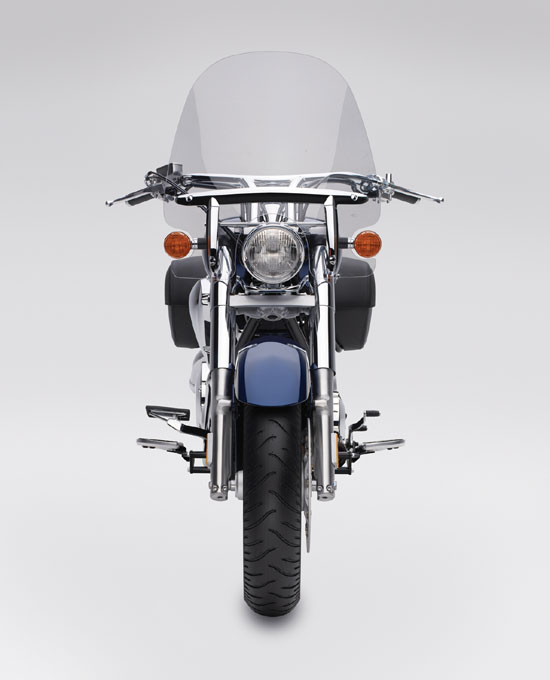 2010 Honda VT1300CT Interstate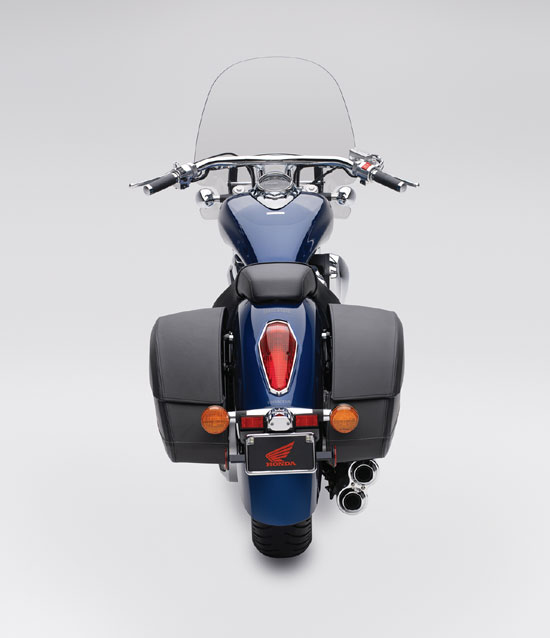 2010 Honda VT1300CT Interstate
– 2010 Honda VT1300CT Interstate

2010 Honda VT1300CT Interstate

When you're aboard one of the coolest rides around, sometimes you just don't want the ride to end. So for those who enjoy their long rides in high style, Honda introduces the new Interstate. Along with good looks and a big V-twin engine with Honda's Programmed Fuel Injection, the stylish leather-wrapped hard bags offer ample room for a long getaway, with a traditional windscreen and floorboards delivering all-day riding comfort for those extra-long hauls.
Is it too good to be true? A custom bike boasting bare-bones chopper styling à  la Honda's radical Fury equipped with all the necessities any long-distance touring enthusiast could ask for? Believe it, and while you're at it say hello to the all-new Honda Interstate. You'll no doubt note the family resemblance to its Sabre and Stateline siblings—blacked-out frame, beefy 1312cc liquid-cooled, 52º V-twin, raked-out front end, deep-dish fenders—as well as a few unique features all its own, like floorboards, leather-covered hard saddlebags and a weather-cheating windscreen.
With its head-turning styling and brawny 1312cc V-twin powerplant, one might think that a single Stateline model was plenty to go around. But guess what? The good news is that you have two versions of Statelines to choose from: our standard (and we hesitate to call anything about this machine "standard") model and an anti-lock brake-equipped Stateline ABS.
Nothing Rides Like a V-twin.

The heart of any motorcycle is its engine. And the new Interstate has a beauty. Naturally it's a strong V-twin. We gave it a single-pin crankshaft so it feels like a twin should. New fuel injection ensures crisp throttle response and no-hassle starts even on cold mornings. And a newly designed exhaust system brings it all to a crescendo with a V-twin sound and power-pulse sensations unlike any other.

The 2010 Interstate. Isn't it time you had a long-distance love affair?

52º of Separation.
A powerful 1312cc, 52º V-twin engine with a single-pin crankshaft beats at the heart of the new Interstate, pumping out heaps of torque and fistfuls of on-highway passing power.
Cross-town Cool. Cross-country Capable.
With its retro chopper looks, Pro-Street brawn and touring comforts, the Interstate is proof that radical custom styling and long-range practicality can live in perfect harmony.

Available Spring 2010
Features/Benefits

– Stylish custom windscreen for rider and passenger touring comfort.
– Exclusive new leather-wrapped hard saddlebags are seamlessly integrated into the stylish progressive design. Unique new hidden latch system accentuates the uncluttered look.
– Floorboards enhance the retro look while providing all-day touring comfort.
– New progressive/retro styling with a raked-out front end and stylized curved frame downtube creates a unique custom look.
– New wide retro-styled pullback handlebar offers all-day comfort.
– Fuel tank capacity of 4.4 gallons gives plenty of riding range.
– 1312cc liquid-cooled 52-degree V-twin with Programmed Fuel Injection (PGM-FI) delivers strong low-end and mid-range torque, with ample power for passing and relaxed cruising. Unique dual exhaust offers throaty exhaust note.
Honda Genuine Accessories
– Boulevard Screen (tinted), Backrest and Pad (low/tall-narrow), Backrest and Rear Carrier Mounting Brackets, Leather Saddlebag (24L-plain/studded), Synthetic Saddlebag (18L-plain/studded), Saddlebag Bracket, Tank Belt (plain/studded), Rear Carrier, Custom Grips, Passenger Floorboard, Oil Dipstick, Engine Guard, Custom Footpeg, Lower Cowl Spoiler, Chrome Sidecover, Driving Light (PIAA Type), Throttle Cable (braided), Clutch Cable (braided), Front Brake Hose (braided), Rear Brake Hose (braided), Audio Attachment Kit.

2010 Honda VT1300CT Interstate – US Specifications
MSRP: $12,749.00 USD

Engine
Model: VT1300CT
Engine Type: 1312cc liquid-cooled 52° V-twin
Bore and Stroke: 89.5mm x 104.3mm
Compression ratio: 9.2:1
Valve Train: SOHC; three valves per cylinder
Induction: PGM-FI with automatic enrichment circuit, one 38mm throttle body
Ignition: Digital with 3-D mapping, two spark plugs per cylinder
Transmission: Five-speed
Final Drive: Shaft
Suspension
Front: 41mm fork; 4.0 inches travel
Rear: Single shock with; 3.9 inches travel
Brakes
Front: Single 336mm disc with twin-piston caliper
Rear: 296mm disc with single-piston caliper
Tires
Front: 140/80-17
Rear: 170/80-15
Wheelbase: 70.1 inches
Rake (Caster Angle): 33°
Trail: 118mm (4.6 inches)
Seat Height: 26.7 inches
Fuel Capacity: 4.4 gallons
Colors: Black, Pearl Blue
Curb Weight*: 679 pounds
*Includes all standard equipment, required fluids and full tank of fuel–ready to ride.
Meets current EPA standards.
California version meets current CARB standards and may differ slightly due to emissions equipment.
All figures are preliminary and subject to change.
2010 Honda VT1300CT Interstate – Canada Specifications
MSRP: $TBA CDN
TBA
Media/Press Releases

American Honda Announces Five Additional 2010 Models


American Honda Motor Company's Powersports Division announced today its fourth release of 2010 models. The release of these five on-road machines follows the earlier announcements of Honda's
2010 powersports lineup.
"These five street bikes add even more excitement to our lineup for 2010," said Powersports Press Manager Bill Savino. "Four of these bikes are new V-twins that dramatically expand our line of cruisers. The Sabre, Stateline, Interstate and Shadow RS V-twins unveil new styling and functional variations for Honda buyers, and we're excited about the new opportunities these machines present. The ST1300 continues to extend its reputation for long-haul performance with a sporting flair and it remains a popular choice among riders who live for the open road. This 2010 model year is shaping up very well, with lots of exciting options for Honda fans."

Sabre/Sabre ABS:
Sometimes you just want to wear your aggression on your sleeve, and that's why the new Sabre is ready to do your talking for you. The Sabre's muscular pro-street style provides a classic ride, with ergonomics to match. Add an impressive 1300cc V-twin engine complete with Honda's sophisticated Programmed Fuel Injection, and you'll be rolling down the meanest streets with a bike that's as tough as it looks: the 2010 Sabre. Also available with Anti Lock Braking, the Sabre comes in Black and Candy Red. In dealerships-March; ABS model April. MSRP: $11,799.00; ABS model $12,799.00.

Stateline/Stateline ABS:
Featuring long, low lines that embody what cruising is all about, the Stateline blends two worlds of motorcycling style: traditional looks plus progressive elements. The deeply valanced fenders arc downward in classic retro style, yet the all-new rolling chassis and overall lines bring a fresh look to the class. Add to that the deep throaty rumble of a big V-twin engine with Honda's Programmed Fuel Injection and that classic big V power pulse, and you have a machine that's the perfect choice for cruising-any time you want. The Stateline is available with or without ABS in Black and Candy Dark Red. In dealerships-February; ABS model March. MSRP: $11,699.00; ABS model $12,699.00

Interstate:
When you're aboard one of the coolest rides around, sometimes you just don't want the ride to end. So for those who enjoy their long rides in high style, Honda introduces the new Interstate. Along with good looks and a big V-twin engine with Honda's Programmed Fuel Injection, the stylish hard leather bags offer ample room for a long getaway, with a traditional windscreen and floorboards delivering all-day riding comfort for those extra-long hauls. Available in Black and Pearl Blue. In dealerships-February. MSRP: $12,749.00

Shadow RS:
Here's rolling proof that classic ideas never go out of style: the 2010 Honda Shadow® RS. This agile and responsive V-twin roadster has clean, crisp lines and a standard riding ergonomics. The Shadow RS's higher pegs enhanced ground clearance, and its thoroughly modern liquid-cooled 745cc V-twin engine with Honda's sophisticated Programmed Fuel Injection adds to the riding pleasure. Savor the open road aboard the Honda Shadow RS. Available in Metallic Gray and Pearl White. In dealerships-March. MSRP: $7,799.00
ST1300/ST1300ABS
Long distance adventure is best experienced aboard a machine that's keenly in tune with your riding senses. For years, the Honda ST1300 has answered the call of the open road by setting the standard for power and handling in a package that's the perfect fit for crisscrossing the USA, or just enjoying a long weekend on the road. Equipped with a powerful 1261cc V-4 engine and Honda's sophisticated Programmed Fuel Injection, plus full-coverage bodywork, three-way adjustable rider's seat, motor-driven adjustable windscreen, dual saddlebags and more, the ST1300 remains the choice of dedicated long-haul riders. The ST is available with and without ABS in Black. In dealerships-March. MSRP: TBD