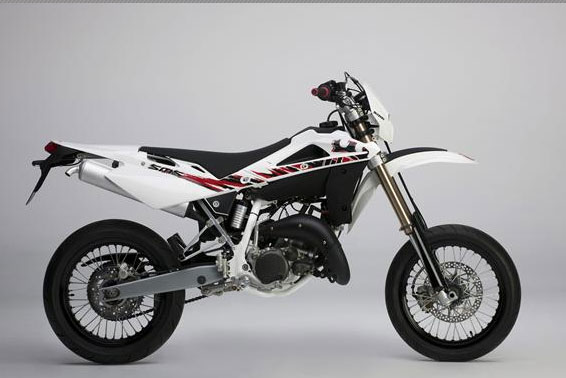 Back to 2010 Husqvarna Motorcycle Index Page
Click photos to enlarge.
They make great desktop images.
– 2010 Husqvarna SM125

2010 Husqvarna SM125
The SM 125 has become an icon for sixteen-year-olds, a sales phenomenon and a new fashion.
It is the starting point for those who want to experience the thrills of off-roading but who also want a bike that is perfectly suited to everyday use. Easy to ride, light and manoeuvrable, the 2010 version of the SM 125 has everything it takes to become leader in its class. There are two colour schemes available. The red and white colour scheme that graces all off-road models is now enhanced by the addition of body panels with "In–Mould Decoration" graphics. The black and white version also replicates race bike colours. The white frame and black anodised wheels make the two-stroke look more like the bigger four-stroke version. The highly successful 125 engine has seen improvements "borrowed" from racing models and has been tuned to improve pick-up and offer more output in the low to mid range power band. The SM 125 features integrated ECS (Electronic Carburetion System) that administers exactly the right amount of fuel (both the air/petrol and oil mix) and that was developed in collaboration with Dell'Orto. The control unit also governs the ignition system. While keeping costs under control and sales prices competitive, this brings the two-stroke 125 engine to Euro 3 standards yet keeps all the advantages that two-stroke engines offer: lightness, performance and low running costs. As regards suspension, the SM 125 now has specially designed PaioIi forks to enhance the performance characteristics of the model and match the shock absorber. The new digital instrumentation displays speed, time, mileage, rpm and has a trip-meter as well as the normal warning lights (indicators, full beam, dipped beam, service due etc.).

2010 Husqvarna SM125 – Specifications
MSRP: $TBA USD

Technical data

General features

Dimensions, weight, capacities
INTERASSE / Wheelbase ………………………. mm/in. 1470 / 57.87
LUNGHEZZA TOTALE / Overall lenght ……. mm/in. 2210 / 87
LARGHEZZA MAX. / Overall width ………… mm/in. 825 / 32.48
ALTEZZA MAX. / Overall height …………….. mm/in. 1175 / 46.26
ALTEZZA SELLA / Saddle height …………… mm/in. 870 / 34.25
ALTEZZA MIN.DA TERRA /
Min. ground clearance …………………………… mm/in. 265 / 10.43
AVANCORSA / Trail ……………………………… mm/in. 104 / 4.1
PESO IN ORDINE DI MARCIA, SENZA CARBURANTE/
Kerb weight, without fuel ……………………… Kg/lb. 113,5 / 250.2
CAPACITÀ SERBATOIO CARBURANTE /
Fuel tank capacity ………………………………… l 9,5
U.S. Gallons 2.5
Imp. Gallons 2.09
Q.TA' OLIO NEL BASAMENTO
Transmission oil ……………………………………. l 0,65
U.S. Quarts 0.69
Imp. Quarts 0.57
MOTORE / Engine
CARATTERISTICHE / Characteristics
TIPO / Type
MONOCILINDRICO 2 TEMPI / Single cylinder, two stroke
ALESAGGIO / Bore ………………………………. mm/in. 54 / 2.12
CORSA / Stroke ……………………………………. mm/in. 54,5 / 2.14
CILINDRATA / Displacement …………………… cm3/cu.in. 124,82 / 7.61
RAPPORTO DI COMPRESSIONE (A LUCI CHIUSE) /
Compression ratio (at closed ports) ……………………………………….. 8,8: 1
AVVIAMENTO / Starting ………………………… A PEDALE / Kick starter
RAFFREDDAMENTO / Cooling ………………… A LIQUIDO / By liquid
RADIATORI ACQUA / Water radiator ………. N°/No 2
DISTRIBUZIONE / Timing system
TIPO / Type
VALVOLA LAMELLARE IN ASPIRAZIONE NEL CARTER, VALVOLA
"H.T.S." A COMANDO MECCANICO SULLO SCARICO / Reed valve in
the crankcase and "H.T.S." valve with mechanic control on the
exhaust port
DIAGRAMMA DISTRIBUZIONE/ Valve timing
SCARICO / Exhaust …………………………………………………………………175°
ASPIRAZIONE / Intake ……………………………… LAMELLARE / Reed valve
TRAVASO / Transfer ………………………………………………………………114°
LUBRIFICAZIONE / Lubrication

MOTORE / Engine
MEDIANTE POMPA ELETTRICA/ By electrical pump
CAMBIO -TRASMISSIONE PRIMARIA / Transmission- primary drive
MEDIANTE L'OLIO CONTENUTO NEL BASAMENTO / By the oil
contained in the crankcase
ACCENSIONE / Ignition
TIPO / Type
ELETTRONICA DIGITALE A SCARICA CAPACITIVA CON ANTICIPO
VARIABILE / C.D.I. electronic, digital type, with adjustable advance
TIPO CANDELA / Spark plug type …………… "CHAMPION" QN84/"NGK"
BR 9EG
DISTANZA ELETTRODI / Spark plug gap …. mm/in 0,6 / 0.024
ALIMENTAZIONE/ Fuel system
MARCA E TIPO DI CARBURATORE / Carburetor manufacturer and
type …………………………………………………….. "DELL'ORTO" VHST 28-CS
DIAMETRO DIFFUSORE / Venturi diameter . mm/in. 28 / 1.1
FRIZIONE / Clutch
TIPO / Type
MULTIDISCO IN BAGNO D'OLIO CON COMANDO MECCANICO / Wet,
multiplate type; mechanic control
N° DISCHI CONDUTTORI / Driving disc no ………………………………………. 7
N° DISCHI CONDOTTI / Driven disc no …………………………………………… 6
TRASMISSIONE PRIMARIA / Primary drive
PIGNONE MOTORE / Engine sprocket ……… Z/Teeth 22
CORONA FRIZIONE / Clutch gear ……………. Z/Teeth 72
RAPPORTO DI TRASMISSIONE / Transmission ratio 3.272
CAMBIO VELOCITÀ/ Transmission
TIPO / Type
CON INGRANAGGI SEMPRE IN PRESA / Constant mesh gear type
N° MARCE / Speed gears no ………………………………………………………… 6
RAPPORTI DI TRASMISSIONE / Internal ratios
…………………………………………………………… 1ª/1st 2,692 (35/13)
…………………………………………………………… 2ª/2nd 1,800 (27/15)
…………………………………………………………… 3ª/3rd 1,333 (24/18)
…………………………………………………………… 4ª/4th 1,100 (22/20)
…………………………………………………………… 5ª/5th 0,954 (21/22)
…………………………………………………………… 6ª/6th 0,869 (20/23)
TRASMISSIONE SECONDARIA / Secondary drive
PIGNONE USCITA CAMBIO /
Transmission sprocket ………………………….. Z/Teeth 14
CORONA POSTERIORE /
Rear wheel sprocket …………………………….. Z/Teeth 49
RAPPORTO DI TRASMISSIONE /
Transmission ratio ……………………………………………………………….. 3,500
CATENA DI TRASMISSIONE / Driving chain
MARCA E TIPO / Manufacturer and type …. "REGINA" 135RX-5/8″x1/4″;
……………………………………………………………….. "D.I.D." 520DS-5/8″x1/4″
RAPPORTI TOTALI DI TRASMISSIONE / Overall ratios
…………………………………………………………… 1ª/1st 30,839
…………………………………………………………… 2ª/2nd 20,618
…………………………………………………………… 3ª/3rd 15,273
…………………………………………………………… 4ª/4th 12,600
…………………………………………………………… 5ª/5th 10,934
…………………………………………………………… 6ª/6th 9,960



MOTOTELAIO / Chassis
TELAIO / Frame
TIPO / Type
A DOPPIA CULLA IN ACCIAIO IN TUBI A SEZIONE CIRCOLARE;
TELAIETTO POSTERIORE IN ACCIAIO IN TUBI A SEZIONE QUADRATA/
Double tube cradle with steel round tubes; rear frame with steel
square tubes
SOSPENSIONE ANTERIORE / Front suspension
TIPO / Type
FORCELLA TELEIDRAULICA A STELI ROVESCIATI E PERNO AVANZATO
/ "Upside-Down" telescopic hydraulic fork with advanced axle
Ø STELI / Fork legs dia. …………………………. mm/in. 41 /1.61
CORSA SULL'ASSE GAMBE /
Travel on legs axis ……………………………….. mm/in. 271 / 10.67
MARCA FORCELLA /
Front fork manufacturer ……………………………………………………. "PAIOLI"
SOSPENSIONE POSTERIORE / Rear suspension
TIPO / Type
PROGRESSIVA "SOFT DAMP" CON MONOAMMORTIZZATORE
IDRAULICO; REGOLAZIONE DEL PRECARICO DELLA MOLLA /
Progressive "Soft Damp" type with single hydraulic shock absorber;
spring preload adjustment
CORSA RUOTA / Wheel travel ……………….. mm/in. 282 / 11.1
MARCA AMMORTIZZATORE /
Shock absorber manufacturer …………………………………………… "PAIOLI"
FRENO ANTERIORE / Front brake
TIPO / Type
A DISCO FISSO CON COMANDO IDRAULICO E PINZA FLOTTANTE /
Fixed disc type with hydraulic control and floating caliper
Ø DISCO / Disc dia. ……………………………….. mm/in 260 / 10.24
FRENO POSTERIORE / Rear brake
TIPO / Type
A DISCO FISSO CON COMANDO IDRAULICO E PINZA FLOTTANTE /
Fixed disc type with hydraulic control and floating caliper
Ø DISCO / Disc dia. ……………………………….. mm/in 220 / 8.66
CERCHIO ANTERIORE / Front rim
MATERIALE / Material…………………………. LEGA LEGGERA / Light alloy
DIMENSIONI / Size …………………………………. 2,75"x17"
CERCHIO POSTERIORE / Rear rim
MATERIALE / Material…………………………. LEGA LEGGERA / Light alloy
DIMENSIONI / Size …………………………………. 4,25"x17"
PNEUMATICO ANTERIORE / Front tire
TIPO / Type ………………………………………………………. "DUNLOP" D208-F/
"PIRELLI" Diablo 54H TL
DIMENSIONI / Size …………………………………………………………. 110/70-17″
PNEUMATICO POSTERIORE / Rear tire
TIPO / Type ………………………………………………………. "DUNLOP" D207-F/
"PIRELLI" Diablo 66H TL
DIMENSIONI / Size …………………………………………………………. 150/60-17″
IMPIANTO ELETTRICO / Electrical equipment
TENSIONE IMPIANTO / Voltage ………………………………………………… 12 V
POTENZA LAMPADE / Lamps wattage
FANALE ANTERIORE / Head light ……………………………………….. 35/35 W
LUCE DI POSIZIONE / Pilot light …………………………………………………..3 W
FANALE POSTERIORE / Tail light ………………………………………………..5 W
LUCE STOP / Stop light ………………………………………………………….. 21 W
INDICATORI DIREZIONE / Turn signals …………………………………….. 10 W
BATTERIA / Battery ……………………………………………………….. 12 V-4 Ah