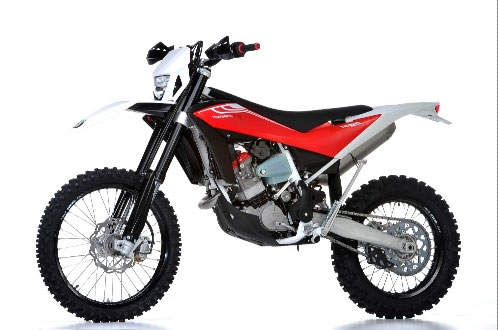 Back to 2010 Husqvarna Motorcycle Index Page
Click photos to enlarge.
They make great desktop images.
– 2010 Husqvarna TE511

2010 Husqvarna TE511
Husqvarna and Enduro are intrinsically linked. They are connected by races, victories and mile after mile of off-road riding in the most extreme conditions. It is thanks to their years of experience that Husqvarna lead the field in this sector and continue to manufacture state-of-the-art machines.
The new 2010 range has been further improved by heeding the recommendations of official team riders such as Antoine Meo, Seb Guillaume and Bartoz Oblucki. Champion in their fields. Champions at testing.
Thanks to them, the new Husqvarna enduros now come with new suspension systems, new frames with improved handling, new exhaust pipes with improved engine response and there is also a completely new machine, the fuel-injected TE 250.
Summary of new items on enduro models for 2010:
– NEW IPD (IN–MOULD PLASTIC DECORATION) GRAPHICS ON TANK SIDES AND NUMBER PLATE HOLDER.
– NEW STRONGER, MORE FLEXIBLE PLASTICS.
– NEW 48 MM KAYABA FORKS (EXCLUDING WR 125 AND TE310).
– NEW FORK CLAMPS FOR KAYABA FORKS
– NEW MORE POWERFUL FRONT HEADLIGHT (ON TE MODELS)
– NEW REAR MUDGUARD WITH INTEGRATED RACE NUMBER PLATE AND HOMOLOGATED NUMBER PLATE. MORE
AGGRESSIVE, COMPACT LOOK.
– NEW REAR LAMP CLUSTER WITH MORE POWERFUL/BETTER-PROTECTED LED LIGHTS.
– NEW EXHAUST PIPE (WR 125 – WR 300) FOR IMPROVED POWER DISTRIBUTION
– NEW SILENCER (WR 125)
– FRAME REINFORCED IN THE MOST CRITICAL AREAS (WR125 AND ALL TES)
– REAR SWING ARM SHORTENED BY 15 MM (TE) FOR IMPROVED TRACTION AND MANOEUVRABILITY.
– NEW RADIATOR CONNECTORS AND HOSES. (TE MODELS ONLY)
– NEW MORE POWERFUL WATER PUMP (TE MODELS ONLY)
– NEW SACHS REAR SHOCK ABSORBER (WR125)
– TE 250 COMPLETELY NEW MODEL WITH FUEL INJECTED ENGINE
2010 Husqvarna TE511 – Specifications
MSRP: $TBA USD

TDA. See Husqvarna.