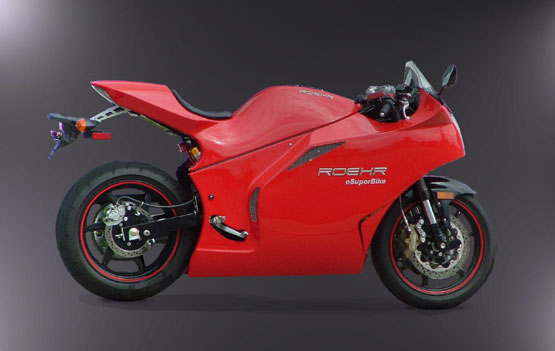 Back to 2010 Roehr Motorcycle Index Page
Click photos to enlarge.
They make great desktop images.
– 2010 Roehr eSuperSport

2010 Roehr eSuperSport
The eSupersport is the entry level of electric sportbike performance. Although it is entry level, it is first and foremost a sportbike, as such, it is equipped with quality suspension, brakes and running gear. From the 41mm inverted front forks, single shock rear suspension with progressive linkage, to the dual 300mm front brake discs and light weight 17 inch aluminum wheels with sportbike sized tires, this motorcycle reaches far beyond your typical entry level offerings.
Power is provided by a single AC Induction Motor producing 48hp, and 8000 RPM capability. AC motor technology, with it's higher efficiency, superior reliability and efficient energy regeneration has proven itself superior to it's DC motor counterpart.
The eSuperSport also uses state-of-the-art Lithium Iron Phosphate large format cylindrical battery cells capable of up to 15C of output. This, combined with 5.8Kwh's of battery capacity provide unparalleled levels of entry level performance and range.
A new American Classic

The dream of owning an American made sport bike that could hold it's own against the world's finest machines has been a dream for many. This dream is now a reality. Not only is the Roehr eSuperSport the fastest and most powerful American production sport bike, but one of the top performing machines in the world.
The eSuperSport represents the birth of a new American motorcycle brand. A brand committed to producing beautiful, high performance machines made in the USA. The "can do" spirit that made America great is alive and well at Roehr Motorcycles. This passion is the foundation of our brand and expressed through our products.
The Roehr eSuperSport, the rebirth of American world class performance.
The excitement is electric
The eRoehr electric motorcycle model lineup consists of three motorcycles, each one uniquely equipped and priced to appeal to a wide range of customer budgets and desires. Each model shares at its core the Roehr Brand DNA of performance, style, and quality.

Key Features

Roehr Bi-Metal Frame Technology

The eRoehr Series feature a unique Bi-Metal beam frame. The frame is constructed of 4130 Chrome-Moly steel and 6061 T6 Aluminum. This method allows each material to be used in areas of the frame that their material characteristics are best suited.

A motorcycle frame needs to be strong, stiff and light weight, but also needs to flex just enough under certain conditions. This controlled flex provides essential information, providing the rider with added confidence near the limits of tire grip. Additionally, this flex also adds a level of dampening which is especially beneficial when the motorcycle is leaned over on the edges of the tires. Under these conditions the motorcycle's suspension effectiveness is dramatically reduced due to road forces no longer acting on the suspension at parallel angles.

The Roehr Bi-metal frame provides a level of dampening that allows the tire to better follow road irregularities under these conditions.

Through the use of computer assisted finite element analysis, the Bi-metal frame was designed using large section, thin wall, 4130 steel, main chassis beams to provide a stiff yet soft structure that is bonded and bolted to extremely strong, stiff yet light weight billet aluminum swing arm pivot plates.
By combining these materials into one structure, the Roehr Bi-Metal frame provides the ultimate combination of strength, stiffness, controlled flex and light weight. This unique frame technology is a major contributor to the stellar handling characteristics of the eRoehr series.

2010 Roehr eSuperSport – Specifications
MSRP: $16,965 USD
Drivetrain:
Single AC Induction Motor
48 HP
Single speed direct drive
Ratio 12:60

Batteries:
Large format, cylindrical LiFePo4
Capacity: 5.8 Kw/h
96 Volts/ 60Ah
600 amps (continuous)
900 amps (max)
Battery Management System:
LVC, HVC, Shunt balancing
On- board 15 amp charger

Chassis:
Steel twin spar beam frame with integral
motor and battery mounting substructure.
Rake: 24deg
Trail: 89mm
Wheelbase: 56in.

Suspension:
Front:
41 mm inverted front forks
Rear:
Single shock with linkage

Wheels:
Front:
3.0 x 17 6 spoke aluminum
Rear:
4.0 x 17 6 spoke aluminum
Brakes:
2 x 300mm discs
2 x 2 piston front calipers
Tires:
110/70/17 front
150/60/17 rear

Overall weight:
395 lbs.

MSRP:
$16,965
Roehr Motorcycle Press Release:
Roehr Motorcycles to introduce a line of electric sport and racing motorcycles.
Roehr Motorcycles LLC, the maker of the fastest and most powerful American production sportbike, the 180hp,1250sc, will introduce a line of electric sport and racing motorcycles in the spring of this year.
The new eRoehr model range will consist of two models, the powerful eSuperbike and the lower spec'd eSupersport.

Both models will feature state-of-the-art AC induction motor, and advanced high energy, Lithium ion battery technologies.

Fresh, modern styling, combined with advanced electric vehicle drive technology will raise the standards of electric motorcycle performance and desirability to new levels.
The powerful new electric eSuperbike model will feature 96 hp, and 210 lb/ft of torque and a high energy discharge, 10 Kwh, lithium iron phosphate battery pack.This results in a machine capable of high top speeds, and blistering acceleration that only the seamless and instantaneous torque of electric motor drive can provide.

The eSuperbike will also feature premium suspension and brake components, providing race level performance and safety margins.
The eSupersport model features a 48 hp, 105 lb/ft of torque, AC induction motor, with a high energy 6 Kwh Lithium iron phosphate battery pack. The eSupersport will be the entry level of electric sportbike performance, providing a 100 mph top speed with smooth and effortless acceleration.
The powerful eSuperbike will be the basis of Roehr Motorcycles' entry into the upcoming 2010 US TTXGP series. Roehr Motorcycles will also be offering race prepared versions of the eSuperbike for teams or individuals competing in the upcoming TTXGP, and FIM e-Power racing series'.