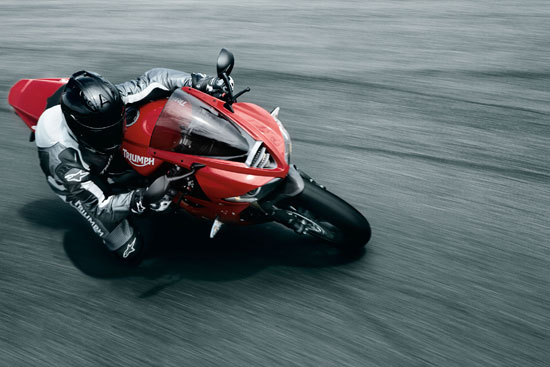 Back to 2010 Triumph Motorcycle Index Page
Click photos to enlarge.
They make great desktop images.
– 2010 Triumph Daytona 675

2010 Triumph Daytona 675
Class leading sportsbike. Stunning agility.
The best supersport bike in the world or a class of its own? Designed for the racetrack, to compete with the best in the supersport class, Triumph's Daytona 675 is the bike to beat on both the road and the track.
Winner of the 2009 Supertest 'King of Supersports' award (for the fourth time) and MCN's Sportsbike of the Year, the Daytona 675 delivers a killer blow with its combination of outstanding handling and a storming three-cylinder engine.
With the lightest and narrowest chassis in the class, the Daytona 675 delivers outstandingly agile and intuitive handling. Fully adjustable suspension front and rear, with separate adjustment for high and low speed compression damping, gives the Daytona 675 superb composure on all surfaces, while top-of-the-range monobloc radial brake calipers up front deliver eye-popping stopping power.
But it is the engine that makes the Daytona 675 stand apart from the competition. With 126 bhp and more torque than the competition, the 675cc triple offers an exhilarating ride. With its unique, wicked three-cylinder howl, the Daytona 675 delivers an unadulterated experience like no other sport bike.
Updates for 2010 include new instruments, decals and a new color option in Caspian Blue paint with gold wheels.
Features and Benefits
Engine
Triumph's R&D department has taken an evolutionary approach with the 2010 Daytona, using experience gained from racing in the Supersport World Championship to develop the new machine. The latest specification 675cc three-cylinder engine revs to a 13,900rpm redline and pumps out a mighty 126 bhp.

Frame
The Daytona 675's aluminum frame is fabricated with open-back cast spars which wrap over the top of the motor, accentuating the benefits of the narrow three-cylinder design. The lightest frame in its class, it weighs in at a mere 19 lbs.

Suspension
The fully-adjustable 41mm upside down forks and rear monoshock unit both benefit from highly sophisticated high and low speed damping control, allowing riders to set their Daytona up with maximum accuracy. This track-bred suspension gives razor sharp handling and can be tuned by the rider to suit their own style.

Brakes
New radial-mount Nissin monobloc brakes are mounted to twin 308mm discs for stunning levels of stopping power and rider feedback.

Instruments
The Daytona 675's digital instrument console has all the usual trip functions as well as displaying average fuel economy. Also featured is a sophisticated lap timer – useful for comparing successive lap times on a circuit as well as average and maximum speed for each lap.
2010 Triumph Daytona 675 – USA Specifications
MSRP: $9,999 USD
Engine

Type
Liquid-cooled, 12 valve, DOHC, in-line 3-cylinder

Capacity
675cc

Bore/Stroke
74 x 52.3 mm

Compression Ratio
12.65:1

Fuel System
Multipoint sequential electronic fuel injection with forced air induction and SAI

Transmission

Final Drive
O ring chain

Clutch
Wet, multi-plate

Gearbox
6-speed, close ratio

Cycle Parts

Frame
Aluminum beam twin spar

Swingarm
Braced, twin-sided, aluminum alloy with adjustable pivot position

Front Wheel
Cast aluminum alloy 5-spoke, 17 x 3.5in

Rear Wheel
Cast aluminum alloy 5-spoke, 17 x 5.5in

Front Tyre
120/70 ZR 17

Rear Tyre
180/55 ZR 17

Front Suspension
Kayaba 41mm upside down forks with adjustable preload, rebound and high/low speed compression damping, 130mm rear wheel travel

Rear Suspension
Kayaba monoshock with piggy back reservoir adjustable for preload, rebound and high/low speed compression damping, 130mm rear wheel travel

Front Brakes
Twin 308mm floating discs, Nissin 4-piston radial mono-block calipers

Rear Brakes
Single 220mm disc, Nissin single piston caliper

Dimensions

Length
79.5 in

Width (Handlebars)
27.9 in

Height
43.5 in

Seat Height
32.7 in

Wheelbase
55.7 in

Rake/Trail
23.9 degree / 89.1 mm

Wet Weight
407 lbs

Fuel Tank Capacity
4.6 US gals

Performance (measured at crankshaft to 95/1/EC)

Maximum Power EC
124bhp @ 12600 rpm

Maximum Torque EC
53 ft.lbs @ 11700 rpm

Colours

Phantom Black, Tornado Red, Caspian Blue

Price

$9,999
2010 Triumph Daytona 675 – Canada Specifications
MSRP: Please contact your local Triumph dealer

Engine

Type
Liquid-cooled, 12 valve, DOHC, in-line 3-cylinder

Capacity
675cc

Bore/Stroke
74 x 52.3 mm

Compression Ratio
12.65:1

Fuel System
Multipoint sequential electronic fuel injection with forced air induction and SAI

Transmission

Final Drive
O ring chain

Clutch
Wet, multi-plate

Gearbox
6-speed, close ratio

Cycle Parts

Frame
Aluminium beam twin spar

Swingarm
Braced, twin-sided, aluminium alloy with adjustable pivot position

Front Wheel
Cast aluminium alloy 5-spoke, 17 x 3.5in

Rear Wheel
Cast aluminium alloy 5-spoke, 17 x 5.5in

Front Tyre
120/70 ZR 17

Rear Tyre
180/55 ZR 17

Front Suspension
Kayaba 41mm upside down forks with adjustable preload, rebound and high/low speed compression damping, 130mm rear wheel travel

Rear Suspension
Kayaba monoshock with piggy back reservoir adjustable for preload, rebound and high/low speed comporession damping, 130mm rear wheel travel

Front Brakes
Twin 308mm floating discs, Nissin 4-piston radial mono-block calipers

Rear Brakes
Single 220mm disc, Nissin single piston caliper

Dimensions

Length
2020 mm (79.5 in)

Width (Handlebars)
710 mm (27.9 in)

Height
1105 mm (43.5 in)

Seat Height
830 mm (32.7 in)

Wheelbase
1415 mm (55.7 in)

Rake/Trail
23.9 degree / 89.1 mm

Wet weight
185 kg (407 lbs)

Fuel Tank Capacity
17.4 litres (4.6 US gals)

Performance (measured at crankshaft to 95/1/EC)

Maximum Power EC
126PS / 124bhp / 93kW @ 12600 rpm

Maximum Torque EC
72Nm / 53 ft.lbs @ 11700 rpm

Colours

Phantom Black, Tornado Red
2010 Triumph Daytona 675 – UK Specifications
MSRP £7,589 OTR
Engine

Type
Liquid-cooled, 12 valve, DOHC, in-line 3-cylinder

Capacity
675cc

Bore/Stroke
74 x 52.3 mm

Compression Ratio
12.65:1

Fuel System
Multipoint sequential electronic fuel injection with forced air induction and SAI

Transmission
Final Drive

O ring chain
Clutch

Wet, multi-plate
Gearbox

6-speed, close ratio

Cycle Parts

Frame
Aluminium beam twin spar

Swingarm
Braced, twin-sided, aluminium alloy with adjustable pivot position

Front Wheel
Cast aluminium alloy 5-spoke, 17 x 3.5in

Rear Wheel
Cast aluminium alloy 5-spoke, 17 x 5.5in

Front Tyre
120/70 ZR 17

Rear Tyre
180/55 ZR 17

Front Suspension
Kayaba 41mm upside down forks with adjustable preload, rebound and high/low speed compression damping, 130mm rear wheel travel

Rear Suspension
Kayaba monoshock with piggy back reservoir adjustable for preload, rebound and high/low speed comporession damping, 130mm rear wheel travel

Front Brakes
Twin 308mm floating discs, Nissin 4-piston radial mono-block calipers

Rear Brakes
Single 220mm disc, Nissin single piston caliper

Dimensions

Length
2020 mm (79.5 in)

Width (Handlebars)
710 mm (27.9 in)

Height
1105 mm (43.5 in)

Seat Height
830 mm (32.7 in)

Wheelbase
1415 mm (55.7 in)

Rake/Trail
23.9 degree / 89.1 mm

Wet weight (homologated)
185 kg (407 lbs)

Fuel Tank Capacity
17.4 litres (4.6 US gals)

Performance (measured at crankshaft to 95/1/EC)

Maximum Power EC
126PS / 124bhp / 93kW @ 12600 rpm

Maximum Torque EC
72Nm / 53 ft.lbs @ 11700 rpm

Colours

Phantom Black, Tornado Red

Price

£7,589 OTR