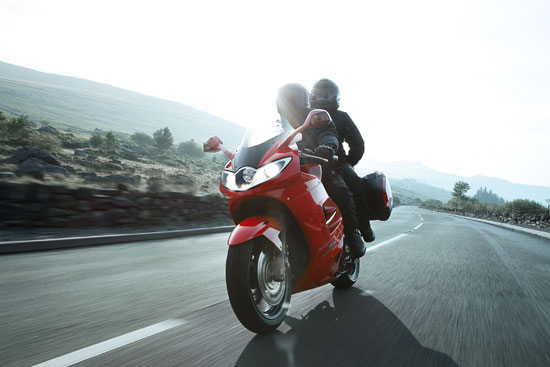 Back to 2010 Triumph Motorcycle Index Page
Click photos to enlarge.
They make great desktop images.
– 2010 Triumph Sprint ST

2010 Triumph Sprint ST
The ultimate sports tourer.
Sports. Touring. Two words which equally describe Triumph's great all-rounder.
Equally capable of crossing continents or taking on a track day, the Sprint ST is one of those rare contradictions, a compromise without compromise.
Triumph's addictive 1050cc triple has been tuned to deliver 125 bho, with seamless drive from low rpm. Striking details like the single-sided swingarm, triple-outlet underseat exhaust and aerodynamic three headlight cockpit give the Sprint ST a distinctive sporting look. Color matched hard bags, ergonomic seat design and optional ABS give the Sprint ST its outstanding practicality.
A comprehensive range of official Triumph accessories including color matched top box, center stand, aero screen, gel seat, heated grips and electrical output sockets further add to the Sprint ST's touring personality. Like all Triumph's, the Sprint ST comes with a two year, unlimited mileage warranty, although, as winner of Motorrad's 50,000km endurance test in 2007, we don't expect you will need it.
Features and Benefits
Engine
The Sprint ST houses a fantastic 1050cc fuel injected three-cylinder engine, the very essence of what makes a Triumph special. The engine has huge reserves of torque and horsepower. Peak power is an impressive 125bhp at 9,250rpm while peak torque of 77ft.lbf arrives at just 7,500rpm. Enhancing the engine is a smooth six-speed gearbox and clutch fitted with an anti-backlash gear. The Sprint ST comes with Triumph's Keihin ECU offering sophisticated mapping for quicker starting, cleaner running and fuel economic engine.

Seat
The supportive, spacious seat and relaxed rider and passenger ergonomics make for great comfort on long distance trips.

Screen
The Sprint ST screen gives great wind protection for those long journeys without obscuring your view around town.

Hard bags/Panniers
Color matched, factory designed, waterproof hard bags are fitted as standard and are lockable with the bike's ignition key. To further increase carrying capacity you can add a matching top box from Triumph's wide range of accessories.

ABS
Triumph's Antilock Braking System has been carefully designed to boost control under hard braking, working on both wheels independently. This unobtrusive system retains all the sensations of riding, operating at 100 calculations per second to sense the precise moment the wheel is about to lock up, then preventing it from doing so. The system has been specifically tailored to the Sprint ST, with painstaking calibration over many months to ensure optimum braking performance.
2010 Triumph Sprint ST – USA Specifications
MSRP: $11,999 / ABS $12,799 USD
Engine

Type
Liquid-cooled, 12 valve, DOHC, in-line 3-cylinder

Capacity
1050cc

Bore/Stroke
79 x 71.4 mm

Compression Ratio
12.0:1

Fuel System
Multipoint sequential electronic fuel injection with SAI

Transmission

Final Drive
X ring chain

Clutch
Wet, multi-plate

Gearbox
6-speed

Cycle Parts

Frame
Aluminum beam perimeter

Swingarm
Single-sided, aluminum alloy with eccentric chain adjuster

Front Wheel
Cast aluminum alloy 5 -spoke, 17 x 3.5in

Rear Wheel
Cast aluminum alloy 5 – spoke, 17 x 5.5in

Front Wheel
120/70 ZR 17

Rear Tyre
180/55 ZR 17

Front Suspension
Showa 43mm cartridge forks with dual rate springs and adjustable preload 127mm travel

Rear Suspension
Showa monoshock with adjustable preload and rebound damping, 119mm rear wheel travel

Front Brakes
Twin 320mm floating discs, Nissin 4-piston calipers (ABS model available)

Rear Brakes
Single 255mm disc, Nissin 2-piston sliding caliper (ABS model available)

Dimensions

Length
83.2 in

Width (Handlebars)
29.5 in

Height
47.8 in

Seat Height
31.7 in

Wheelbase
57.3 in

Rake/Trail
24 degree / 90 mm

Wet Weight
530 lbs

Fuel Tank Capacity
5.3 US gals

Performance (measured at crankshaft to 95/1/EC)

Maximum Power EC
123bhp @ 9,100 rpm

Maximum Torque EC
76 ft.lbs @ 7,500 rpm

Colours

Phantom Black, Tornado Red

Price

$11,999 / ABS $12,799
2010 Triumph Sprint ST – Canada Specifications
MSRP: Please contact your local Triumph dealer

Engine

Type
Liquid-cooled, 12 valve, DOHC, in-line 3-cylinder

Capacity
1050cc

Bore/Stroke
79 x 71.4 mm

Compression Ratio
12.0:1

Fuel System
Multipoint sequential electronic fuel injection with SAI (except NZ, ZA, AU)

Transmission

Final Drive
X ring chain

Clutch
Wet, multi-plate

Gearbox
6-speed

Cycle Parts

Frame
Aluminium beam perimeter

Swingarm
Single-sided, aluminium alloy with eccentric chain adjuster

Front Wheel
Cast aluminium alloy 5 -spoke, 17 x 3.5in

Rear Wheel
Cast aluminium alloy 5 – spoke, 17 x 5.5in

Front Wheel
120/70 ZR 17

Rear Tyre
180/55 ZR 17

Front Suspension
Showa 43mm cartridge forks with dual rate springs and adjustable preload 127mm travel

Rear Suspension
Showa monoshock with adjustable preload and rebound damping, 119mm rear wheel travel

Front Brakes
Twin 320mm floating discs, Nissin 4-piston calipers (ABS model available)

Rear Brakes
Single 255mm disc, Nissin 2-piston sliding caliper (ABS model available)

Dimensions

Length
2114 mm (83.2 in)

Width (Handlebars)
750 mm (29.5 in)

Height
1215 mm (47.8 in)

Seat Height
805 mm (31.7 in)

Wheelbase
1457 mm (57.3 in)

Rake/Trail
24 degree / 90 mm

Wet weight
241 kg (530 lbs)

Fuel Tank Capacity
20 litres (5.3 US gals)

Performance (measured at crankshaft to 95/1/EC)

Maximum Power EC
125PS / 123bhp / 92kW @ 9100 rpm

Maximum Torque EC
103Nm / 76 ft.lbs @ 7500 rpm

Colours

Phantom Black
2010 Triumph Sprint ST – UK Specifications
MSRP Standard – £8,349 OTR; ABS – £8,849 OTR
Engine

Type
Liquid-cooled, 12 valve, DOHC, in-line 3-cylinder

Capacity
1050cc

Bore/Stroke
79 x 71.4 mm

Compression Ratio
12.0:1

Fuel System
Multipoint sequential electronic fuel injection with SAI (except NZ, ZA, AU)

Transmission

Final Drive
X ring chain

Clutch
Wet, multi-plate

Gearbox
6-speed

Cycle Parts

Frame
Aluminium beam perimeter

Swingarm
Single-sided, aluminium alloy with eccentric chain adjuster

Front Wheel
Cast aluminium alloy 5 -spoke, 17 x 3.5in

Rear Wheel
Cast aluminium alloy 5 – spoke, 17 x 5.5in

Front Wheel
120/70 ZR 17

Rear Tyre
180/55 ZR 17

Front Suspension
Showa 43mm cartridge forks with dual rate springs and adjustable preload 127mm travel

Rear Suspension
Showa monoshock with adjustable preload and rebound damping, 119mm rear wheel travel

Front Brakes
Twin 320mm floating discs, Nissin 4-piston calipers (ABS model available)

Rear Brakes
Single 255mm disc, Nissin 2-piston sliding caliper (ABS model available)

Dimensions

Length
2114 mm (83.2 in)

Width (Handlebars)
750 mm (29.5 in)

Height
1215 mm (47.8 in)

Seat Height
805 mm (31.7 in)

Wheelbase
1457 mm (57.3 in)

Rake/Trail
24 degree / 90 mm

Wet weight (homologated)
241 kg (530 lbs)

Fuel Tank Capacity
20 litres (5.3 US gals)

Performance (measured at crankshaft to 95/1/EC)

Maximum Power EC
125PS / 123bhp / 92kW @ 9100 rpm

Maximum Torque EC
103Nm / 76 ft.lbs @ 7500 rpm

Colours

Phantom Black

Price

Standard – £8,349 OTR; ABS – £8,849 OTR