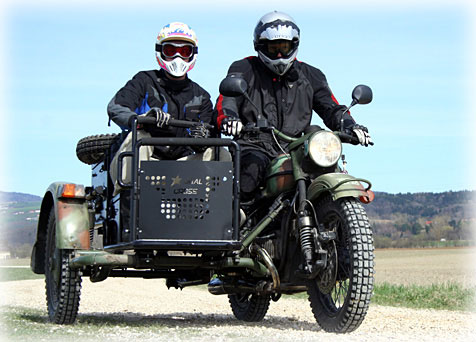 Back to 2010 Suzuki Motorcycle Index Page
Click photos to enlarge.
They make great desktop images.
– 2010 Ural Cross

2010 Ural Cross
Ural Cross

Ural motorcycles have evolved slowly and steadily since their birth in 1941. Major changes do not happen often, but about every 10 years there are noticeable technical improvements including 12 volt electrics, better lighting, improved braking, more power, and reverse gear.
During all of this development the shape and style of the sidecar body has not changed.
The introduction of the all new "Ural Cross" sidecar body, developed by the European distributor is truly revolutionary. The "Ural Cross" sidecar has been developed as a result of customer demand in Europe for more focused adventure motorcycle. A sidecar capable of carrying more varied loads over rough terrain, snow covered mountains and even competing in amateur off road competition.
For off road competition it is not necessary to have a well-padded, comfortable seat for the passenger. The "Ural Cross" has multiple hand-holds as it is important that the passenger can move around acting as a co-pilot to add stability and traction when needed in competition events.
The adventure rider considering an around the world trip has slightly different requirements. The "Ural Cross" has secure lockable storage as well as a large flat open loading area with plenty of tie down points for awkward loads. The moveable co-pilot grab bar quickly converts the Ural cross sidecar into a cargo sidecar.
The "Ural Cross" is available with or without selectable sidecar drive for European countries that drive on the right, and single wheel drive for countries that drive on the left. The "Ural Cross" is equipped with additional engine protection and a spare wheel on all models. Higher specification models also include a spade, first aid box and fuel can. Further accessories can be added to all models.
For those who already own a Ural combination the "Ural Cross" sidecar body is available separately. Simply unbolt the standard body and replace it with the new "Ural Cross" body. The combination is then ready for your adventure in any weather. If you want to carry your passengers in more comfort again, simply swap the sidecar bodies over.
More details are available from your Ural dealer.

2010 Ural Cross – Specifications
MSRP: See your URAL dealer

Engine
Type Air cooled 2-cylinder 4-stroke Boxer engine
Bore/stroke 78 mm x 78 mm
Capacity 745 cc
Rated output 29 kW at 5,600 rpm
Max. torque 52 Nm at 4,000 rpm
Carburator Twin KEIHIN L22A A
Max. speed approx.100 km/h
Ignition Electronic

Power transmission
Clutch Dry double disc
Gearbox 4 speed plus 1 reverse
Final drive Bevel gear with drive shaft
Starting Electric plus kickstart

Chassis/Brakes
Frame Double loop steel tube
Front suspension Leading link forks with hydraulic spring shock
absorbers – 5 x adjustable
Rear suspension Double sided swinging arm with hydraulic spring shock absorbers – 5 x adjustable
Sidecar suspenison Single sided swinging arm with hydraulic spring shock absorbers – 5 x adjustable
Wheels 3 cross-spoked wheels plus 1 reserve wheel
Rims 2.15 x 19
Tyres Road tyres 4.00 x 19
Brakes Discbrake on frontwheel
Mechanically actuated drumbrakes at rear and sidecar wheel

Dimensions/Weights
Dry weight 320 kg
Permitted total weight 610 kg
Length/width/height 2,580/1,700/1,100 mm
Seat height 790 mm
Usable tank volume 19 l, 95 Octan
Fuel consumption 7.5 l/100 km

Colour Black
Accessoires Engine protection